French Divide 2018 - Bon Courage
The story of my experience on the 2018 French Divide, a 2267 km (1408 miles) adventure across the rural interior of France on a bikepacking adventure with 126 other riders. After failing to finish the year before, this was a final attempt for me. The ride fulfilled all my hopes and successful completion was the realisation of a long-held dream.
Posted: Wed 22 Aug, 2018, 11:51
I love the French phrase Bon courage. I remember hearing it last year occasionally and wondering what the proper English translation was. Normally, someone would say it to you when they had briefly looked closely at you, had seen into your eyes and recognised you were in a struggle. As we parted they would wish me Bon courage. The reason I love this phrase is that it perfectly encapsulates what is special and unique about the French Divide and, in a way that is very appropriate and fitting, there is no direct English translation.

In English we simply wish someone Good luck. This phrase however suggests that our fates are out of our control and will be determined by external factors. Believing this is the primary reason for our future success or failure is a risky strategy and gives little credit to the role we play in shaping our future. Bon courage on the other hand acknowledges that we face a struggle ahead, but it is within us to determine the outcome, with heart and strength and belief, all of which we can control. In the later stages of the ride, every time I heard someone say this to me I had to swallow back a surge of emotion because I felt such a feeling of goodwill from these people.

This blog retells my experience of 12 days on the trails of the vast and beautiful French countryside. It goes without saying that all my thoughts and conclusions are only my opinions and views. I have interwoven two parallel streams within the same blog. On one hand the story of my progression through the various stages and on the other, my simultaneous thoughts and feelings about all aspects of the ride that were so important and influential, merging to a single stream on the final days.
Day 1: Bray Dunes to Foret De L'Avernois (234 km)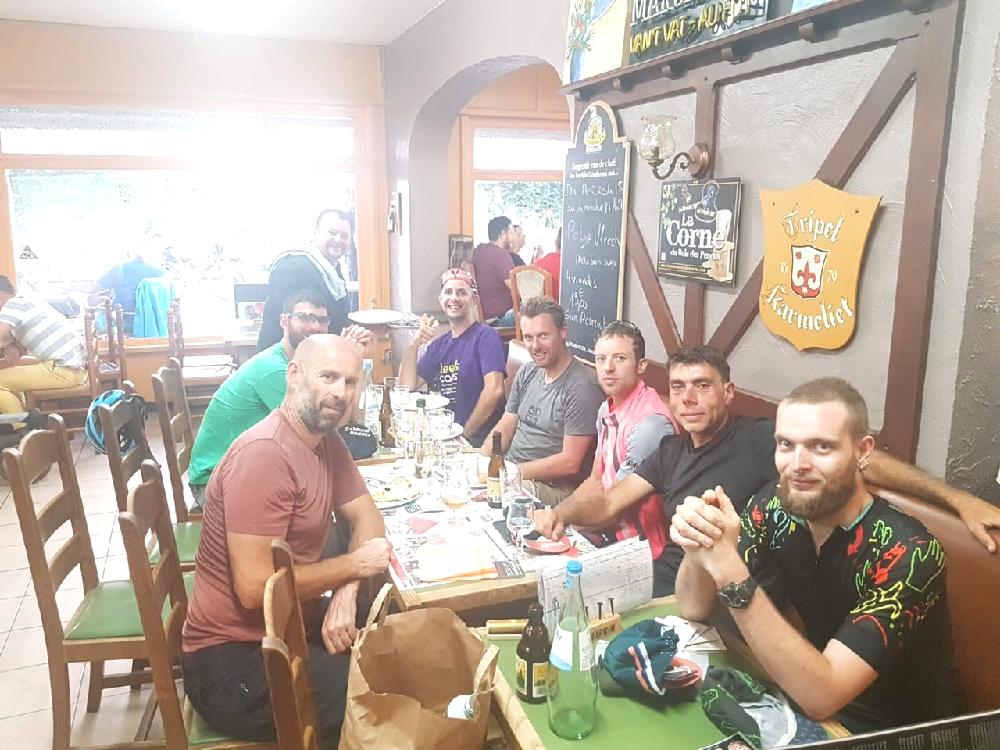 Sam gave us the two minute warning until the start. The riders all shuffled a little bit further forward the start line, well aware that those few extra inches nearer the start line would make such a difference over the following 2200 km! I have an amazing ability to faff about packing, unpacking, repacking, unpacking and this consumed most of my time getting ready. Final checks of kit, clothes etc. As usual everyone seemed very relaxed but there was obviously a lot of tension bubbling underneath, everyone praying for the starting to just go! After some final words with Stephen who had come to the start having completed the ride last year, we were finally off. The peleton of 40 odd riders surged forward only to be held at bay by the obligatory Citreon 2CV that would lead us ceremoniously out of Bray Dunes.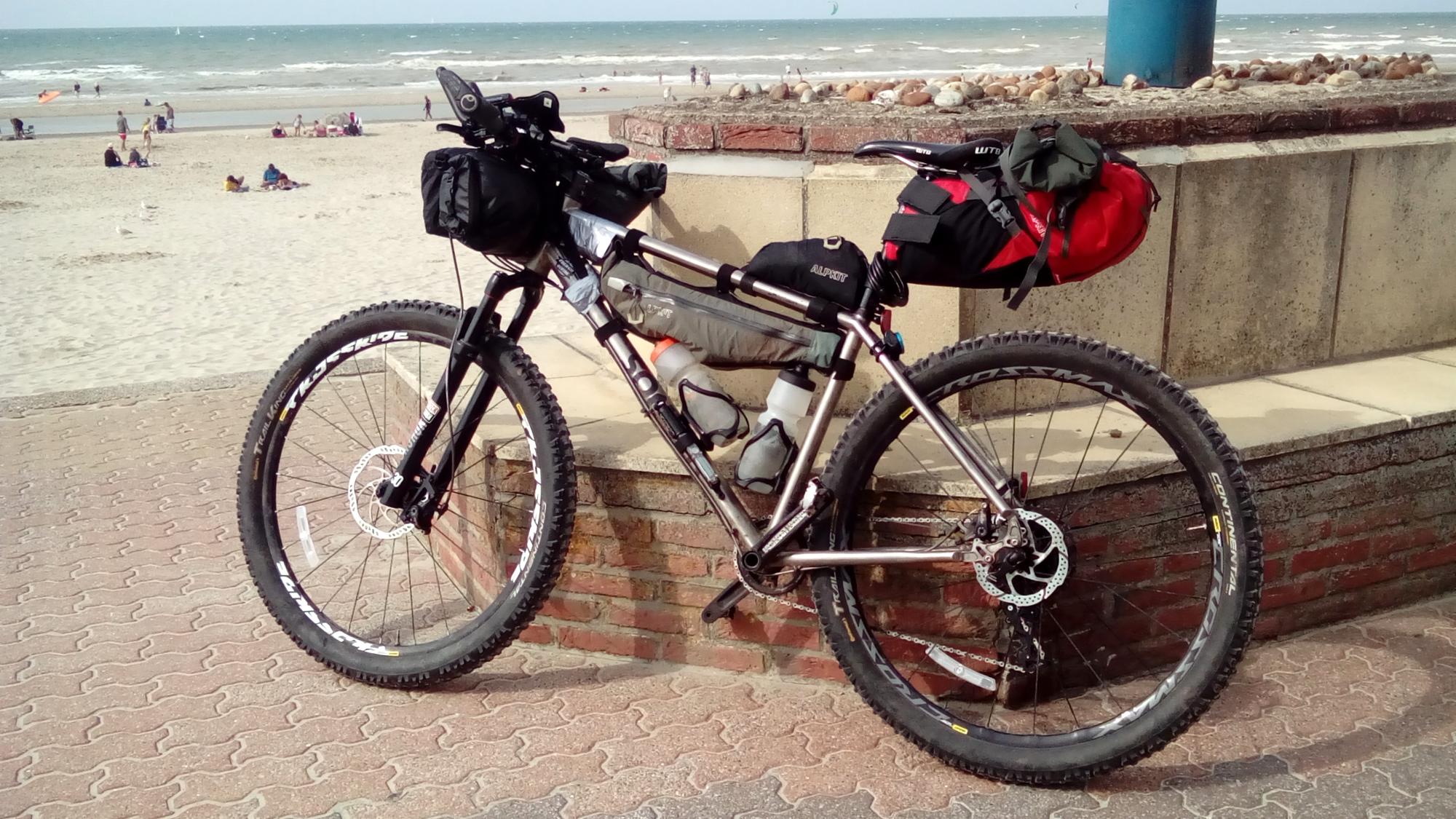 As we rode out through the town the pace quickened until eventually the 2CV rolled to the side we all shot passed and out into the flat countryside. The pace at the start was crazy fast, so I very quickly realised my pace was very much slower so made no effort to keep up. Before long I was literally at the very back of the pack, wheeling along with Ben. We moved to a dusty trail and all that could be seen ahead was a cloud of dust where the front-runners had disappeared. The night before many of us had a meal together - Ben, Stu, Philip, Jonathan, Stuart, Bob and Harold. As others spoke about their experience on TCR, I suspected they were perhaps not aware that target mileages/distances were very difficult work with on the French Divide. Talk of pushing through to the first checkpoint without a stop seemed slightly preposterous, but I have no doubt some almost managed it.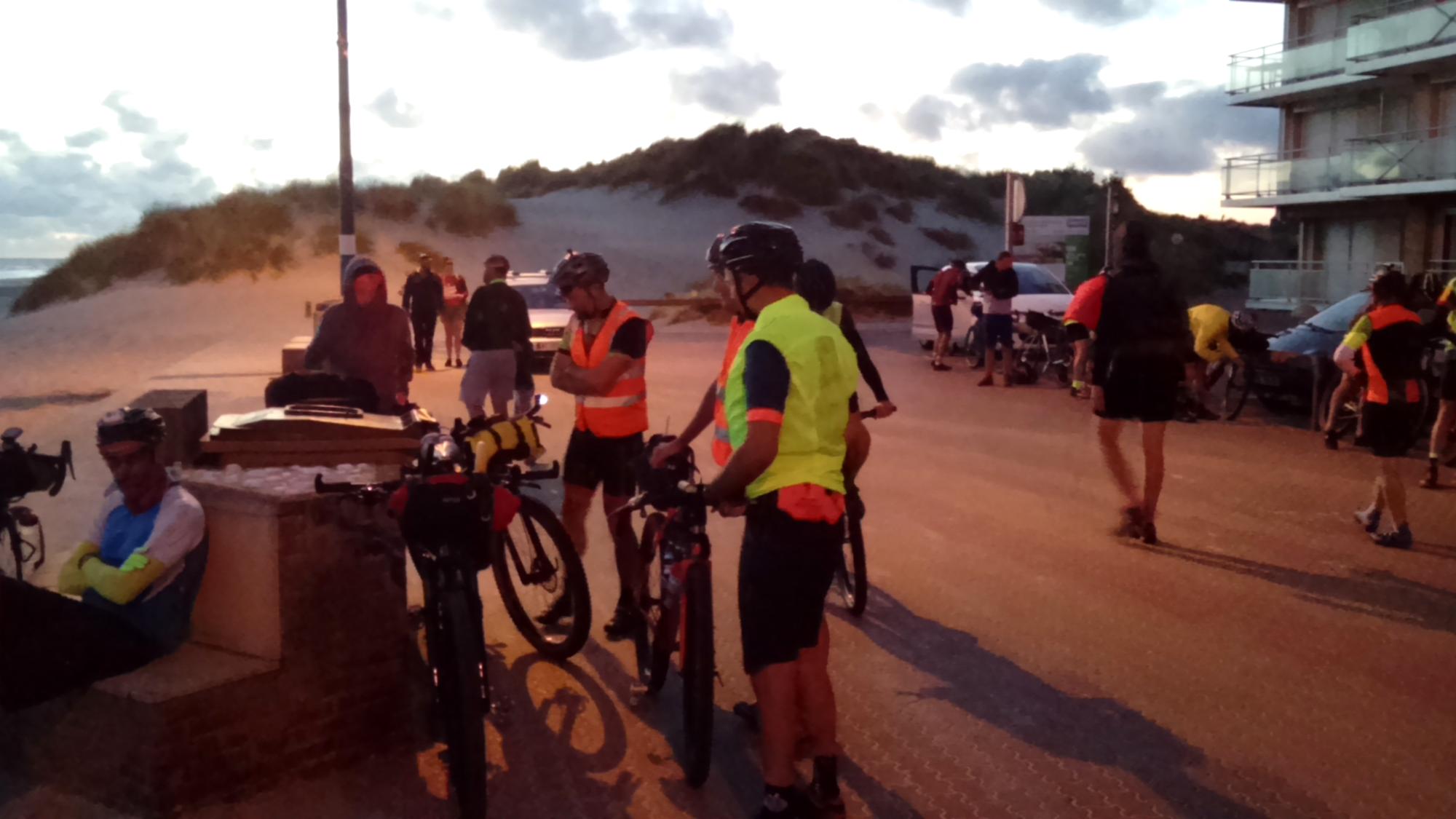 As a few rider's pace slowed, I slowly overtook one or two but I was just focussed on finding a rhythm. I knew I had a good basic level of fitness but riding all day every day would still be a massive step up. I had packed plenty of food and water this time, so was basically good for the next day or so if required. My target for the day was le Quesnoy which was about 130 km in, and ideally a bit further passed this. Europe had been enduring a heatwave that had lasted all summer, however so the heat was going to be a factor even early on.
As the day had warmed up, my bike started making a very worrying clicking noise. I had heard it before but never been able to pinpoint the source. As the clicking got worse my concern grew and frustration at not figuring out the real issue before. Was I going to have a mechanical issue on the very first day?? That would be beyond annoying. As the day wore on, I realised the clicking had stabalised and absolutely nothing was loose on the bike, so I would just ignore it. Either it would a) break something and finally reveal the source or b) cause no issues. Both were in a way good outcomes (in a way) so I battered on. Over the days ahead I realised it was the bottom bracket moving every so slightly within the frame - a very common problem - and generally never an issue.
The afternoon grew hotter and hotter until it was way above my comfort level for cycling. Jonathan and I rolled into le Quesnoy at exactly the same time and I quickly decided I needed a serious break until the heat passed. Like a lie down at a campsite and chill for a few hours sort of break. This was going to seriously impact my daily mileage, but I had no choice, it would be unwise to pretend I was feeling fine when in fact I was totally overheated. So I left a somewhat surprised Jonathan and found a campsite, had a shower, got some proper food and lay down. The food did not taste great however, due to some issue with my (and other riders) metabolism on those first few days. For some reason, my appetite completely went and it was a struggle to hold down food.
By 8pm it had cooled down a lot and I was feeling much better. Time to ride on. So I packed up and pushed on out of the carnival town which was fully of fairground rides, shows and stalls. Before long I was in the Foret de l'Avernois which was a pleasure to ride through. Mostly long straight gravel trails, some single track paths and hardly any puddles or mud due to the long dry spell. I was making good time and decided I would ride on until I was through to the other side. And so I eventually stopped after crossing a canal around 10pm in a random field off to the side of the trail. I dimmed my lights to avoid any attention as I settled down for the night.
The Grand Depart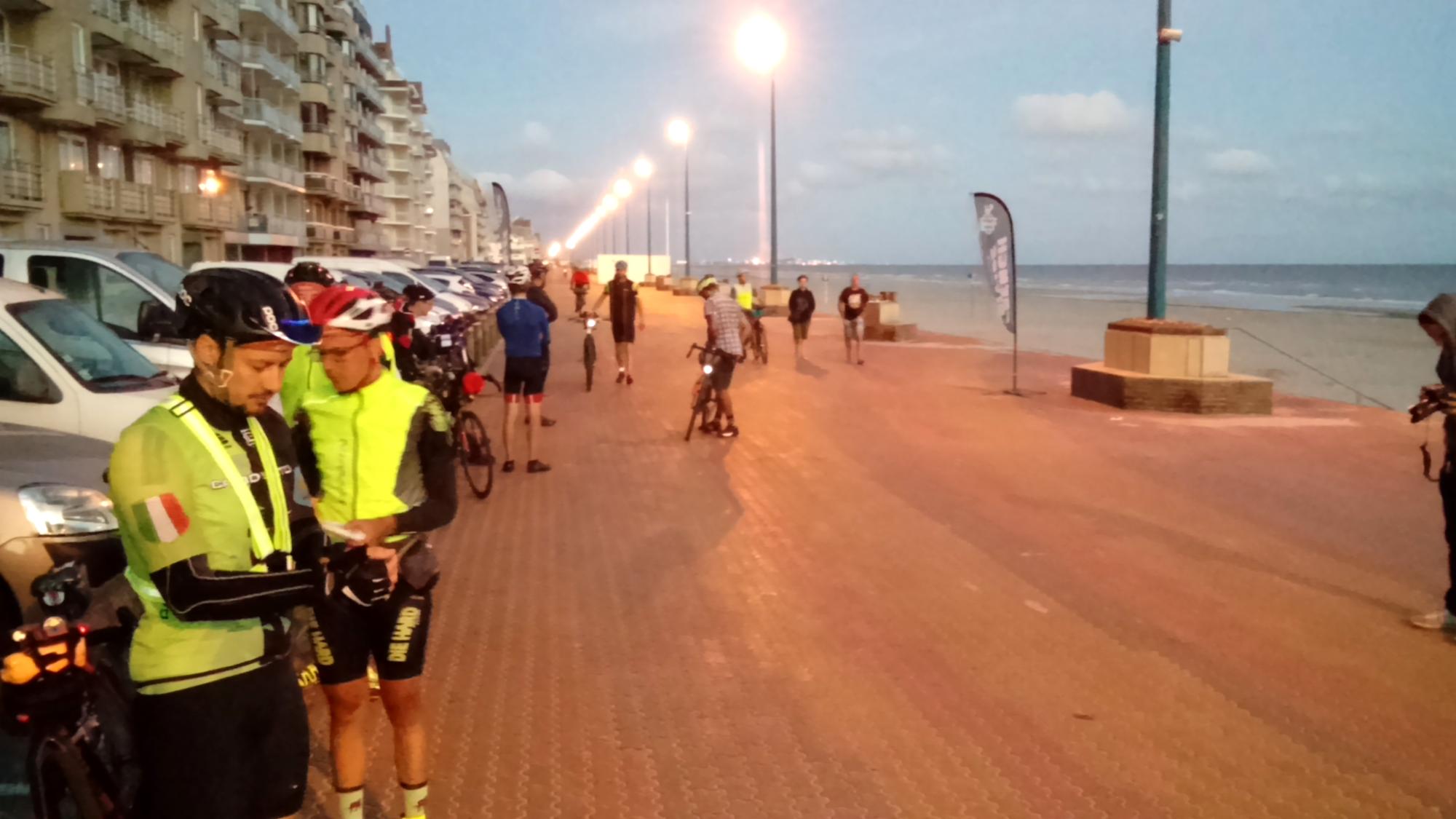 Preparing for and riding the French Divide for a second time was way more difficult than the first time. For myself, the awareness of what lay ahead - the climbs, the miles, the terrain - was not an advantage, but unwanted knowledge. Where last time there had been novelty and unknown adventure, this time there was only the burden of expectation and awareness of the pain and suffering that lay ahead. With a week to go, I was honestly as nervous about the Divide as anything I have ever done before. Just getting to the start line was, in many ways, going to be the most difficult part. I know other riders repeating the endeavour also felt the same way. There were undoubtedly benefits later on to have knowledge of the ground and terrain, but I only felt this from the mid-way point on. At the start, it was just nerves, panicking about kit, worrying about my fitness and feeling guilty for leaving my family... again! There is no comfort to be taken from having ridden x% of the way, it all lies ahead. The French Divide had 150 starting slots. Only 126 actually started however, which gives an insight into how difficult it often is to start. It is very, very easy to find a reason not to do it. 24 people paid, prepared and intended to ride but for whatever reason did not start.
Starting on the Sunday was a good idea for me again. Although there were more uber-fast riders who would leave me in a trail of dust, there was the possibility of perhaps catching riders from the Saturday. This had happened the year before and, harsh as this sounds, it had been a major mental advantage to me. On the Sunday you are never going to be passed (once the initial jostling settles down), but you can only catch people. Every time that happened, I felt a small boost in energy. Plus I met and spoke to many riders this way, which was great. It took a long time to catch people though, the general Saturday pace was much faster than last year and for several days I was thinking Where are all these people?( or How slow am I going?).
Day 2: Foret de l'Avernois to Mouzon, Ardennes (406 km)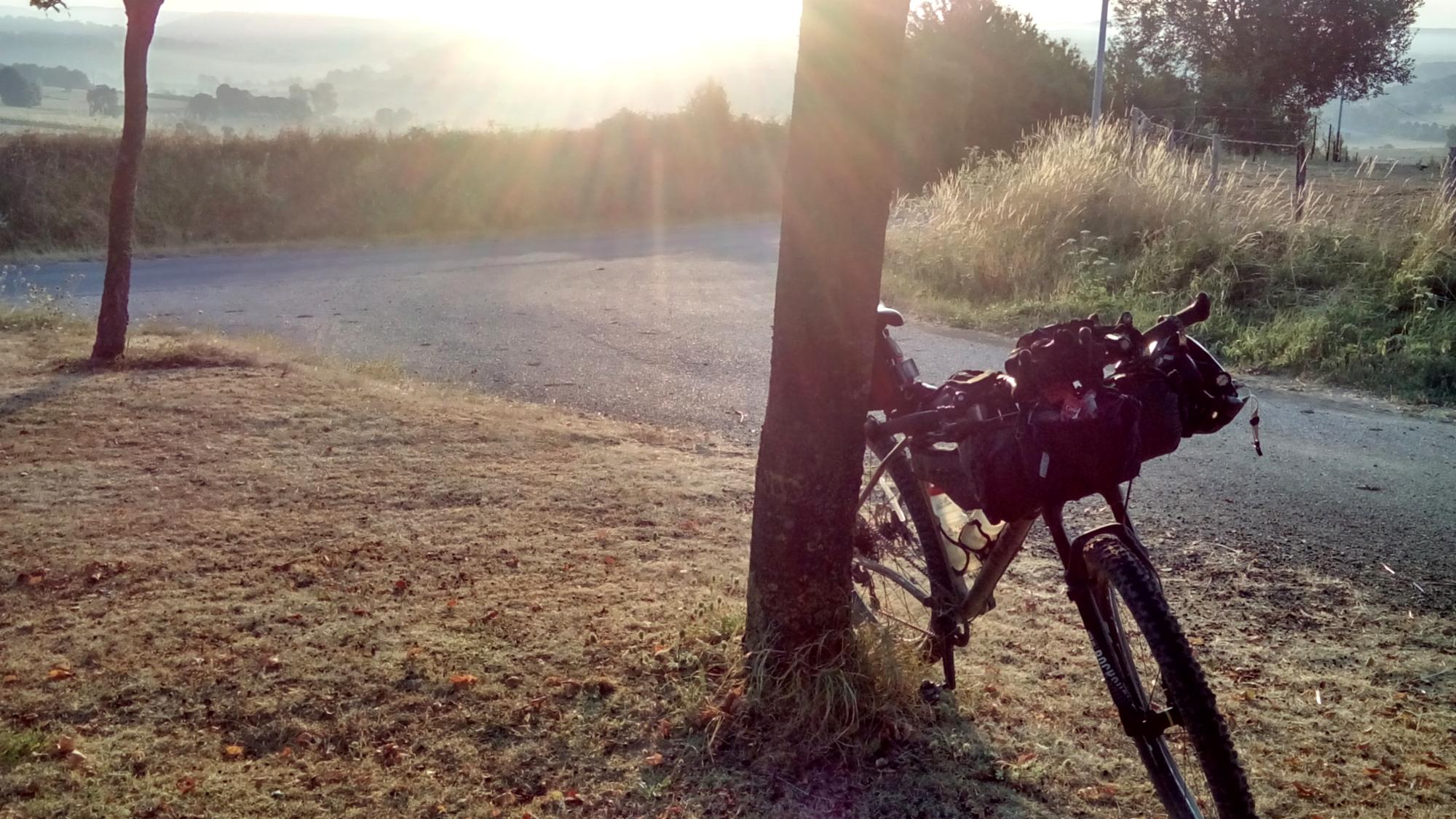 After a good night I was on my way again by 5am. My plan was to get six hours sleep every night (same as last year) which seemed sustainable for me. The route continued east and before long I was cycling through Belgium on the way to CP1 at Charlesville-Mezieres. The checkpoint was an optional one given it was difficult for the organisers to reach there before the fastest Saturday riders. The ground on that second morning was straightforward but varied. One minute on a cycle way, then on a forest track and perhap along a canal. These sections were fun and fast to ride. Early on I passed Jonathan for the first time, who was cruising along trying to waken up. Before long I had moved ahead but we would see each other a lot that day. In Belgium absolutely everything was closed, due to a public holiday (surprise, surprise). Before long, I was raiding my supposedly emergency supplies to find food to keep me going. It felt good to be in a better situation than the previous year.
As the afternoon wore on, the temperature again rose to be uncomfortably hot. I was able to carry about 3 litres of water and this was being emptied at an alarming rate. As Charlesville approached, I was more worried about cooling down than getting my brevet card signed so I pulled in at another campsite for a cool-down break before the CP. After paying at reception and buying four cans of Orangina I made my way to the shower block, where I washed all my clothes and had a cool shower. With the extreme heat, there was no problem putting back on wet clothes, they cooled me down as they dried. After that I found a shady spot and lay down for a break. No point in cycling between 4 and 6pm really, it was more trouble than it was worth. Another rider hurredly rode in and immediately rode out, probably surprised to me relaxing in the shade. But there was no choice, part of the reason for my early exit in 2017 was not being able to manage the heat and I was determined not to ignore what were clearly very extreme temperatures.
Soon after 6pm, I was ready to push on so cycled into the square at Charlesville. Checkpoints normally have a few people, some buzz and maybe a flag, but this time it was just Sam. After a couple of searches, I found him and got my card signed and stamped. I told him I was finding it really hot he immediately said "Yes, it's too hot. Better to sleep when it is hot and ride through the night". It was good to hear that Sam's advice was pretty close to what I had been trying to do. He said the ground was really flat now apart from one climb for the next 30km so I could cover a lot of ground. I said goodbye and went to find a Casino supermarket from which I bought a mountain of food & drink. I devoured half of it and squeezed all of the rest into bags, pockets and bungees on my bike. At this time of the day, it was necessary to buy food for the dinner, the evening and then the morning ride until a breakfast stop was available
I then rode through the evening until I it was dark and carried on some more. By 9:30 I was feeling pretty tired and decided to call it a day. At some flat ground by the trail above Mouvon in the Ardennes and I settled down in some long grass. Some three hours later I was aware of bugs or grass continually bothering me so I moved out on the hard gravel trail and hoped the air mattress would cope. It did, no punctures and a slept better. My second night out bivvying, and my second night in the clear without shelter.
Last Chance
As I rode that day, I knew immediately that this was going to be my final attempt at the French Divide. I had held off making such a commitment beforehand, to myself or my family, to avoid any extra pressure. But as I rode, I knew this was it for me, no matter how it ended. I called home and told Jackie, and although she did not believe me immediately, I hoped it gave her some comfort that we would not be repeating the family turmoil of the French Divide for a third year. The goodbye this year had been pretty fraught, and it felt like a new level of selfish to be riding away on my adventure leaving them all tears. My youngest in particular was very aware this year of how long I would be away and he knew he was going to miss me. So many of my fellow riders were a good ten years younger than me, without all the associated commitments and family. As a forty-two year old father of two, I felt I was juggling a few extra responsibilities.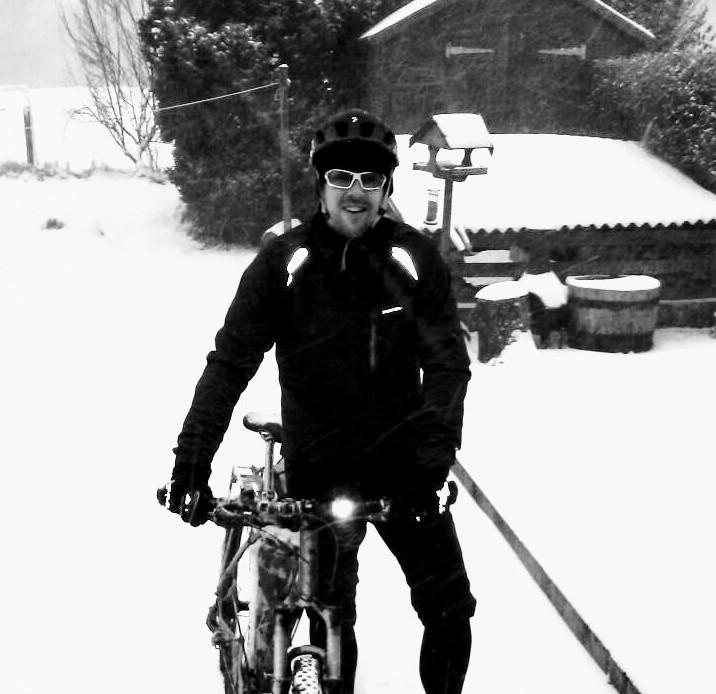 Yet all year, within a couple of weeks of returning from the FD 2017, I had known without a shadow of doubt that I would return this year. I really felt that I could have finished it the year before if I had not had the technical or water issues - both of which I could control, with slightly better preparation. After signing up again in November however, the looming Divide was, for me, like a mini-obsession that was present at all moments thereafter. Weekends involve biking which is training, kit purchase/trials which is more preparation or refinements to my bike/setup which need to be done months before to avoid any last minute changes. I even rode my bike to work all winter, through the Beast from the East which kept me fit and ensured I was in better shape come the spring.
Riding along however, the continual - not meaning to overstate it - pain and suffering that had been forgotten was all to quickly remembered. The enjoyment of the ride is the satisfaction taken from covering the ground, seeing the landscape change and progressing further and further through the stages. This is what sustains me day to day, not always the immediate enjoyment of the ride, although some stages are a total pleasure. There seemed to be too much at stake this year, too much riding on my final chance to be able to totally relax.
I knew I have nine days of legwork to get back to where it all ended last year, which was another incentive just to get down and pedal.
Day 3: Mouzon, Ardennes to past Verdun (534 km)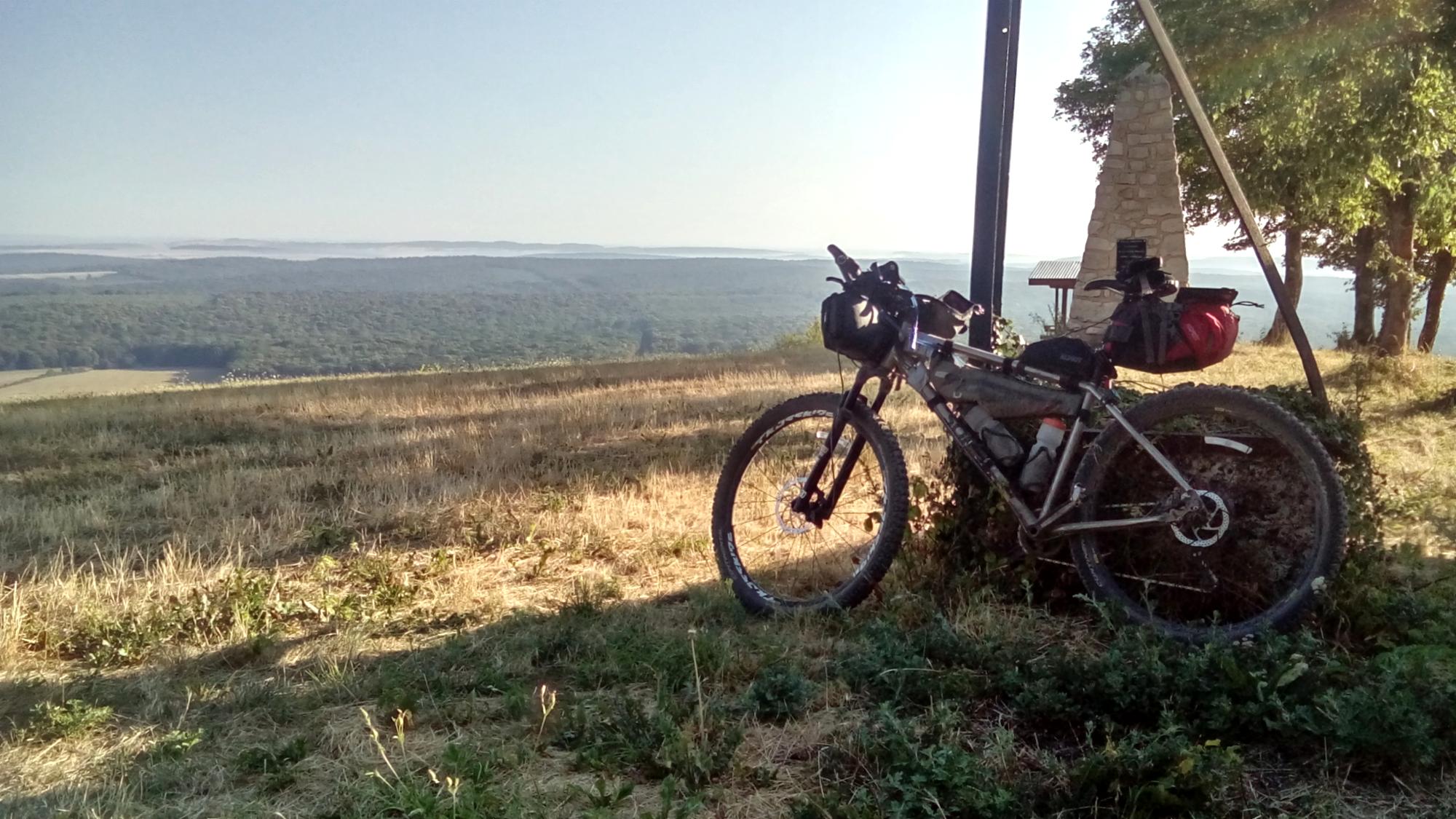 That morning, soon after I was back on the trail, I decided to ditch anything I was carrying that had not been used. It was early days, but I felt I was carrying too much. I ejected a dry bag from my solar panel, a spare top, some waterproof shorts and a pair of compression socks. That dropped a bit of weight and made packing of my saddle bag a whole lot easier. The ride that morning was pretty special. It was a stunning clear morning and I was reached the hills which would continue to Verdun, which began with a straight climb to the top of an isolated escarpment. The view from the top quite stunning and was enough to make me stop, take photos and send a few home.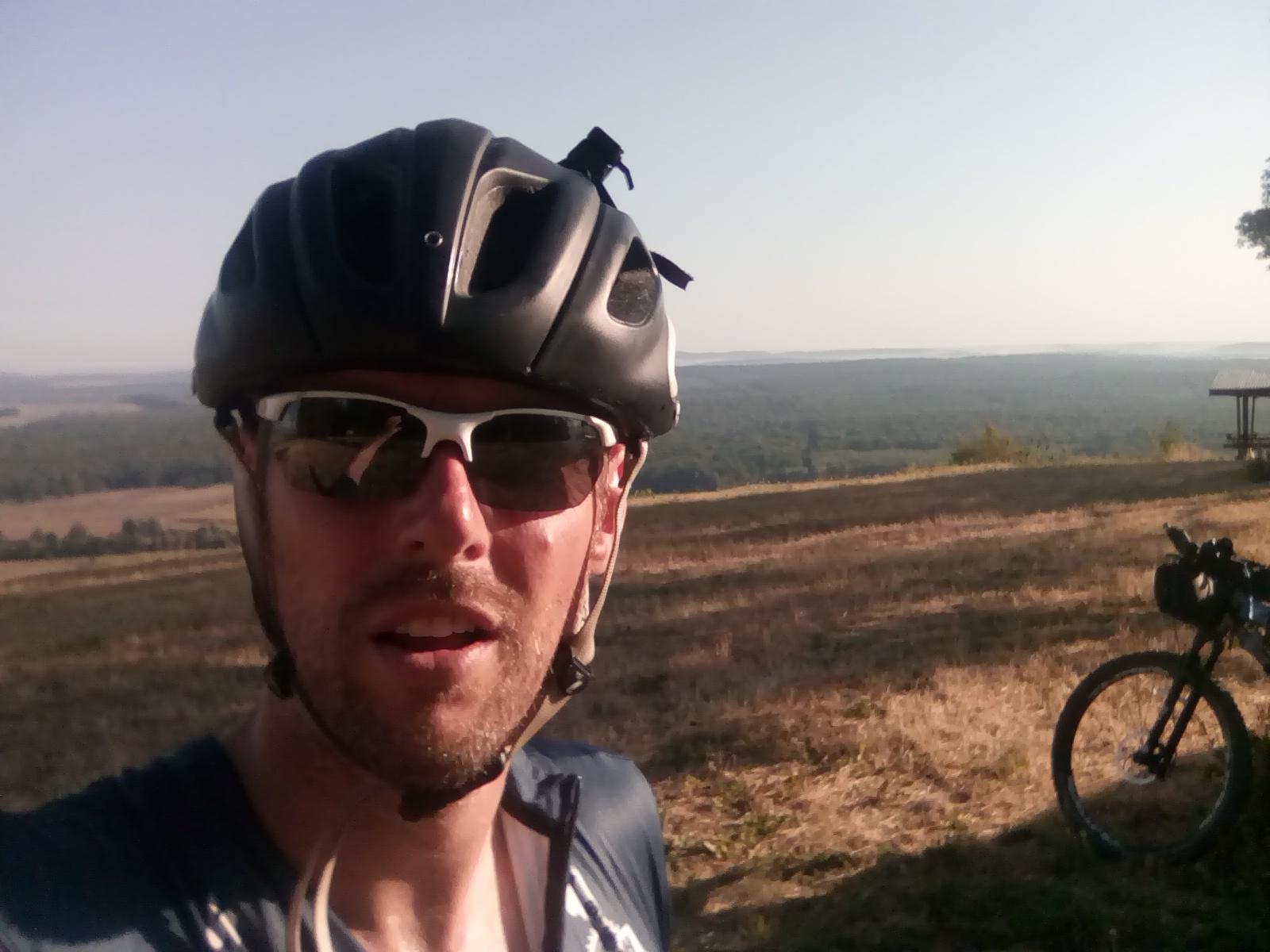 Day three was the the hottest I have ever ridden in. It was hot and stifflingly humid, so although I sweated all day there was never any relief. The heat climbed all day, and the ground we covered became increasingly tricky. The course took us through forests trails which were a continuous sequence of climbs and drops, all day. By the middle of the day there was no wind and unfiltered sunshine directed straight down onto the dusty trails. The hunt for water was an increasinly critical task and towards the end of that day was the only time I really felt I was a bit short. I calculated that I drank 15 litre of water that day.
By mid-afternoon I was seriously struggling and decided the time had come for a break. I found a shaded grassy spot and literally collapsed onto it. As I lay there, all the wildlife that had been silenced by noisy approach slowly began to resume normal behaviour. Birds chirped, animals scurried around just behind my head and something bigger cracked twigs not far away. As I was beginning to recover I heard a bike approaching, from the wrong direction. I pushed myself to see Ben approaching. My first thought was that I had become disorientated and he was travelling the right way, but in fact he had lost his mobile and backtracked for over 2 hours through the hottest part of the day to find it. He was almost back to where he thought it had been left so I carried on in the expectation he would catch me up pretty soon. After about an hour the trace directed me through 50m of steep undergrowth to a just visible trail on the other side. I could see that some other bikers had gone this way so I pushed through, never questioning for a moment that the trace might have a slight error. The further down I went, the more impossible it became to go back and the more obvious it was that I was the only person who had come this way. There was no path, no route just 20 metres of dense undergrowth between me and trail. In an effort that took me to the edge of complete exhaustion, I pushed and dragged my bike through. The nettles were taller than me and every possible area of bare skin on my legs and arms had been stung. Finally emerged onto the trail with a defiant scream of pain and anguish. My stupidity was compounded by seeing Ben waiting, having looped a little further ahead to avoid this madness, he had witnessed my emergence from the undergrowth like a dinosaur approaching in Jurassic Park, where only the vegetation moves and grunts are heard before the crazed creature finally breaks cover.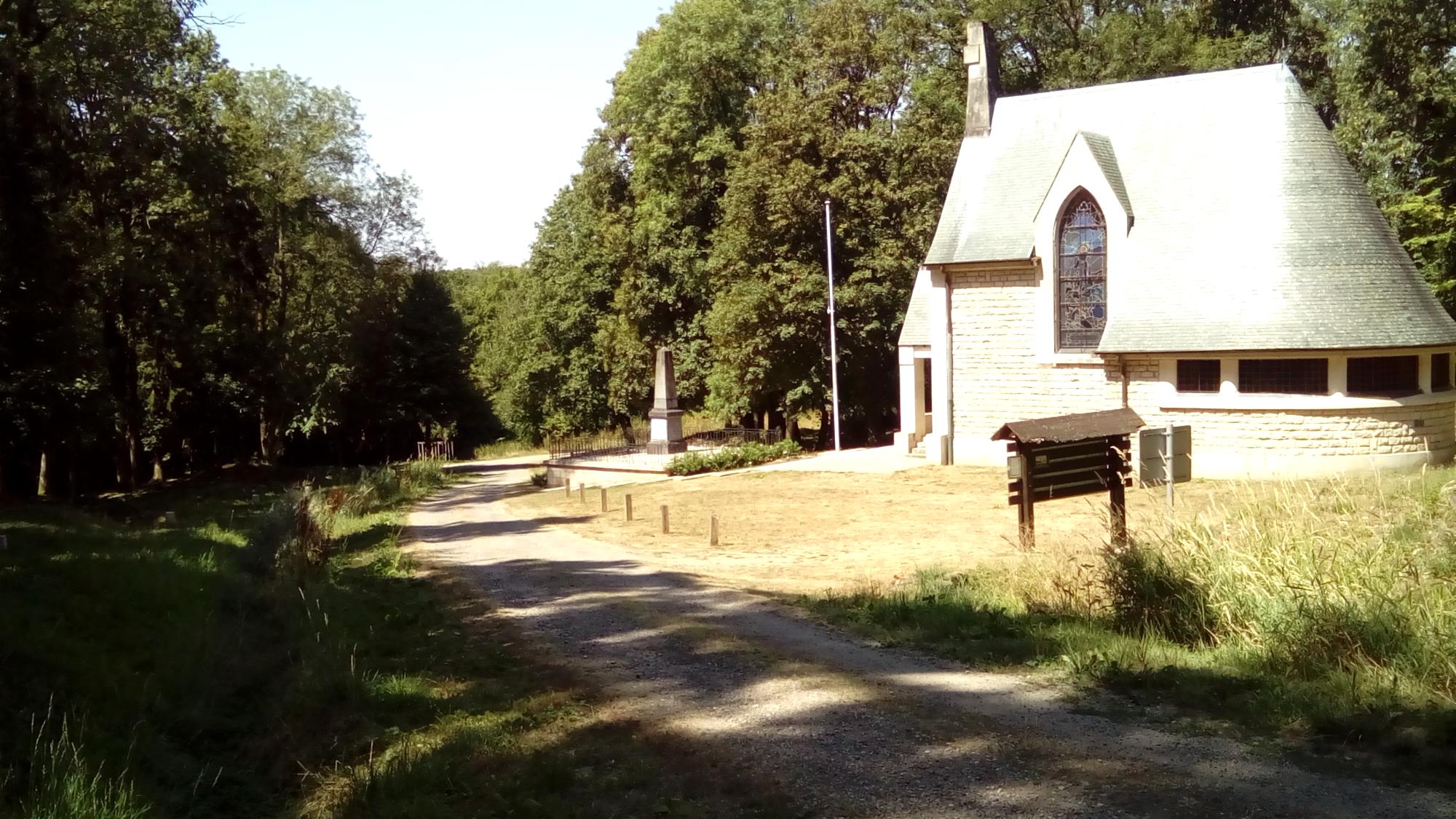 We cycled together on the final stretch to Verdun. I was glad of the company to keep me moving and push me on, as my pace would definitely have been slower on my own. After some time we reached WWI Rememberance monuments and endless fields of perfect white crosses. The scale of the loss in this area alone was suddenly possible to quantify by the number of crosses, but also impossible to due to the fields being so vast and endless they seemed to be uncountable. The route of 2018 French Divide was specifically changed and extended through these forests where battled had raged around the strategically important town of Verdun to commemorate 100 years since the end of WWI. There was a feeling that our battle through the intense heat and hills of that day was our own heartfelt yet somehow insignificant tribute to the courage and strength of those who had been lost.
Finally the route dropped in a series of switchback turns down to Verdun. As we rolled in passed the pharmacy, the temperature reading outside said 43 degrees celcius. We reached the town centre and raided a local cafe for Oranginas and probably the best raspberry slushes I have ever tasted. Ben felt he had done as much as he could to find his phone and could put it to rest. Rather than buy a new one and inevitably lose time on setup, he decided he was just going to manage the rest of the way without one. His main concern was no longer having a link to stay in touch with friends and family, which I totally understood. After we found a supermarket for a resupply we parted. I was extremely overheated whilst Ben was fully intending to ride on in the punishing heat, and try to make up some of time he had lost. He said 'See you later', but I knew that was very unlikely as few people were faster than Ben on his singlespeed. I found a campsite, paid for an overnight and did my usual routine. Shower, wash clothes and then lie down. I actually slept there for over an hour in the shade before calling home for a good chat with everyone. By the time I left Verdun I was feeling great.
I rode out of Verdun about 7pm and put in another two hours. By this time, I was on high ground, the wind was kicking up and thunder was booming around me. I found a sheltered spot at the edge of a forest and decided to pitch up here for the night. It seems silly now, but the storm seemed to be a bit away and I really thought I would escape it somehow. In fact I had no shelter at all, just a some branches from the edge of the forest. When the rain really started to fall in the middle of the night, I knew I had badly misjudged the situation. I lay in bivvy bag making futile attempts to prevent the rain from getting down inside. After two hours, my sleeping bag was decidedly wet and I was beginning to consider my options.
Body Shock
The first noticable impact of commencing back-to-back days of 16+ hours exercise was immediate loss of appetite. I suspect that my transition from a quiet desk job to riding flat out for days on end sent my body into shock. It took at least four days to fully adjust to my new routine, and until then my energy was often low. Even on day four I wishfully bought a delicious chicken kebab in Vitry but was unable to finish it. It was not until the following day that food finally seemed appealing again and my energy, enjoyment and spirits rose accordingly.
My weight at the start was definitely not as trim as I hoped, but with four days of flat-out exercise and little food, the excess was quickly reduced and I then had the added benefit of a better power/weight ratio for the following days. This was the same pattern as the year before when I really started to enjoy the riding through the middle stages in Morvan and volcanoes. This year however my weight did not continue to fall. After this initially reset, I ate huge amounts and this allowed me to compensate for the daily output. I could not have eaten more any case, virtually every break was spent eating.
The most common complaint from all riders after saddle sores is probably numbness of fingers. Flat bars which are overall more suitable for the trace as a whole are unfortunately not so forgiving on the hands. By half way, my ring and little finger going numb and I was worried the effect would spread to the other fingers. Much to my relief, it did not and I maintained good dexterity in the others. Some riders were not so fortunate, Benedicte for example to talk a willing volunteer through how to rebuild her brake reservoir/cylinder on her Hope brakes because although she knew what to do, her hands were complete useless. The aerobars definitely helped me rest my hands.
Musclar changes this year were interesting for me. At the start I could not get comfortable on the aerobars dispite a lot of faffing and tweaking. They suddenly felt good on day three with no obvious changes, it was just that my neck muscles had finally toughened up to allow me to ride with my head raised enough. Another change that surprised me was when I would stop for lunch each day. Normally when sitting with nothing to lean back against, I would quickly become uncomfortable. Yet on those days, my core had somehow built up to have significant strength, and I could sit without tiring with my back bolt upright, leaning on nothing but in complete comfort.
Day 4: Past Verdun to Foret de Orient (720 km)
At 4:30am it was time to get going anyway and I was completely soaked. In yet another error, I had not properly packed my kit away and many thing were wet that should not have been. In the dark, I put on wet clothes, rolled up a wet sleeping back and packed up all kit as best I could. My lights and GPS were working, but my phone was soaked and not working. I knew I would need to dry everything out later, but for the time being I just needed to get warm. So eventually rode off and very gradually began to feel warmer.
The ground slowly became less hilly and for several kilometres it was road, so I used the aerobars and felt I covered that section pretty quickly. As is typical, a strong westerly wind had now picked up which was exactly the direction I was now travelling, meaning it was that bit more difficult to make headway. When I stopped for a lunch time break, I also pulled out my wet everything and was glad there was enough warmth in the mid-day to almost completely dry it out.
The countryside in this area of France is not my favourite. It is just empty farmland and countless small forests to between the fields. My mind wandered as I cycled on and on, imagining if someone entered one of these small forests, would they ever be found. They were never ending and mostly nameless, and all seemed the same. I was passed by a pair of Saturday riders that day (presumably I had passed them earlier without realising) on a downhill section but then I immediately passed them again as they guy on a cyclo-cross got a puncture. They had what they needed so I moved on, grateful that I had no similar (serious) issues yet.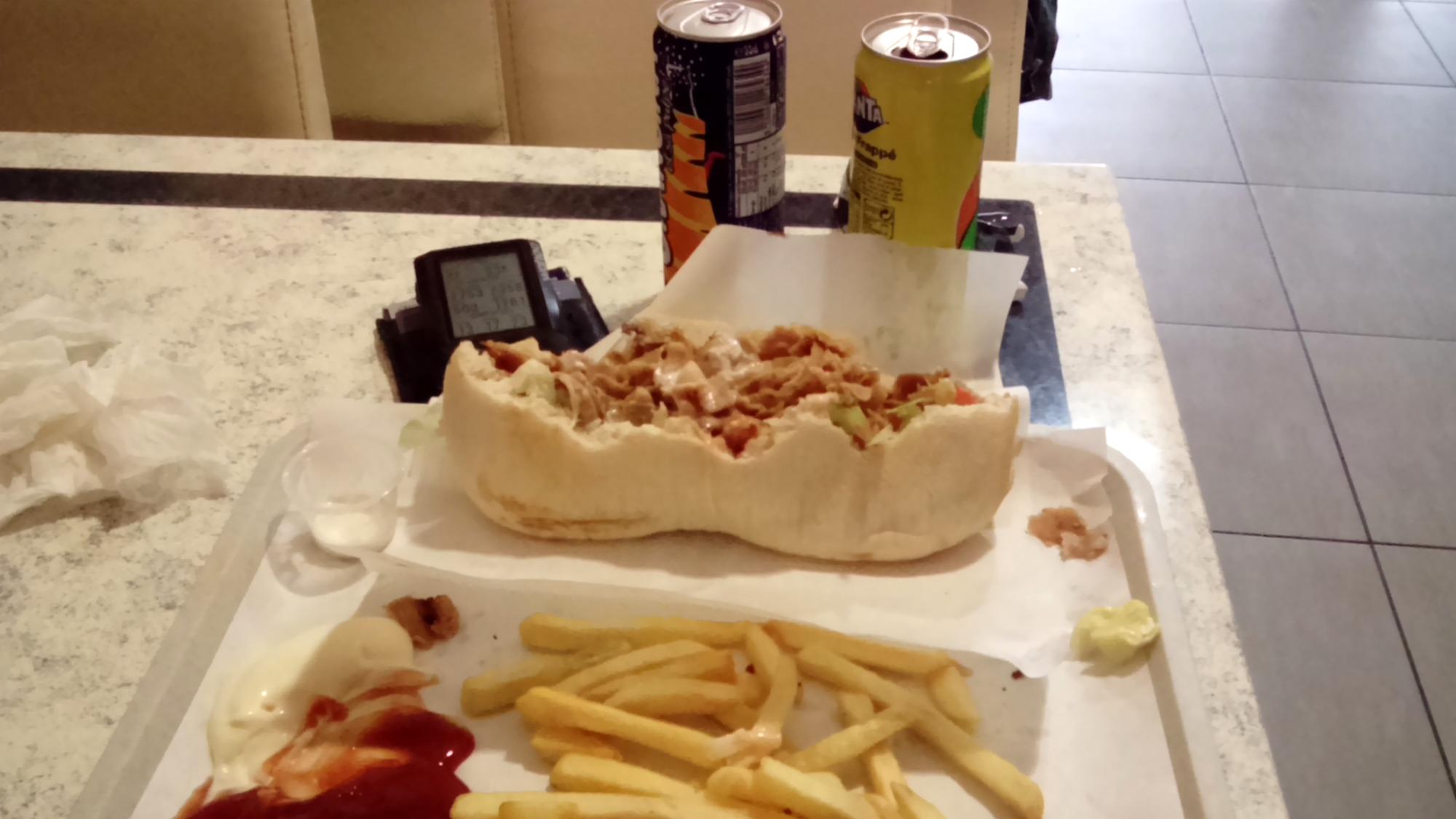 At Vitry-sur-Seine I stopped at a kebab shop that had just opened and order a chicken kebab. Although it was absolutely mouth-wateringly good, I simply could not finish it due to my appetite still being right. But at least I had eaten half and knew it was energy in the bank for later. I pushed on and towards the end of the afternoon began to recognise towns where I had stopped the year before during my 'puncture nightmare'. That meant we had completely the huge detour through Verdun and had now rejoined the 2017 route. Yesss!!!!! It felt so good and I knew I was nearing the home of Stephane and Carole who were my saviours the year before, who had given me good and shelter at a critical point in my ride. I knew I would not stay with them again, but I was really looking forward to seeing them.
As I had hoped, they were there to welcome at their home in Maizieres-les-Brienne. Over the past two days, they had met and spoken to countless other Dividers. There supply of food supplies for the riders had been completely finished but they had both enjoyed meeting all these crazy cyclists who were once again passing through their small town. It had been so hot the day before, that they had taken their garden hose and left it spraying over the road for riders to cycle through. We had a chat and I explained I was planning to push on, in order to make it through the restricted area of Foret d'Orient before the cut-off time. Stephane knew very well this would be my plan, and immediately suggested he would get changed and ride with me to the edge of the forest. And so we rode on together for the next two hours, catching up on our lives and family as we went. Although I had met him only once before, it was again as though we had been friends forever. Having company that evening was a complete boost and I enjoyed every minute of it, immediately aware of how lonely the trace had been for me until that point. When I finally reached the restricted area we said farewell and I pushed on through and out the other side before the restricted period. By pure chance I asked a local if there was a hotel/B&B nearby and a guy came out and offered to give me a room in his guest house for the night.
That was my only night in a bed the whole trip and after my soaking the night before, it seemed wise. I charged everything and arranged with the owner to leave at 5am the next day. I slept deeply and woke feeling pretty refreshed. As I cycled off with a fully recharged me and a fully recharged devices, it seemed like it would be a good day ahead.
Not Alone
Although I rode with many other riders for short spells, I never really rode with anyone for long. Often I would meet pairs of rider who were clearly doing the ride together. Having made it through to the end, I would say it is uncommon to see the same pairs appearing together at the end. I think one would often stop and at the point the other would realise what a dependency they had on their buddy, and this would often prevent them from finishing. This is a total generalisation and there are definitely exceptions, but those riders going solo were often in a better place, and frame of mind, to complete the ride.
Whilst I was alone physically, and I never really felt it. The countless messages from friends and family really gave me a connection to everyone back home and as happened last year, a surprising number once again began checking the Trackleaders page on a very frequent basis so they always knew where I was. But I think I would have felt lonely without my family to support me all the way, having them back at home was the basis for everything. I called home as often as my battery power allowed and this was always total motivator. Little did I know that although I would have a great chat with my eldest son, he would then be upset after I hung up, but had been positive and encouraging on the call with me. A brave lad.
And then on two occasions I rode with friends. Once with Stephane and then again with Christian later on. Both were unplanned but both really boosted my mood and speed. When riding with Christian to CP3, he asked Should I hang back? because it may not be permitted to ride with someone as this is l'assistance. I did consider this for a moment and then thought no, he had given me nothing, it was unplanned and I cannot control what my friends chose to do so we would ride in together. In the end it was cool, we had a good chat with the checkpoint organisers and Christian is now seriously considering riding the FD 2019.
Day 5: Foret de Orient to past Avallon (918 km)
Day five was going to be another mostly farmland gravel trails day, as I tried to push on through to CP2 at Quarre-les-Tombes where the good mountain trails would really begin. Thanks to my good sleep, I moved well and was beginning to feel properly hungry for the first time.
The temperatures were still rising to be uncomfortably hot again in the middle of the day. Countless stops were required a village cemetries to fill up on water. By mid-morning I was in open, and seemlingly endless, farmland. The air was changing again and I could see huge anvil-shaped cumulous clouds building ahead of me. Before long the clouds were sparking with lightening and thunder was reaching me in ever more frequent rumbles. I knew a downpour was on it's way but I was caught on very open ground. I cycled up a hill hoping for some shelter ahead but there was nothing, so quickly dropped back down to lower ground. The rain and thunder then really started and I knew I was in a slightly dangerous situation. Rather than continue, all I could think was to stop and lay down by the verge, even though I had nothing to shelter behind. As I lay there pressed down on the grass the wind increased until it was ripping over the ground, and the rain became like a hose directed squarely at me. For ten minutes it was the heaviest, most violent rainstorm I have ever been caught in with lightening going off all around it seemed. As it subsided I was once again cold and wet and had to keep moving, so saddled up and rode on. The clay soil had turned into a sticky morass that was impossible to ride through. So I had to keep stopping to clear my wheels and then try to stay on grass wherever possible.
At the next town, I rolled in with a mixture of relief and a bit of a buzz from making it through the storm. Sat in a shelter was Sebastian, a fellow rider who had wisely foreseen the storm and was completely dry. He was however not in a good frame of mind, and declared he did not want to ride in the wet and thinking of quitting. Rather than try to talk him round, I sort of said that he needed to do what is best for him. After a while we rode out together, he had started on the Saturday and as I rode it was obvious that he was a really fast climber, so I was very surprised to have caught him. On a very tricky muddy patch caused by the downpour he then fell badly. When I reached him his leg was bleeding and I felt extremely bad for him. I pushed on but then waited when he did not appear, until eventually he came round the corner. We rode on to Tonnere where we both got some food. I had another chicken kebab but this time I ate the whole thing and it tasted great. I met Sebastian again and asked him his plans, he said he was going to continue which made me smile and thump him on the shoulder, happy that he was not quitting.
By 7:45pm I finally reached Avallon and the Lidls supermarket on the outskirt was just about to close. I quickly ran round a bought a trememdous amount of food and drink. Outside I devoured half of it and loaded up my bike with all the rest. It was going to be slow going with this much food, but I knew I could ride for the next 12 hours without any need for resupply. Another pair of riders came in just after me and also managed grab some food, one of them looked full of energy and chat but the other looked down and was obviously struggling. They asked Are you riding on?, and when I said I was, they said Don't you want to stay in a five-star hotel nearby?. I said thanks but no thanks, and they then said it was cheap, but I held my ground and rode out into the gloomy evening. With Avallon behind me the next target with CP3. I rode for has hard as I could for as long as I could but realised eventually I was not going to make it that night, which was the cut-off.
After my soaking, I was keen to find shelter and found a BBQ stand by a lake in the pitch black. It was open on all four sides but would definitely protect me if it rained. As I settled down a four by four truck drove by and slowed to a stop at the stand but then moved slowly on. It did the same thing thirty minutes later as I lay in my sleeping bag facing the other way, I was motionless and ignored them, until they eventually drove off again. I then slept well and woke completely dry.
Goodwill
Riding the French Divide is guaranteed to renew your faith in human kindness. Time and again I was helped on my way by complete strangers who knew I would never see them again but nevertheless refused to accept any payment for their help. Every other rider I spoke to experienced the same thing, and I think it is something unique about the enormity of the Divide that rallies people to help. This year my secret helpers included: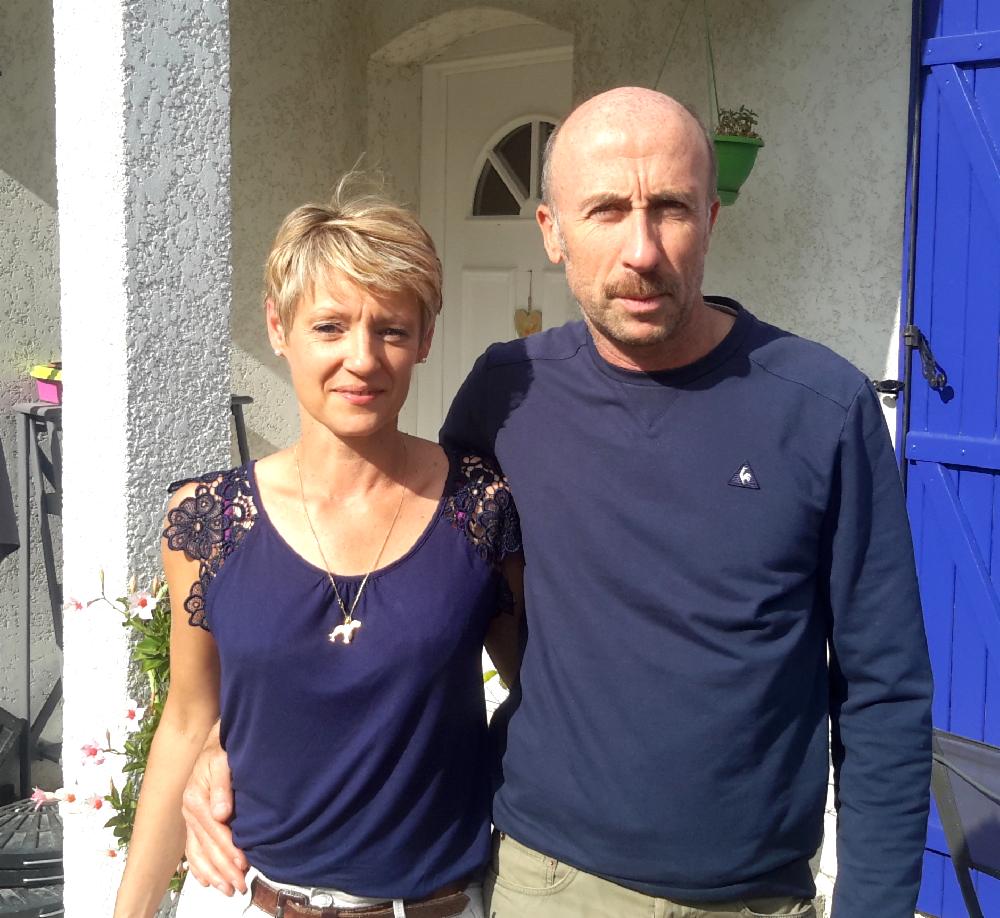 Stephane and Carole (pictured) who helped me last year. Stephane rode with me this year for two hours into the Foret D'Orient. His positivity and sense of humour was a total boost.
The guy who gave me some of his engine oil to lube my chain which was grinding horribly in the Massif Central
The amazing e-bike riding couple who gave me their hand pump when I asked if I could buy it off them (had lost mine!)
The lady whose son was riding the Divide who waited all of Saturday and Sunday on day two, in the furious heat, with cold water and water melon slices to serve from the back of the car to all passing riders. I could have kissed her!
The resteraunt owners in Charroux who gave me a filled baguette just as they closed and refused money. Breakfast sorted.
The countless bar staff who filled my bottles with water, although I would always buy something too
Lorraine from Marciac, the lady who allowed me to use her electric car tyre pump, to fill my back tyre to 50 PSI with the new inner tube. And made me an amazing coffee. Without this I would not have completed the last two days as fast or as issue-free.
The bakery owner in Auch who gave me a free bottle of water with my breakfast.
The guy in the bike shop who was about to close for the holidays, but pumped up my front fork with the specialist pump required and refused any money. Just a shake of the hand a commitment to keep going!
The farmer in Lot who let me shelter in his barn whilst I plugged another whole in my back tyre. I left him a chocolate, hope he got it.
Speaking to any other riders, they all had the same stories and more. Complete strangers helping them to fix their bikes or letting the steal parts from their old bikes. Or, as with Fred Staerk, he asked a couple if he could shelter in their barn whilst a thunderstorm passed, they said sure, but 10 minutes later invited him to their house for coffee and some food.
I could never properly thank these people and I really wish I had taken a picture with them to put in this blog. That is the least I could have done, but it was too late by the time I thought of this.
Day 6: Avallon to Uchon (1068 km)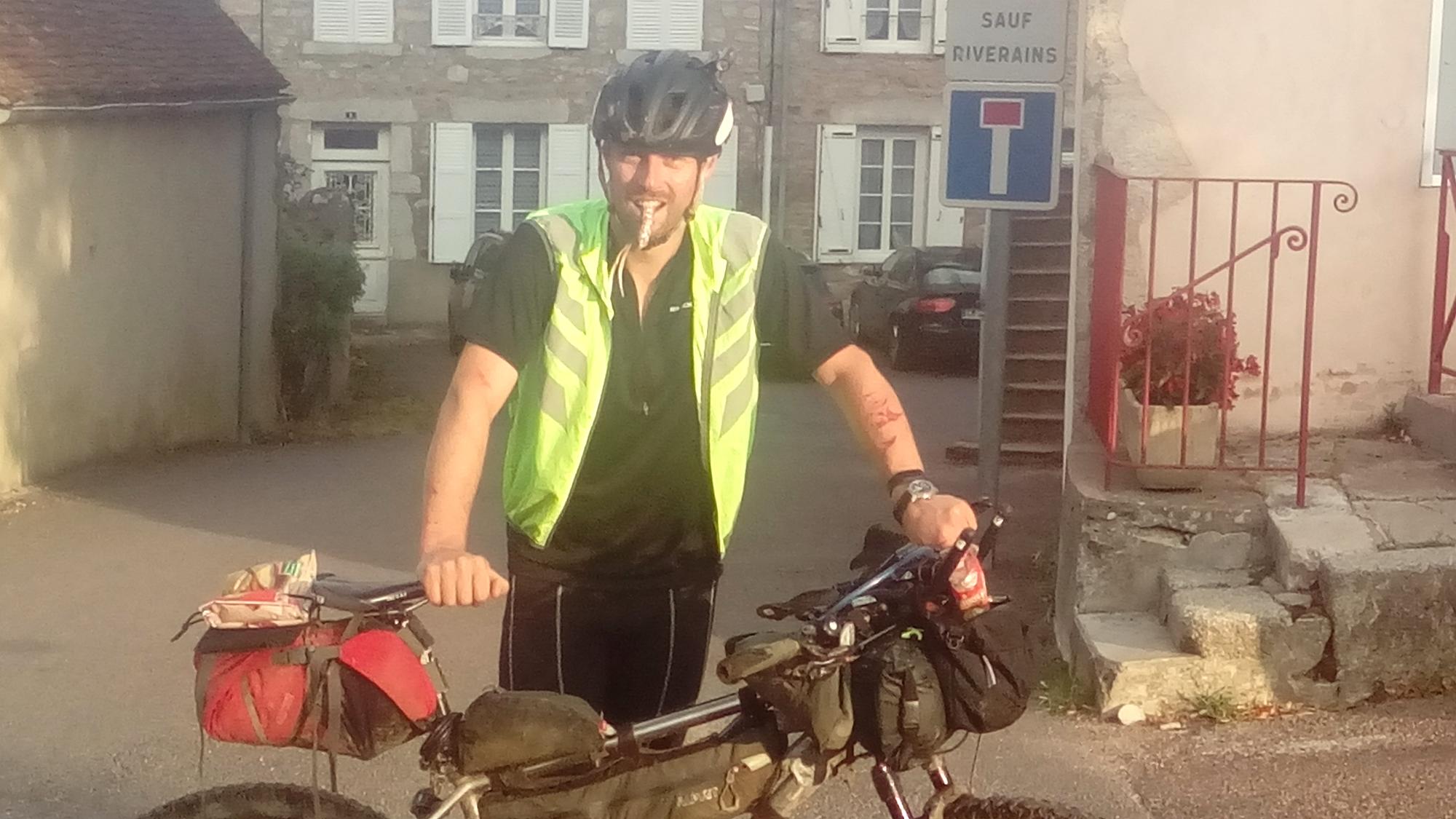 I woke up dry and well rested, pleased with myself for finally finding a decent bivvy spot. I was riding by 5am and targetting CP2 as early as possible in the morning. After a couple of hours of riding in a big loop that the trace took, I climbed the final hill to Quarre les Tombes. The cutoff for the checkpoint was 10pm the night before so I was not expecting to see anyone, so I was delighted to see one of the volunteers was up early and had been tracking my progress. He guided me round to where everyone had slept for the night, a mixture of riders and all the organisers. Getting my brevet signed was no problem and I had quick chat with everyone there. They said that they expected another ten riders to come through that morning so they had decided to wait for them before departing for the next CP, which was another very cool aspect of the FD. They know exactly how important it is to get your brevet signed - in a way it is meaningless but in another if is a crucial motivator - so they changed their plans to help out as many riders as possible. Plus they probably all had a massive hangover so this no doubt informed their decision too.
After a quick resupply I said goodbye and pushed on, looking forward to the Morvan trails that lay ahead. This was my favourite part from the year before and it did not disappoint again. Stunning forest singletracks and paths that were slippy and technical enough to make sure I was fully focussed. The route climbed next to a river for several kilometres which in the shade and shelter of the forest was pure joy compared to the days of endlessly harsh sunshine. As I rode I realised I had finally found the perfect name for my bike - Morvan! Morven is a Scottish name which I had always liked (but my wife less so!) but as we had two sons, we never got a chance to use it for our daughter. So by naming my bike Morvan I was finally using a version of the name and it would forever remind me of this place. Ironically, the terrain in Morvan is very, very similar to Scotland, so it is perhaps no surprise that I was so enthralled by it again.
My next target was Autun, an impressive town surrounded on all sides by mountains. Last year Ihad stayed in a hotel here, but this year I was planning to just resupply and then push on. By 5:30 the ground finally began to fall and we had a fast (but gradual) on-road approach to the town. My first stop was the local Casino where I did my usual - bought a bag of food and drink I could hardly carry - then retired to the town square to remove my shoes & socks and the demolish as much of the food as I wanted. People gave me a slightly wary look as this dirty cyclist ate and ate, but I think they figured out I was too hungry (and in a rush) to wait in a cafe/resteraunt for normal food. I found a bike shop and bought new CO2 cartidges as these were great for quickly topping up the back tyres. Once the bike was fully loaded with food and water, I left and climbed the ridiculously steep hill exiting the town, downing drink after drink on the way up.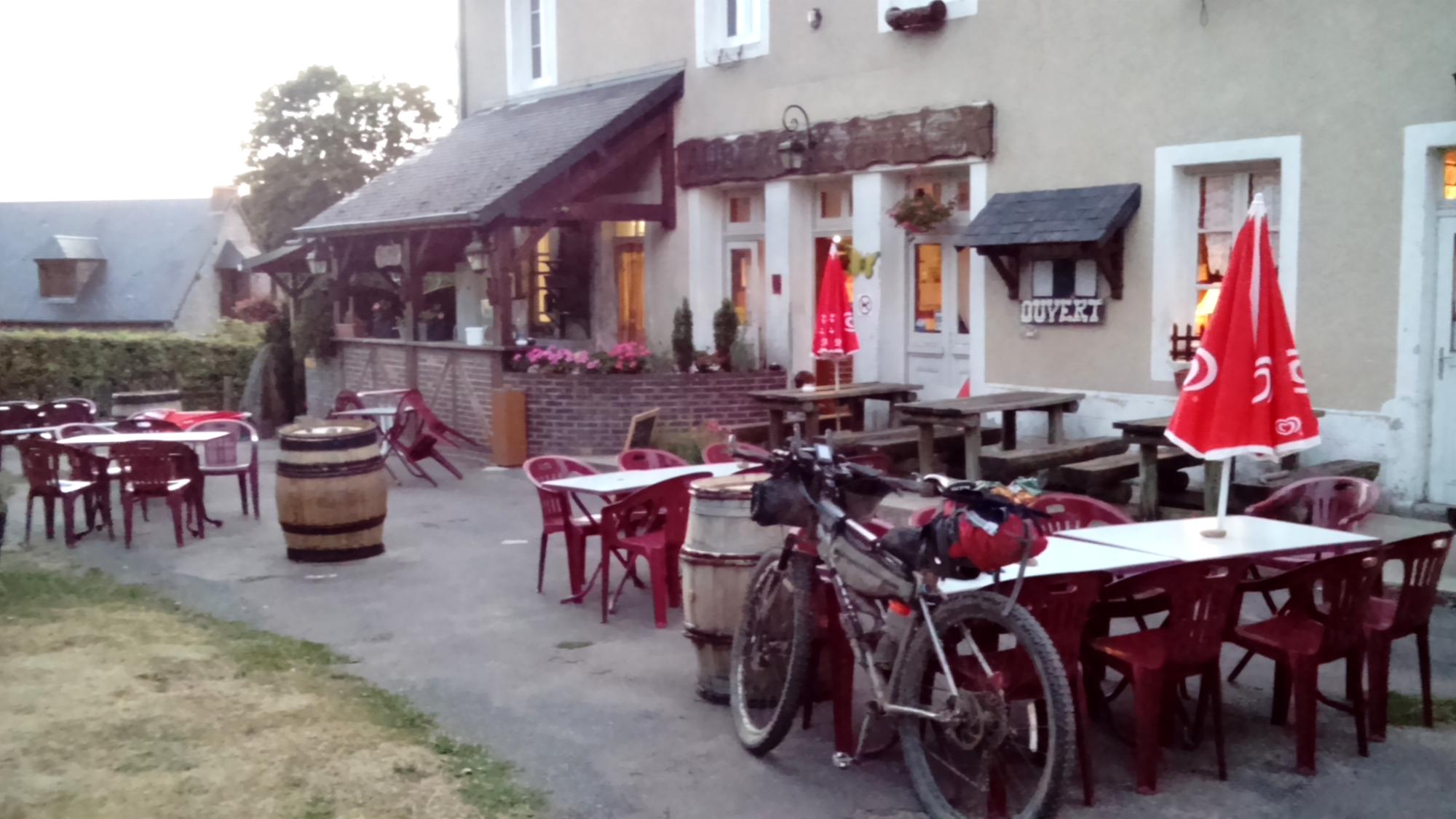 By around 9pm the sun was going and I could see the hills finally dropping away to much flatter ground - I had ridden through Morvan in a single day! I arrived at a magical little hotel called Auberge Croix Messire Jean where people were arriving from all around the bottles of wine & cans of beer. There was local festival nearby with music and I could hear the enticing sounds of people chatting and having a good time. I was sorely tempted to stay at the hotel but after a quick Orangina at the bar I made myself push until I found a spot with an amazing view to the south over the low ground ahead. Although there was no shelter I assessed that it would be a dry night, so pulled out my sleeping gear and called it a day.
Kit
Kit, gear, gadgets, devices, bags not to mention the bikes themselves, the selection, trial and then refinement of the correct bikepacking gear for the French Divide was a massive obsession in the run-up the event. I rode this some riders who I think enjoyed the kit side of things as much as they did the riding. They could spend a long time talking about all the stuff they had and how they hoped it would come in useful. I was always curious to hear how that side of things was working out.
Here are my top three items that worked without issue and played a significant role in helping me finish:
Wahoo Elemnt GPS When chosing a GPS computer, I tried really hard to like the Garmin eTrex which is the most commonly used device. But it just felt like really old technology, not dedicated for cycling and newer version had touchscreens which is crazy for cycling. The Wahoo on the other hand has an excellent dedicated smartphone app, it is mono-chrome to ensure low power usage, has just three fat-finger-friendly buttons and is just a cycling computer. It only restarted once without reason this year, and that might have been a low battery issue. Apart from that it was rock solid, needed a top up once a day and I believe it has superior navigation capabilities to the Garmin. I used the same device as last year, so it survived the dirt, dust, rain, cold, sunshine and heat for two consecutive years.
Alpkit Numo Air Mattress When bivvying last year, I had no mattress. Even in the relative warmth of the French summertime, it was pretty cold sleeping without any ground insulation. Not to mention uncomfortable. So this year I was determined that dispite the extra weight, I was going to take a mattress, be more comfortable and hopefully warmer. The Numo is really light and compared mattresses of a similar weight, it is cheap. So I figured there would be a catch and it was expecting it to puncture. But no, it never punctured, held air all night and allowed me to sleep well. It was excellent and worth every penny/gram.
Trespass 2L water bag As I ran short of water in 2017, I wanted more capacity so in the end used my Alpkit framebag to hold a water bag which was a critical, easy access supply that meant I never ran short. The bag itself was really cheap and I only picked it up days before I left. I considered using a small backpack to hold it, but eventually settled on using the framebag which had handy outlet to feed the tube up the handlebars. I then secured this in place with a cable tie on day 1 and that was my water sorted for the next 12 days.
Day 7: Uchon to Charroux (1249 km)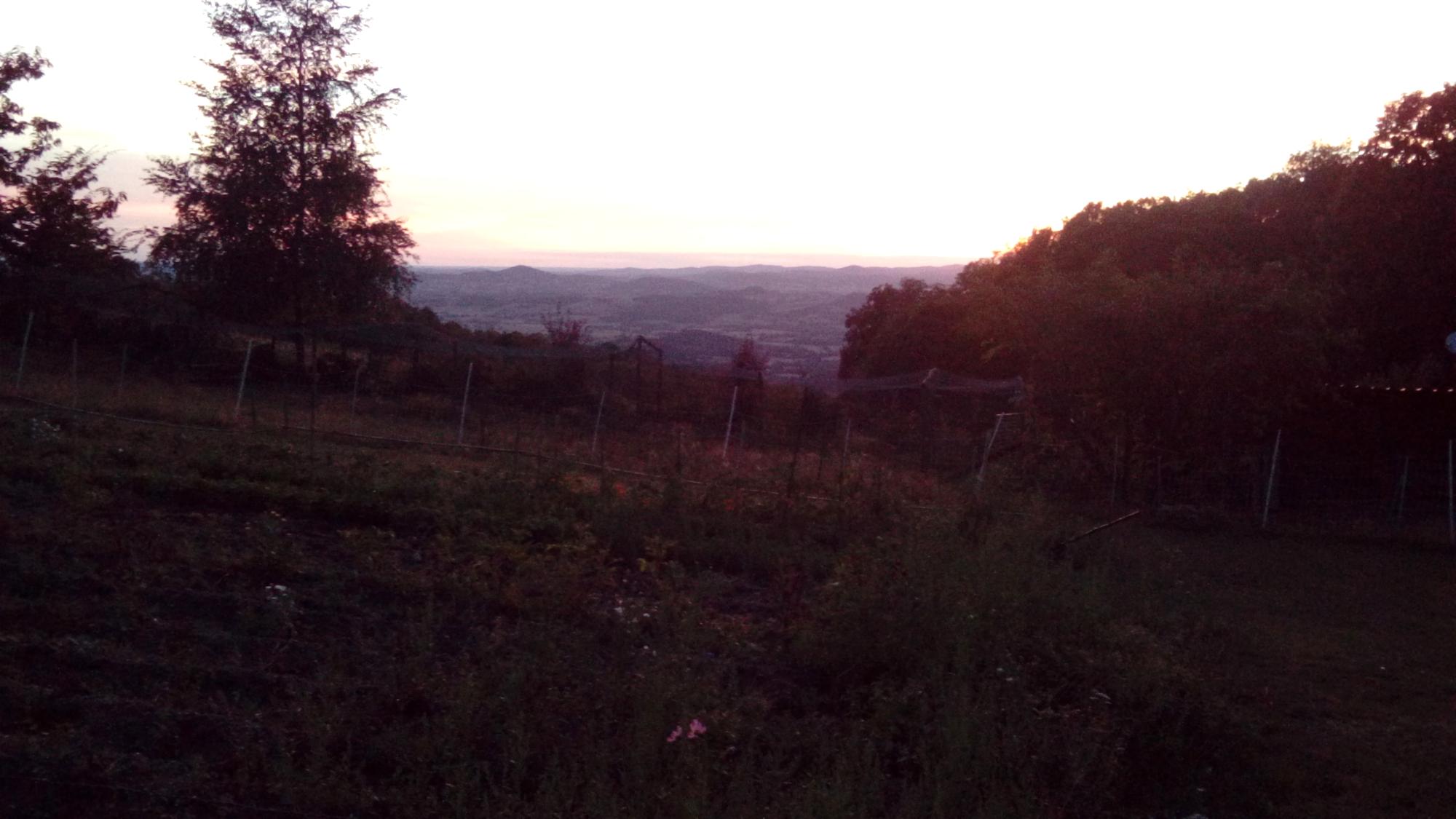 Luckily I was right about the weather, and I had a dry night. I was on my way again by about 5am and ready to push on a far as I could that day. The ground was mostly going to be flat and a lot of roads, which made this stage a 'rest' stage in French Divide parlance. Revealing the slightest hint of humanity, Sam had seen fit to reward our endeavours in Morvan with a slightly less arduous section, before we hit the volcanoes. In reality, these end up being days when you can cover a lot of ground fast because there will quiet roads and no hills, but that is a choice of course. The ground is basically easy.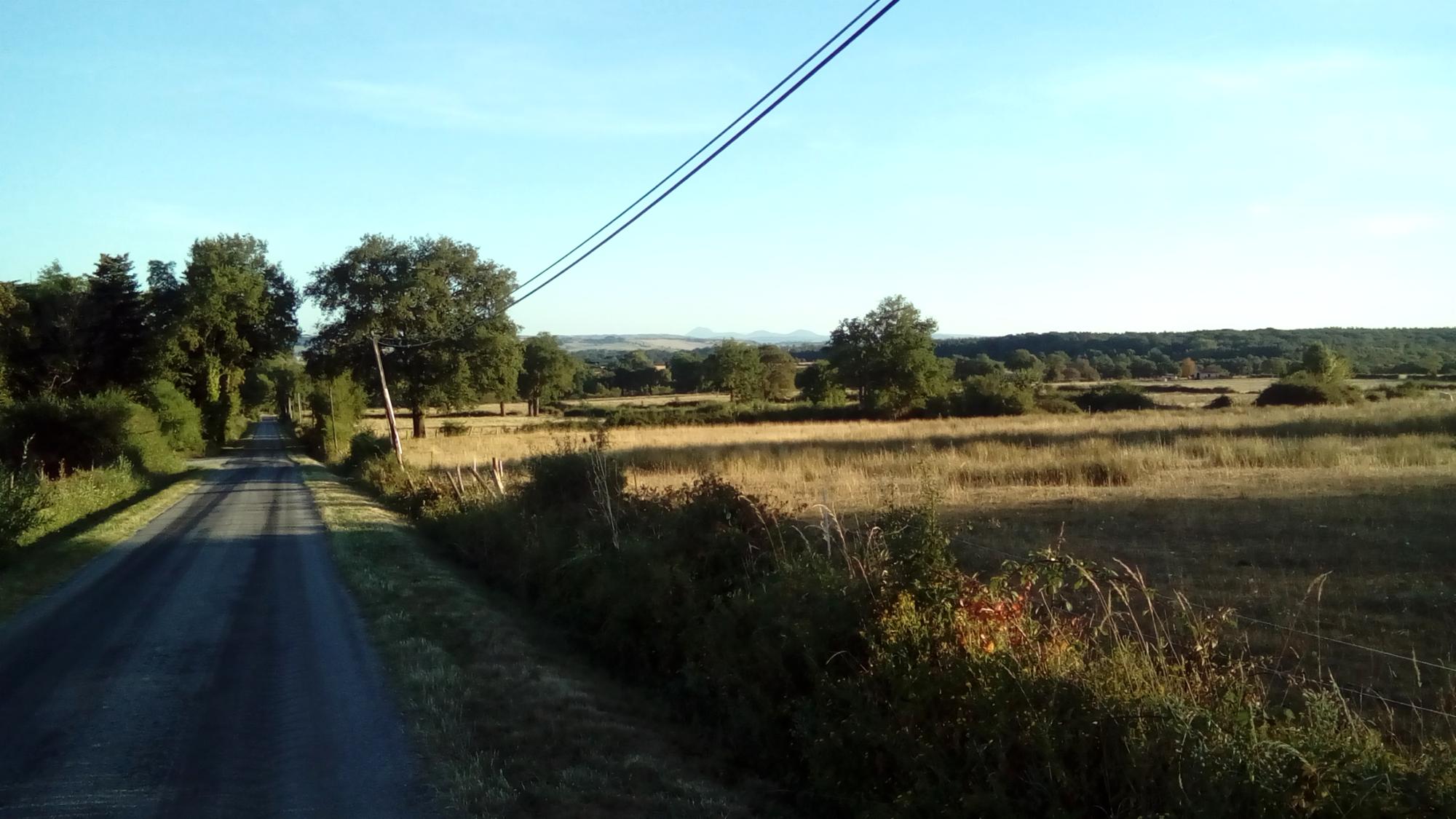 I rolled into Toulon and grabbed some breakfast before pushing straight on. There were several other riders about, more than I had seen before, so I had finally caught the bulk of the Saturday starters. As per my new policy this year of looking after myself, I had spotted a campsite at Bourbon-Lancy that was just off the route but looked perfect for the my usual clean-up routine. I was delighted to reach there by half past ten and took a quick detour to the site. I paid for showers, which I used after I had washed all my clothes and set them to dry. Whilst they were drying out I replaced brakepads front and back following the punishment they had taken in Morvan, and in preparation for the volcanoes. Once this was done, I packed away my partially dried clothes and put on the rest. By the stage, the bike had been sat in direct sunlight for over an hour, and without warning a previously sealed hole in the back tyres suddenly popped and start venting air. I put my finger on it and rolled the wheel round, swearing profusely. Stopping and doing some maintenance had actually caused an issue! A lot of sealant escaped but it did seem to finally seal. After refilling the tyre with air, I thought the best tactic would be quickly get moving and hope that the rolling wheels would sort themselves out.
I had been back on the trail for moments when the tyre started to fizz again. This time I looked more closely and saw it was a fairly big hole, so figured I had better plug it. This was my first experience of plugging a tubeless tyre and I hoped it was straightforward. I dug out the kit, read the instructions and after a failed first attempt when the plug disappeared all the way into the tyre, it seemed to work. I trimmed down the loose ends and then set off, hoping it would hold but feeling from confident. It basically did hold, but from that point on, my back tyre was often low on pressure and needed topped up at least twice a day. I was a bit concerned that I was low on sealant now, but had no option other than to carry on.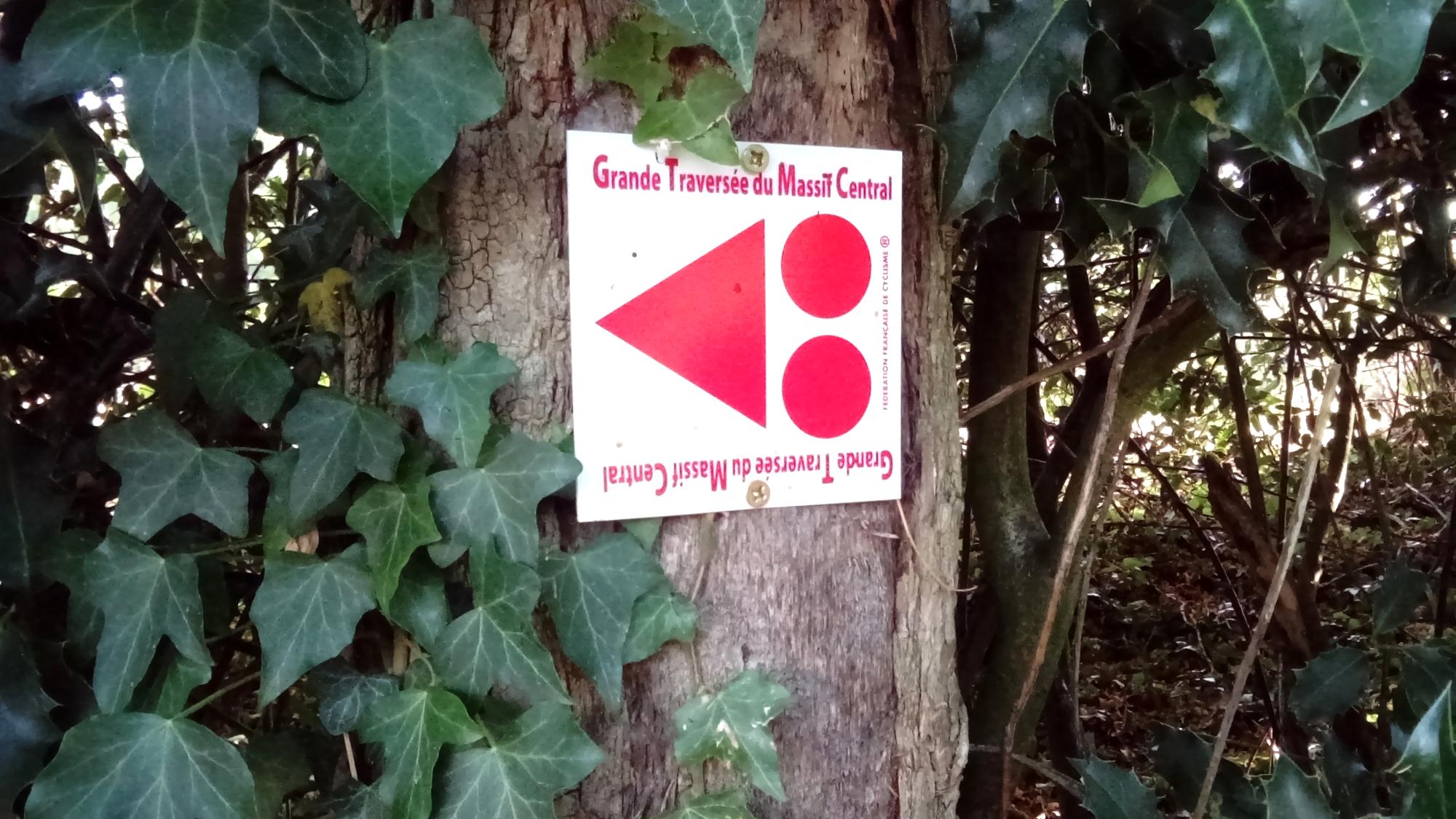 I rode fast after that, aware now that I could easily have a technical issue that was not fixable. Whether it was this realisation or the sudden strength I was feeling from the days of riding, but I somehow felt a big surge of power. My mind had been drifting to my Dad, and how he had passed away six years earlier without ever enjoying his retirement or getting to know his grandsons, following years of steady but unstoppable decline due to illness. This fact somehow coincided with my pure and complete liberation, the feeling that I was following a dream and I had a full-on mini-breakdown right there in the saddle. Tears and all. It was over within two minutes, but it felt cathartic too have released the feelings I was hardly even aware I was holding. I never even stopped pedalling, just hoped that my father was watching me and making sure I was going to finish this adventure.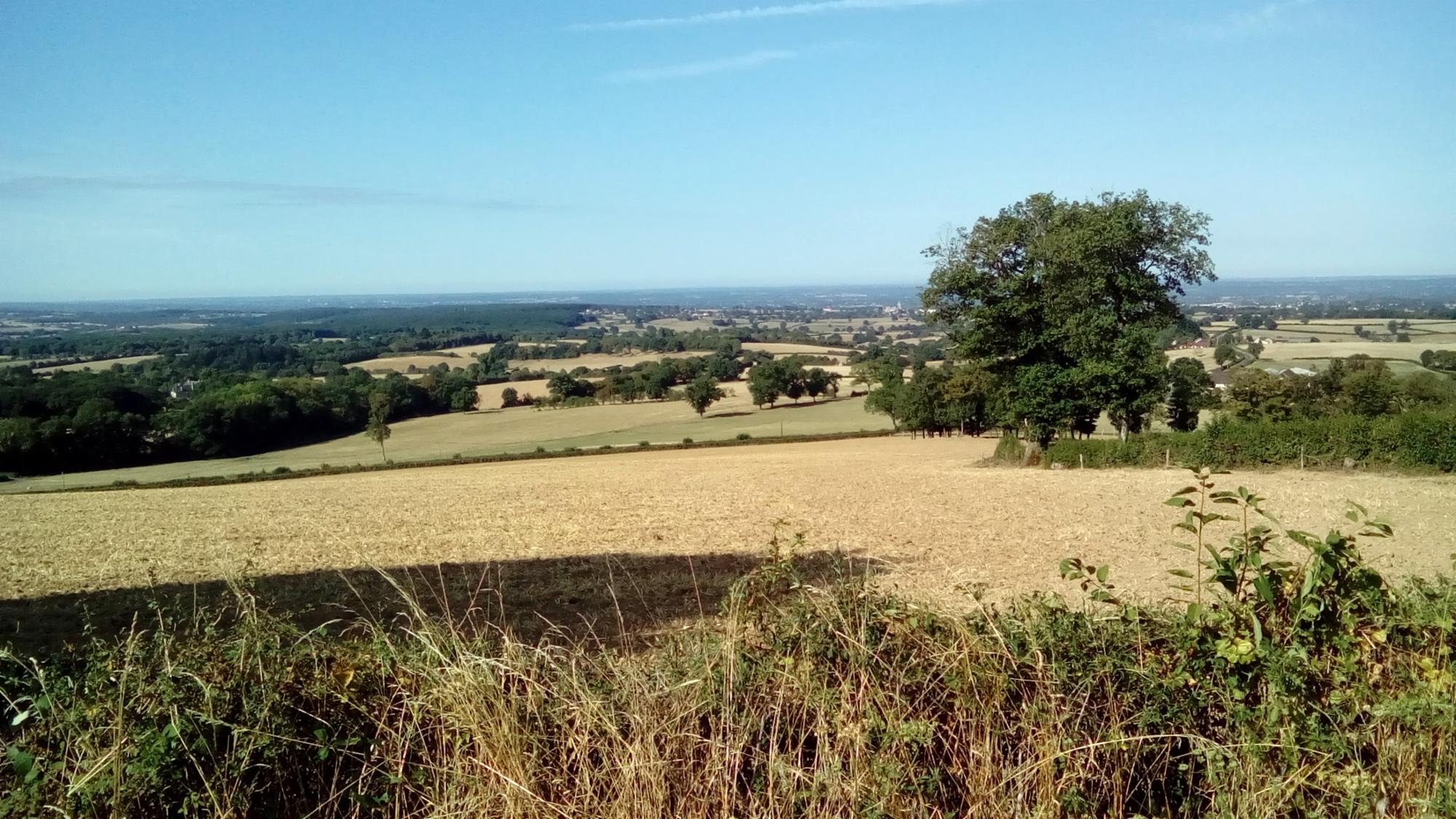 I rode to beyond Moulin in my highest gear, often cruising at about 30 kph. At Moulin I found an Aldi and did my usual resupply, eat half and then pack the rest away routine. It was extremely hot, so I was careful to make sure my bike was in the shade from then on, to ensure the tyres never overheated. After Moulin I headed straight south, glad to be making direct progress towards my ultimate destination. As night fell I found myself in the stunning medieval town Charroux near Vichy, where a restaurant was just closing. When I asked in my best possible French if they had a baguette pour emporter, the lady replied in a northern English accent What do you want?. Her and her husband had started and been running this restaurant for 12 years. They made me a baguette and then refused to take any money.
I trundled down the hill from Charroux and found a decent, but not the flattest, bivvy spot under a tree at the side of a field. The sky was again clear so I thought I would be fine without any proper shelter.
Power
Creating and managing my electical power was a critical task on the French Divide. I had many USB devices that needed daily charging - two commuter lights/head torches, an Exposure light, a back light, my GPS compute and my phone. Different riders adopt different strategies to make sure they never run short. Many will stay in hotels or campsites every night to make sure they always have access to charge points. Others use AA batteries for some devices or they have a dynamo built into their front hub that continually provides power. Some, including myself, carried a solar panel as a way of hopefully generating enough whilst on the move.
I carried a 12000 mAH power pack that was my reservoir of power. During the day I would put my panel (folded half) on my saddle bag and run a cable to the power pack. As I needed power, I would then charge from my power pack. This worked well, but there was a net loss of power over time which meant I was always taking chances to use mains charging power whilst I was doing one of my mid-day camping stops. On days when it was very sunny however and I was organised with my charging, the solar panel definitely generate enough power to keep my key devices going. On the very last day I discovered I could use both charging panels by making the panel into a triangle, and plug this straight in the Wahoo, which registered the power and basically kept going without needing to ever stop on my last two days.
Many riders found that running lights off dynamos was just not practical. The very time when illumination was required, you were inevitably slowed down for a technical section, which was the exact time when the light would dim. To save power, I never used the backlight on my GPS, preferring to glance with my headtorch at the screen to make sure I was on track.
Day 8: Charroux to Saint-Donat (1388 km)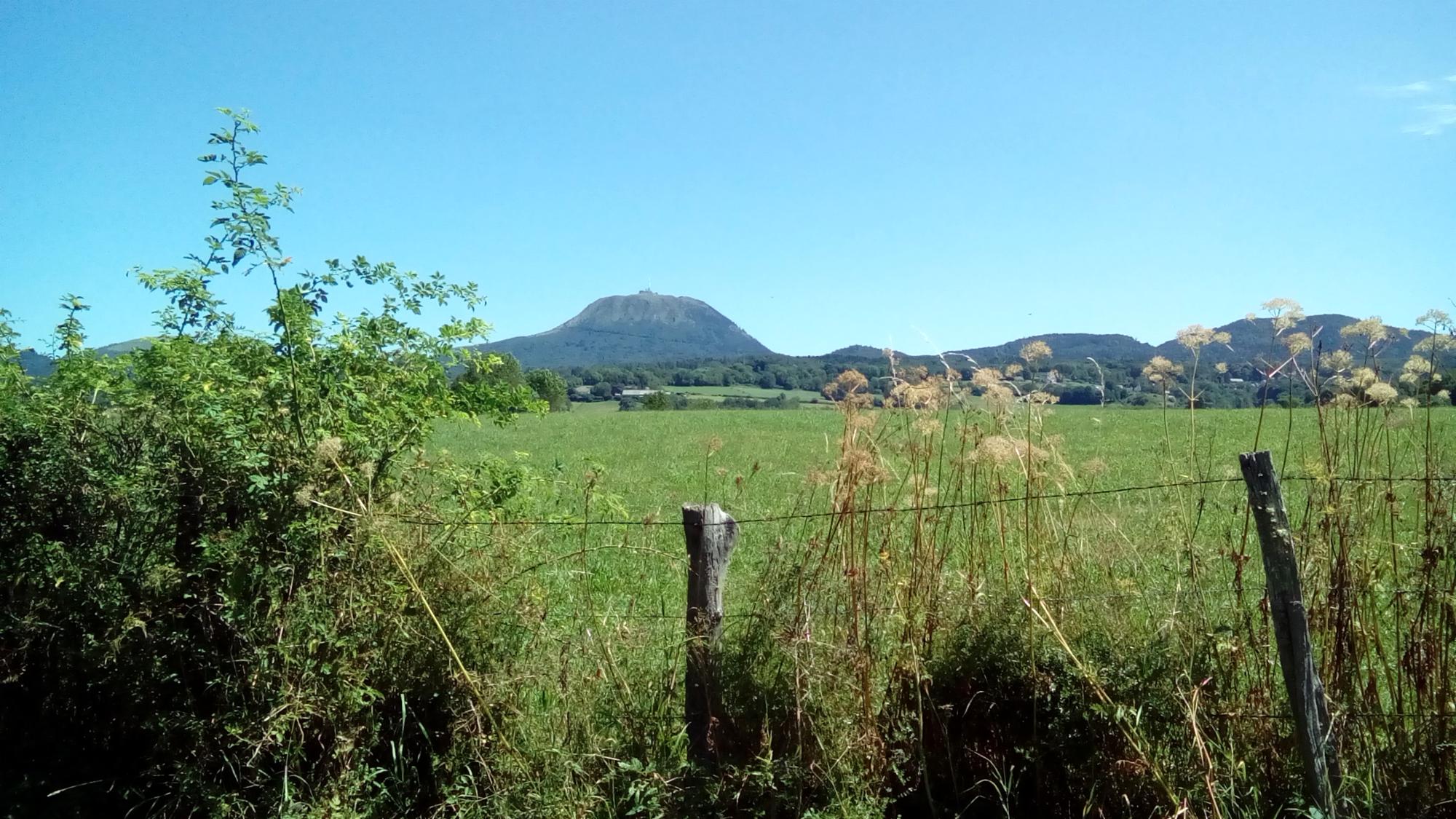 Another early start and I was back on trace heading towards Ebreuil, a town I remembered well from the year before as having a fantastic boulangerie which fueled me up after a four hour early morning ride without any food. This year I reach Ebreuil without being completed starving, but I still stopped at the same boulangerie for some coffee and cake. Today was going to be an amazing day, as it would take me through the famous Volcanoes and over some very high ground. The weather was looking good so I was thoroughly looking forward to the day ahead.
My enthusiasm was quickly dampened when I realised, by chance, that my clipped-on hand pump was not longer clipped on. Instead the clip and the handpump were completely missing. I had seen hand pump the day before when I stopped at the campsite. Yet I had vague recollection of descending over bumpy round and hearing a clang which I did not stop to investigate, but was probably hand pump hitting the fame as it fell the the ground. This was a serious issue because my leaky back tyre required top-ups and I was rapidly running out of CO2 cartridges. My mind worked double time to figure out if there was a bike shop somewhere up-ahead, but I remembered nothing from the year before. Somehow I had to get a new hand pump today, I could not wait and I also did not have the time or energy to detour off the trace.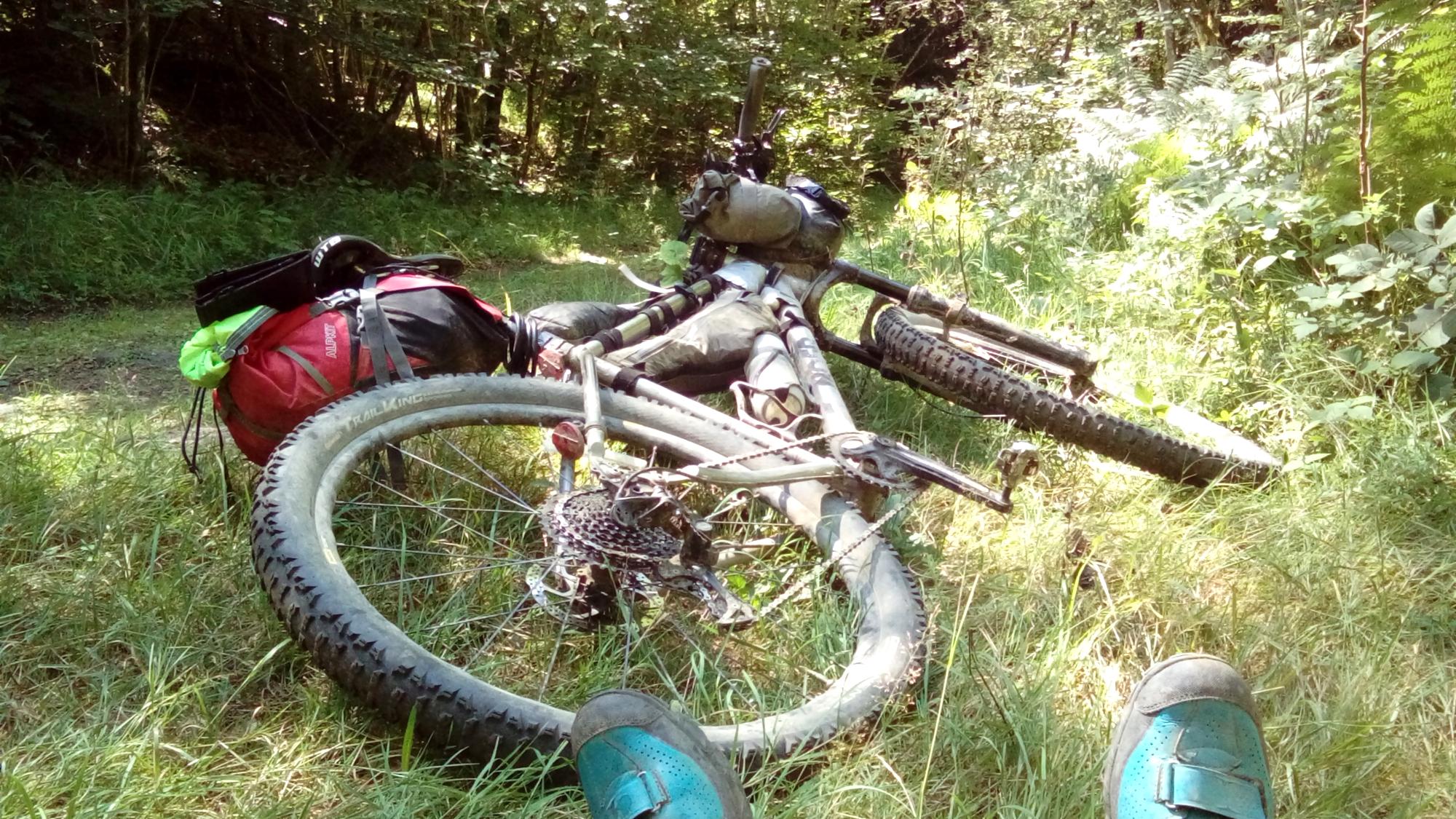 Around this time I bumped into William, a fellow rider who had started on the Saturday. He had stopped to fix his back tyre which had a sidewall puncture. He was riding an incredible carbon, leftie gravel bike that must have weighed virtually nothing compared to mine. We had a chat but, aware that I had so much ground to cover ahead, I pushed on but expected we would see each other later that day. The trace was on roads for a while and there were plenty of cyclists out to enjoy the fine weather. I had seen virtually no other cyclists on the whole route, and yet now there were loads. I flagged down an older roadie and explained that I had lost my pump and would like to buy his. He immediately said that his was broken so it would be not use. I took this as his way of saying Get lost and thanked him for his time. Next I saw some more opther roadies who I let pass, followed by a couple who were out on brand new e-bikes. Again I flagged them down and explained the situation. Without hestitation they were immediately digging into their backpack to find a small Zefal hand pump. He gave me the pump and absolutely refused to take any more. Once again I was stunned by their generosity and could only thank them and continue, delighted to once again have a hand pump.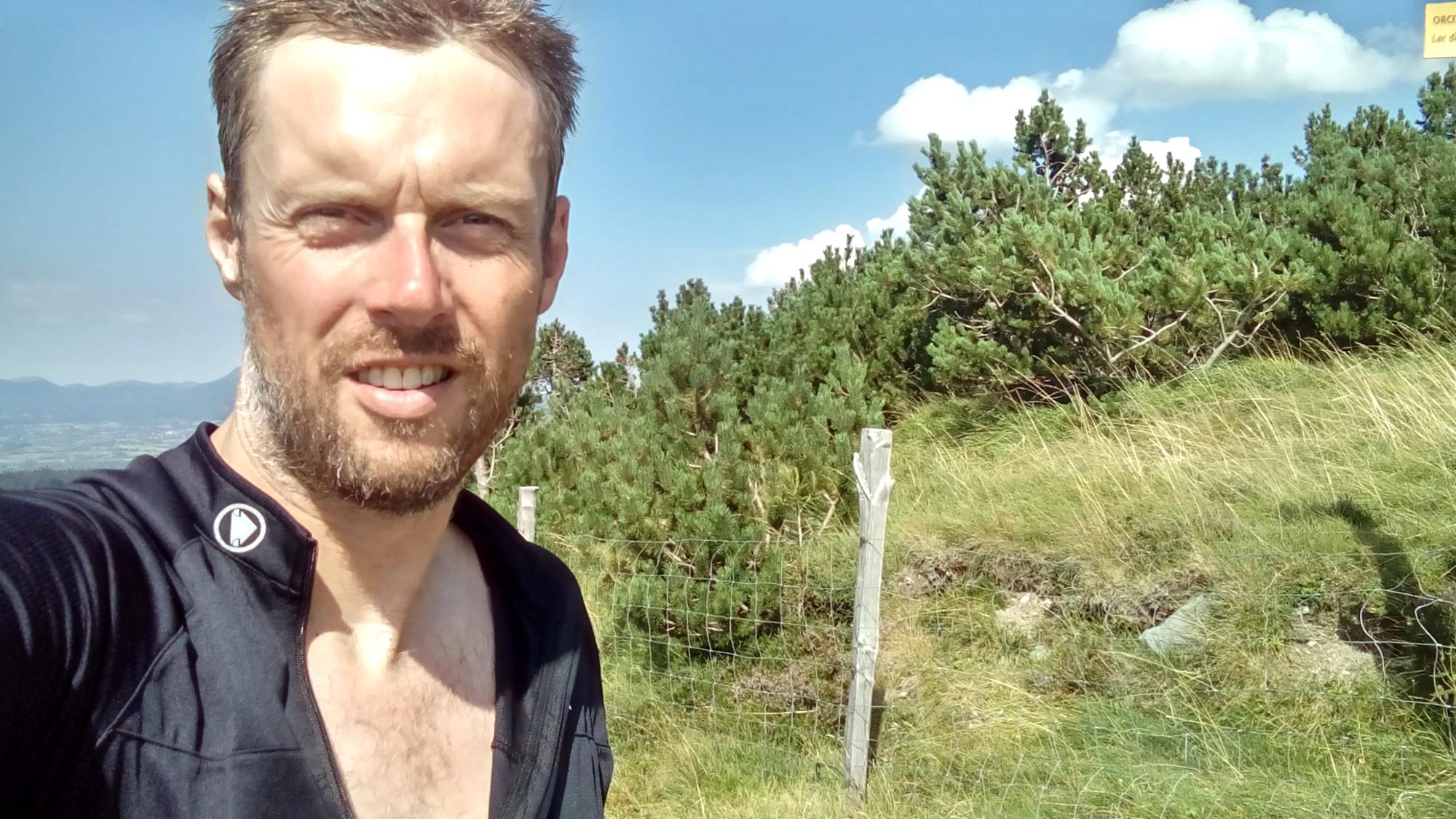 From there I climbed all the way through the Volcano's natural park which was mostly single-track, shaded by forest and one big climb to the top. I really like this kind of climbing, without any serious intermediate descents, and was glad to have made the high ground by midday. I passed some other Dividers from Saturday and then stopped for lunch at a quiet spot just to take it all in. Next up was Olby, where I ran into William again who had sorted his tyre wall issue and was going for a coffee. I apologised and said I was going to crack-on. The next climb was right over the top of the highest ground on the entire route. It was really hot now and the relentless grind up the forest trails had me working my way through all my water, which I had to ration. At a mountain stream I stopped and covered myself in cool, fresh water but resisted the tempation to drink, just in case. Finally I reached the next high point above La Bourboule and slowly descended, remembering how the year before I had flown down and quickly had a puncture at the bottom.
At La Bourboule I made for the local Utile and filled up on food and drink. Sitting outside in the later afternoon sunshine, working my way through an other cantaloupe melon (by now a daily tradition) and watching the world go by was wonderful. I ate and drank until I could was completely full, once again loaded my bike and stuffed some spare Oranginas in the my cycle top pockets - they would be good for the climb out. As soon as I was ready I pushed out for the final climb of the day, which took us up a switch back road with at least 20 zed bends. Up and up and up until I had regained all of the height I had before La Bourboule until it finally levelled and then slowly descended on the other side to more forgiving terrain before it transitioned towards the Massif Central.
The ground was generally falling but with plenty of small climbs. As the evening wore on I grew tired and figured I would need to pitch up at a bivvy spot before too long. Ahead were some rather worrying thunderclouds, which I could see sparking in the evening light, but could not hear the thunder. I knew finding a sheltered spot would be wise but no obvious spot was presenting itself. When I reached an abandoned farmhouse, I decided this was the best I would get and settled down under the eaves. The air was changing and the wind lifting, but I was too tired to find anything better. That was without doubt the worst night I have ever had, anywhere. By 4am, I was completely soaked, having tried my best to avoid the deluge it was impossible and the rainwater seeped into everything. As the rain eased, my sleeping back was wet through but still had warmth (the wonder of a duck down sleeping bags) and I finally slept for an hour. I know this because I woke myself up with my own snoring at 5am. Now I was cold to the core and in a very bad situation. I climbed out of the bag, pulled on all my wet clothes, packed up all my wet gear and rolled out.
Bivouac
I am not sure who first said it (Philip Malcom said to me first), it may have been Mike Hall, but bikepacking in it's purest form becomes very like being a fugitive on the run. The long days in the wilderness, generally avoiding centres of population, living off only what you can carry and moving fast from place to place, the bikepacker is a fleeting presense who often arrives late and departs before anyone realises they were there. The experience of bivouacing is the ultimate expression of this way of life, the willingness to sleep outside with only the shelter you can find nearby. Under a trailer, in entrace to a public building or in an old barn, places you would not even consider sleeping in your normal way of life but somehow seem perfectly acceptable after a few days of bikepacking. Transforming to this fugitive cyclist from your everyday persona is one of the most enjoyable parts of the French Divide, revealing an opportunistic, shadowy character who has nothing, moves fast and is simply seeking to fulfil their basic needs of food and shelter.
For me, and I know for other riders, dusk became a time when I would instinctively begin to notice good bivvy spots. As I rode through the last of the light, aware that darkness would soon limit my options, all manner of build or shelter were automatically assessed for suitability for bivvying. Considerations included obviously the quality of shelter from rain & wind, flatness of ground, how close to people, how likely to be illuminated by a passing car or signs of cattle or animals and obviously if it was occupied/owned by someone. Bus shelters, barns, campsite stands, trailers, sheds or semi-ruined buildings were all contenders. So many French villages have these public pavillions near the centre that have a pool of water and a wide raftered roofers. They always looked ideal but I never managed to find one at the exact time I needed to stop.
My skill at bivouacing obviously leaves a lot to be desired. Being caught in the open during an overnight thunderstorm not once but twice, is pretty much as poor as you can get. Sometimes there just is no available shelter and I was too tired to ride on to find something, but that was probably my mistake. Even when tired, it is still critical to find some sort of covering shelter. Branches and trees are not shelter, although they reduce getting wet from dew, as I discovered the hard way. My best bivvy spot was at Beaulieau-sur-Dordogne - perfectly dry, sheltered and flat. Plus it rained that night, so I would have got wet.
Bivvy bags are kind of useless I have found. If it's dry, you don't need them. If it's wet, they will only keep you dry for an hour or so. If I was doing a long distance bike packing ride again, I would definitely take a tarp instead. Weighing almost the same, it would provide proper shelter from rain.
Day 9: Saint-Donat to Beaulieu-Sur-Dordogne (1547 km)
Soon after 6am, I was starting to warm up, kicking myself for selecting yet another bad bivvy sight. Due to the dense clouds overhead, daylight did not appear until well after 7am, finally bringing to an end my nightmare. Before long I ran into William again, who had covered exactly the same ground as me the previous day and found a campsite just passed my bivvy spot. Typical. He was in good form and we chatted as we rode about our lives back home and our experiences on the Divide. The route picked up a cycle way that carried us all the way into Ydes where we found a very quiet and slightly rundown tabac that sold lifes essentials - coffee, beer and cigarettes nothing else. We both went in, ordered coffee and I borrowed a plug to charge all my devices. One coffee followed another, it was a total pleasure to just stop for once and have a decent conversation.
After Ydes we split up after I had to do another lengthy stop to put away waterproofs but we frequently met up again as the day went on. I knew that all my kit was soaking and I would have to stop to dry it out some how. Ahead was a campsite so my plan was to stop there and sort it all out. Around 2pm my target campsite was still far ahead, it was starting to rain again and I was passing a quiet campsite - so I decided I would stop there. The reception was closed so I went to the toilet block and pulled out everything. It rained continuously for the next hour, during which time I had a shower, dried everything as much as I could and charged all my devices. The sleeping bag was half dry and probably useable. I stuffed 4 euros through the letter box at reception as I left.
After that, I set off and began riding through the first of the Massif Centrale. This filled me with a certain dread, as it was here that I had really struggled last year. The amount of climbing required to traverse this plateau riven with countless gorges was going to be a real challenge. The sun pushed out later on and I stopped for another half an hour to properly dry my kit under it's glaring warmth. By late afternoon I finally dropped down to Forges, just as the rain was really starting again. As I rolled in the heavens really opened and I drew up at a bus shelter, took my shoes off and had a rest while it passed.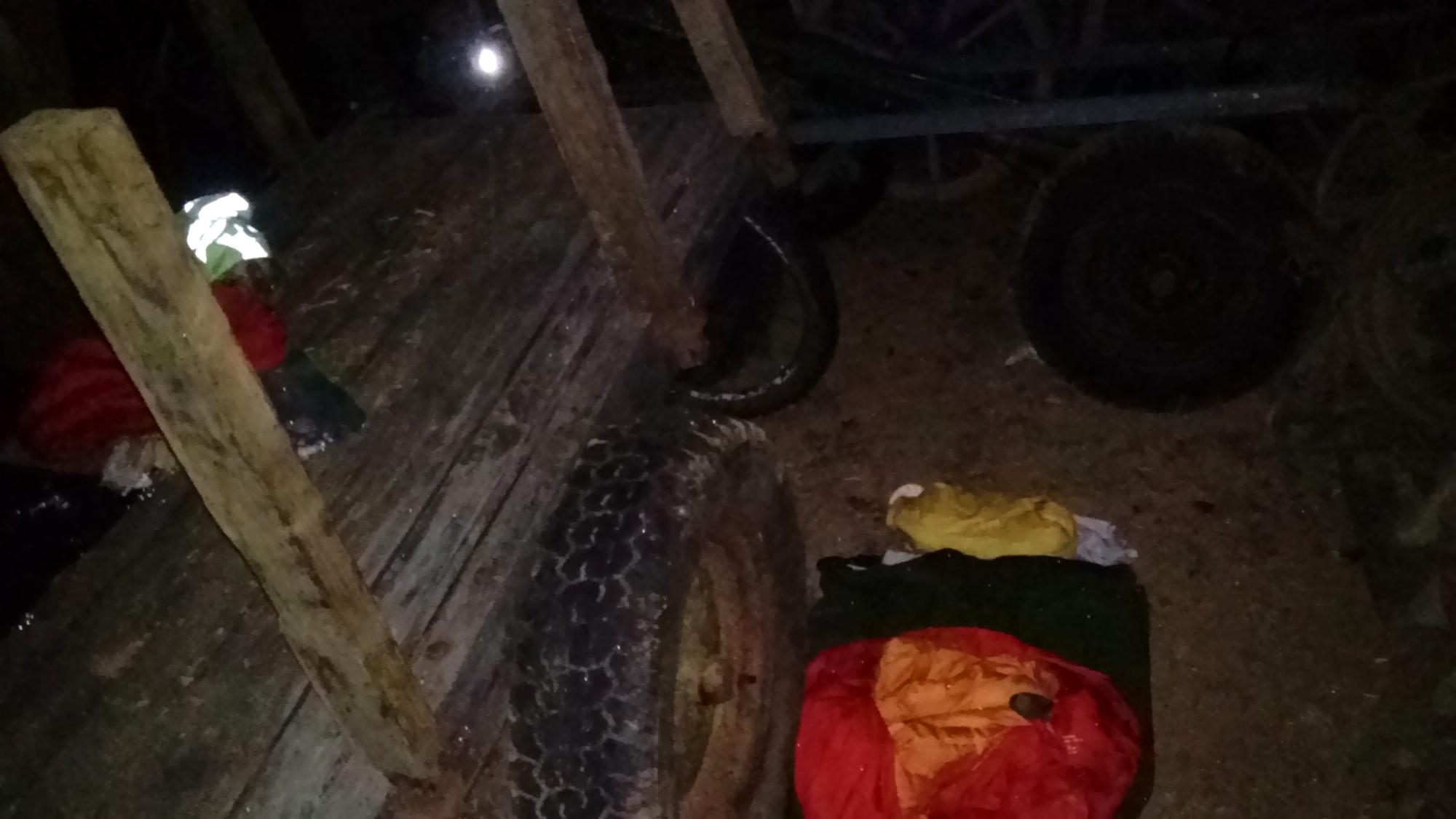 Climbed out of Forges into the clearing skies, there was a misty warmth to the evening. My back wheel was again really flat, slowing my progress considerably, so I asked a farmer if I could use his barn for shelter whilst I plugged the offending hole again. He was more than happy with that and retired to his farmhouse with an offer of further assistance if required. Once sorted, I was away again and reached the picturesque Beaulieau-sur-Dordogne around 9pm after a memorable evening ride through some stunning countryside. Resteraunts were buzzing, people were out drinking and it was very tempting to stop and have some food. I ran into another Divider who heading for the campsite with an armful of pizzas. Instead, I rode on and found a disused barn filled with 100 year old farm machinery just out of town and pitched there for the night.
Mind, Body and the Art of Bicycle Maintenance
Three factors equally determine every riders outcome on the French Divide - mental strength, physical strength and the ability to keep your bike working. Without all three, it would be pretty difficult to finish, as I found out in 2017. That year, my bike broke and I broke as well, thanks to drinking bad water. I guess this is another factor beyond these three, as sort of survival skill which is about looking after yourself after days in the wild, although this can be mitigated by chosing to stay in hotels.
Looking at myself, I think my strongest of these three was my mentality. Other riders would tell me they had times when they had wanted to quit, and had to talk themselves round to continuing. Those thoughts never once entered my head, even when I was heading for hypothermia at 4am in a soaked sleeping back, the solution always lay by riding on. When I became fatigued by riding for days on end, I knew I had to get off the trail by finishing as quickly as I could, hence my mad dash for a Friday finish. My early exit the previous year was down to poor decision making and it was honestly a surprise to me that I was stopping, I fought against it for at least a day and a half. After finished this year, my friend Stephane who I rode with said I had no doubt for your mind to reach the end when we rode together, which was one of the best compliments I can imagine.
My weakest point was my bike maintenance skills. Although I had built my bike, there was still so much I did not know. How to plug a tubeless tyre? Although I quickly learned this. How to put in an inner tube without nipping it? I had done this many time before. How to rig a single speed if I smashed my derailleur? Why was my bike creaking alarmingly every single day? The bottom bracket sounded so bad that other riders would be alarmed when they heard it. Why did I have such big, heavy tyres compared to everyone else? Why was my front suspension fork losing air? Why did there not seem to be enough sealant in the back wheel? Why was I running a 36 tooth front chain ring? A 34 or 32 would have been much more sensible. So much about Morvan caused me concern and simply could not break because I could not have fixed it, that I really babied her through so much. I descended so slowly, used 80% front brake to minimize any extra wear on the back tyre and pushed the bike over anything remotely difficult. It was my continual weak spot and I worried every day that something irreparrable would halt my adventure before the finish.
Day 10: Beaulieu-Sur-Dordogne to Caylus (1716 km)
Next up was some of the biggest climbing days over the most technical ground, a proper test for even the most confident cyclist deep into the French Divide when tiredness was beginning to tell. The heart of the Massif Central. It was great to reach Rocamadour by 9am and raid the local supermarket. I sat and ate outside the shop for at least thirty minutes without a break. I ate a pasta salad, a cantaloupe melon, croissants and three yoghurts. The rest was packed away and off I rode down the famous switch back path to the valley floor. The organisers then routed around Cahors through some intriguing moss covered forests that were damp and eerie, with countless caterpillars hanging down from silken strands above the route. These insects just stuck to you and regular stops were necessary to flick them off. The climbs and drops were the hardest yet and punishingly pointless - after reaching a summit all ground would immediately be lost on the other side as we worked our way slowly south.
At Saint-Pierre-Lafeuille there was an open air restaurant next to a campsite where I ordered steak frites and chatted to the owner. He had met so many riders and was simply amazed at the route and ground covered, hardly believing we had started a Dunkirk just more than a week before. Powered up I saddled up soon after 2 and just rode on and on without hardly stopping. Night fell and around 9pm I was nearly at Caylus when another Divider suddenly appeared beside me. I had caught them (as they were a Saturday starter) but they rode up behind me, eagerly enquiring if I was going to ride into the night. I said yes and rode on with my Exposure light illuminating everything, whilst his dynamo front light was looking decidely dim. As we got to Caylus he said he was going to stay there in a hotel so he left the trace, but not before saying he was worried about me because I had fallen behind, which I thought was odd. Whatever the reason, I noticed that he stopped the next day at CP3. Caylus was in full-on festival mode with stages, musicians and fairgrounds and so many people out enjoying the party atmosphere.
I cycled on a bit after Caylus, until I found a flattish spot in what looked like an abandoned garden belonging to some crumbling buildings nearby. This would have to do, as the sky was clear and I was hoping for a dry night. One of my least favourite spots, due to the number of insects I saw crawling about in the morning. Just before I fell asleep, my friend Christian who lives in Toulouse, sent a text to say he would like to ride with me tomorrow. I just replied 'Excellent' and left him to figure out the details.
Which Divide?
Riding with so many elite bikepackers, I was always curious to find out how the French Divide compared to other Divides - the Italian Divide, the Baja Divide and Tour Divide. Reading the bio's of the riders, it was clear that many had ridden these other routes so could compare it directly. Of course this year we were joined by the impressive Lael Wilcox who had ridden everything possible in the US (and often been fastest), so her view would be really interesting.
The French Divide is generally considered to be more difficult technically than any of the others. Speaking to Ian McNab, who is a Tour Divide veteran, he thought the French Divide was more difficult overall. Sebastian, one of the volunteers, said the Lael found it way more technical than she was expecting. So although it is not as long, it makes up for that by often leaving the safety of gravel trails and diving into paths, forest footpaths and single tracks which were gnarly and often extremely difficult when wet. Another difference with the Tour Divide is that it obviously follows a well-defined hydrological divide - the Continental Divide. However the French Divide trace is entirely down to the whim and judgement on one man - Samuel Becuwe, the mastermind behind it. This feature means the experience is closely related to his skill, awareness of human limitation and masochism (sorry, there is no other word). Fortunately Sam is a complete expert in this field and his routes are well considered, trialed in advance by him, pass spectacular views and are peppered with slightly easier sections, whilst also being technically demanding.
The French Divide has a spirit and ethic behind it which makes it truly unique. The checkpoints, the relaxed nature of the organisers, the gallic humour, the overriding spirit of adventure over racing and the final weekend in Mendionde which is a closing celebration for all the attendees. All of this is optional and not strictly required, it is the choice of the organisers which they have decided makes the whole experience better, and it does. More engaging, more fun, more about the experience than your position and more sociable. The closing days in Mendionde were for me really special and an unmissable part of the experience, where I got to know everyone that bit better and share stories of our epic ride. For this reason, reaching Mendionde before the weekend was a major incentive. The organisation appears effortless but everything just works - the registration, the trace, the checkpoints and the closing weekend.
Those that have ridden the Italian Divide said that at the end there was nobody there.
Day 11: Caylus to Auch (1912 km)
I packed up at my usual time and was riding by bikelights from around 5am. By 6am, I had reached Saint Antonin Noble Val, which was gearing up for bike race later that day. Oddly as I crossed a main road just outside a random car stopped and told me not to go into the forest on the other side, at 5:30 in the morning. I did not quite understand why, but the trace lead that way so I had little choice but to follow it once he was out of sight.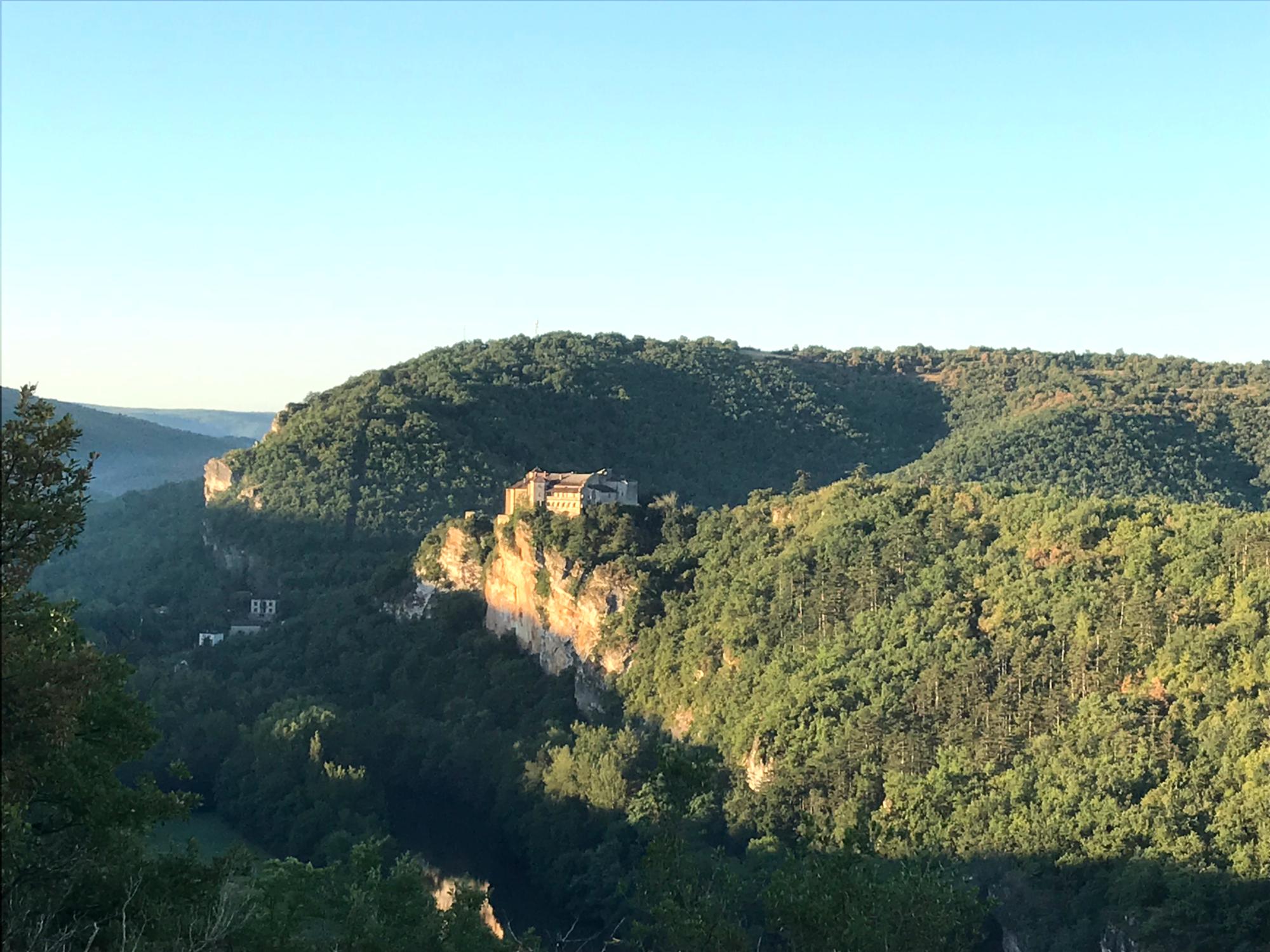 At Saint Antonin I pulled up at bank machine and as I withdrew some cash, was aware of someone approaching. It was Christian! My old flatmate from 20 years ago in Glasgow was a welcome sight, I gave him huge hug and could not quite believe he had managed to find me. Like a space supply ship, he had somehow synchronised his trajectory and intercepted his moving target perfectly by watching my dot on the trackleaders page, with just a simple text the night before and no other organising. I was well impressed and we set off on the trace. Christian was brought up in Verfeil not far away so knew this countryside well and was thrilled to be riding it as the sun rose on a beautiful day. He was riding a carbon enduro 29er with much better gears than me and he literally flew up all the hills that I slowly plodded up. And of course he descended way faster than me. With his naturally faster pace it really made me push on.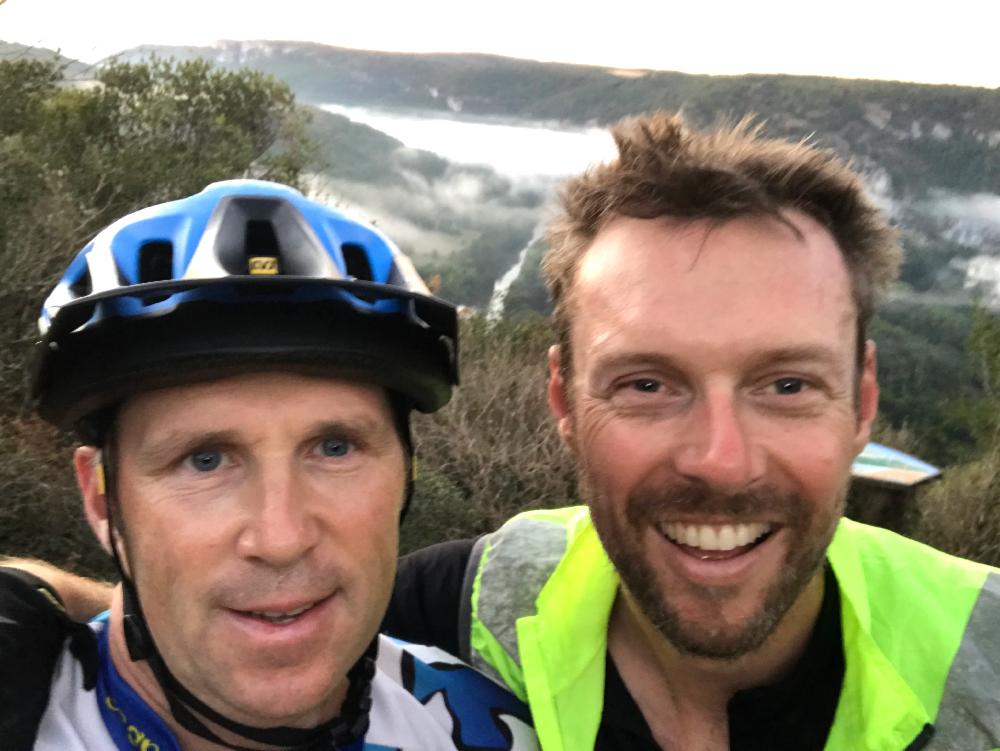 After climbing a ridiculously punishing final hill followed by an impossible technical descent, we were almost at CP3 at Puycelsi. As we arrived I was pleased to see the organisers up and about, having their usual coffee and cigarettes in the local cafe. Aware that I was low on energy and food supplies we went to the small supermarket and did a full resupply/eat everything routine. Christian said we should go and have a coffee with the organisers, which I naturally resisted with my urge to get on but he was right. Once we were fuelled up we had an enjoyable catch up with them. Sebastian estimated I would be a Saturday finisher at my current pace, which gave me a wake-up call as I was really targetting Friday. And they confirmed my suspicion that they had intentionally routed us around Cahors because from previous years they realised was too easy to withdraw there - with TGVs to everywhere. I told them that Christian was considering doing the Divide in 2019 which he was and Sebastian took note, agreeing he would see him next year.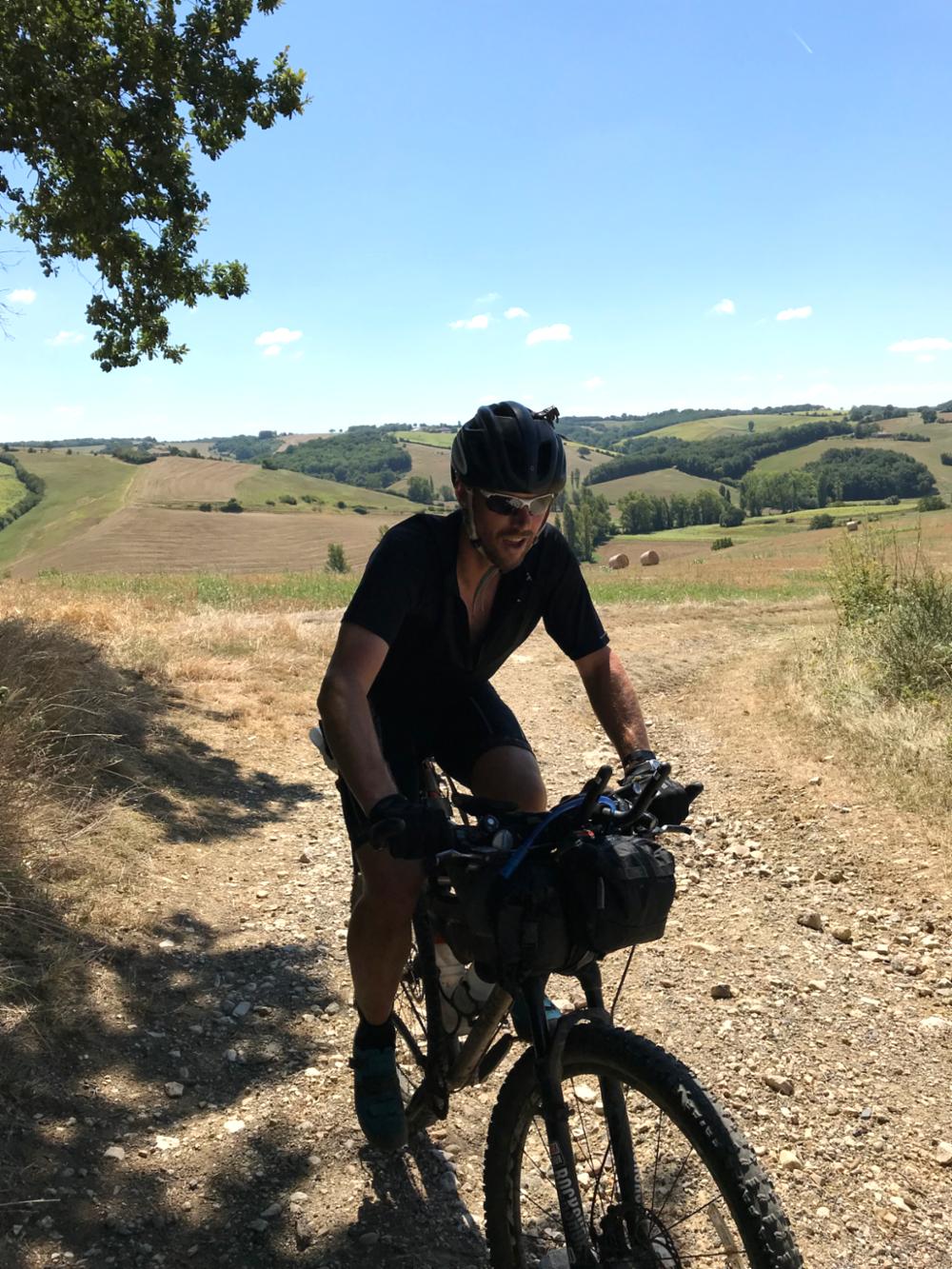 By soon after 11 we were on our way again, riding into a blue sky day with more than just my own company, it was going to be pretty special day. After a few hours Christian pointed out that in the very, very distance, we could see the Pyrenees. The Pyrenees looked big and stretched all the way over the horizon. I let out a whoop of amazement and at the same time realised we were finally leaving the Massif Central as the plateau gave way to rolling hills and finally a flat plain all the way to mountains. I had made it through and could not help giving another shout to celebrate this achievement. Making it to the end now seemed like a distinct possibility. We rode all through the day, out onto the plain and every town we passed through was closed, no shops open all, due to another public holiday. By the end of the afternoon Christian was eating a plain baguette with no filling and we stopped at several cemetries to top up on water. It was another hot one. As we rode on the roads, I always led the way to ensure there was no drafting benefit and also because I preferred setting the pace. By late afternoon I was worried that we had completely bypassed Toulouse but Christian's plan was to cycle home once we reached the Foret de Bouconne on the far edge of Toulouse.
We reached the forest, riding through twisting dusty footpaths or wide logging trails and then the point where Christian would need to turn back. He was amazed at how far he had ridden in one day, he had no idea he could ride from Toulouse to his childhood home entirely without going on road. It had opened up a whole new set of possibilities for him. Equally that was the longest he had ever ridden on his moutain bike, which had performed without a single issue and filled him to confidence for similar future rides. Not to mention the possibility of doing the French Divide in 2019. We said out goodbyes and I was back on my own again, thankful for having shared a day of the adventure with one of my oldest friends. It now seemed less like a dream and more rea,l now that I had a witness. The last thing he said was I hope you find some food and so did I. Fortunately at L'Isle Jourdain an hour or so ahead there was a small out of town food park with a pizzeria that was open thankfully. At 6:30pm I ordered two pizzas, a big bottle of Orangina and also a big bottle of Oasis and happily waited in the evening sun for them to appear. No other riders passed as I spent an hour eating and sorting out all my stuff, desperately trying to charge my drained phone so that I could call home. I had missed both my boy's first days back at school and really wanted to call home.
After eating as much as I could, I pushed on, wanting to use the new food energy to get me as far as possible that evening. After Gimont I found a nice spot by a sunflower field and away from the mosquitoes where I could get settled down and call home. My mobile phone finally powered up and I also plugged it into my power pack to make a call home. For twenty minutes I had a memorable chat with both my sons and with Jackie, telling them all about my adventures and hearing about their first day back at school. I signed off by saying that I may not speak to them again until the end because I needed to move even faster and save all my power for lights and GPS. They were all so supportive and just wished me a good journey to the end. After the call I rode on until well after dark and all the extra energy was gone, pulling up at a bivvy spot not far from the trail. It was flat gravel ground with no shelter but it was hot and the was not a cloud in sight, only crystal clear stars and the Milky Way.
Day 12: Auch to past Lourdes (2072 km)
By 6am the next day I had not been riding for long and stumbled onto a quiet campsite. I was dirty, my clothes were too and I was short of power so this seemed like a perfect opportunity to clean and recharge. I rode in with my lights off so that I would not wake anyway. At the toilet block there was sinks for washing clothes, showers and plug points. For the next 40 minutes I did the quickest cleanup ever and was back on the road, before the sun had come up and before I had seen a single other person on the campsite. Auch, the next town further on, was suprisingly big and seemed to be full of industry. I found a boulangerie and stopped for a coffee and a croissant. The owner gave me a free bottle of water too, having served many Dividers over the past week. I felt slightly guilty for having all these stops, but it was sensible. That would be my last wash stop before the end and it felt great to be clean and well fed for once.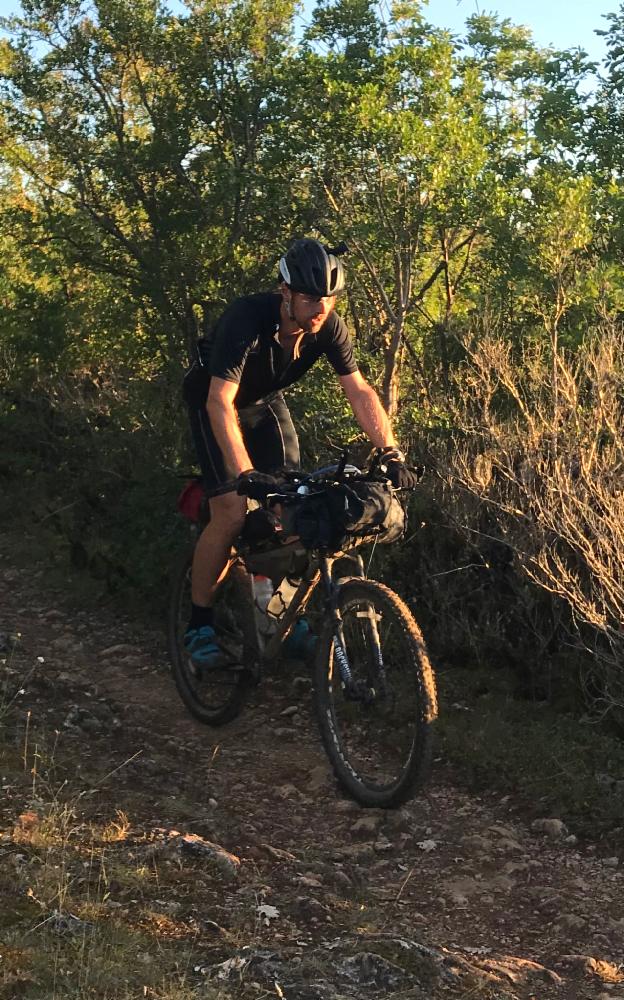 From Auch, the day gradually warmed and the trace followed the Le Chemin de St. Jacques de Compostelle for much of the way. There were plenty of holloways that carved a path through the countryside. My target was Marciac which I reached at lunch time, just in time to see the stages and stalls being dismantled in the town square following a three week jazz festival. I found a supermarket and bought another carrier bag full of food. One of my purchase was a large tub of Ben and Jerry's ice cream which I finished completely, along with a bottle of orange juice and the mandatory cantaloupe melon. I had my bike in the shade the whole time, but as I left I noticed the back wheel was really flat. It seemed that the very small holes (of which there were several) were even leaking air, the size of puncture that the sealant should have blocked. I asked about a bike shop but was told there was none nearby so I pumped up the tyre and set off, hoping again that once the tyres were rolling it would be better.
One mile out of town the tyre went completely flat. I would need to switch in a spare inner tube something I had avoided until now. It would be like last year, something I was not prepared to repeat. Looking down the road I saw a woman on a ride-on lawnmower cutting her grass. Perhaps she would have an air compressor I could use. I approached and asked in my best French, and she replied in English. By chance I had chosen to ask an English expat for help, another stroke of luck. She had a tiny and very noisy air compressor that plugged into the cigarette lighter on her car. I pulled off the back tyre and found there was absolutely no sealant, it had all been used to seal the tyre onto the rim for some reason, something that should have happened. I carefully fitted the inner tube and pulled on the tyre. We then pumped it up using the compressor which buzzed noisly but did that job perfectly. Once it was tight, we went and had a coffee whilst waiting to confirm it was sealed properly. Lorraine was living there on her own, with a partially built house and survived by doing several different small jobs. Her family visited in the holidays. I admired her independence & willingness to make a new life for herself in dream location. The tyre felt good and so I fitted it back on, said farewell and set off.
Until then, my mind had been casually drifting to the finish, how it would feel and what I would do, but now it all seemd much more doubtful. Almost all of the people I had ridden with over the last three days had withdrawn. Even at this late, late stage. A puncture was always repairable but I just did not have the energy or the hand pump or the CO2 cartridges to get the tyres back up to pressure. I was tired of the endless routine of riding 16+ hours a day and needed to get off the trail. The longer I was out there, the more could go wrong. With my new mindset I rode as fast as I possibly could all day. The end of my story was completely unknown and I could take nothing for granted.
I climbed up and up towards the Pyrenees, feeling at once impressed and slightly in awe at the scale of the mountains ahead. Much of the final section to Lourdes was on road or good gravel paths and I used the aerobars to gain every possible advantage of speed and comfort. Just before Lourdes, I passed a McDonalds where I stopped for a feed and recharge break. I promised myself that I would not leave until one of my commuter lights was at full charge, which took almost two hours. That was six hour of guaranteed light, and I had two of them. The restaurant was full of people going about their everyday lives and I felt like a bit of an interloper.
Lourdes was a surprise. I rode through at around 9pm, and it was full of pubs, restaurants and tacky neon hotels. It was not the spiritual place I was expecting, more of a tourist trap with all the usual amenities. I passed hotel after hotel as the rain fell harder and resisted the temptation to take a room. I rode out of the city and into the dark forest not entirely sure I was doing the sensible thing. At midnight, I had not ridden as far as planned due to having to circle round numerous trees felled by recent storms. I passed a closed campsite with a reception building that had a sheltered porch which was dry and flat, although not protected from the wind. This would do. I pulled out my sleeping bag and settled down for the night with the rain lashing down a few feet from my head.
12d 16h: Lourdes to Mendionde (2267 km)
After my shortest sleep of only 4 hours the alarm sounded. It was pitch black, windy and pouring with rain. I promised myself this would be my very final early start out in the cold, I would do finish the French Divide today. There was a sting in the tail however with over 13,000 feet of climbing ahead. Once I was packed I reluctantly pushed back out onto the wet trail and left the campsite behind. The route was a mixture of forest trail, some road and then some treacherous narrow foot paths through the forest. Here wet roots, slippery stones and sticky clay mud which made it extremely difficult make progress. No mistakes here, I could not afford any injuries or bike smashes.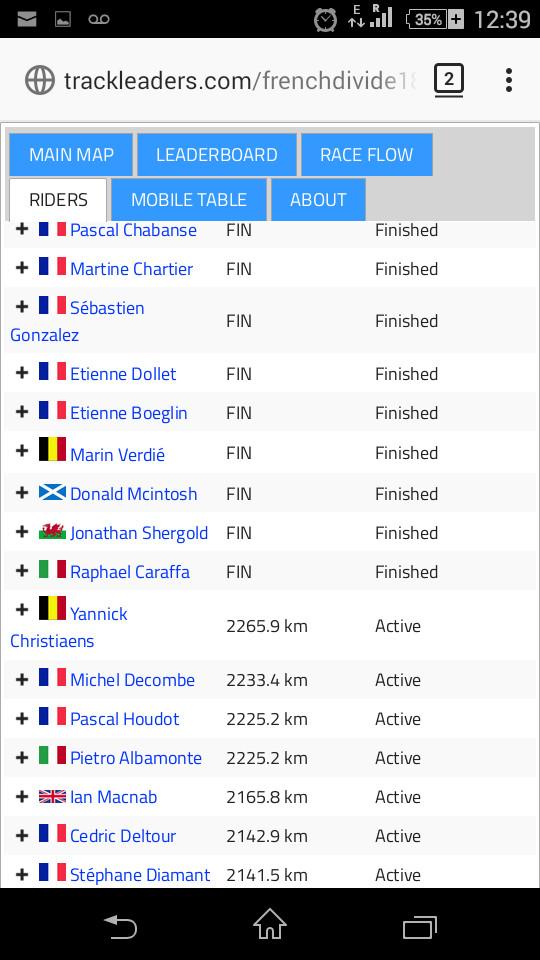 Daylight finally broke and illuminated my stunning surroundings. The Pyrenees were draped in early morning mist, and here covered in dense forest all the way to the ridgeline. I stopped at a bus shelter to munch through a huge bag of crisps I still had and soak in the stunning vista. Soon after I was very carefully descending down a slippy and steep forest trail when I noticed two other Dividers up ahead - Marin and Raphael. In my tired state I mistook them both for being Italian, but Marin was French and only Raphael Italian. They were in a state of considerable distress, with Raphael having just come off his bike and smashed his rear derailleur, for the second time on the Divide. Marin was taking the lead in trying to rig a single speed, but with the hanger arm bent the tensioner was no use and the chain kept on pulling itself too tight. They knew way more than me about what to try, dispite the fact that Marin was only nineteen, but found some of my bike tools useful. Having ridden together for many days and being so near the end, I could only imagine how they were feeling. After half an hour I guiltily said I would need to get moving. Marin immediately said he was coming with me, as his GPS was broken and he needed to follow someone. This would mean abandoning Raphael with his broken bike in the forest, but we had no choice. Raphael handled the situation incredibly well as we cycled off down the trail and left him behind.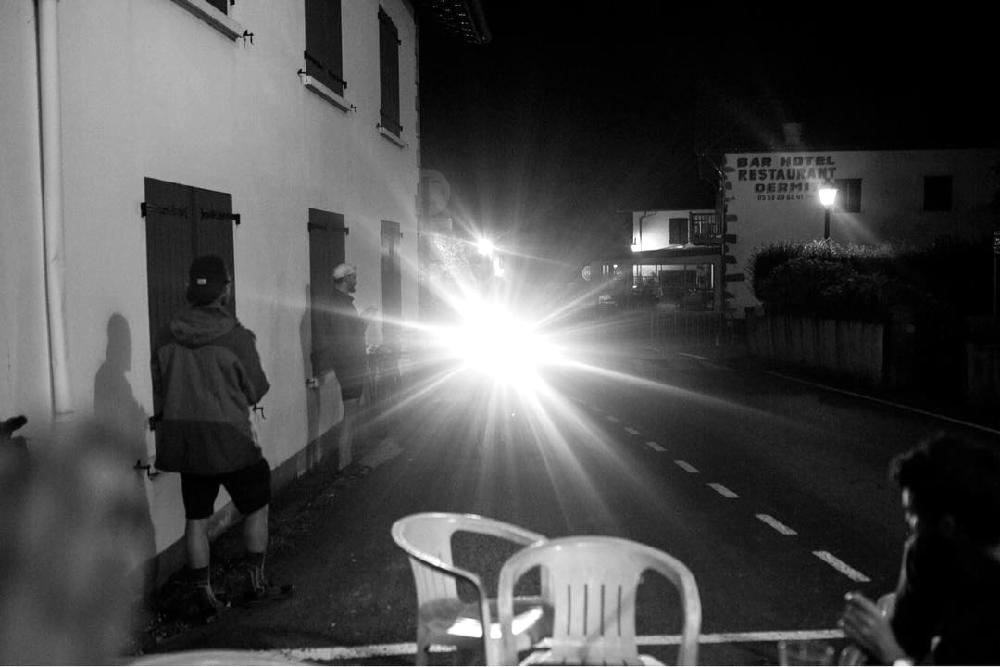 Marin and I rode together and chatted. He had completed the Divide the previous year and was back for more. He was massive for his age and powered up hills without any bother. His composure, bike skills and maturity were incredible. We found a supermarket and both did the usual drill, standing outside in the drizzly rain eating our way through the food. By mid-afternoon, we finally reached Larribar which was our final GPS stage. We still stopped for twenty minutes in the warm sunshine which had finally broken through and ate. We set off into the Basque Country and immediately had a huge climb over exposed slabs of rock which Marin ground up without getting off. I pushed half and rode the last bit to find Marin sitting on his bike sending texts from his mobile. Good riding I said, and rode on a past him. After a few minutes I realised I had gone the wrong way and pushed half way back up the hill and shouted to Marin. No reply. Was he still up there, or had he ridden on? I shouted again but did not have energy to search for him so rode on. I stopped a few times and shouted again but no reply. Feeling very guilty for losing my nineteen year old companion who had no GPS I cycled for a hour wondering what his mother would say to me at the end. Finally I reconcilled the bad situation in my mind, hoping he had ridden on or would wait for the next Divider.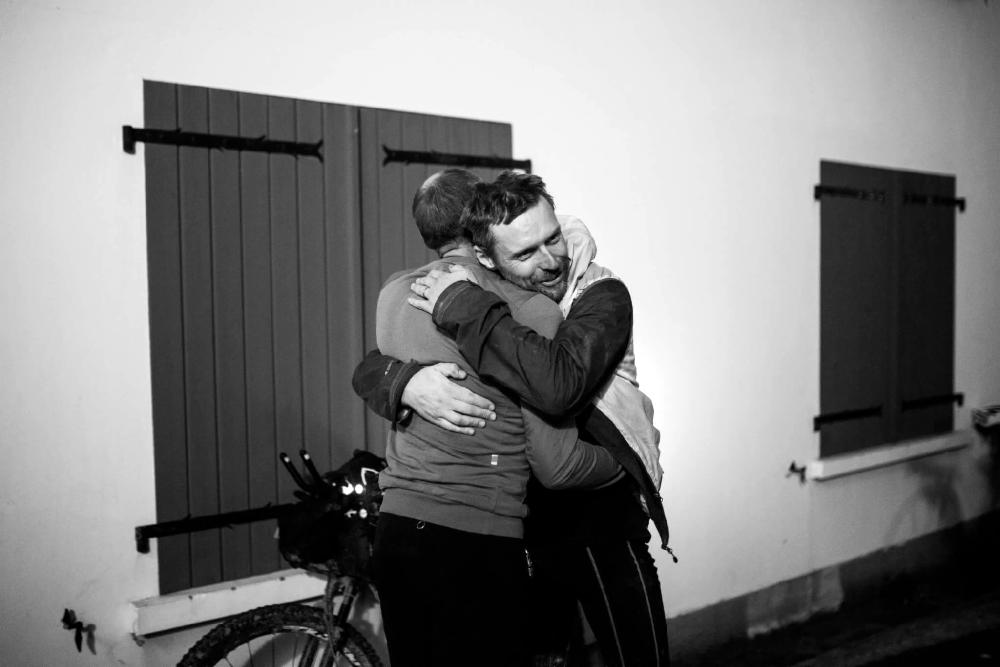 I will never forget that final ride in the late afternoon and then evening light through the glorious Basque Country. France can often seem very empty and with the crazy guard dogs at every farm sometimes unwelcoming, yet here the towns were busy with families and people going about their business. The traditional red and white houses were immaculate. Every town had a pelota court which was often being used. In one village children of all ages were out listening to live music and practicing their regional dance (I presumed) in a chaining line that would change direction every now and then. I stumbled across a group of people practicing some sort of stick fighting and wondered if this a sign of the famous Basque independence. And the countryside was just incredible, clear-watered rivers strewn with huge granite boulder and deep pools, verdant green forest and steep rolling hills that rose up and up to the heights of the Pyrenees. Saint-Jean-Pied-de-Port was a main town, which I rode through wishing I could stop and explore.
As the finish grew nearer, time seemed to accelerate whilst my progress felt like it slowed to a crawl. There was climb after climb, draining me to the most exhausted I have ever been in my life. The endless days of riding had used all my reserves and yet the drive to the finish overwhelmed everything. The days of taking care of myself and riding in a sustainable way were replaced with a new strategy of just riding to the end, no matter what. The start of every climb was the steepest point and I was always stood up on the pedals with the chain, crank and derailleur all under full tension and weight, trying to haul myself up the hill, waiting for something to pull apart under the extreme load. As night fell and my mind wandered I began talking out loud to my bike, telling each part of my bike and kit how incredible it had been. To my GPS, to Morvan, to my lights and to my airmat as though we were a team, which we actually were. My sleep deprived monologue kept my mind off the tiredness and pain. Fully in darkness, the trace would descend down huge 500 foot drops on perfectly smooth roads that just blew my mind in it's diminished and dreamy state. Finally, the route climbed and I knew Mendionde was at the top. The town appeared and I rode in at 11pm, looking for the endpoint which was revealed when I turned a corner in the quiet town. All the organisers and other riders was out on the street, clapping, whistling, cheering and celebrating my late arrival to the party. Marin was there! He had ridden ahead. Camera lights flashed whilst Sam and everyone else greeted me.
Closure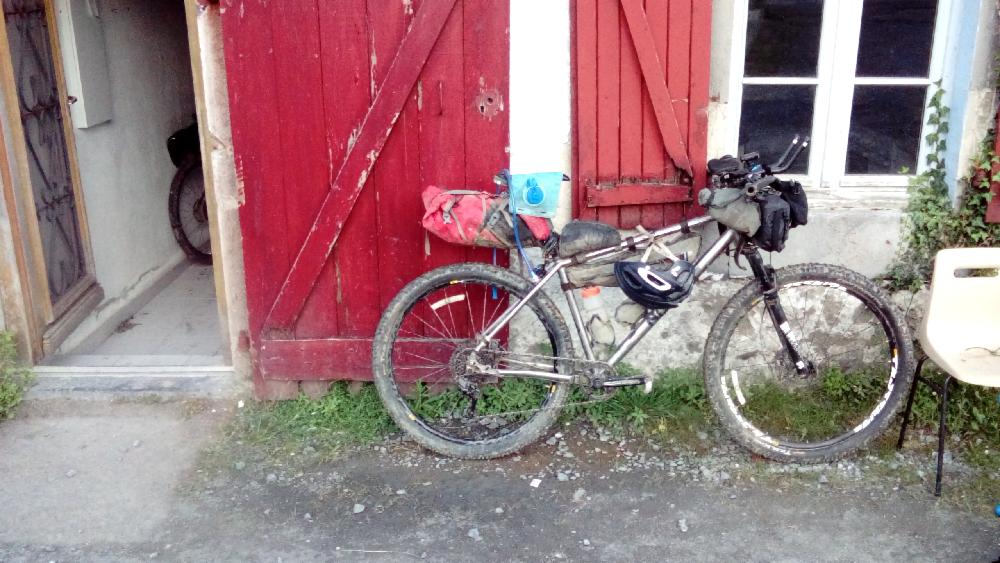 Reaching the end of the French Divide gave me a feeling of euphoria and almost disbelief. After I had been congratulated by everyone I dug out my phone and called home. My wife answered on speaker phone and all I could hear were screams, cheers and the sounds of everyone crying with delight. I was the most composed, which surprised me. They had watched my dot on trackleaders crawl towards the finish line and then recieved a text from our friend Bob to say He's bloody done it!! All the preparation and time apart was suddenly worth it at that precise moment. I could not have done it without them and they were with me in my heart the entire way. Other friends, including my number one fan Craig, sent through countless texts of congratulation and recognition on the achievement.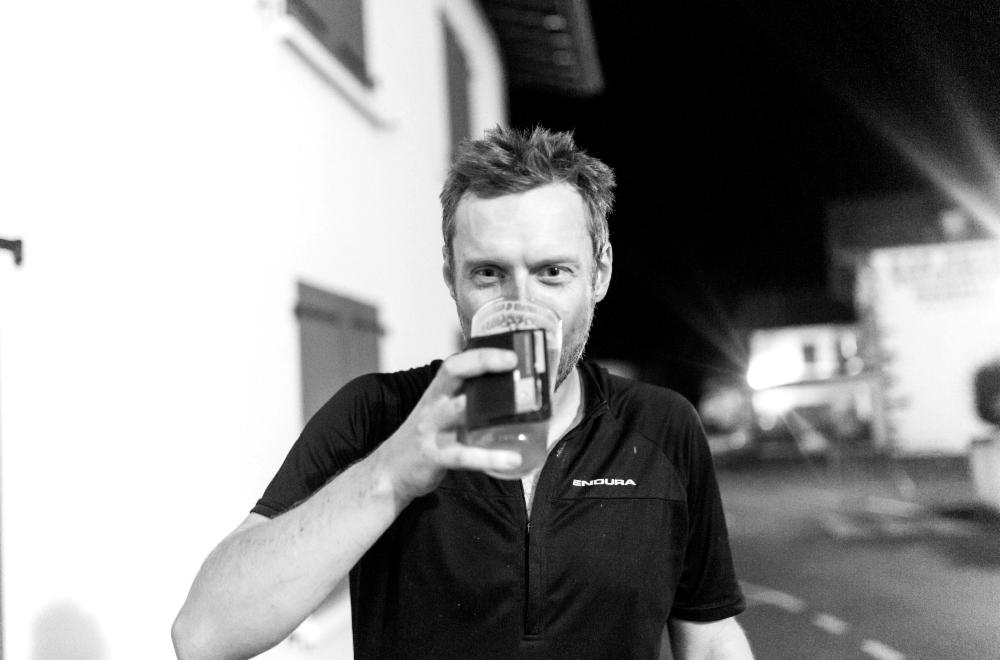 After that I sorted my bike and then hit the pub. That first beer was proabably the best I have ever tasted. Food soon appeared and I joined the party that had been running all evening. It was surreal but a total delight. I spoke to Celine, the uber efficient organiser behind the French Divide and finally got the backstory on her involvement. Why was Mendionde chosen as the finish? I asked. There was a long story but they could not have chosen a better place. The setting, people and hospitality are all exceptional. Within an hour Raphael turned up, to my further disbelief. After we left he had met a local biker who had helped him to fix the hanger arm and rig a proper single speed. He had cranked his new fixie bike through the closing 100km and made it to the end. A stunning demonstration of determination and belief, which I rewarded with a pint or two by way of apology for ditching him in the forest.
The party continued on and off for two wonderful days. On the Saturday there was an official closing meeting at the town hall where the mayor gave a speech, with full translation to English. The mayor articulated many things about the Divide that I had felt but never heard anyone else say. The desire to take a break from our over-stimulated lives, the reconnection with nature, living minimally with virtually nothing and the pleasure of experiencing it with like-minded people. Sam and Celine played videos of the past two weeks and passed round the microphone to let everyone participate and share their stories. Food and beer then followed, as people slowly began to leave for home.
I had returned to the French Divide and somehow figured a way through this time, achieved my dream and lived an experience that will last me a lifetime. The finish and those two days of reflection & recovery gave me a feeling of closure that ended a chapter in my life that had been left unresolved from the previous year. The elation has slowly mellowed to a feeling for pure and deep contentment that is still with me now. I had no idea how much it all meant to me.