French Divide 2018 - Bon Courage
The story of my experience on the 2018 French Divide, a 2267 km (1408 miles) adventure across the rural interior of France on a bikepacking adventure with 126 other riders. After failing to finish the year before, this was a final attempt for me. The ride fulfilled all my hopes and successful completion was the realisation of a long-held dream.
Posted: Wed 22 Aug, 2018, 11:51
I love the French phrase
Bon courage
. I remember hearing it
last year
occasionally and wondering what the proper English translation was. Normally, someone would say it to you when they had briefly looked closely at you, had seen into your eyes and recognised you were in a struggle. As we parted they would wish me
Bon courage
. The reason I love this phrase is that it perfectly encapsulates what is special and unique about the French Divide and, in a way that is very appropriate and fitting, there is no direct English translation.
In English we simply wish someone Good luck. This phrase however suggests that our fates are out of our control and will be determined by external factors. Believing this is the primary reason for our future success or failure is a risky strategy and gives little credit to the role we play in shaping our future. Bon courage on the other hand acknowledges that we face a struggle ahead, but it is within us to determine the outcome, with heart and strength and belief, all of which we can control. In the later stages of the ride, every time I heard someone say this to me I had to swallow back a surge of emotion because I felt such a feeling of goodwill from these people.
This blog retells my experience of 12 days on the trails of the vast and beautiful French countryside. It goes without saying that all my thoughts and conclusions are only my opinions and views. I have interwoven two parallel streams within the same blog. On one hand the story of my progression through the various stages and on the other, my simultaneous thoughts and feelings about all aspects of the ride that were so important and influential, merging to a single stream on the final days.
Day 1: Bray Dunes to Foret De L'Avernois/ (234 km) The Grand Depart
Day 2: Foret de l'Avernois to Mouzon, Ardennes (406 km) Last Chance
Day 3: Mouzon, Ardennes to past Verdun (534 km) Body Shock
Day 4: Past Verdun to Foret de Orient (720 km) Not Alone
Day 5: Foret de Orient to past Avallon (918 km) Goodwill
Day 6: Avallon to Uchon (1068 km) Kit
Day 7: Uchon to Charroux (1249 km) Power
Day 8: Charroux to Saint-Donat (1388 km) Bivouac
Day 9: Saint-Donat to Beaulieu-Sur-Dordogne (1547 km) Mind, Body and the Art of Bicycle Maintenance
Day 10: Beaulieu-Sur-Dordogne to Caylus (1716 km) Which Divide?
Day 11: Caylus to Auch (1912 km)
Day 12: Auch to past Lourdes (2072 km)
12d 16h: Lourdes to Mendionde (2267 km) Closure

Day 1: Bray Dunes to Foret De L'Avernois (234 km)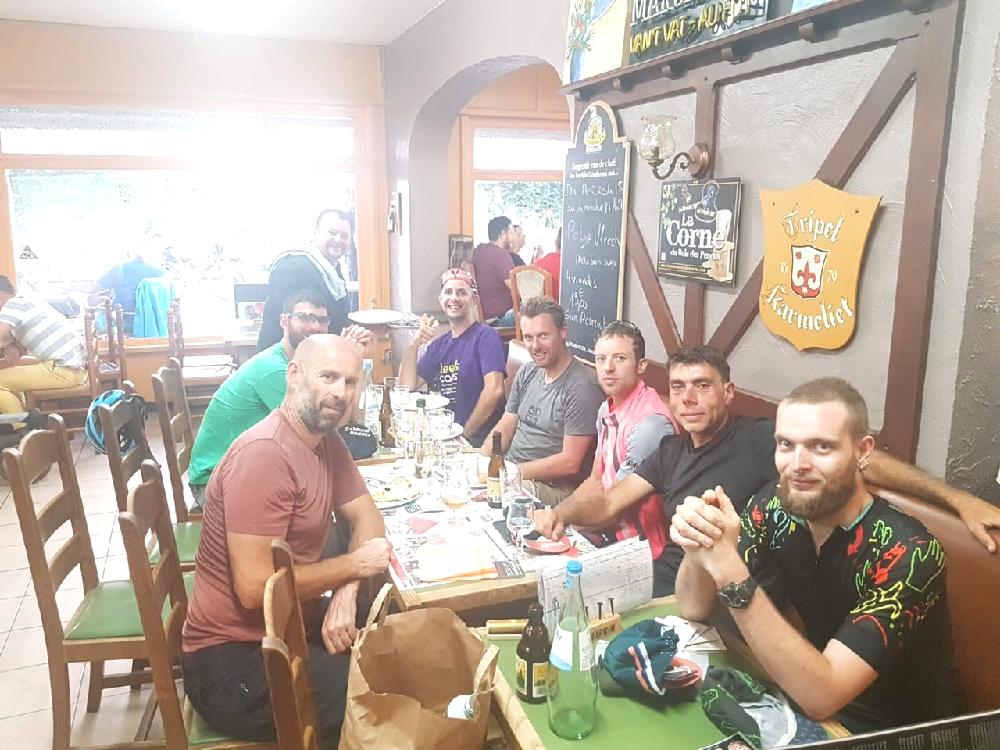 Sam gave us the two minute warning until the start. The riders all shuffled a little bit further forward the start line, well aware that those few extra inches nearer the start line would make such a difference over the following 2200 km! I have an amazing ability to faff about packing, unpacking, repacking, unpacking and this consumed most of my time getting ready. Final checks of kit, clothes etc. As usual everyone seemed very relaxed but there was obviously a lot of tension bubbling underneath, everyone praying for the starting to just go! After some final words with Stephen who had come to the start having completed the ride last year, we were finally off. The peleton of 40 odd riders surged forward only to be held at bay by the obligatory Citreon 2CV that would lead us ceremoniously out of Bray Dunes.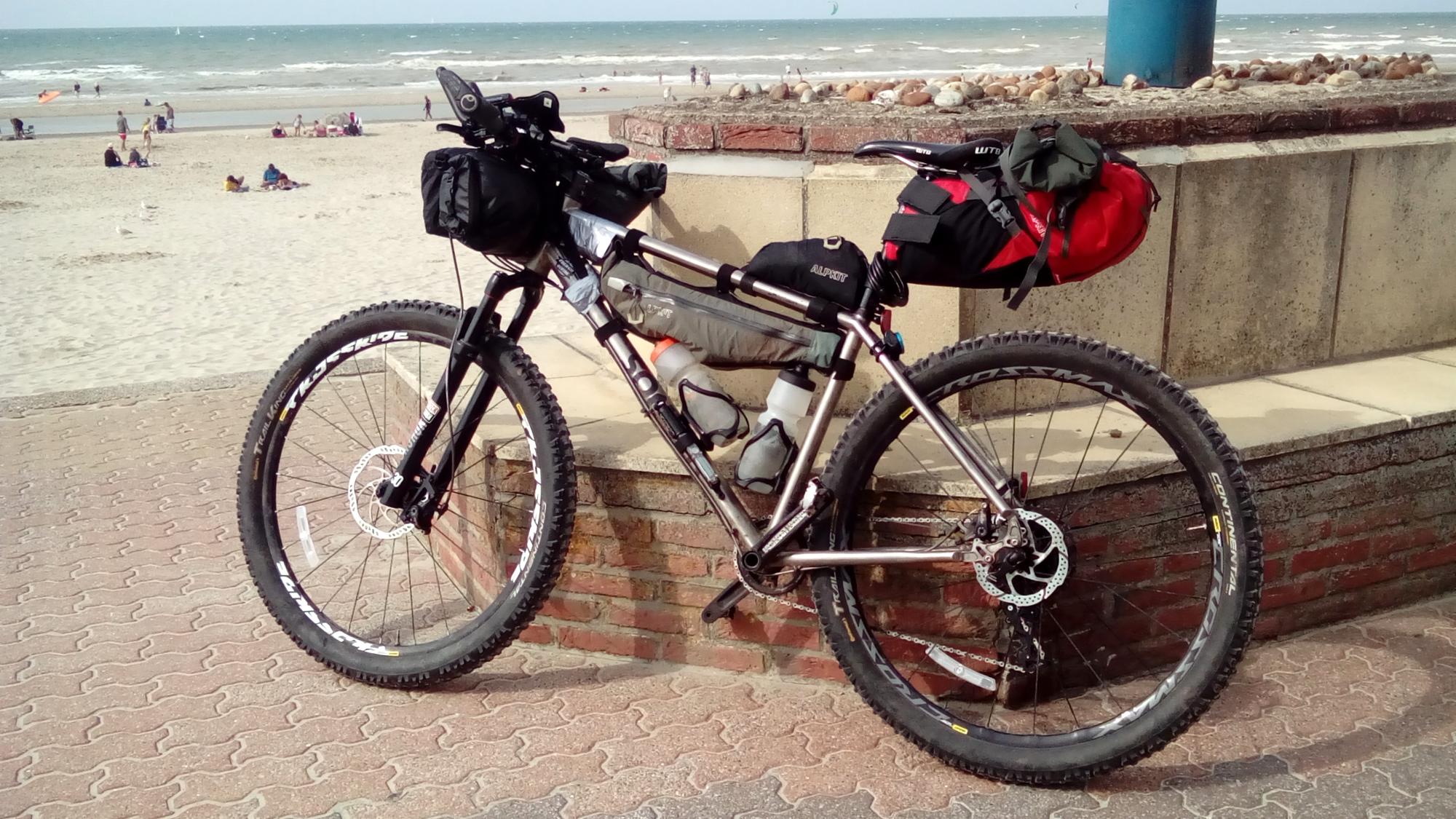 As we rode out through the town the pace quickened until eventually the 2CV rolled to the side we all shot passed and out into the flat countryside. The pace at the start was crazy fast, so I very quickly realised my pace was very much slower so made no effort to keep up. Before long I was literally at the very back of the pack, wheeling along with Ben. We moved to a dusty trail and all that could be seen ahead was a cloud of dust where the front-runners had disappeared. The night before many of us had a meal together - Ben, Stu, Philip, Jonathan, Stuart, Bob and Harold. As others spoke about their experience on TCR, I suspected they were perhaps not aware that target mileages/distances were very difficult work with on the French Divide. Talk of pushing through to the first checkpoint without a stop seemed slightly preposterous, but I have no doubt some almost managed it.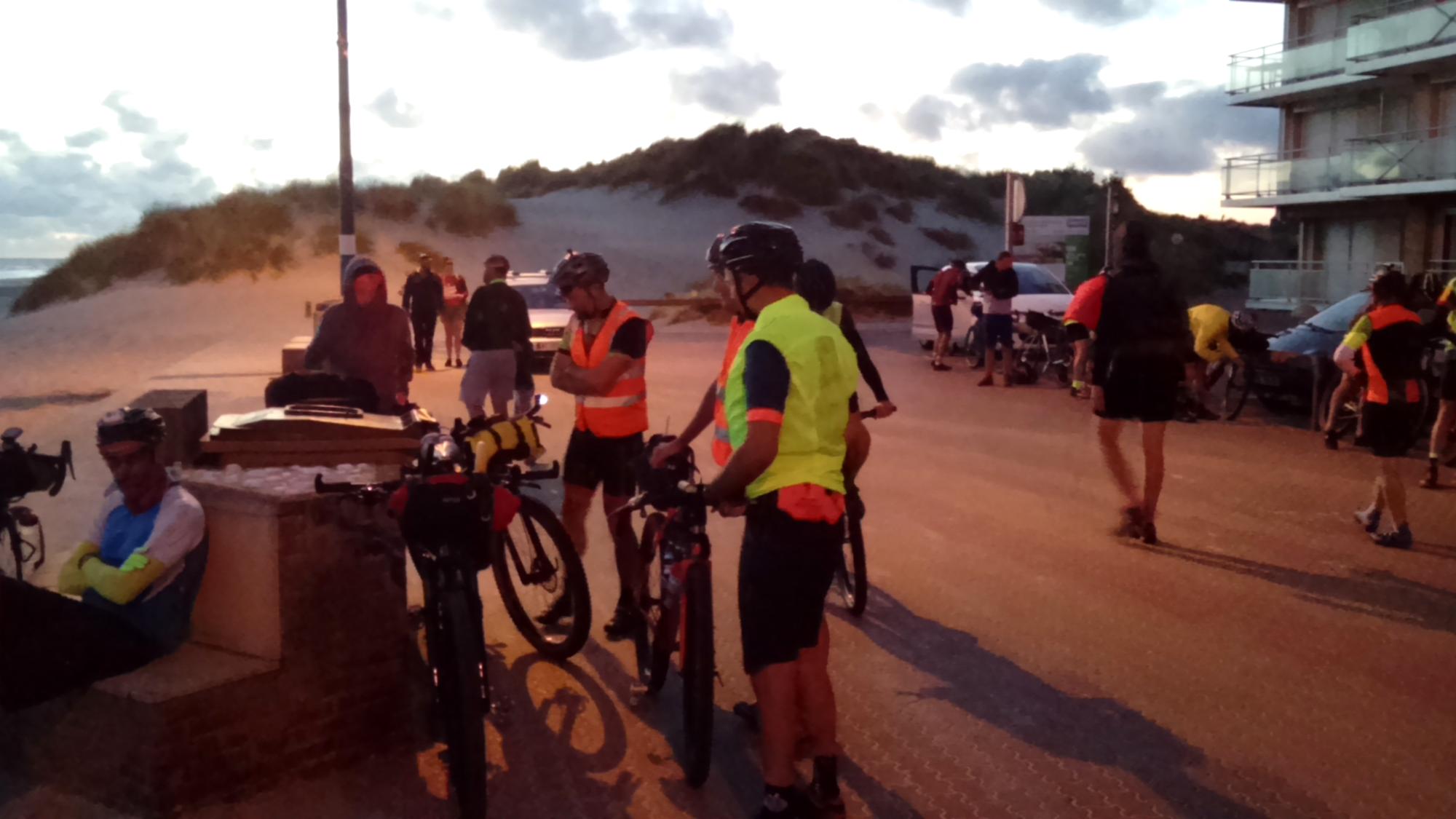 As a few rider's pace slowed, I slowly overtook one or two but I was just focussed on finding a rhythm. I knew I had a good basic level of fitness but riding all day every day would still be a massive step up. I had packed plenty of food and water this time, so was basically good for the next day or so if required. My target for the day was le Quesnoy which was about 130 km in, and ideally a bit further passed this. Europe had been enduring a heatwave that had lasted all summer, however so the heat was going to be a factor even early on.
As the day had warmed up, my bike started making a very worrying clicking noise. I had heard it before but never been able to pinpoint the source. As the clicking got worse my concern grew and frustration at not figuring out the real issue before. Was I going to have a mechanical issue on the very first day?? That would be beyond annoying. As the day wore on, I realised the clicking had stabalised and absolutely nothing was loose on the bike, so I would just ignore it. Either it would a) break something and finally reveal the source or b) cause no issues. Both were in a way good outcomes (in a way) so I battered on. Over the days ahead I realised it was the bottom bracket moving every so slightly within the frame - a very common problem - and generally never an issue.
The afternoon grew hotter and hotter until it was way above my comfort level for cycling. Jonathan and I rolled into le Quesnoy at exactly the same time and I quickly decided I needed a serious break until the heat passed. Like a lie down at a campsite and chill for a few hours sort of break. This was going to seriously impact my daily mileage, but I had no choice, it would be unwise to pretend I was feeling fine when in fact I was totally overheated. So I left a somewhat surprised Jonathan and found a campsite, had a shower, got some proper food and lay down. The food did not taste great however, due to some issue with my (and other riders) metabolism on those first few days. For some reason, my appetite completely went and it was a struggle to hold down food.
By 8pm it had cooled down a lot and I was feeling much better. Time to ride on. So I packed up and pushed on out of the carnival town which was fully of fairground rides, shows and stalls. Before long I was in the Foret de l'Avernois which was a pleasure to ride through. Mostly long straight gravel trails, some single track paths and hardly any puddles or mud due to the long dry spell. I was making good time and decided I would ride on until I was through to the other side. And so I eventually stopped after crossing a canal around 10pm in a random field off to the side of the trail. I dimmed my lights to avoid any attention as I settled down for the night.
The Grand Depart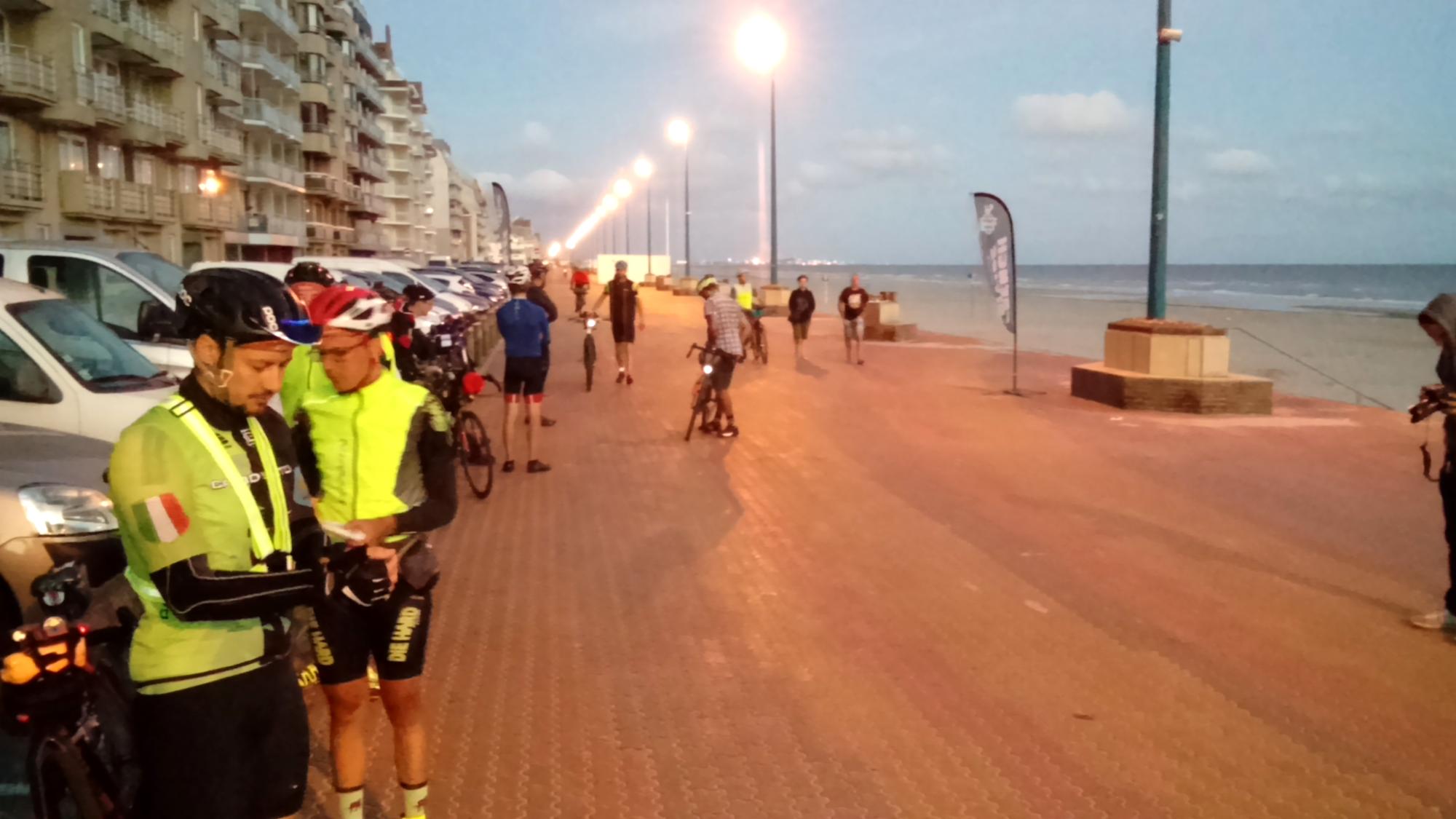 Preparing for and riding the French Divide for a second time was way more difficult than the first time. For myself, the awareness of what lay ahead - the climbs, the miles, the terrain - was not an advantage, but unwanted knowledge. Where last time there had been novelty and unknown adventure, this time there was only the burden of expectation and awareness of the pain and suffering that lay ahead. With a week to go, I was honestly as nervous about the Divide as anything I have ever done before. Just getting to the start line was, in many ways, going to be the most difficult part. I know other riders repeating the endeavour also felt the same way. There were undoubtedly benefits later on to have knowledge of the ground and terrain, but I only felt this from the mid-way point on. At the start, it was just nerves, panicking about kit, worrying about my fitness and feeling guilty for leaving my family... again! There is no comfort to be taken from having ridden x% of the way, it all lies ahead. The French Divide had 150 starting slots. Only 126 actually started however, which gives an insight into how difficult it often is to start. It is very, very easy to find a reason not to do it. 24 people paid, prepared and intended to ride but for whatever reason did not start.
Starting on the Sunday was a good idea for me again. Although there were more uber-fast riders who would leave me in a trail of dust, there was the possibility of perhaps catching riders from the Saturday. This had happened the year before and, harsh as this sounds, it had been a major mental advantage to me. On the Sunday you are never going to be passed (once the initial jostling settles down), but you can only catch people. Every time that happened, I felt a small boost in energy. Plus I met and spoke to many riders this way, which was great. It took a long time to catch people though, the general Saturday pace was much faster than last year and for several days I was thinking Where are all these people?( or How slow am I going?).
Next: Day 2: Foret de l'Avernois to Mouzon, Ardennes (406 km) Last Chance