French Divide 2018 - Day 8
Posted: Wed 06 Mar, 2019, 10:29
Day 8: Charroux to Saint-Donat (1388 km)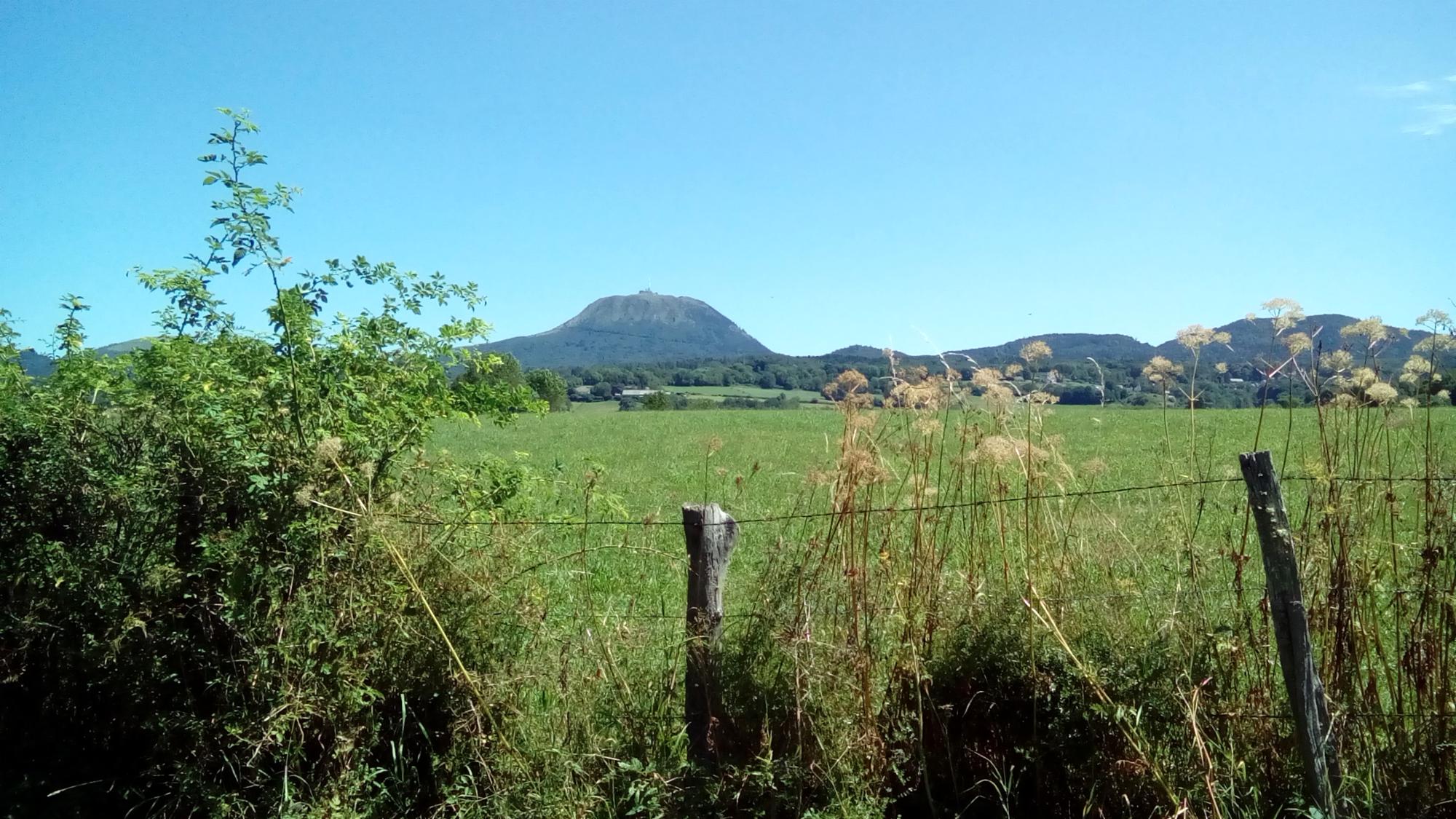 Another early start and I was back on trace heading towards Ebreuil, a town I remembered well from the year before as having a fantastic boulangerie which fueled me up after a four hour early morning ride without any food. This year I reach Ebreuil without being completed starving, but I still stopped at the same boulangerie for some coffee and cake. Today was going to be an amazing day, as it would take me through the famous Volcanoes and over some very high ground. The weather was looking good so I was thoroughly looking forward to the day ahead.
My enthusiasm was quickly dampened when I realised, by chance, that my clipped-on hand pump was not longer clipped on. Instead the clip and the handpump were completely missing. I had seen hand pump the day before when I stopped at the campsite. Yet I had vague recollection of descending over bumpy round and hearing a clang which I did not stop to investigate, but was probably hand pump hitting the fame as it fell the the ground. This was a serious issue because my leaky back tyre required top-ups and I was rapidly running out of CO2 cartridges. My mind worked double time to figure out if there was a bike shop somewhere up-ahead, but I remembered nothing from the year before. Somehow I had to get a new hand pump today, I could not wait and I also did not have the time or energy to detour off the trace.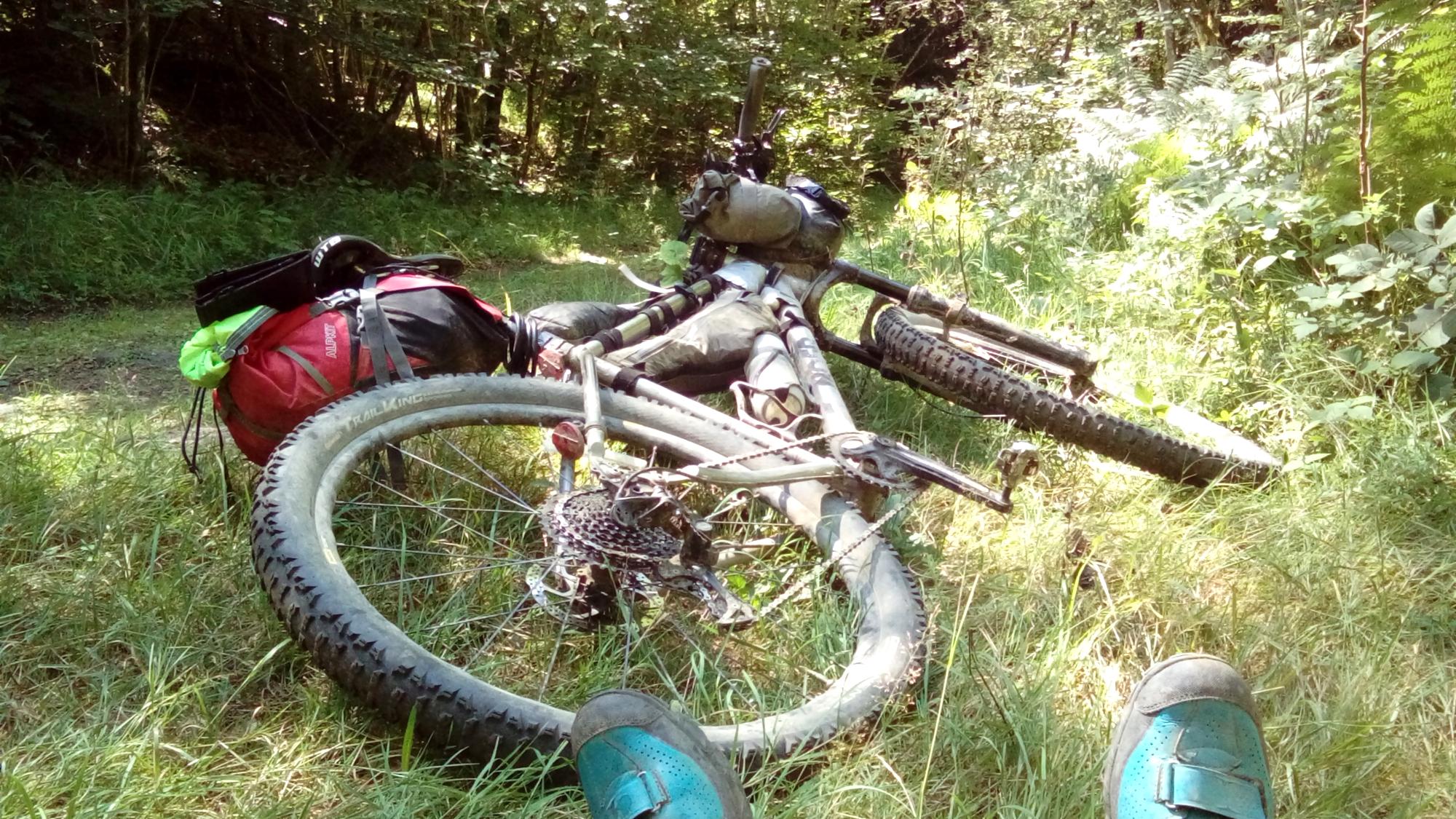 Around this time I bumped into William, a fellow rider who had started on the Saturday. He had stopped to fix his back tyre which had a sidewall puncture. He was riding an incredible carbon, leftie gravel bike that must have weighed virtually nothing compared to mine. We had a chat but, aware that I had so much ground to cover ahead, I pushed on but expected we would see each other later that day. The trace was on roads for a while and there were plenty of cyclists out to enjoy the fine weather. I had seen virtually no other cyclists on the whole route, and yet now there were loads. I flagged down an older roadie and explained that I had lost my pump and would like to buy his. He immediately said that his was broken so it would be not use. I took this as his way of saying Get lost and thanked him for his time. Next I saw some more opther roadies who I let pass, followed by a couple who were out on brand new e-bikes. Again I flagged them down and explained the situation. Without hestitation they were immediately digging into their backpack to find a small Zefal hand pump. He gave me the pump and absolutely refused to take any more. Once again I was stunned by their generosity and could only thank them and continue, delighted to once again have a hand pump.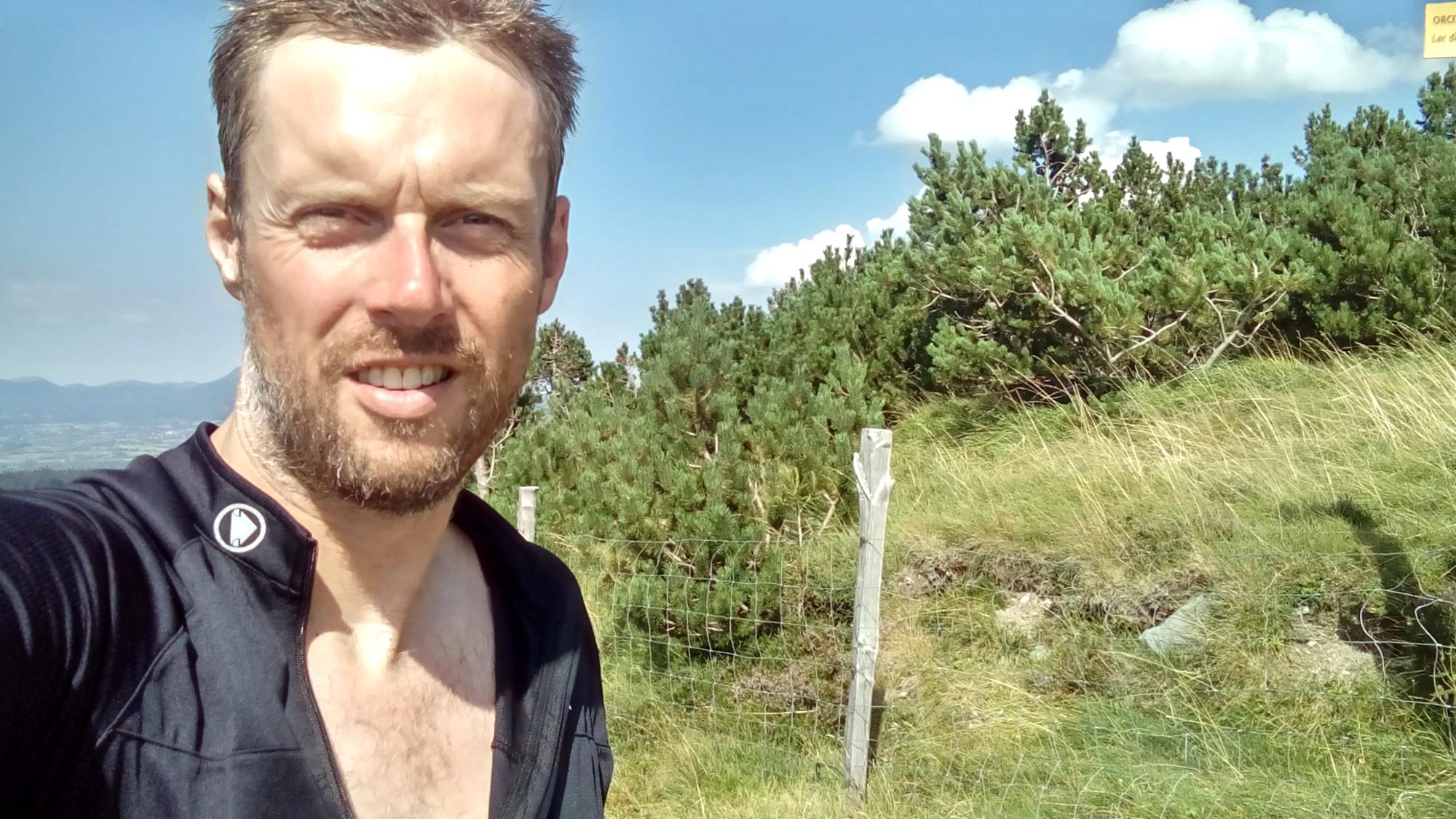 From there I climbed all the way through the Volcano's natural park which was mostly single-track, shaded by forest and one big climb to the top. I really like this kind of climbing, without any serious intermediate descents, and was glad to have made the high ground by midday. I passed some other Dividers from Saturday and then stopped for lunch at a quiet spot just to take it all in. Next up was Olby, where I ran into William again who had sorted his tyre wall issue and was going for a coffee. I apologised and said I was going to crack-on. The next climb was right over the top of the highest ground on the entire route. It was really hot now and the relentless grind up the forest trails had me working my way through all my water, which I had to ration. At a mountain stream I stopped and covered myself in cool, fresh water but resisted the tempation to drink, just in case. Finally I reached the next high point above La Bourboule and slowly descended, remembering how the year before I had flown down and quickly had a puncture at the bottom.
At La Bourboule I made for the local Utile and filled up on food and drink. Sitting outside in the later afternoon sunshine, working my way through an other cantaloupe melon (by now a daily tradition) and watching the world go by was wonderful. I ate and drank until I could was completely full, once again loaded my bike and stuffed some spare Oranginas in the my cycle top pockets - they would be good for the climb out. As soon as I was ready I pushed out for the final climb of the day, which took us up a switch back road with at least 20 zed bends. Up and up and up until I had regained all of the height I had before La Bourboule until it finally levelled and then slowly descended on the other side to more forgiving terrain before it transitioned towards the Massif Central.
The ground was generally falling but with plenty of small climbs. As the evening wore on I grew tired and figured I would need to pitch up at a bivvy spot before too long. Ahead were some rather worrying thunderclouds, which I could see sparking in the evening light, but could not hear the thunder. I knew finding a sheltered spot would be wise but no obvious spot was presenting itself. When I reached an abandoned farmhouse, I decided this was the best I would get and settled down under the eaves. The air was changing and the wind lifting, but I was too tired to find anything better. That was without doubt the worst night I have ever had, anywhere. By 4am, I was completely soaked, having tried my best to avoid the deluge it was impossible and the rainwater seeped into everything. As the rain eased, my sleeping back was wet through but still had warmth (the wonder of a duck down sleeping bags) and I finally slept for an hour. I know this because I woke myself up with my own snoring at 5am. Now I was cold to the core and in a very bad situation. I climbed out of the bag, pulled on all my wet clothes, packed up all my wet gear and rolled out.
Bivouac
I am not sure who first said it (Philip Malcom said to me first), it may have been Mike Hall, but bikepacking in it's purest form becomes very like being a fugitive on the run. The long days in the wilderness, generally avoiding centres of population, living off only what you can carry and moving fast from place to place, the bikepacker is a fleeting presense who often arrives late and departs before anyone realises they were there. The experience of bivouacing is the ultimate expression of this way of life, the willingness to sleep outside with only the shelter you can find nearby. Under a trailer, in entrace to a public building or in an old barn, places you would not even consider sleeping in your normal way of life but somehow seem perfectly acceptable after a few days of bikepacking. Transforming to this fugitive cyclist from your everyday persona is one of the most enjoyable parts of the French Divide, revealing an opportunistic, shadowy character who has nothing, moves fast and is simply seeking to fulfil their basic needs of food and shelter.
For me, and I know for other riders, dusk became a time when I would instinctively begin to notice good bivvy spots. As I rode through the last of the light, aware that darkness would soon limit my options, all manner of build or shelter were automatically assessed for suitability for bivvying. Considerations included obviously the quality of shelter from rain & wind, flatness of ground, how close to people, how likely to be illuminated by a passing car or signs of cattle or animals and obviously if it was occupied/owned by someone. Bus shelters, barns, campsite stands, trailers, sheds or semi-ruined buildings were all contenders. So many French villages have these public pavillions near the centre that have a pool of water and a wide raftered roofers. They always looked ideal but I never managed to find one at the exact time I needed to stop.
My skill at bivouacing obviously leaves a lot to be desired. Being caught in the open during an overnight thunderstorm not once but twice, is pretty much as poor as you can get. Sometimes there just is no available shelter and I was too tired to ride on to find something, but that was probably my mistake. Even when tired, it is still critical to find some sort of covering shelter. Branches and trees are not shelter, although they reduce getting wet from dew, as I discovered the hard way. My best bivvy spot was at Beaulieau-sur-Dordogne - perfectly dry, sheltered and flat. Plus it rained that night, so I would have got wet.
Bivvy bags are kind of useless I have found. If it's dry, you don't need them. If it's wet, they will only keep you dry for an hour or so. If I was doing a long distance bike packing ride again, I would definitely take a tarp instead. Weighing almost the same, it would provide proper shelter from rain.
Next: Day 9: Saint-Donat to Beaulieu-Sur-Dordogne (1547 km) Mind, Body and the Art of Bicycle Maintenance