French Divide 2018 - Day 4
Posted: Wed 06 Mar, 2019, 10:24
Day 4: Past Verdun to Foret de Orient (720 km)
At 4:30am it was time to get going anyway and I was completely soaked. In yet another error, I had not properly packed my kit away and many thing were wet that should not have been. In the dark, I put on wet clothes, rolled up a wet sleeping back and packed up all kit as best I could. My lights and GPS were working, but my phone was soaked and not working. I knew I would need to dry everything out later, but for the time being I just needed to get warm. So eventually rode off and very gradually began to feel warmer.
The ground slowly became less hilly and for several kilometres it was road, so I used the aerobars and felt I covered that section pretty quickly. As is typical, a strong westerly wind had now picked up which was exactly the direction I was now travelling, meaning it was that bit more difficult to make headway. When I stopped for a lunch time break, I also pulled out my wet everything and was glad there was enough warmth in the mid-day to almost completely dry it out.
The countryside in this area of France is not my favourite. It is just empty farmland and countless small forests to between the fields. My mind wandered as I cycled on and on, imagining if someone entered one of these small forests, would they ever be found. They were never ending and mostly nameless, and all seemed the same. I was passed by a pair of Saturday riders that day (presumably I had passed them earlier without realising) on a downhill section but then I immediately passed them again as they guy on a cyclo-cross got a puncture. They had what they needed so I moved on, grateful that I had no similar (serious) issues yet.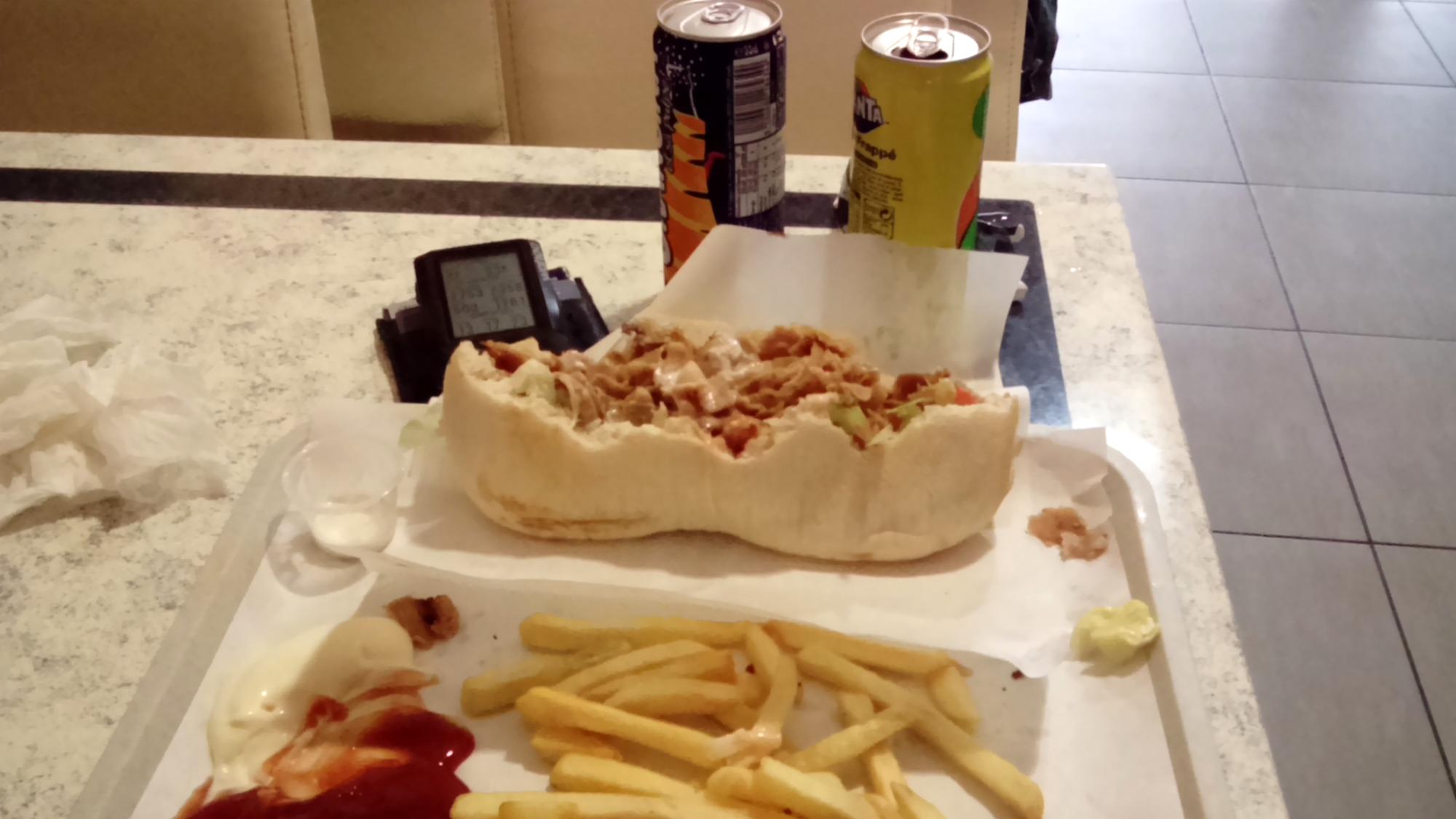 At Vitry-sur-Seine I stopped at a kebab shop that had just opened and order a chicken kebab. Although it was absolutely mouth-wateringly good, I simply could not finish it due to my appetite still being right. But at least I had eaten half and knew it was energy in the bank for later. I pushed on and towards the end of the afternoon began to recognise towns where I had stopped the year before during my 'puncture nightmare'. That meant we had completely the huge detour through Verdun and had now rejoined the 2017 route. Yesss!!!!! It felt so good and I knew I was nearing the home of Stephane and Carole who were my saviours the year before, who had given me good and shelter at a critical point in my ride. I knew I would not stay with them again, but I was really looking forward to seeing them.
As I had hoped, they were there to welcome at their home in Maizieres-les-Brienne. Over the past two days, they had met and spoken to countless other Dividers. There supply of food supplies for the riders had been completely finished but they had both enjoyed meeting all these crazy cyclists who were once again passing through their small town. It had been so hot the day before, that they had taken their garden hose and left it spraying over the road for riders to cycle through. We had a chat and I explained I was planning to push on, in order to make it through the restricted area of Foret d'Orient before the cut-off time. Stephane knew very well this would be my plan, and immediately suggested he would get changed and ride with me to the edge of the forest. And so we rode on together for the next two hours, catching up on our lives and family as we went. Although I had met him only once before, it was again as though we had been friends forever. Having company that evening was a complete boost and I enjoyed every minute of it, immediately aware of how lonely the trace had been for me until that point. When I finally reached the restricted area we said farewell and I pushed on through and out the other side before the restricted period. By pure chance I asked a local if there was a hotel/B&B nearby and a guy came out and offered to give me a room in his guest house for the night.
That was my only night in a bed the whole trip and after my soaking the night before, it seemed wise. I charged everything and arranged with the owner to leave at 5am the next day. I slept deeply and woke feeling pretty refreshed. As I cycled off with a fully recharged me and a fully recharged devices, it seemed like it would be a good day ahead.
Not Alone
Although I rode with many other riders for short spells, I never really rode with anyone for long. Often I would meet pairs of rider who were clearly doing the ride together. Having made it through to the end, I would say it is uncommon to see the same pairs appearing together at the end. I think one would often stop and at the point the other would realise what a dependency they had on their buddy, and this would often prevent them from finishing. This is a total generalisation and there are definitely exceptions, but those riders going solo were often in a better place, and frame of mind, to complete the ride.
Whilst I was alone physically, and I never really felt it. The countless messages from friends and family really gave me a connection to everyone back home and as happened last year, a surprising number once again began checking the Trackleaders page on a very frequent basis so they always knew where I was. But I think I would have felt lonely without my family to support me all the way, having them back at home was the basis for everything. I called home as often as my battery power allowed and this was always total motivator. Little did I know that although I would have a great chat with my eldest son, he would then be upset after I hung up, but had been positive and encouraging on the call with me. A brave lad.
And then on two occasions I rode with friends. Once with Stephane and then again with Christian later on. Both were unplanned but both really boosted my mood and speed. When riding with Christian to CP3, he asked Should I hang back? because it may not be permitted to ride with someone as this is l'assistance. I did consider this for a moment and then thought no, he had given me nothing, it was unplanned and I cannot control what my friends chose to do so we would ride in together. In the end it was cool, we had a good chat with the checkpoint organisers and Christian is now seriously considering riding the FD 2019.
Next: Day 5: Foret de Orient to past Avallon (918 km) Goodwill