French Divide 2018 - Finish
Posted: Wed 06 Mar, 2019, 10:31
12d 16h: Lourdes to Mendionde (2267 km)
After my shortest sleep of only 4 hours the alarm sounded. It was pitch black, windy and pouring with rain. I promised myself this would be my very final early start out in the cold, I would do finish the French Divide today. There was a sting in the tail however with over 13,000 feet of climbing ahead. Once I was packed I reluctantly pushed back out onto the wet trail and left the campsite behind. The route was a mixture of forest trail, some road and then some treacherous narrow foot paths through the forest. Here wet roots, slippery stones and sticky clay mud which made it extremely difficult make progress. No mistakes here, I could not afford any injuries or bike smashes.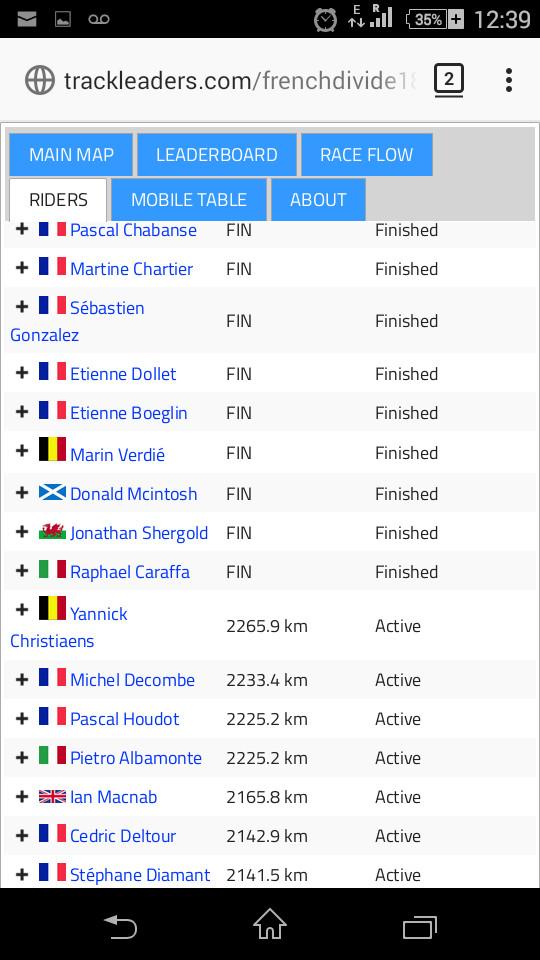 Daylight finally broke and illuminated my stunning surroundings. The Pyrenees were draped in early morning mist, and here covered in dense forest all the way to the ridgeline. I stopped at a bus shelter to munch through a huge bag of crisps I still had and soak in the stunning vista. Soon after I was very carefully descending down a slippy and steep forest trail when I noticed two other Dividers up ahead - Marin and Raphael. In my tired state I mistook them both for being Italian, but Marin was French and only Raphael Italian. They were in a state of considerable distress, with Raphael having just come off his bike and smashed his rear derailleur, for the second time on the Divide. Marin was taking the lead in trying to rig a single speed, but with the hanger arm bent the tensioner was no use and the chain kept on pulling itself too tight. They knew way more than me about what to try, dispite the fact that Marin was only nineteen, but found some of my bike tools useful. Having ridden together for many days and being so near the end, I could only imagine how they were feeling. After half an hour I guiltily said I would need to get moving. Marin immediately said he was coming with me, as his GPS was broken and he needed to follow someone. This would mean abandoning Raphael with his broken bike in the forest, but we had no choice. Raphael handled the situation incredibly well as we cycled off down the trail and left him behind.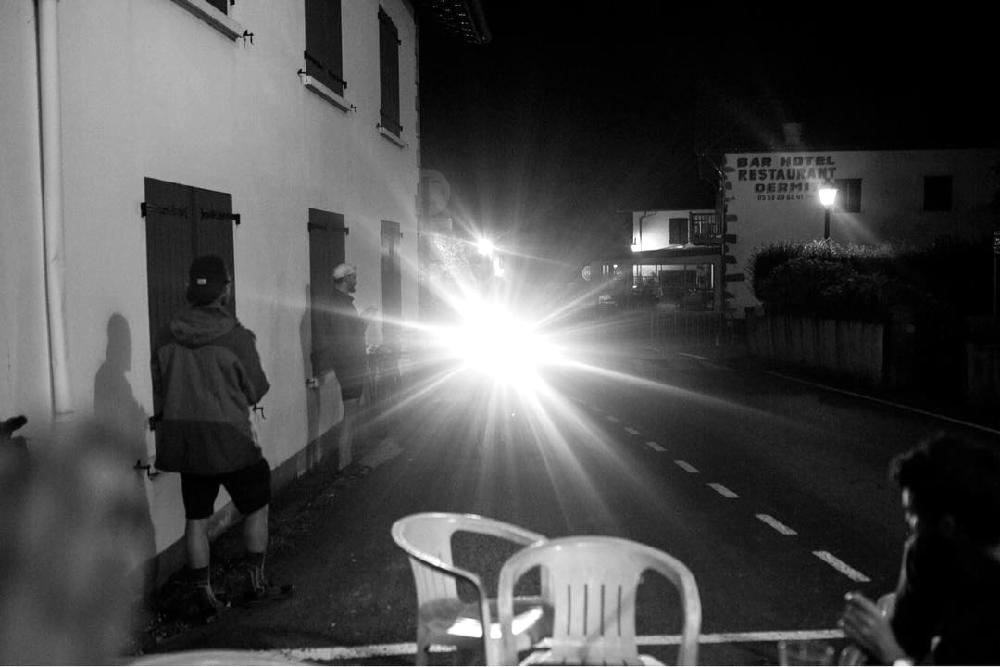 Marin and I rode together and chatted. He had completed the Divide the previous year and was back for more. He was massive for his age and powered up hills without any bother. His composure, bike skills and maturity were incredible. We found a supermarket and both did the usual drill, standing outside in the drizzly rain eating our way through the food. By mid-afternoon, we finally reached Larribar which was our final GPS stage. We still stopped for twenty minutes in the warm sunshine which had finally broken through and ate. We set off into the Basque Country and immediately had a huge climb over exposed slabs of rock which Marin ground up without getting off. I pushed half and rode the last bit to find Marin sitting on his bike sending texts from his mobile. Good riding I said, and rode on a past him. After a few minutes I realised I had gone the wrong way and pushed half way back up the hill and shouted to Marin. No reply. Was he still up there, or had he ridden on? I shouted again but did not have energy to search for him so rode on. I stopped a few times and shouted again but no reply. Feeling very guilty for losing my nineteen year old companion who had no GPS I cycled for a hour wondering what his mother would say to me at the end. Finally I reconcilled the bad situation in my mind, hoping he had ridden on or would wait for the next Divider.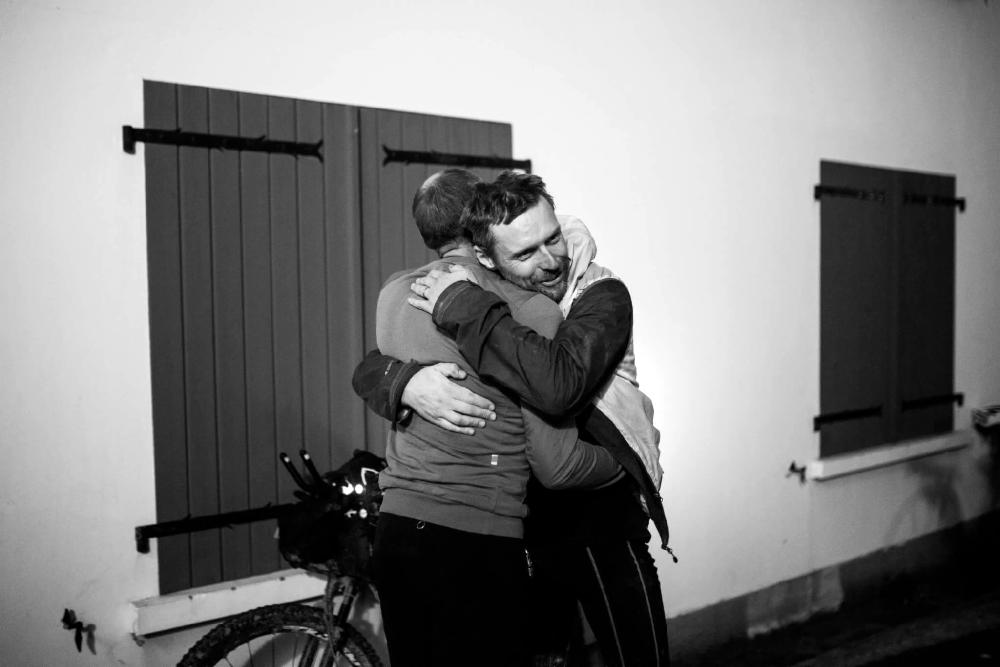 I will never forget that final ride in the late afternoon and then evening light through the glorious Basque Country. France can often seem very empty and with the crazy guard dogs at every farm sometimes unwelcoming, yet here the towns were busy with families and people going about their business. The traditional red and white houses were immaculate. Every town had a pelota court which was often being used. In one village children of all ages were out listening to live music and practicing their regional dance (I presumed) in a chaining line that would change direction every now and then. I stumbled across a group of people practicing some sort of stick fighting and wondered if this a sign of the famous Basque independence. And the countryside was just incredible, clear-watered rivers strewn with huge granite boulder and deep pools, verdant green forest and steep rolling hills that rose up and up to the heights of the Pyrenees. Saint-Jean-Pied-de-Port was a main town, which I rode through wishing I could stop and explore.
As the finish grew nearer, time seemed to accelerate whilst my progress felt like it slowed to a crawl. There was climb after climb, draining me to the most exhausted I have ever been in my life. The endless days of riding had used all my reserves and yet the drive to the finish overwhelmed everything. The days of taking care of myself and riding in a sustainable way were replaced with a new strategy of just riding to the end, no matter what. The start of every climb was the steepest point and I was always stood up on the pedals with the chain, crank and derailleur all under full tension and weight, trying to haul myself up the hill, waiting for something to pull apart under the extreme load. As night fell and my mind wandered I began talking out loud to my bike, telling each part of my bike and kit how incredible it had been. To my GPS, to Morvan, to my lights and to my airmat as though we were a team, which we actually were. My sleep deprived monologue kept my mind off the tiredness and pain. Fully in darkness, the trace would descend down huge 500 foot drops on perfectly smooth roads that just blew my mind in it's diminished and dreamy state. Finally, the route climbed and I knew Mendionde was at the top. The town appeared and I rode in at 11pm, looking for the endpoint which was revealed when I turned a corner in the quiet town. All the organisers and other riders was out on the street, clapping, whistling, cheering and celebrating my late arrival to the party. Marin was there! He had ridden ahead. Camera lights flashed whilst Sam and everyone else greeted me.
Closure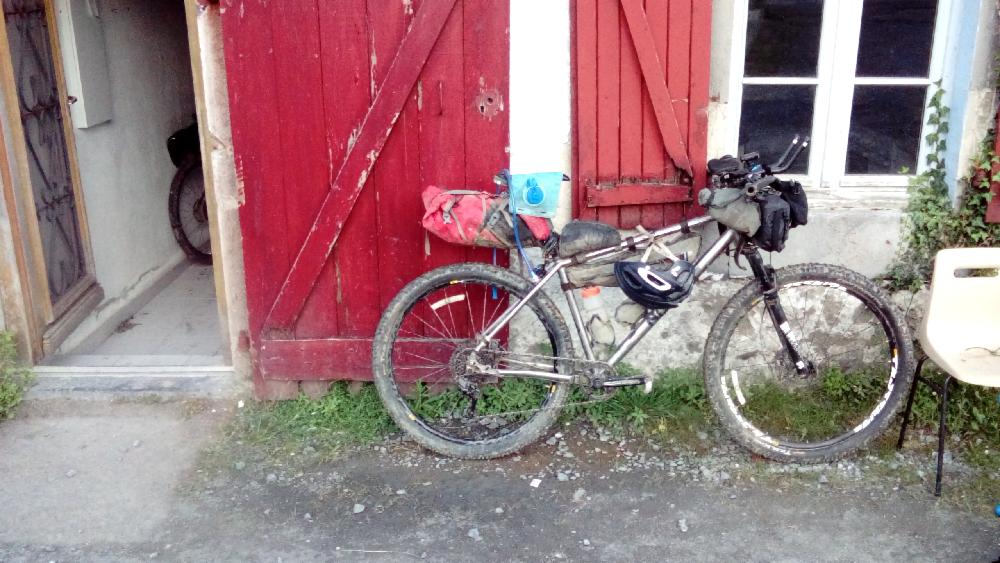 Reaching the end of the French Divide gave me a feeling of euphoria and almost disbelief. After I had been congratulated by everyone I dug out my phone and called home. My wife answered on speaker phone and all I could hear were screams, cheers and the sounds of everyone crying with delight. I was the most composed, which surprised me. They had watched my dot on trackleaders crawl towards the finish line and then recieved a text from our friend Bob to say He's bloody done it!! All the preparation and time apart was suddenly worth it at that precise moment. I could not have done it without them and they were with me in my heart the entire way. Other friends, including my number one fan Craig, sent through countless texts of congratulation and recognition on the achievement.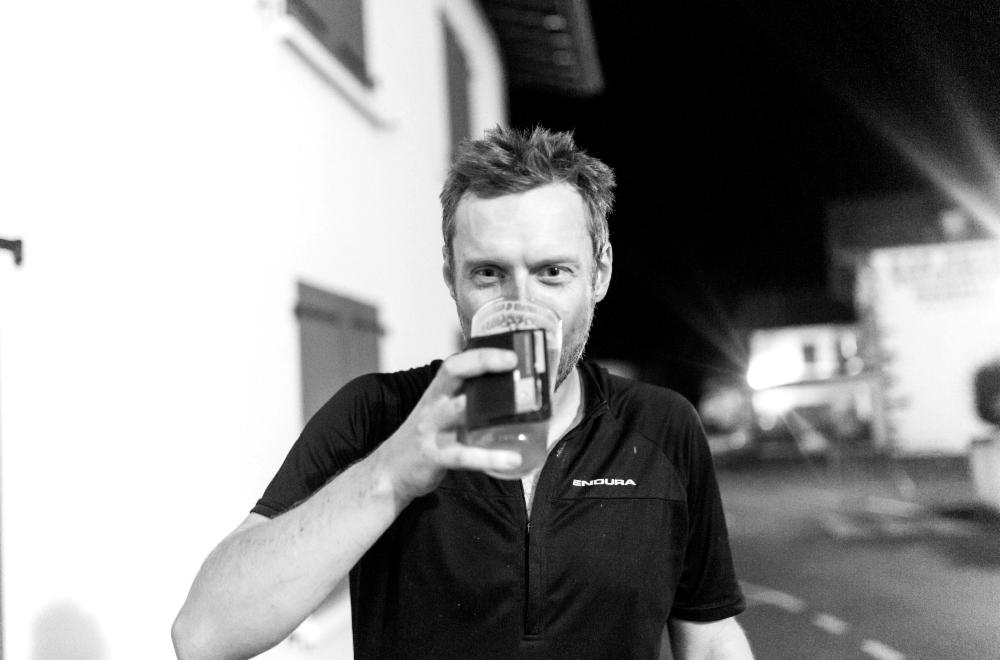 After that I sorted my bike and then hit the pub. That first beer was proabably the best I have ever tasted. Food soon appeared and I joined the party that had been running all evening. It was surreal but a total delight. I spoke to Celine, the uber efficient organiser behind the French Divide and finally got the backstory on her involvement. Why was Mendionde chosen as the finish? I asked. There was a long story but they could not have chosen a better place. The setting, people and hospitality are all exceptional. Within an hour Raphael turned up, to my further disbelief. After we left he had met a local biker who had helped him to fix the hanger arm and rig a proper single speed. He had cranked his new fixie bike through the closing 100km and made it to the end. A stunning demonstration of determination and belief, which I rewarded with a pint or two by way of apology for ditching him in the forest.
The party continued on and off for two wonderful days. On the Saturday there was an official closing meeting at the town hall where the mayor gave a speech, with full translation to English. The mayor articulated many things about the Divide that I had felt but never heard anyone else say. The desire to take a break from our over-stimulated lives, the reconnection with nature, living minimally with virtually nothing and the pleasure of experiencing it with like-minded people. Sam and Celine played videos of the past two weeks and passed round the microphone to let everyone participate and share their stories. Food and beer then followed, as people slowly began to leave for home.
I had returned to the French Divide and somehow figured a way through this time, achieved my dream and lived an experience that will last me a lifetime. The finish and those two days of reflection & recovery gave me a feeling of closure that ended a chapter in my life that had been left unresolved from the previous year. The elation has slowly mellowed to a feeling for pure and deep contentment that is still with me now. I had no idea how much it all meant to me.