French Divide 2018 - Day 6
Posted: Wed 06 Mar, 2019, 10:28
Day 6: Avallon to Uchon (1068 km)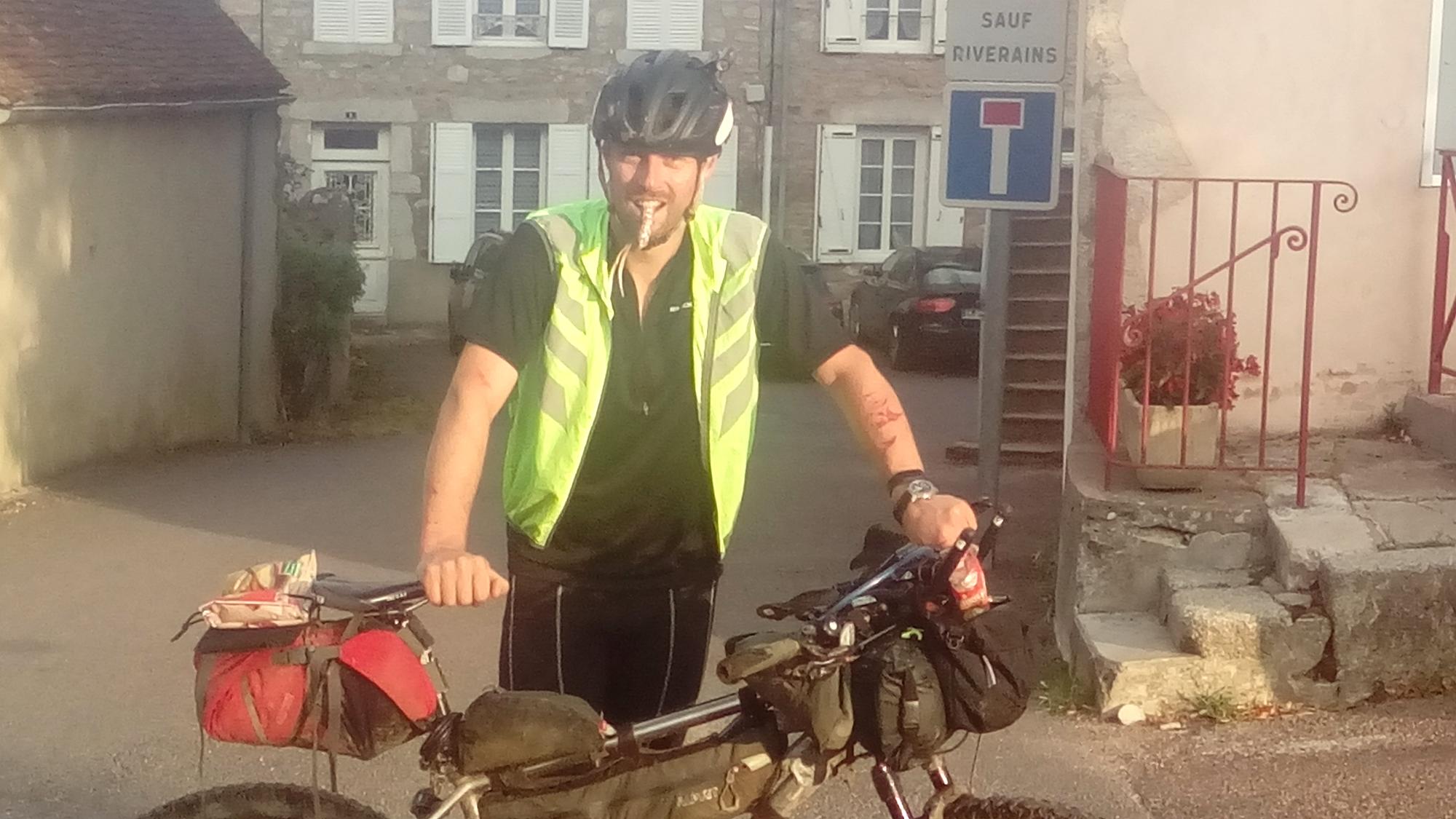 I woke up dry and well rested, pleased with myself for finally finding a decent bivvy spot. I was riding by 5am and targetting CP2 as early as possible in the morning. After a couple of hours of riding in a big loop that the trace took, I climbed the final hill to Quarre les Tombes. The cutoff for the checkpoint was 10pm the night before so I was not expecting to see anyone, so I was delighted to see one of the volunteers was up early and had been tracking my progress. He guided me round to where everyone had slept for the night, a mixture of riders and all the organisers. Getting my brevet signed was no problem and I had quick chat with everyone there. They said that they expected another ten riders to come through that morning so they had decided to wait for them before departing for the next CP, which was another very cool aspect of the FD. They know exactly how important it is to get your brevet signed - in a way it is meaningless but in another if is a crucial motivator - so they changed their plans to help out as many riders as possible. Plus they probably all had a massive hangover so this no doubt informed their decision too.
After a quick resupply I said goodbye and pushed on, looking forward to the Morvan trails that lay ahead. This was my favourite part from the year before and it did not disappoint again. Stunning forest singletracks and paths that were slippy and technical enough to make sure I was fully focussed. The route climbed next to a river for several kilometres which in the shade and shelter of the forest was pure joy compared to the days of endlessly harsh sunshine. As I rode I realised I had finally found the perfect name for my bike - Morvan! Morven is a Scottish name which I had always liked (but my wife less so!) but as we had two sons, we never got a chance to use it for our daughter. So by naming my bike Morvan I was finally using a version of the name and it would forever remind me of this place. Ironically, the terrain in Morvan is very, very similar to Scotland, so it is perhaps no surprise that I was so enthralled by it again.
My next target was Autun, an impressive town surrounded on all sides by mountains. Last year Ihad stayed in a hotel here, but this year I was planning to just resupply and then push on. By 5:30 the ground finally began to fall and we had a fast (but gradual) on-road approach to the town. My first stop was the local Casino where I did my usual - bought a bag of food and drink I could hardly carry - then retired to the town square to remove my shoes & socks and the demolish as much of the food as I wanted. People gave me a slightly wary look as this dirty cyclist ate and ate, but I think they figured out I was too hungry (and in a rush) to wait in a cafe/resteraunt for normal food. I found a bike shop and bought new CO2 cartidges as these were great for quickly topping up the back tyres. Once the bike was fully loaded with food and water, I left and climbed the ridiculously steep hill exiting the town, downing drink after drink on the way up.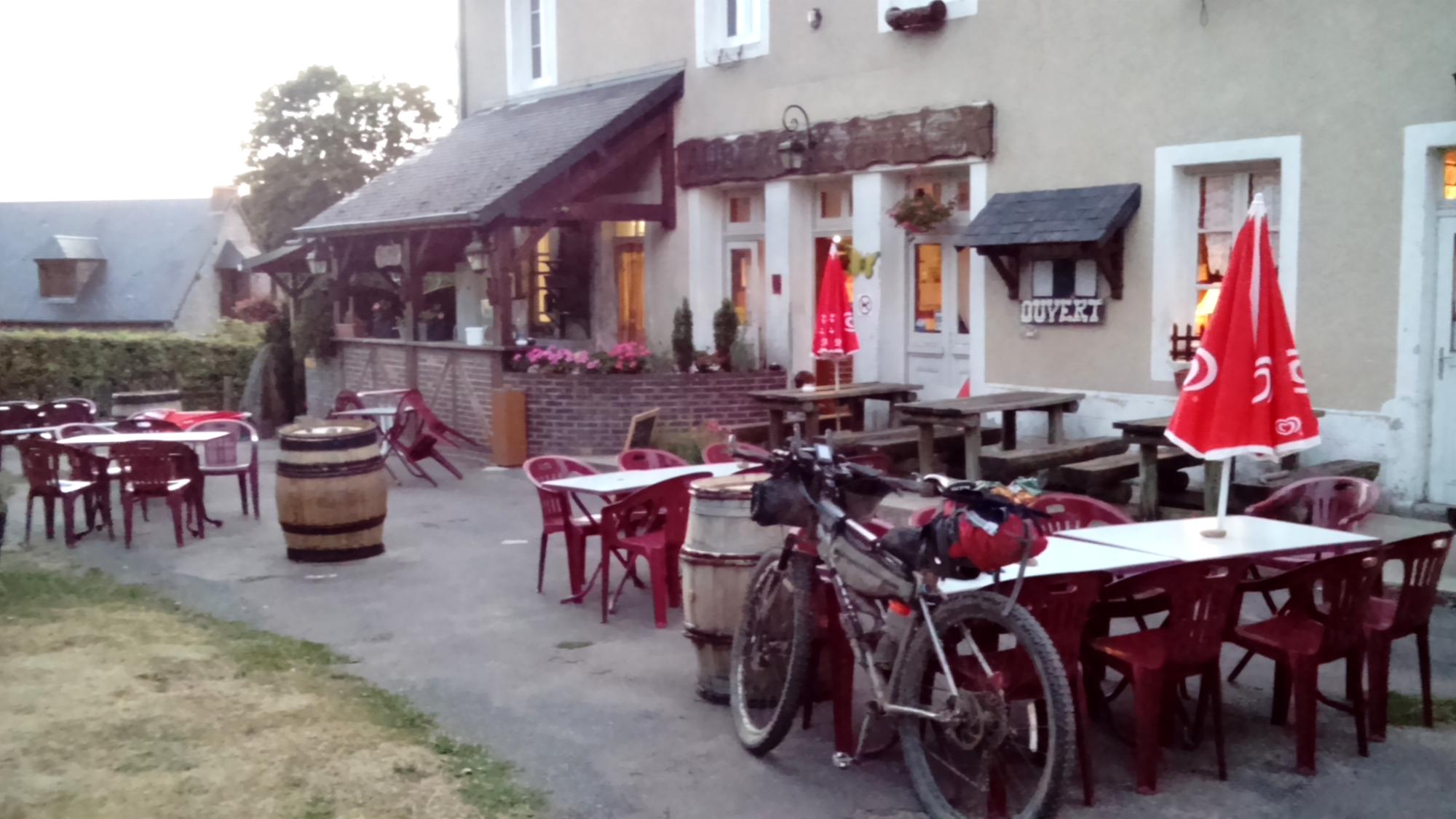 By around 9pm the sun was going and I could see the hills finally dropping away to much flatter ground - I had ridden through Morvan in a single day! I arrived at a magical little hotel called Auberge Croix Messire Jean where people were arriving from all around the bottles of wine & cans of beer. There was local festival nearby with music and I could hear the enticing sounds of people chatting and having a good time. I was sorely tempted to stay at the hotel but after a quick Orangina at the bar I made myself push until I found a spot with an amazing view to the south over the low ground ahead. Although there was no shelter I assessed that it would be a dry night, so pulled out my sleeping gear and called it a day.
Kit
Kit, gear, gadgets, devices, bags not to mention the bikes themselves, the selection, trial and then refinement of the correct bikepacking gear for the French Divide was a massive obsession in the run-up the event. I rode this some riders who I think enjoyed the kit side of things as much as they did the riding. They could spend a long time talking about all the stuff they had and how they hoped it would come in useful. I was always curious to hear how that side of things was working out.
Here are my top three items that worked without issue and played a significant role in helping me finish:
Wahoo Elemnt GPS When chosing a GPS computer, I tried really hard to like the Garmin eTrex which is the most commonly used device. But it just felt like really old technology, not dedicated for cycling and newer version had touchscreens which is crazy for cycling. The Wahoo on the other hand has an excellent dedicated smartphone app, it is mono-chrome to ensure low power usage, has just three fat-finger-friendly buttons and is just a cycling computer. It only restarted once without reason this year, and that might have been a low battery issue. Apart from that it was rock solid, needed a top up once a day and I believe it has superior navigation capabilities to the Garmin. I used the same device as last year, so it survived the dirt, dust, rain, cold, sunshine and heat for two consecutive years.
Alpkit Numo Air Mattress When bivvying last year, I had no mattress. Even in the relative warmth of the French summertime, it was pretty cold sleeping without any ground insulation. Not to mention uncomfortable. So this year I was determined that dispite the extra weight, I was going to take a mattress, be more comfortable and hopefully warmer. The Numo is really light and compared mattresses of a similar weight, it is cheap. So I figured there would be a catch and it was expecting it to puncture. But no, it never punctured, held air all night and allowed me to sleep well. It was excellent and worth every penny/gram.
Trespass 2L water bag As I ran short of water in 2017, I wanted more capacity so in the end used my Alpkit framebag to hold a water bag which was a critical, easy access supply that meant I never ran short. The bag itself was really cheap and I only picked it up days before I left. I considered using a small backpack to hold it, but eventually settled on using the framebag which had handy outlet to feed the tube up the handlebars. I then secured this in place with a cable tie on day 1 and that was my water sorted for the next 12 days.
Next: Day 7: Uchon to Charroux (1249 km) Power