French Divide 2018 - Day 2
Posted: Wed 06 Mar, 2019, 10:22
Day 2: Foret de l'Avernois to Mouzon, Ardennes (406 km)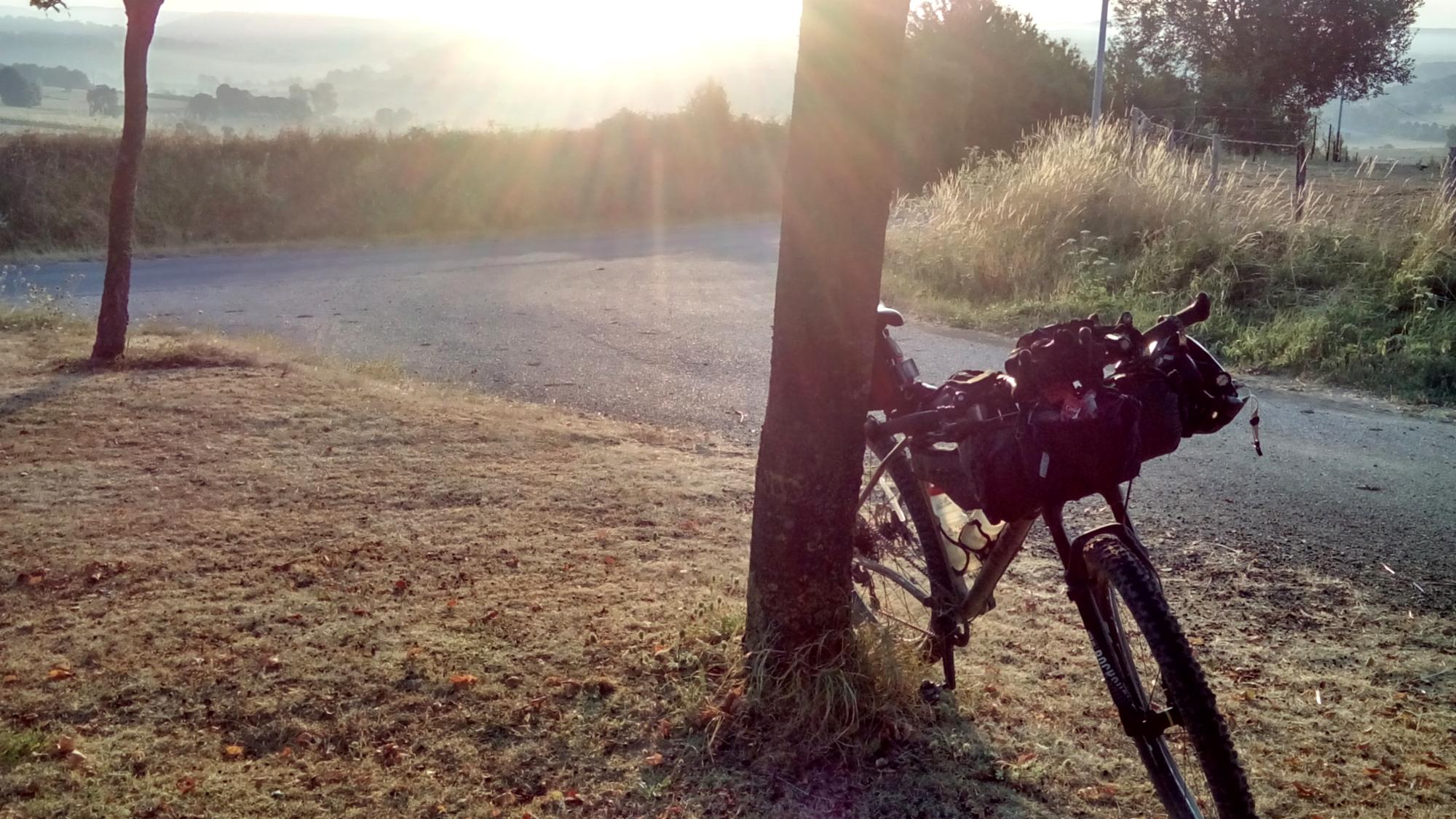 After a good night I was on my way again by 5am. My plan was to get six hours sleep every night (same as last year) which seemed sustainable for me. The route continued east and before long I was cycling through Belgium on the way to CP1 at Charlesville-Mezieres. The checkpoint was an optional one given it was difficult for the organisers to reach there before the fastest Saturday riders. The ground on that second morning was straightforward but varied. One minute on a cycle way, then on a forest track and perhap along a canal. These sections were fun and fast to ride. Early on I passed Jonathan for the first time, who was cruising along trying to waken up. Before long I had moved ahead but we would see each other a lot that day. In Belgium absolutely everything was closed, due to a public holiday (surprise, surprise). Before long, I was raiding my supposedly emergency supplies to find food to keep me going. It felt good to be in a better situation than the previous year.
As the afternoon wore on, the temperature again rose to be uncomfortably hot. I was able to carry about 3 litres of water and this was being emptied at an alarming rate. As Charlesville approached, I was more worried about cooling down than getting my brevet card signed so I pulled in at another campsite for a cool-down break before the CP. After paying at reception and buying four cans of Orangina I made my way to the shower block, where I washed all my clothes and had a cool shower. With the extreme heat, there was no problem putting back on wet clothes, they cooled me down as they dried. After that I found a shady spot and lay down for a break. No point in cycling between 4 and 6pm really, it was more trouble than it was worth. Another rider hurredly rode in and immediately rode out, probably surprised to me relaxing in the shade. But there was no choice, part of the reason for my early exit in 2017 was not being able to manage the heat and I was determined not to ignore what were clearly very extreme temperatures.
Soon after 6pm, I was ready to push on so cycled into the square at Charlesville. Checkpoints normally have a few people, some buzz and maybe a flag, but this time it was just Sam. After a couple of searches, I found him and got my card signed and stamped. I told him I was finding it really hot he immediately said "Yes, it's too hot. Better to sleep when it is hot and ride through the night". It was good to hear that Sam's advice was pretty close to what I had been trying to do. He said the ground was really flat now apart from one climb for the next 30km so I could cover a lot of ground. I said goodbye and went to find a Casino supermarket from which I bought a mountain of food & drink. I devoured half of it and squeezed all of the rest into bags, pockets and bungees on my bike. At this time of the day, it was necessary to buy food for the dinner, the evening and then the morning ride until a breakfast stop was available
I then rode through the evening until I it was dark and carried on some more. By 9:30 I was feeling pretty tired and decided to call it a day. At some flat ground by the trail above Mouvon in the Ardennes and I settled down in some long grass. Some three hours later I was aware of bugs or grass continually bothering me so I moved out on the hard gravel trail and hoped the air mattress would cope. It did, no punctures and a slept better. My second night out bivvying, and my second night in the clear without shelter.
Last Chance
As I rode that day, I knew immediately that this was going to be my final attempt at the French Divide. I had held off making such a commitment beforehand, to myself or my family, to avoid any extra pressure. But as I rode, I knew this was it for me, no matter how it ended. I called home and told Jackie, and although she did not believe me immediately, I hoped it gave her some comfort that we would not be repeating the family turmoil of the French Divide for a third year. The goodbye this year had been pretty fraught, and it felt like a new level of selfish to be riding away on my adventure leaving them all tears. My youngest in particular was very aware this year of how long I would be away and he knew he was going to miss me. So many of my fellow riders were a good ten years younger than me, without all the associated commitments and family. As a forty-two year old father of two, I felt I was juggling a few extra responsibilities.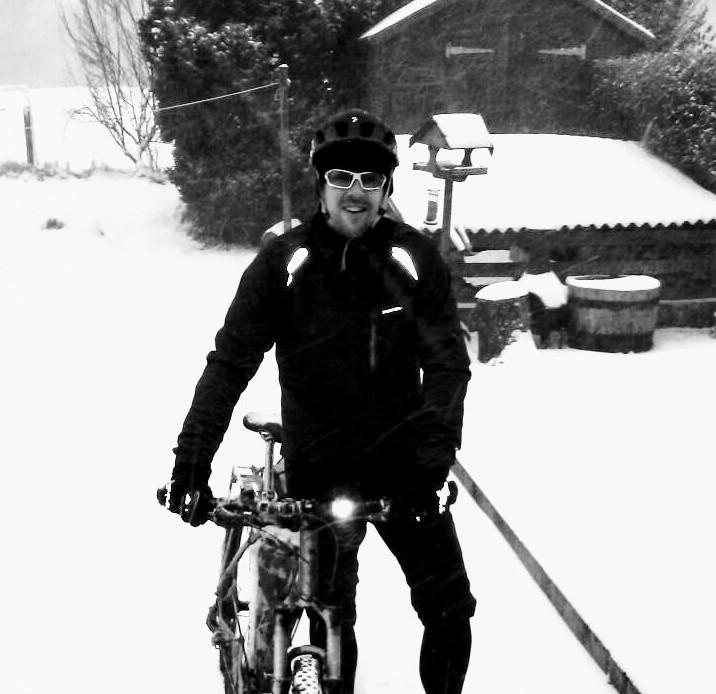 Yet all year, within a couple of weeks of returning from the FD 2017, I had known without a shadow of doubt that I would return this year. I really felt that I could have finished it the year before if I had not had the technical or water issues - both of which I could control, with slightly better preparation. After signing up again in November however, the looming Divide was, for me, like a mini-obsession that was present at all moments thereafter. Weekends involve biking which is training, kit purchase/trials which is more preparation or refinements to my bike/setup which need to be done months before to avoid any last minute changes. I even rode my bike to work all winter, through the Beast from the East which kept me fit and ensured I was in better shape come the spring.
Riding along however, the continual - not meaning to overstate it - pain and suffering that had been forgotten was all to quickly remembered. The enjoyment of the ride is the satisfaction taken from covering the ground, seeing the landscape change and progressing further and further through the stages. This is what sustains me day to day, not always the immediate enjoyment of the ride, although some stages are a total pleasure. There seemed to be too much at stake this year, too much riding on my final chance to be able to totally relax.
I knew I have nine days of legwork to get back to where it all ended last year, which was another incentive just to get down and pedal.
Next: Day 3: Mouzon, Ardennes to past Verdun (534 km) Body Shock