French Divide 2018 - Day 9
Posted: Wed 06 Mar, 2019, 10:29
Day 9: Saint-Donat to Beaulieu-Sur-Dordogne (1547 km)
Soon after 6am, I was starting to warm up, kicking myself for selecting yet another bad bivvy sight. Due to the dense clouds overhead, daylight did not appear until well after 7am, finally bringing to an end my nightmare. Before long I ran into William again, who had covered exactly the same ground as me the previous day and found a campsite just passed my bivvy spot. Typical. He was in good form and we chatted as we rode about our lives back home and our experiences on the Divide. The route picked up a cycle way that carried us all the way into Ydes where we found a very quiet and slightly rundown tabac that sold lifes essentials - coffee, beer and cigarettes nothing else. We both went in, ordered coffee and I borrowed a plug to charge all my devices. One coffee followed another, it was a total pleasure to just stop for once and have a decent conversation.
After Ydes we split up after I had to do another lengthy stop to put away waterproofs but we frequently met up again as the day went on. I knew that all my kit was soaking and I would have to stop to dry it out some how. Ahead was a campsite so my plan was to stop there and sort it all out. Around 2pm my target campsite was still far ahead, it was starting to rain again and I was passing a quiet campsite - so I decided I would stop there. The reception was closed so I went to the toilet block and pulled out everything. It rained continuously for the next hour, during which time I had a shower, dried everything as much as I could and charged all my devices. The sleeping bag was half dry and probably useable. I stuffed 4 euros through the letter box at reception as I left.
After that, I set off and began riding through the first of the Massif Centrale. This filled me with a certain dread, as it was here that I had really struggled last year. The amount of climbing required to traverse this plateau riven with countless gorges was going to be a real challenge. The sun pushed out later on and I stopped for another half an hour to properly dry my kit under it's glaring warmth. By late afternoon I finally dropped down to Forges, just as the rain was really starting again. As I rolled in the heavens really opened and I drew up at a bus shelter, took my shoes off and had a rest while it passed.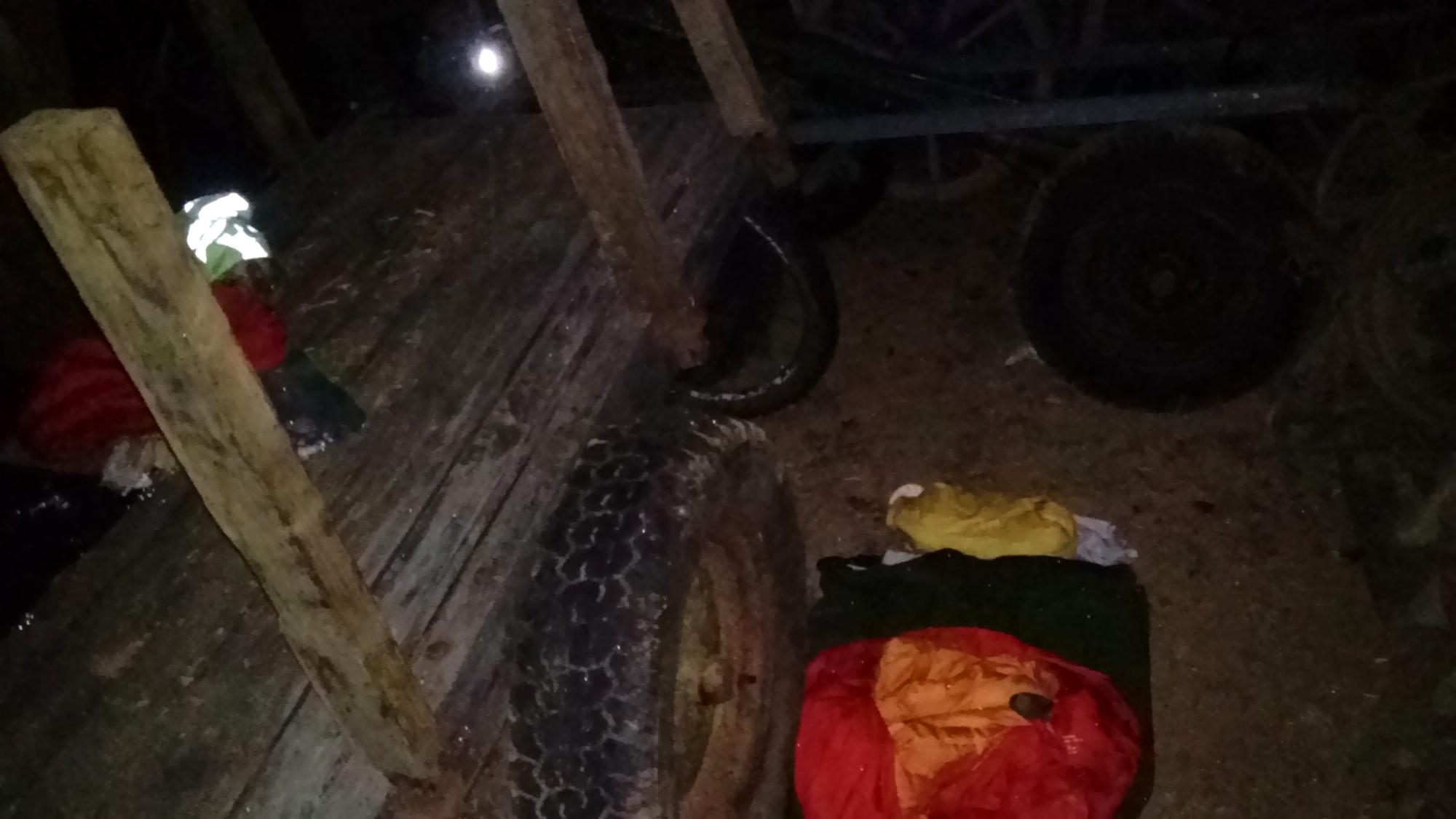 Climbed out of Forges into the clearing skies, there was a misty warmth to the evening. My back wheel was again really flat, slowing my progress considerably, so I asked a farmer if I could use his barn for shelter whilst I plugged the offending hole again. He was more than happy with that and retired to his farmhouse with an offer of further assistance if required. Once sorted, I was away again and reached the picturesque Beaulieau-sur-Dordogne around 9pm after a memorable evening ride through some stunning countryside. Resteraunts were buzzing, people were out drinking and it was very tempting to stop and have some food. I ran into another Divider who heading for the campsite with an armful of pizzas. Instead, I rode on and found a disused barn filled with 100 year old farm machinery just out of town and pitched there for the night.
Mind, Body and the Art of Bicycle Maintenance
Three factors equally determine every riders outcome on the French Divide - mental strength, physical strength and the ability to keep your bike working. Without all three, it would be pretty difficult to finish, as I found out in 2017. That year, my bike broke and I broke as well, thanks to drinking bad water. I guess this is another factor beyond these three, as sort of survival skill which is about looking after yourself after days in the wild, although this can be mitigated by chosing to stay in hotels.
Looking at myself, I think my strongest of these three was my mentality. Other riders would tell me they had times when they had wanted to quit, and had to talk themselves round to continuing. Those thoughts never once entered my head, even when I was heading for hypothermia at 4am in a soaked sleeping back, the solution always lay by riding on. When I became fatigued by riding for days on end, I knew I had to get off the trail by finishing as quickly as I could, hence my mad dash for a Friday finish. My early exit the previous year was down to poor decision making and it was honestly a surprise to me that I was stopping, I fought against it for at least a day and a half. After finished this year, my friend Stephane who I rode with said I had no doubt for your mind to reach the end when we rode together, which was one of the best compliments I can imagine.
My weakest point was my bike maintenance skills. Although I had built my bike, there was still so much I did not know. How to plug a tubeless tyre? Although I quickly learned this. How to put in an inner tube without nipping it? I had done this many time before. How to rig a single speed if I smashed my derailleur? Why was my bike creaking alarmingly every single day? The bottom bracket sounded so bad that other riders would be alarmed when they heard it. Why did I have such big, heavy tyres compared to everyone else? Why was my front suspension fork losing air? Why did there not seem to be enough sealant in the back wheel? Why was I running a 36 tooth front chain ring? A 34 or 32 would have been much more sensible. So much about Morvan caused me concern and simply could not break because I could not have fixed it, that I really babied her through so much. I descended so slowly, used 80% front brake to minimize any extra wear on the back tyre and pushed the bike over anything remotely difficult. It was my continual weak spot and I worried every day that something irreparrable would halt my adventure before the finish.
Next: Day 10: Beaulieu-Sur-Dordogne to Caylus (1716 km) Which Divide?