French Divide 2018 - Day 5
Posted: Wed 06 Mar, 2019, 10:25
Day 5: Foret de Orient to past Avallon (918 km)
Day five was going to be another mostly farmland gravel trails day, as I tried to push on through to CP2 at Quarre-les-Tombes where the good mountain trails would really begin. Thanks to my good sleep, I moved well and was beginning to feel properly hungry for the first time.
The temperatures were still rising to be uncomfortably hot again in the middle of the day. Countless stops were required a village cemetries to fill up on water. By mid-morning I was in open, and seemlingly endless, farmland. The air was changing again and I could see huge anvil-shaped cumulous clouds building ahead of me. Before long the clouds were sparking with lightening and thunder was reaching me in ever more frequent rumbles. I knew a downpour was on it's way but I was caught on very open ground. I cycled up a hill hoping for some shelter ahead but there was nothing, so quickly dropped back down to lower ground. The rain and thunder then really started and I knew I was in a slightly dangerous situation. Rather than continue, all I could think was to stop and lay down by the verge, even though I had nothing to shelter behind. As I lay there pressed down on the grass the wind increased until it was ripping over the ground, and the rain became like a hose directed squarely at me. For ten minutes it was the heaviest, most violent rainstorm I have ever been caught in with lightening going off all around it seemed. As it subsided I was once again cold and wet and had to keep moving, so saddled up and rode on. The clay soil had turned into a sticky morass that was impossible to ride through. So I had to keep stopping to clear my wheels and then try to stay on grass wherever possible.
At the next town, I rolled in with a mixture of relief and a bit of a buzz from making it through the storm. Sat in a shelter was Sebastian, a fellow rider who had wisely foreseen the storm and was completely dry. He was however not in a good frame of mind, and declared he did not want to ride in the wet and thinking of quitting. Rather than try to talk him round, I sort of said that he needed to do what is best for him. After a while we rode out together, he had started on the Saturday and as I rode it was obvious that he was a really fast climber, so I was very surprised to have caught him. On a very tricky muddy patch caused by the downpour he then fell badly. When I reached him his leg was bleeding and I felt extremely bad for him. I pushed on but then waited when he did not appear, until eventually he came round the corner. We rode on to Tonnere where we both got some food. I had another chicken kebab but this time I ate the whole thing and it tasted great. I met Sebastian again and asked him his plans, he said he was going to continue which made me smile and thump him on the shoulder, happy that he was not quitting.
By 7:45pm I finally reached Avallon and the Lidls supermarket on the outskirt was just about to close. I quickly ran round a bought a trememdous amount of food and drink. Outside I devoured half of it and loaded up my bike with all the rest. It was going to be slow going with this much food, but I knew I could ride for the next 12 hours without any need for resupply. Another pair of riders came in just after me and also managed grab some food, one of them looked full of energy and chat but the other looked down and was obviously struggling. They asked Are you riding on?, and when I said I was, they said Don't you want to stay in a five-star hotel nearby?. I said thanks but no thanks, and they then said it was cheap, but I held my ground and rode out into the gloomy evening. With Avallon behind me the next target with CP3. I rode for has hard as I could for as long as I could but realised eventually I was not going to make it that night, which was the cut-off.
After my soaking, I was keen to find shelter and found a BBQ stand by a lake in the pitch black. It was open on all four sides but would definitely protect me if it rained. As I settled down a four by four truck drove by and slowed to a stop at the stand but then moved slowly on. It did the same thing thirty minutes later as I lay in my sleeping bag facing the other way, I was motionless and ignored them, until they eventually drove off again. I then slept well and woke completely dry.
Goodwill
Riding the French Divide is guaranteed to renew your faith in human kindness. Time and again I was helped on my way by complete strangers who knew I would never see them again but nevertheless refused to accept any payment for their help. Every other rider I spoke to experienced the same thing, and I think it is something unique about the enormity of the Divide that rallies people to help. This year my secret helpers included: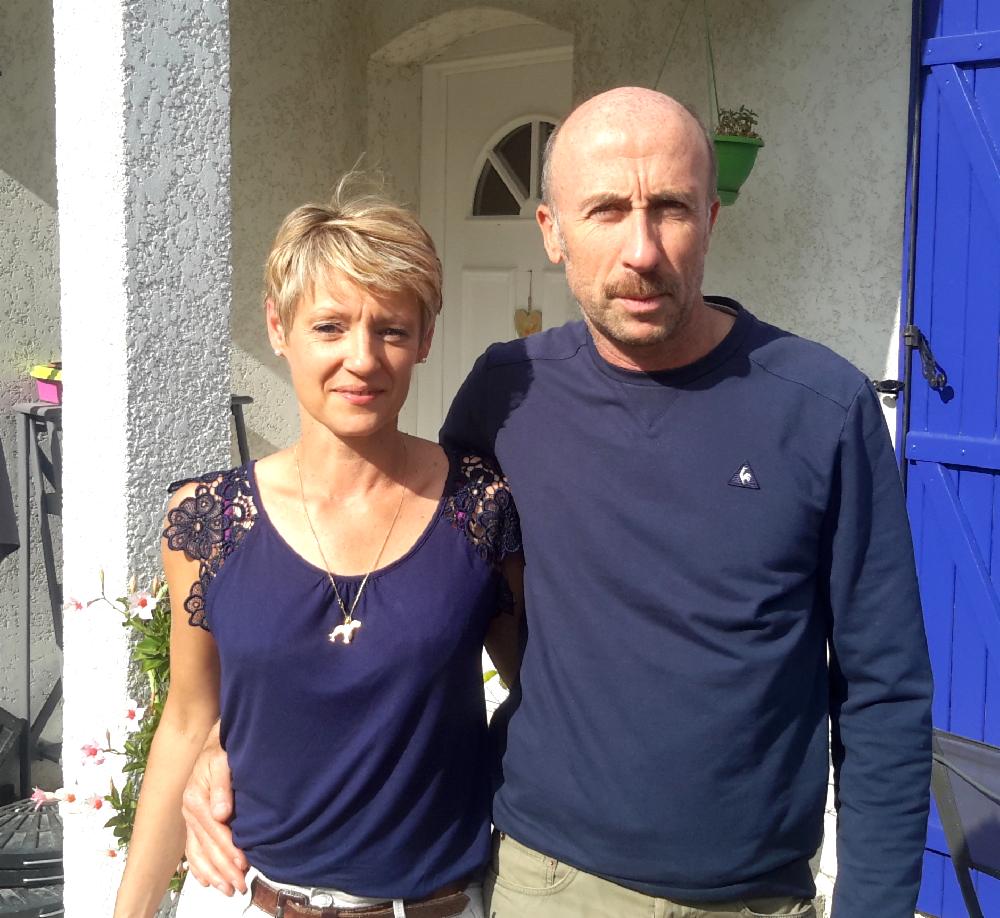 Stephane and Carole (pictured) who helped me last year. Stephane rode with me this year for two hours into the Foret D'Orient. His positivity and sense of humour was a total boost.
The guy who gave me some of his engine oil to lube my chain which was grinding horribly in the Massif Central
The amazing e-bike riding couple who gave me their hand pump when I asked if I could buy it off them (had lost mine!)
The lady whose son was riding the Divide who waited all of Saturday and Sunday on day two, in the furious heat, with cold water and water melon slices to serve from the back of the car to all passing riders. I could have kissed her!
The resteraunt owners in Charroux who gave me a filled baguette just as they closed and refused money. Breakfast sorted.
The countless bar staff who filled my bottles with water, although I would always buy something too
Lorraine from Marciac, the lady who allowed me to use her electric car tyre pump, to fill my back tyre to 50 PSI with the new inner tube. And made me an amazing coffee. Without this I would not have completed the last two days as fast or as issue-free.
The bakery owner in Auch who gave me a free bottle of water with my breakfast.
The guy in the bike shop who was about to close for the holidays, but pumped up my front fork with the specialist pump required and refused any money. Just a shake of the hand a commitment to keep going!
The farmer in Lot who let me shelter in his barn whilst I plugged another whole in my back tyre. I left him a chocolate, hope he got it.
Speaking to any other riders, they all had the same stories and more. Complete strangers helping them to fix their bikes or letting the steal parts from their old bikes. Or, as with Fred Staerk, he asked a couple if he could shelter in their barn whilst a thunderstorm passed, they said sure, but 10 minutes later invited him to their house for coffee and some food.
I could never properly thank these people and I really wish I had taken a picture with them to put in this blog. That is the least I could have done, but it was too late by the time I thought of this.
Next: Day 6: Avallon to Uchon (1068 km) Kit