French Divide 2018 - Day 12
Posted: Wed 06 Mar, 2019, 10:30
Day 12: Auch to past Lourdes (2072 km)
By 6am the next day I had not been riding for long and stumbled onto a quiet campsite. I was dirty, my clothes were too and I was short of power so this seemed like a perfect opportunity to clean and recharge. I rode in with my lights off so that I would not wake anyway. At the toilet block there was sinks for washing clothes, showers and plug points. For the next 40 minutes I did the quickest cleanup ever and was back on the road, before the sun had come up and before I had seen a single other person on the campsite. Auch, the next town further on, was suprisingly big and seemed to be full of industry. I found a boulangerie and stopped for a coffee and a croissant. The owner gave me a free bottle of water too, having served many Dividers over the past week. I felt slightly guilty for having all these stops, but it was sensible. That would be my last wash stop before the end and it felt great to be clean and well fed for once.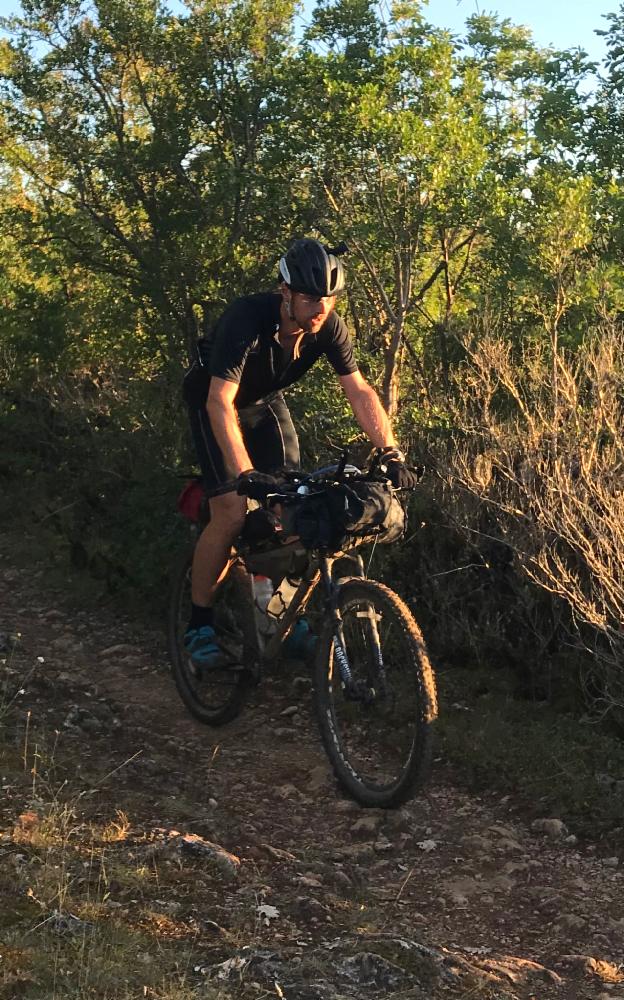 From Auch, the day gradually warmed and the trace followed the Le Chemin de St. Jacques de Compostelle for much of the way. There were plenty of holloways that carved a path through the countryside. My target was Marciac which I reached at lunch time, just in time to see the stages and stalls being dismantled in the town square following a three week jazz festival. I found a supermarket and bought another carrier bag full of food. One of my purchase was a large tub of Ben and Jerry's ice cream which I finished completely, along with a bottle of orange juice and the mandatory cantaloupe melon. I had my bike in the shade the whole time, but as I left I noticed the back wheel was really flat. It seemed that the very small holes (of which there were several) were even leaking air, the size of puncture that the sealant should have blocked. I asked about a bike shop but was told there was none nearby so I pumped up the tyre and set off, hoping again that once the tyres were rolling it would be better.
One mile out of town the tyre went completely flat. I would need to switch in a spare inner tube something I had avoided until now. It would be like last year, something I was not prepared to repeat. Looking down the road I saw a woman on a ride-on lawnmower cutting her grass. Perhaps she would have an air compressor I could use. I approached and asked in my best French, and she replied in English. By chance I had chosen to ask an English expat for help, another stroke of luck. She had a tiny and very noisy air compressor that plugged into the cigarette lighter on her car. I pulled off the back tyre and found there was absolutely no sealant, it had all been used to seal the tyre onto the rim for some reason, something that should not have happened. I carefully fitted the inner tube and pulled on the tyre. We then pumped it up using the compressor which buzzed noisly but did that job perfectly. Once it was tight, we went and had a coffee whilst waiting to confirm it was sealed properly. Lorraine was living there on her own, with a partially built house and survived by doing several different small jobs. Her family visited in the holidays. I admired her independence & willingness to make a new life for herself in dream location. The tyre felt good and so I fitted it back on, said farewell and set off.
Until then, my mind had been casually drifting to the finish, how it would feel and what I would do, but now it all seemd much more doubtful. Almost all of the people I had ridden with over the last three days had withdrawn. Even at this late, late stage. A puncture was always repairable but I just did not have the energy or the hand pump or the CO2 cartridges to get the tyres back up to pressure. I was tired of the endless routine of riding 16+ hours a day and needed to get off the trail. The longer I was out there, the more could go wrong. With my new mindset I rode as fast as I possibly could all day. The end of my story was completely unknown and I could take nothing for granted.
I climbed up and up towards the Pyrenees, feeling at once impressed and slightly in awe at the scale of the mountains ahead. Much of the final section to Lourdes was on road or good gravel paths and I used the aerobars to gain every possible advantage of speed and comfort. Just before Lourdes, I passed a McDonalds where I stopped for a feed and recharge break. I promised myself that I would not leave until one of my commuter lights was at full charge, which took almost two hours. That was six hour of guaranteed light, and I had two of them. The restaurant was full of people going about their everyday lives and I felt like a bit of an interloper.
Lourdes was a surprise. I rode through at around 9pm, and it was full of pubs, restaurants and tacky neon hotels. It was not the spiritual place I was expecting, more of a tourist trap with all the usual amenities. I passed hotel after hotel as the rain fell harder and resisted the temptation to take a room. I rode out of the city and into the dark forest not entirely sure I was doing the sensible thing. At midnight, I had not ridden as far as planned due to having to circle round numerous trees felled by recent storms. I passed a closed campsite with a reception building that had a sheltered porch which was dry and flat, although not protected from the wind. This would do. I pulled out my sleeping bag and settled down for the night with the rain lashing down a few feet from my head.
Next: 12d 16h: Lourdes to Mendionde (2267 km) Closure