French Divide 2018 - Day 11
Posted: Wed 06 Mar, 2019, 10:30
Day 11: Caylus to Auch (1912 km)
I packed up at my usual time and was riding by bikelights from around 5am. By 6am, I had reached Saint Antonin Noble Val, which was gearing up for bike race later that day. Oddly as I crossed a main road just outside a random car stopped and told me not to go into the forest on the other side, at 5:30 in the morning. I did not quite understand why, but the trace lead that way so I had little choice but to follow it once he was out of sight.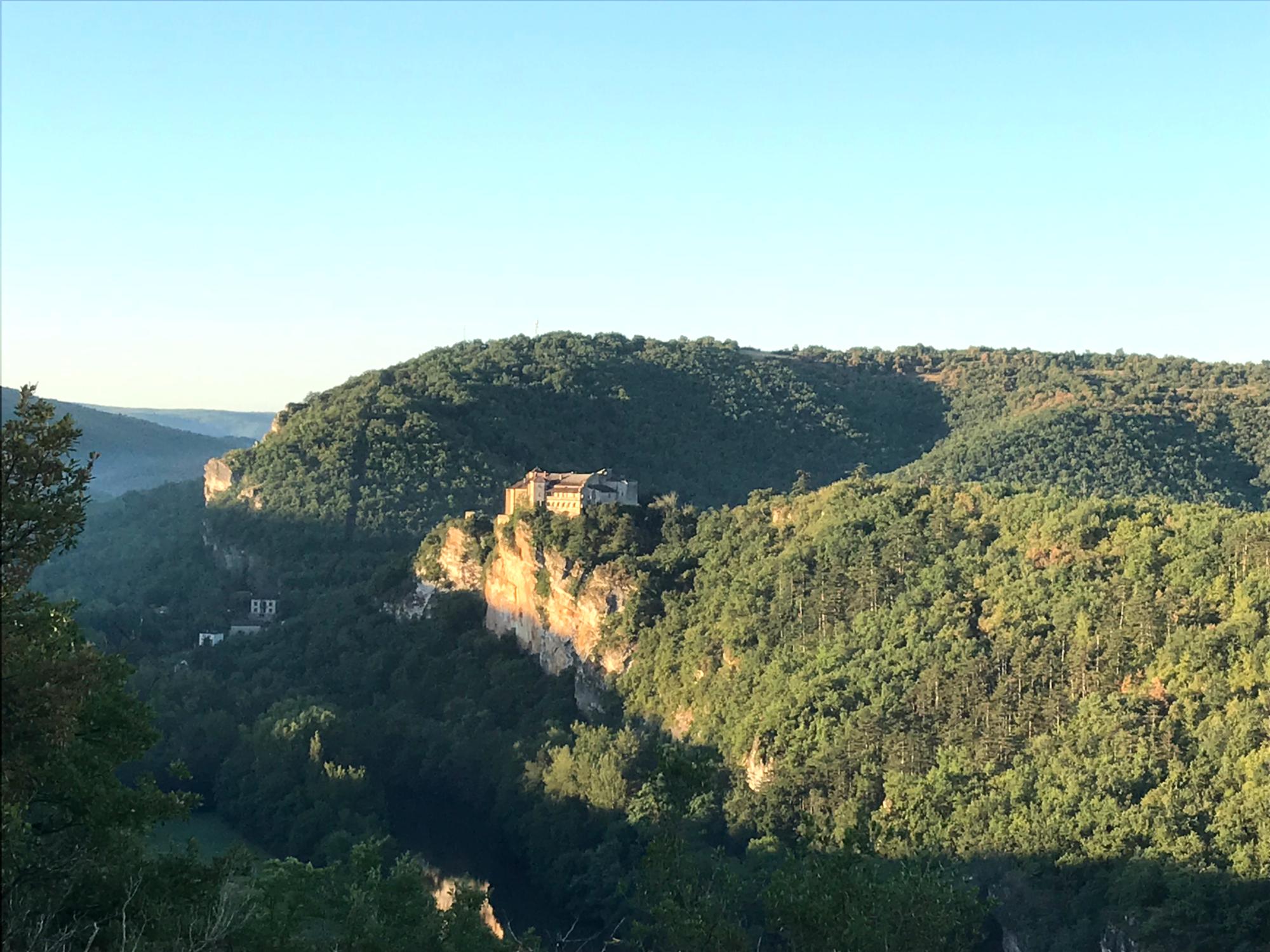 At Saint Antonin I pulled up at bank machine and as I withdrew some cash, was aware of someone approaching. It was Christian! My old flatmate from 20 years ago in Glasgow was a welcome sight, I gave him huge hug and could not quite believe he had managed to find me. Like a space supply ship, he had somehow synchronised his trajectory and intercepted his moving target perfectly by watching my dot on the trackleaders page, with just a simple text the night before and no other organising. I was well impressed and we set off on the trace. Christian was brought up in Verfeil not far away so knew this countryside well and was thrilled to be riding it as the sun rose on a beautiful day. He was riding a carbon enduro 29er with much better gears than me and he literally flew up all the hills that I slowly plodded up. And of course he descended way faster than me. With his naturally faster pace it really made me push on.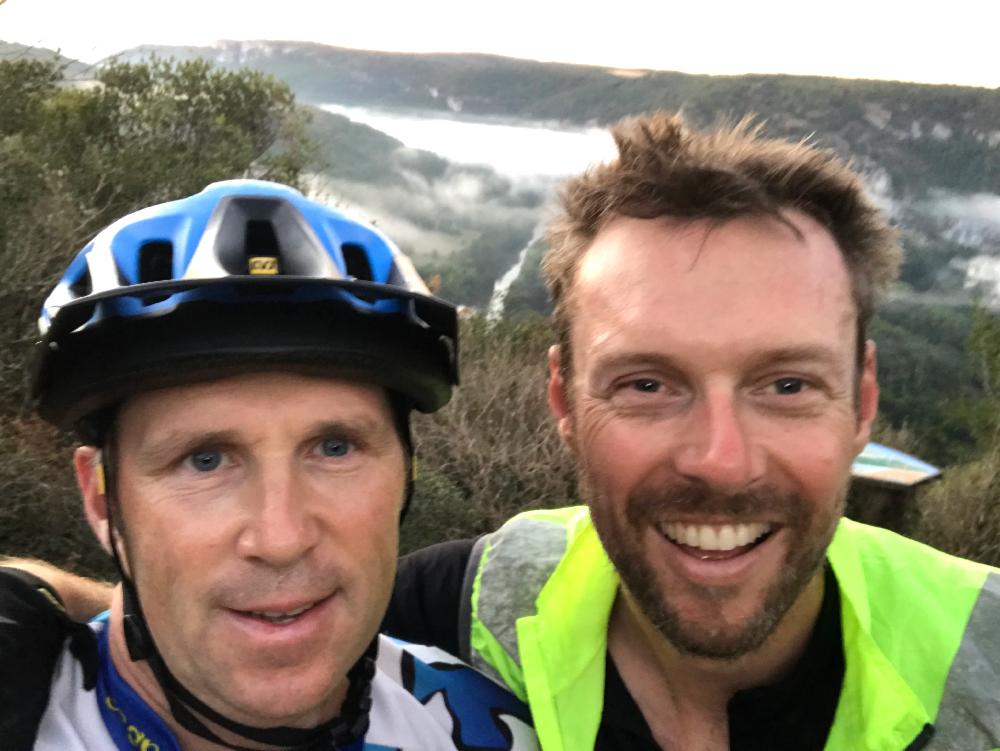 After climbing a ridiculously punishing final hill followed by an impossible technical descent, we were almost at CP3 at Puycelsi. As we arrived I was pleased to see the organisers up and about, having their usual coffee and cigarettes in the local cafe. Aware that I was low on energy and food supplies we went to the small supermarket and did a full resupply/eat everything routine. Christian said we should go and have a coffee with the organisers, which I naturally resisted with my urge to get on but he was right. Once we were fuelled up we had an enjoyable catch up with them. Sebastian estimated I would be a Saturday finisher at my current pace, which gave me a wake-up call as I was really targetting Friday. And they confirmed my suspicion that they had intentionally routed us around Cahors because from previous years they realised was too easy to withdraw there - with TGVs to everywhere. I told them that Christian was considering doing the Divide in 2019 which he was and Sebastian took note, agreeing he would see him next year.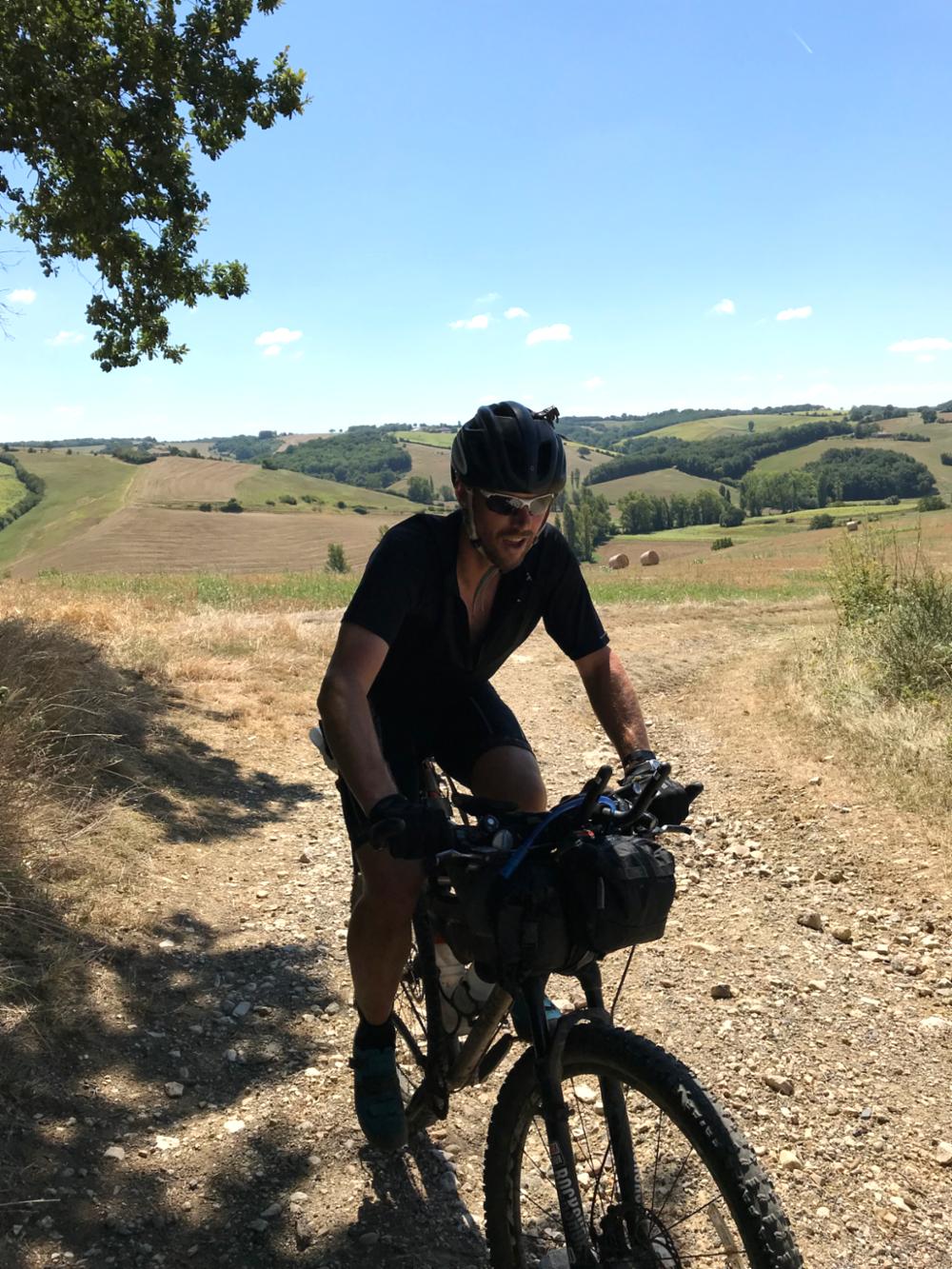 By soon after 11 we were on our way again, riding into a blue sky day with more than just my own company, it was going to be pretty special day. After a few hours Christian pointed out that in the very, very distance, we could see the Pyrenees. The Pyrenees looked big and stretched all the way over the horizon. I let out a whoop of amazement and at the same time realised we were finally leaving the Massif Central as the plateau gave way to rolling hills and finally a flat plain all the way to mountains. I had made it through and could not help giving another shout to celebrate this achievement. Making it to the end now seemed like a distinct possibility. We rode all through the day, out onto the plain and every town we passed through was closed, no shops open all, due to another public holiday. By the end of the afternoon Christian was eating a plain baguette with no filling and we stopped at several cemetries to top up on water. It was another hot one. As we rode on the roads, I always led the way to ensure there was no drafting benefit and also because I preferred setting the pace. By late afternoon I was worried that we had completely bypassed Toulouse but Christian's plan was to cycle home once we reached the Foret de Bouconne on the far edge of Toulouse.
We reached the forest, riding through twisting dusty footpaths or wide logging trails and then the point where Christian would need to turn back. He was amazed at how far he had ridden in one day, he had no idea he could ride from Toulouse to his childhood home entirely without going on road. It had opened up a whole new set of possibilities for him. Equally that was the longest he had ever ridden on his moutain bike, which had performed without a single issue and filled him to confidence for similar future rides. Not to mention the possibility of doing the French Divide in 2019. We said out goodbyes and I was back on my own again, thankful for having shared a day of the adventure with one of my oldest friends. It now seemed less like a dream and more rea,l now that I had a witness. The last thing he said was I hope you find some food and so did I. Fortunately at L'Isle Jourdain an hour or so ahead there was a small out of town food park with a pizzeria that was open thankfully. At 6:30pm I ordered two pizzas, a big bottle of Orangina and also a big bottle of Oasis and happily waited in the evening sun for them to appear. No other riders passed as I spent an hour eating and sorting out all my stuff, desperately trying to charge my drained phone so that I could call home. I had missed both my boy's first days back at school and really wanted to call home.
After eating as much as I could, I pushed on, wanting to use the new food energy to get me as far as possible that evening. After Gimont I found a nice spot by a sunflower field and away from the mosquitoes where I could get settled down and call home. My mobile phone finally powered up and I also plugged it into my power pack to make a call home. For twenty minutes I had a memorable chat with both my sons and with Jackie, telling them all about my adventures and hearing about their first day back at school. I signed off by saying that I may not speak to them again until the end because I needed to move even faster and save all my power for lights and GPS. They were all so supportive and just wished me a good journey to the end. After the call I rode on until well after dark and all the extra energy was gone, pulling up at a bivvy spot not far from the trail. It was flat gravel ground with no shelter but it was hot and the was not a cloud in sight, only crystal clear stars and the Milky Way.