Borders 350 2021
The story of my ride on the Borders 350, a bikepacking route through the heart of the Scottish Borders in late August 2021. Covering over 320 miles in total over rough ground, gravel trails and foot paths, it is a surprisingly difficult and remote route.
Posted: Mon 06 Sep, 2021, 13:43
The Borders 350 is a figure-of-eight bikepacking route that begins and ends at Peebles in the Scottish Borders. The route has a reputation for being relentless and unexpectedly remote with re-refueling points few and far between. My failed attempt the previous year had been a huge learning exercise and ensured that as I rolled up to the start line this year, I was much better prepared for what lay ahead. Joining me were the organiser Ray Young who would see us off, and only four other riders. Two were doing the shorter 220 route which left only three of us to tackling the 350. I recognised Andy immediately from last year and we all had a quick pre-ride chat. The sun was shining, the forecast was good and having had relatively little rain recently we were hoping for good ground conditions.
Day 1: Peebles to Moffat
Day 2: Moffat to the Pennine Ridge
Day 3: Wooler Loop
Day 4: Home Run

Day 1 - Peebles to Moffat
At 8am, after the customary pre-ride photo, we were off and running. The starting section has been amended slightly from previous years and was much improved. Climbing up on the Southern Upland Way, we had soon split from the 220 riders and we three remaining ground our way up above the early morning mist and slowly began to find our rhythm. Whilst I has prepared as much as possible, it had still been a mad rush to be there at the start line, with various last minute family diversions and then the early start to get down to Peebles. However there were four key elements that were different from the previous year that I hoped would see me through. I was carrying an extra water bottle which I hoped would mean I never had to drink from any streams, something that caught me out the year before. Also I was carrying more food as I never knew what shops/cafes I would hit and at whether they would be open. My third improvement was to fit front and rear mudguards. Much of the route was through sheep country and it is well known what sheep produce, so the guards were an effort to keep me and my kit a little bit cleaner. The final improvement on the previous year was that I was roughly 10 kilos lighter. This had a huge effect and although my bike was as heavy as ever (with tent, sleeping bag, spares, water etc), there is no denying that 10 kilos makes a very noticeable difference.
As would become a pattern for the entire ride, Andy and I kept switching places at the front. He was riding a steel framed bike as well but his had the gravel drop handlebars. Overall, his bags looked less than mine and whilst we chatted he mentioned he was bivvying, making my tent seem slightly over-cautious, particularly given the fine weather. Fortunately he was stopping to take photos (which are included in the blog - thanks again Andy) so we captured some good ones whilst we were all still feeling quite fresh. My phone was off unless I was stopped for food or a decent break. Mostly this was to conserve the battery because I would need it later and was not planning to recharge it. But having filmed my attempt the previous year I found I was continually trying to capture the moments and ended up being distracted which just cost me energy. And I knew the route needed all my energy and focus so I accepted there would be few photos this time and no video.
By mid-morning I was skirting around the St Marys Loch and realised that I was ahead of last year. Although this was partially down to my slightly improved fitness, I suspect the main factor was the shortening of the start section. Irrespective, I took this as a clear sign of my excellent levels of fitness (!) and powered on to the first big climb up to Dollar Law. The ascent is a rocky double-track with ever-decreasing grip on ever steepening incline until at a certain point it is not rideable. It was getting hotter but there was a gentle head-wind that was keeping me cool. Just to add to things, my GPS was playing up. My Wahoo Roam was intermittently freezing, reporting 0 mph and ceasing to progress me along my route. After being patient I restarted, reloaded the route and hoped it was a glitch but it kept on happening. Having had a different problem with it the previous year (unwanted auto-rerouting), this was extremely frustrating. I caught Andy at the top of climb and he said his GPS was fine, ruling out the possibility that the US government had degraded the GPS signal as part of their Afghanistan withdrawal counter measures ... well, it was a possibility! So as I drew ahead I restarted it several more times but was losing time and patience each time. Finally at the top I stopped for my lunch with a magnificent but hazy view to the west. When I checked my GPS, which I had left on, it showed my route had been a crazy star pattern all round the summit of Dollar Law even though I had been completely static. Very worrying. At that point I dug out my old Wahoo Elemnt, ditched the new(ish) one and thankfully found that it was working perfectly and relied on this right to the end. That was almost the end of my ride and I was so relieved to have the backup.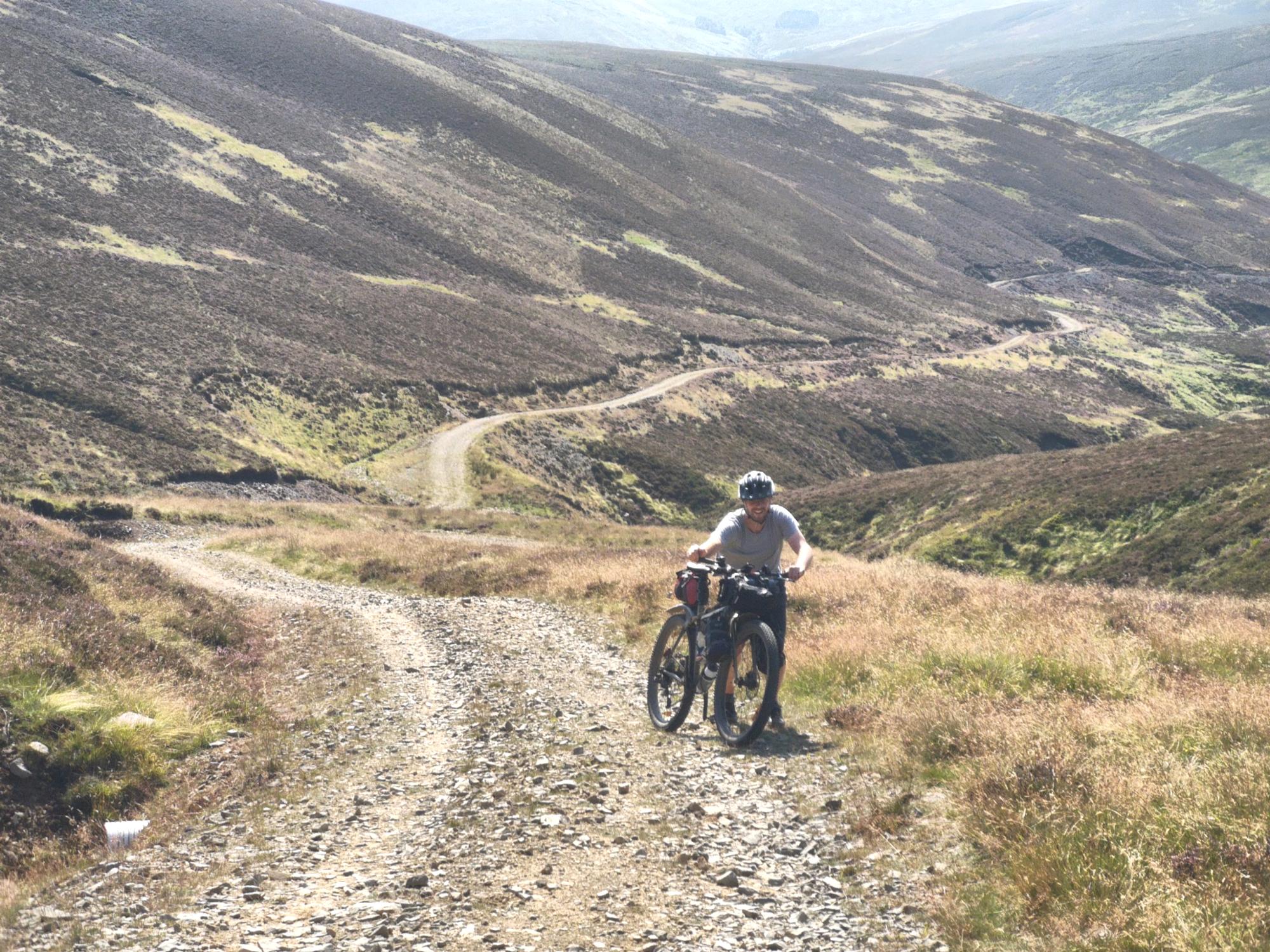 I traversed along the high ground, passing a loud group of people who I think had a double barrel shotgun (I gave them a wide berth), finally reached the descent. Same as last year, it was utterly brilliant and I rode it too fast, again. The sweeping grassy bends and minimal rocks just encourage speed and discourage the careful riding that is required to make it to the end of these routes.
After another couple of hours I arrived at Broughton and refueled on food and water. The shop was out of water to the woman kindly offered to refill my bidons from her tap. I stood outside, eating and packing away food for later as Andy rolled in. He said there was a toilet further on so I headed on for that whilst he resupplied, taking with me a Ben and Jerry's ice cream for consumption a bit later once it thawed. The toilet was closed in the end but after about 2 miles I stopped and ate my ice-cream. Pure delight.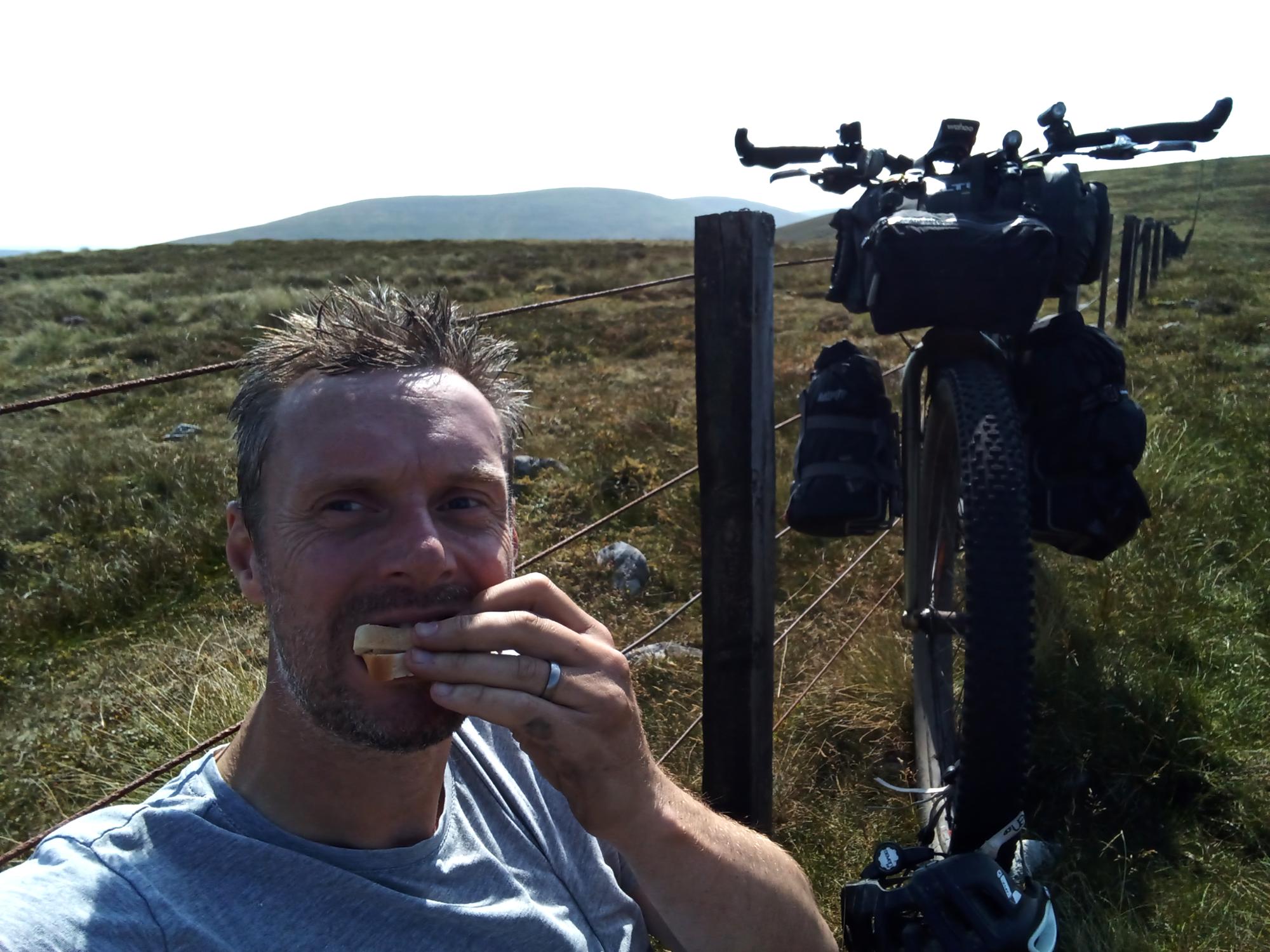 Now the initial buzz of enthusiasm had long gone and I was into what I typically find the most difficult part of the day - mid-afternoon. Riding in the early morning and evening often seem like stolen time when you are priviledged to be out, whether sneaking around after dark or being awake to see the sun rise. But the afternoon is just a drag for me and so it was pushing my bike up a tussocky route with no path up to the wind farm. Finally I emerged from the brush and joined the wide gravel path which looped all through the farm before descending at speed to the road. Thankfully the route followed the road now all the way to the Fruid Reservoir, which I circled to the north and eventually departed to the south on the hike-a-bike section to the Devil's Beeftub, an iconically named hill to the north of Moffat. This was a re-addition from the previous year and it was a brutal section. No path, tall grass, no water and seemed to go on for miles. At one stage I saw Andy closing in on me, but I must have pushed on ahead. After much trudging, the route finally reached the Beeftub and skirted along the top before heading steeply down a rocky gap. The route definition was not granular enough here and after I had dropped my bike down the craggy section I found myself scaling the sides of this corrie like an ibex, trying to keep high and find my way back to the route. I am not sure if I went the wrong way or missed a turn off or what, but after several down-climbs with the bike and pushing around a very steep slope I rejoined the straight-line route only to find full-height bracken and no path. Again I just pushed on and have no idea if there was a path under it all. Going downhill was the only positive and by 8pm or so I finally broke out of the bracken and found my way back on to farm trails, and then road all the way down to Moffat.
I pulled up at a petrol station and bought as much food and water as I could eat now or carry for later. It was a big milestone for the route to have made it in one piece to Moffat, with Dollar Law and the Beeftub behind me and still some time to ride on. Taking my time I ate slowly and drank as much as I could, added my electrolyte tablets to my water and took a fourth bottle to ensure I had full bidons for the start of my next day. Standing there at dusk, Moffat was jumping, with pop classics drifting by from various bars or parties and Saturday night revellers stumbling past. I called home to speak to the family and felt a pang on regret as they described their chilled out Saturday movie-watching plans but they gave me a great boost, it was so good to speak to them. Now fully re-stocked I rolled out of Moffat and decided to get some of the climb ahead out of the way before stopping for the night. After an hour or so at around 10pm I found a very bad (but best available) spot on the verge in a small forest section and pitched up.
Day 2 - Moffat to the Pennine Ridge
As would be become a somewhat comical pattern, Andy rode by me first thing in the morning - the same thing would happen every morning of the ride! He had bivvied just outside Moffat and packed up a bit before me. He waited for me to finish getting my stuff together and then we rode off together, both delighted to be so far ahead in terms of time from the previous year, when we had both crashed and burned. The route was fairly straightforward until the big push back on the Southern Upland Way into the hills. The weather was distinctly mistier than the previous year but it is a really good section, taking us through hills that seem rockier and more glacial than virtually anything else on the route. The Border hills are often defined by rolling, smooth hills and that are often indistinct, but here there were steep waterfalls, scree slopes and plenty of exposed crags. After much pushing, the route flattens and then rejoins the road.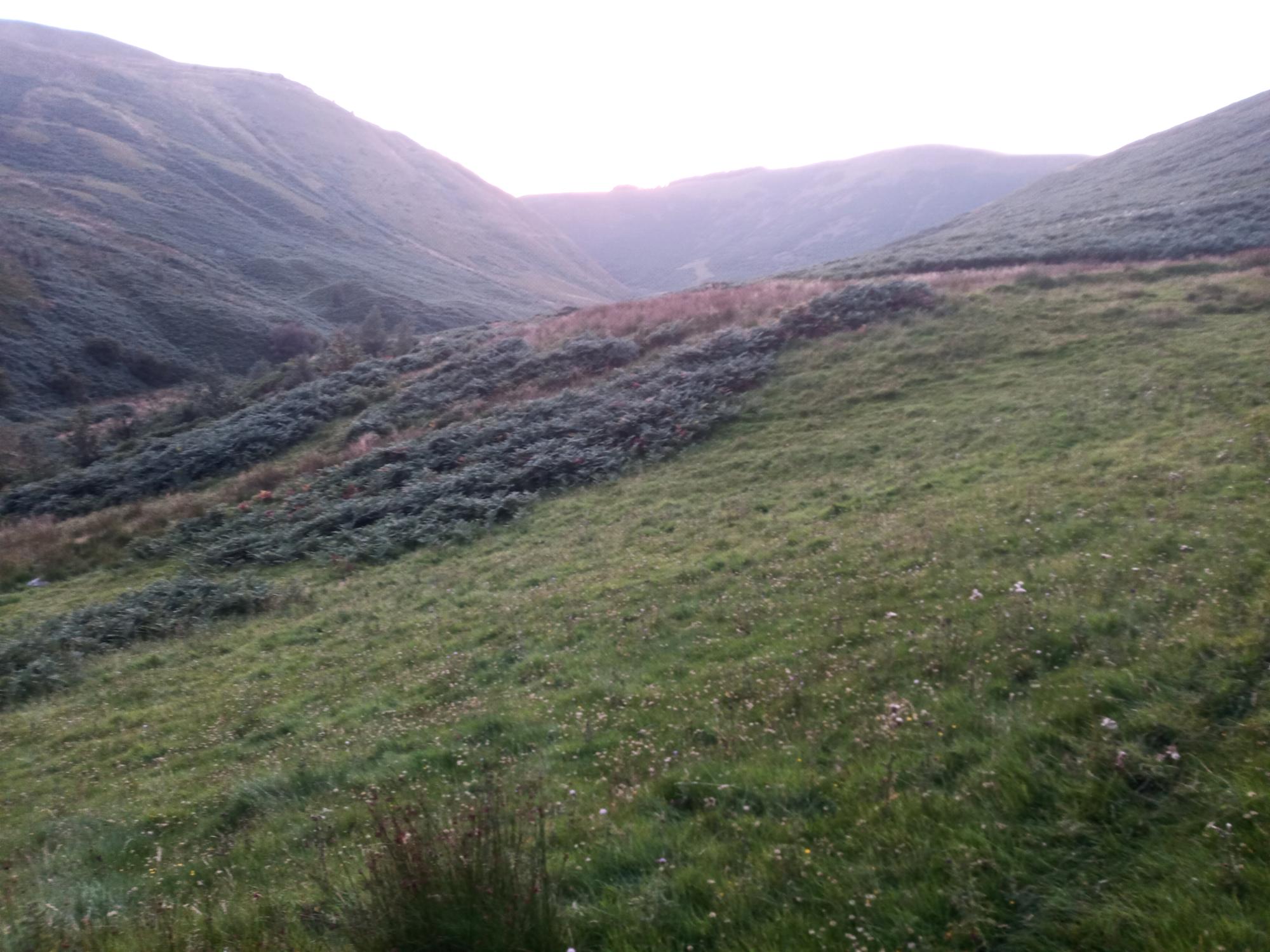 The route goes through Ettrick which I had rushed through the last year, but this year I spotted a monument to James Hogg, to identify the cottage where he had been born. His poem the Ettrick Shepherd has some special meaning for my family so I was pleased to have seen this and paused for a break, vowing to myself that I would actually read the thing when I had finished. Funny how such literary greats can hail from such remote corners of our country.
The 350 route detours on two huge 'notches' from the 220 route at this stage, once around Ettrick and Eskdalemuir and the second is a climb up into a forest above the River Esk. I had a memorable encounter on the second one, when I had just pushed my bike through one of the multitude of gates that litter the route. It was early afternoon and I had completely run out of energy, and decided to rest my whole body by lying on my back and eating a bag of Wotsits. As I lay prone, pouring crisps into mouth, I heard a voice and slowly looked up to see a kid hastily turning their bike back up the trail. He had obviously got a shock seeing a collaped, possibly dead man on the trail and did a quick about turn back up to tell his Dad. A minute later the Dad appeared and at this stage I did sit up. I could tell he was slightly shocked to see me, as I was to see him and his two children out riding their bikes in the middle of ----ing nowhere. After he had grilled me a bit he realised I was alright and relaxed, although his two children remained a safe distance behind him, eying me warily. This guy lived with him family in a house a mile up the road, right in the forest, and had no useable internet. He told me how he made a living and that he'd been there for around five years. He appreciated the remoteness and quiet life it afforded them, but for me this was a little too remote, which a good 2 mile drive on a steep rocky track to his house and no neighbours. He had a London accent and my guess is they had picked up the house for a bargain and been living their happily ever since. He could definitely have been in that Ben Fogle TV programme where he meets people who have moved off grid.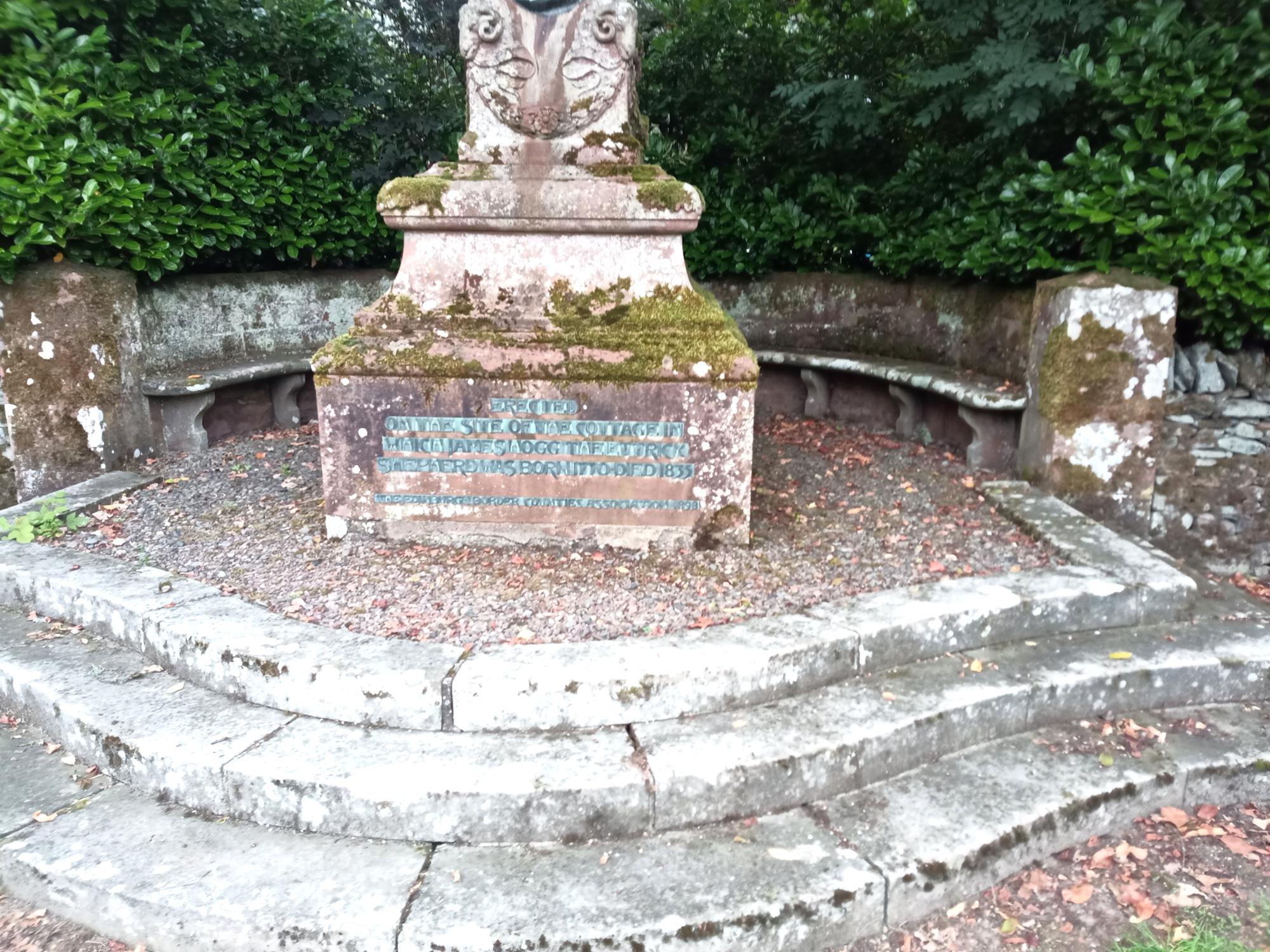 The rest of the day was spent riding aimlessly around the forests. Huge swathes of land dedicated to growing timber and nothing else. On one hand it devastates the land, creates a mono-culture and makes it unusuable for anything else afterwards. On the other, nothing else would grow up here, we are are growing our own timber and it creates jobs for plenty of people, so it is difficult to argue against. But it is tedious and after a few hours I just rode through it as fast as I could. My derailleur was jumping and had twice swallowed my chain right into the spokes, so I stopped for 20 minutes to fix it properly and had no further issues. Finally the route left the trees and all I had was a shortish climb over the moors to Newcastleton. Rolling in at late-afternoon was amazing, as this had been where I had become ill the previous year and had to take shelter at the campsite. This year I was feeling good and the town was busy with people. I bought loads of food and water at the Spar and then ordered a coffee, sandwich and chips from the cafe, sitting outside to both eat slowly and re-pack my bike with all the supplies.
I turned on my phone and checked the tracker, Andy was ahead of me but not that far. I figured he would have had a good break here as well, so it was not a case of me catching him, just that he had stopped as well. The proper, hot food tasted so good although I just had to eat it slowly, given the fact that my appetite and ability to digest food was completely up the creek. But as I left I felt immeasurably better and probably the best I had felt since the start. The first day is always nervy for me as I monitor my body for pains, aches and sores as it adjusts to this massive physical challenge. Late on day two, with some good food, plenty of daylight and a more gentle set of climbs ahead all was well. Leaving Newcastleton we took a diversion due to forestry work through Whithaugh trail centre and had a wee smash down a Red route which was a total joy. Sheer fun amidst the pain. Then I was winding along the Reivers Trail on the border, making good headway to towards Kielder. Hitting Kielder by early evening was total boost, aware that I still had a lot of light left and I would be able to push on.
The cycle up and over to Byrness was fairly straightforward. The light was beginning to fade and as I reached the top it was seemed like a very sensible place to stop for the night. But it would be cold up here and I thought maybe I could stop by Byrness down in the next valley so I pushed on. As I rode, I hatched a motivational plan that would allow me to push on. What if I tried to camp in Scotland tonight? Byrness is just south of the border and the route stays in England until the Pennine ridge when it dodges back and forth along this geographic boundary. From the map, it looks like there was a single mile in Scotland right at the top. This would be a good mental goal and allow me to wild-camp on the high ground. And so it was that I rode straight through Byrness and began the slow climb back up into the forest. The light went completely just at a tricky section where the route transitions from forest trail to open moorland, and I needed my Exposure light for this. But by 10:30pm I had cleared this and was out on the Pennine Way and back in Scotland. Target met and with flat and dry bit of ground beneath me, I pitched up for the night.
Day 3 - Wooler Loop
My alarm went off and as I came too, I could hear the rain falling on the tent. I'll just lie here for another five minutes I thought. As I gathered myself together, I was really delighted to be at the stage in the ride. I was well ahead of my second night camp the previous year, feeling absolutely fine (well, apart from the usual numerous grumbles) and although it was raining, the ground so far had been much drier. All good signs for the day ahead. As I took down my tent a single solitary light appeared behind me in the misty gloom of the dawning light. Before long Andy rode by - my morning wake up call! We had a quick chat, he'd stopped at a bothy further back. Incredible how closely paced we still were. He rode on and was soon out of sight. I saddled up and started out on the path, thankful for the long dry sections and increasingly frequent stone footpaths, paved with huge rock flag stones that were mostly easy to roll over. By 8 o'clock I reached the bothy near Lamb Hill where a few people were milling about and one guy further down. Only after I had ridden past did I see his bike and recognise him as one of the 220 riders. After that, I reached the start of the Wooler loop where I would hopefully circle back later (or tomorrow) and headed off onto new ground.
The rain for properly falling now and I had my waterproof on. After an ultimate high point with a huge cairn it was down to farm trails that slowly followed the westerly fringes of the Cheviot Hills. My compass on the GPS ever so gradually moved from a westerly to northerly one until it finally began to head south as I crept around this loop. Fortunately there were some road sections to allow for easy progress and the land opened up to the north, where I could see out towards Coldstream somewhere below. Wooler is off the path so without really being aware, I cycled right by it and just plodded on, veering steeply back up into the Cheviots for a tortuous circuit high up over the moors. After dropping down through bracken with my brakes wailing as if in pain, it was a short road section before an absolutely muscle draining, soul-sapping push up a steep grassy slope to the Langlee Crags. At almost the most distant point from home, in poor weather and with so much ahead, this was a mental challenge as much as a physical one. On the high ground above the GPS route was not clear, drawing straight lines between distant waypoints so I had to retrace my steps a few times here trying to pick the right path.
On my GPS I could see there was a town of Ingram ahead, as my final point of habitation before disappearing once again into rural country, then forestry and then moorland. I really, really needed to get some food here and definitely water. But I had not done enough pre-ride research so had no idea what was there. On my approach, a cafe was advertised and there was a distinct increase in the number of people about. To my ultimate relief, the cafe was open and serving late on an English bank holiday Monday, I was so thankful. I ordered soup, a toastie, coffee, cake, coke and lots of water. Allowed myself time to eat again I jumped on the wifi to see where I was at. To my amazement, I was well ahead of Andy at this point. I figured he had either had a mechanical or his GPS updates were behind, but on closer checking they looked to be current. I had passed him without realising. This gave me a big boost, and along with the excellent food, I powered away from the cafe, still heading south but before long swinging north towards home.
Far up some random glen I was stopped to wash the outside of my water bottles which were covered in mud. As I walked back to the trail, I heard the engine of a heavy vehicle labouring to accelerate. Before long a huge logging truck hoved into view on the dusty trail ahead. I stood back, and once the driver saw this, he kept gathering speed, his engine working at the limit to accelerate with the trailer stacked full of 5ft wide tree trunks. He soon swept by me and rumbled over the bridge, giving me a nod as he went by. Don't know why that got to me, but it was sort of spine tingling to see hear the low register of the massive 12L engine struggling to get going even in the lowest gears. Maybe the sound of that engine evoked the effort I felt I was making.
After another forest detour, I finally descended to the River Coquet which winds it's way north, following a pleasingly level road and making good time. It was getting dark as I reached the top of the glen where I would now have to climb back up to the Pennine Ridge on "The Street". What to do. Being in the 'lead' had sort of gone to my head at this stage and I decided I would again try and camp in Scotland, again. So I jumped off the bike, pushed it through the first gate and started the slow trudge up the hill. The light from the final cottage slowly wound out of sight and I was completely alone on the dark moor. The route was fairly easy to follow with my Exposure light and with each passing hour I was aware I was getting higher and there were more tops below me than above. City lights from Scotland spilled over the ridge line ahead and I could tell I was getting nearer, until to my tremendous relief I regained the crossover point where I had been that very morning. Pushing on now I could see a road in the distance but had to focus on the ground ahead, as my tiredness began to tell and I almost came off more than once. Pushing through another few miles and gates I figured I was well into Scotland and pitched up for the night. My tent pole on the lower loop unfortunately snapped, probably due to my over-tired rush to pitch the tent, so I was hoping it was going to be neither too windy or too wet.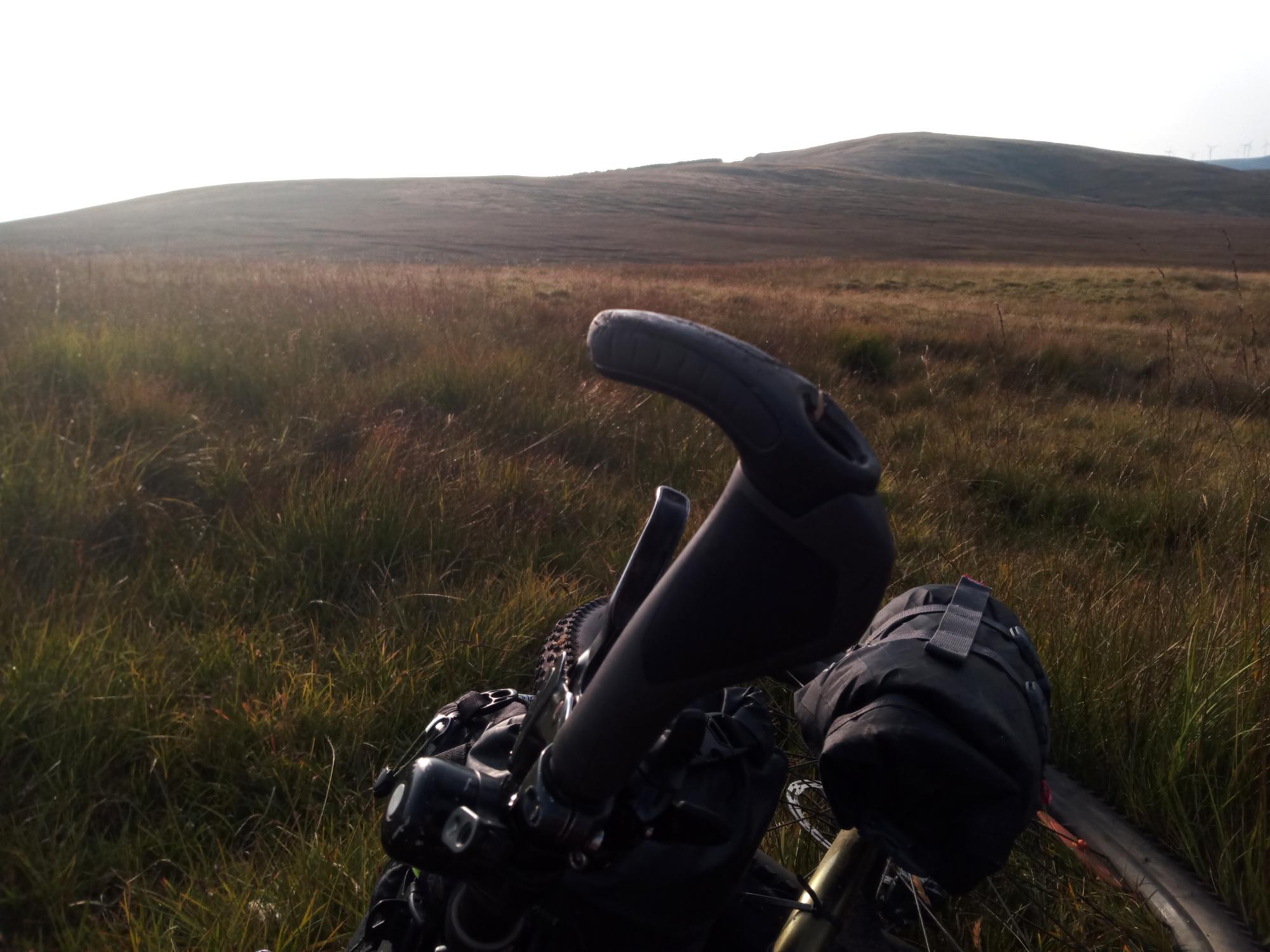 Day 4 - Home Run
I woke up before the alarm, which had been set a little later for 6am, given my late finish the night before. As I lay in the sleeping bag, I once again had my morning wake-up call from Andy. I heard someone at the gate behind the tent then silence. A few moments later I unzipped to see Andy pushing up the hill on other side. I tried to fathom where he must have slept or what time he had got up, but gave him full credit for doing it. He was on a mission.
Rather than lazing about whilst Andy was up and away, I gathered my stuff together and saddled up for what I hoped would be my final day on the route. After some more short climbs it was a proper descent down to Hownam. Thankfully, a loop had been removed here from the trail, so it was straight on good bridleways into increasingly flat ground. Being aware that the big hills were now behind me and I had relatively gentle climbs ahead was a huge boost. It was well in daylight by the time I reached Denholm and then around 8am at Jedburgh. I found a great bakery where I ordered four rolls, two of which I slowly ate on the pavement outside and two I stashed for later. Proper food to look forward to.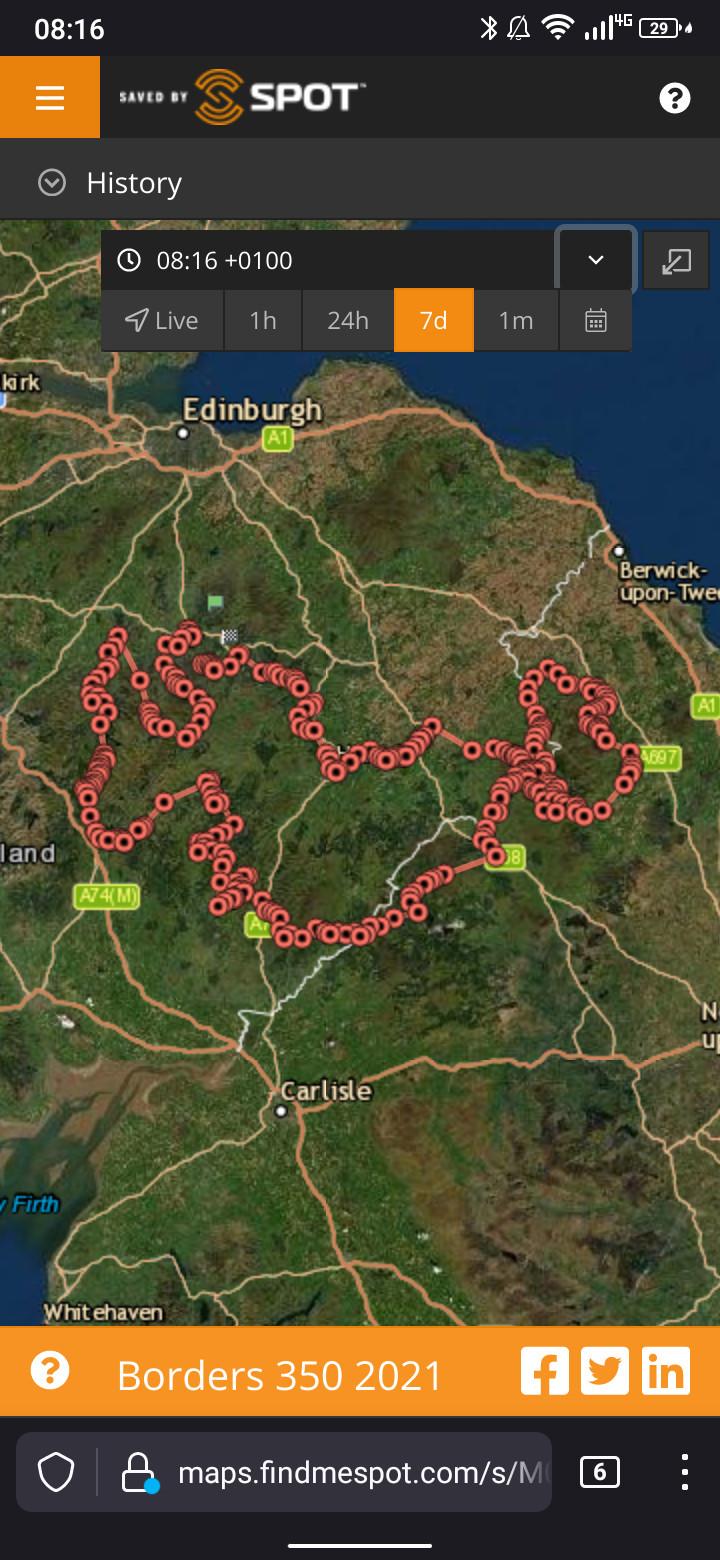 Onwards then after Jedburgh, pushing south to Hawick with the interminable number of gates. I am confident now that there is not a single gate fastening that I have not encountered, fumbled over, succeeded in opening on the third attempt, then caught my back wheel on the gate at it swung back and then re-fastened in the same fiendishly difficult and always unique way, only to repeat this 50 yards later at the next gate. My only saving grace was that there were very few dead lifts of completely locked gates, although they were more numerous on this particular section.
Hawick appeared sooner than expected and I found a street corner to sit, drink some coke and eat my two rolls. I love moments like that. At no other time could I sit so comfortably on a blusterly street corner and watch the world go by, taking simply pleasure in resting and enjoying my food. Curious drivers give you a double take, wondering why are looking so contented when they are in their comfortable cars. It's strangely harmonious situation, when I was swap nothing to be them going to work, and neither would they chose to be the dirty, hungry, cold-looking bike packer with miles ahead.
And back on the trail heading north now - at last! - back up to Selkirk for the final push to Peebles. If I got to Selkirk by mid-afternoon I was pretty sure I would finish today, but was taking nothing for granted. As hoped, it was fairly easy ground to Selkirk, just loads of fences and gates, but steady progress was possible. I think I got to Selkirk by 2 pm or so and did not stop. I had enough food and almost enough water and the town was a bit of a detour. So I pushed on and began the climb up to the high ground that would take me to Innerleithen. My mind was wondering now to the finish, always dangerous, but I was really thinking I could do it today. I set myself a mental goal of a late brunch at my favourite cafe for the next morning, the thought of this pushing me on to finish and get home. The weather was fine, having left the drizzle behind it was clear and not too hot. The route stayed on a good high path and hopped from top to top on a chain of hills until I was finally above Innerleithen. The less said about the 1500ft descent from Hare Law on the 7-Stanes Red run down to Innerleithen, the better. It was hell. I have never been so glad to be down a hill and I commend Ray on finding this particularly inventive new form of punishment for the riders so late in the route. Ingeniously brutal - a phrase I would use to summarise the entire route actually.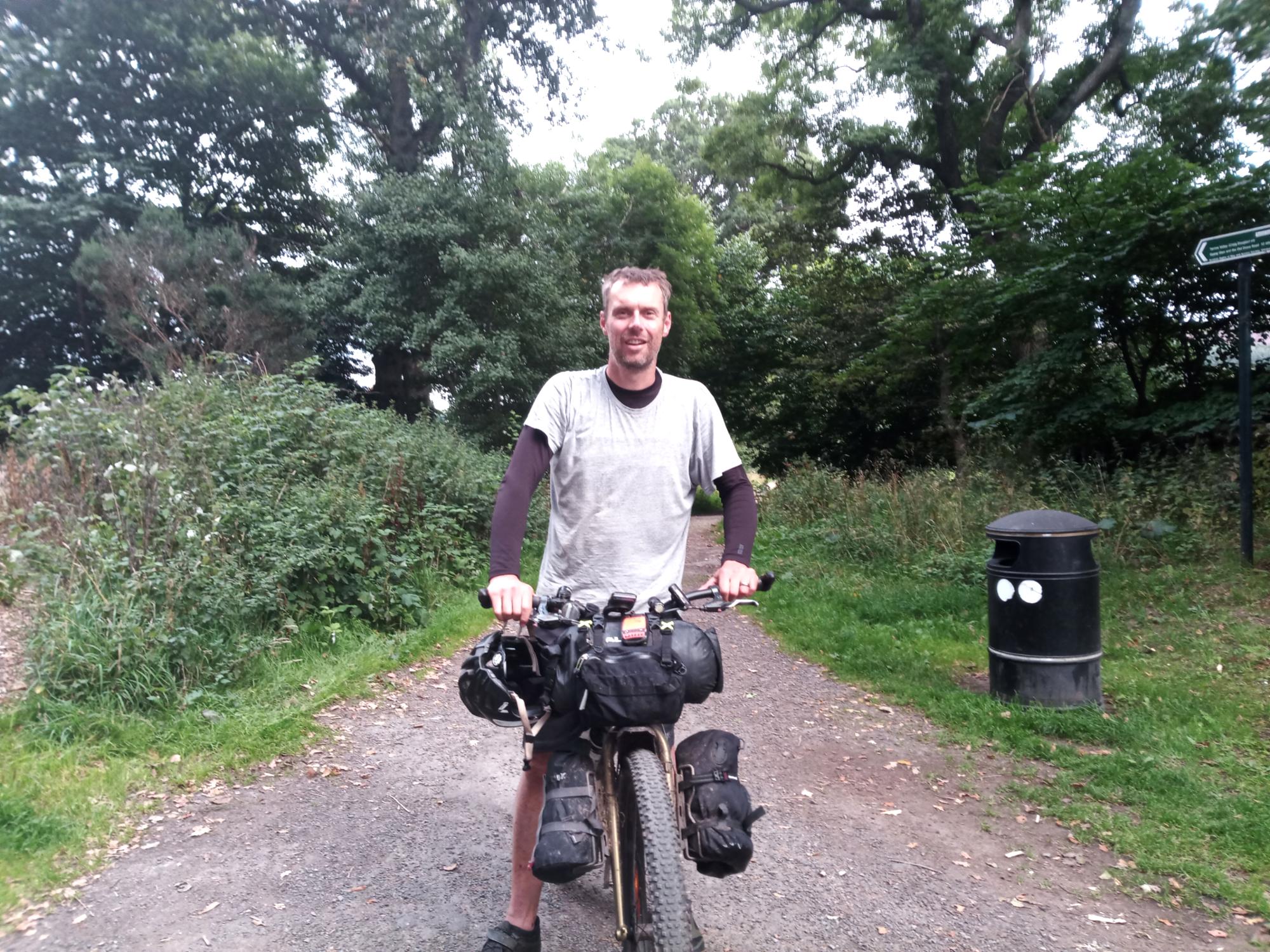 And then I was on the final stretch. A long push without enough water back up the hill then a stepped descent on the ridge line with Peebles in sight. What a welcome view that was. A year after bombing out it was so wonderful to know I was going to make it through this time. Crossing the river it was a short push up a hill then I rolled over the finish line at 6:07pm, right back where I had started three and half days before.
It seems to be a pattern for me, to fail on a route then return the next year to retry and successfully finish. It happened on the French Divide and here again on more modest distance, but much tougher terrain, I had repeated the feat on the Borders 350. One time I am going to manage to finish a route on my first attempt. Getting this particular monkey off my back was a huge relief and every muscle in on my body was pleading for rest as I rolled back to the car. As I munched through a Chinese takeaway shortly after I realised how motivational it had been to have the Spotwalla tracker and continual pace myself against Andy, who had finished an hour or so ahead of me. This extra level of engagement had elevated this somewhat obscure bikepacking route into something watchable for friends and family at home and felt slightly less isolated on the trail. Hopefully there will be a website for this stunning route in future and more riders will pit themselves against the brutal challenge.