West Highland Way in a Day
Cycling the West Highland Way in a single day, going north from Milngavie to Fort William.
Posted: Mon 25 Jun, 2018, 16:29
My alarm went off at 5:30 on Saturday morning. I still had the sore throat that had been niggling me all week. Lying in bed I did seriously consider if it wise to attempt such a long bike ride today. But this date had been in the calendar for months, coinciding with the weekend after the summer soltice and so the longest day of year. The fact that the weather was set fair and the bike was downstairs all ready to go, made me haul myself out of bed. Plus, I seriously needed to get in some training in. After a quick breakfast and final kit check I was away and by 6:20 I stood in a deserted Milngavie town centre. Time for a quick photo of the bike at the monument and then I was off, heading north on my solo adventure to cycle the West Highland Way.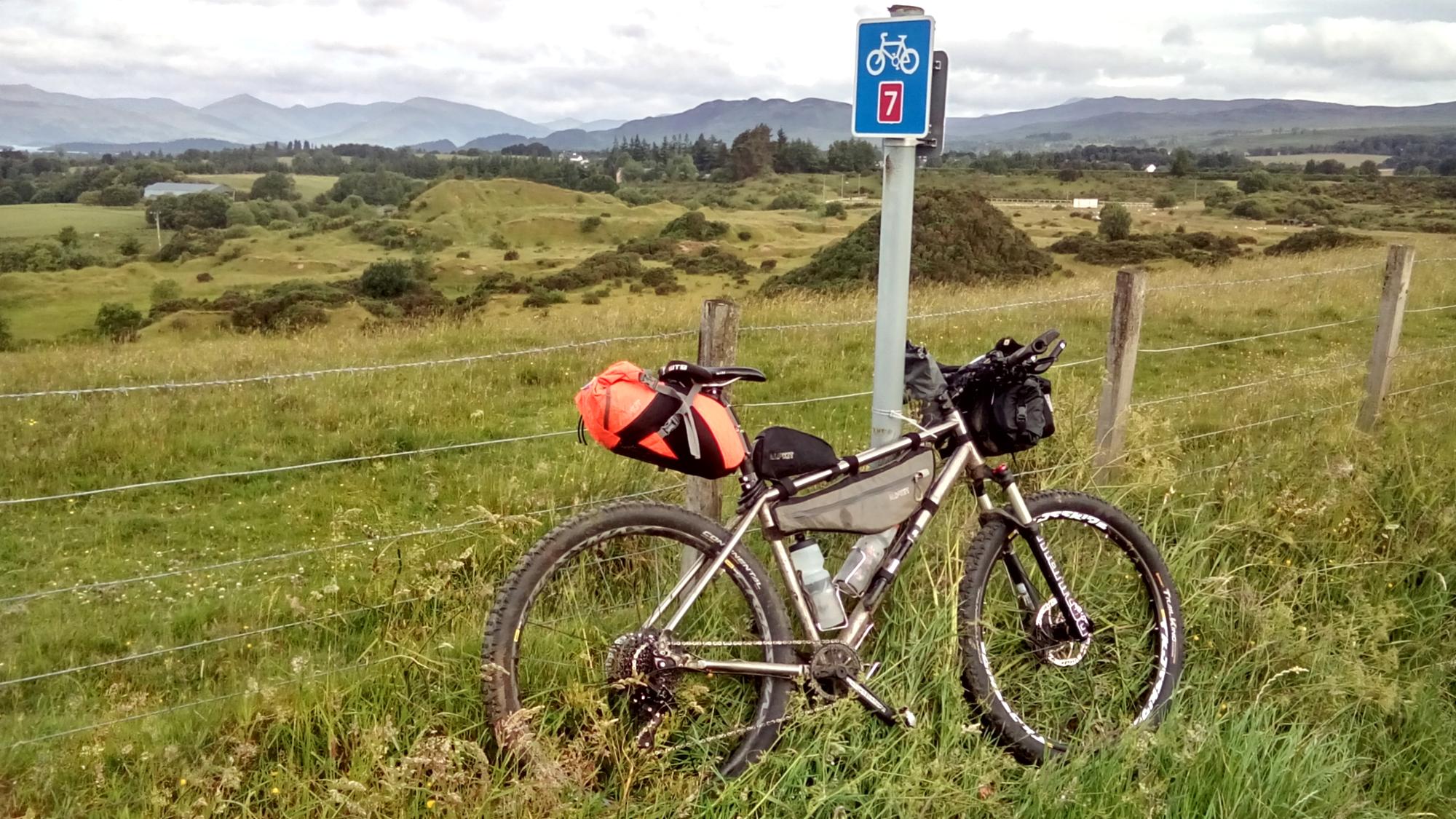 The idea of riding the West Highland Way had been in my mind for many years. Living as I do in north Glasgow, it is a route I know well and would often be riding around or on parts of it over the last ten years. On those occasions, I often considered how feasible it would be to continue on one day instead of turning for home. To ride all the way to Fort William, the full 90 miles. As my daily mileages on various bike packing trips had increased, I was fairly sure I was good for the distance. Having walked it once in my youth, I knew however that the terrain was, at points tricky on foot, never mind with a bike. As I cycled up through Mugdock however, I was not yet committed, that point would come when I reached Inversnaid Hotel. At that point, I would either cycle on or turn back in a loop via Stronachlachar to home. It felt good to have options at that point, allowing me defer my decision until later.
I rode up to the high point at Carbeth above Mugdock Country Park and then enjoyed the sweeping descent down to Glengoyne Distillery. Normally with the trail as clear it was, I would be going flat out, but with the extra luggage and the need to preserve myself and my bike for what lay ahead, I held back and cruised down like a responsible adult. I finally cleared the endless sequence of gates before reaching Drymen and climbing up towards Conic Hill. Although it was bright and clear, there was very cold wind blowing across Loch Lomond so I did not hang about. The climb up Conic Hill required a bit of pushing but it was rideable nearer the top, where I passed a couple of guys who had camped out just below the summit.
Last year I rode the route to Inversaid and back round via Stronachlachar, and that time I stuck fastidiously to the West Highland Way walking route all the way to the hotel - which became increasing unrideable the further I rode. This time however, I made the decision to ditch the footpath between Balmaha and Cashel Farm car park as it would be much slower and so I rode along the parallel road. Likewise from Cashel to pretty close to Inversnaid there is an excellent track which runs parallel to the walking route which looked much faster and more suitable for biking, so I departed the footpath again here. I had no hesitation in diverging from the 'proper' walking route because, well, I was not walking. And further up the loch side, I dearly wished there was an option for a more suitable biking route.
Loch Side
The terrain that the route covers through the upper reaches of Loch Lomond is renowned for being extremely tricky. I was certainly well warned, from speaking to people, from my own memory of that stretch and from the few blogs/chats on the subject. Nobody had a good work to say about it, although one blog did state that it 'was not as bad as people say'. The common advice is to start at Tyndrum (like the HT 550) or at the very least Ardlui. The path is known for being not only unrideable, but almost impassable with a bike due the narrow gaps in the rock that must be navigated somehow.
With this in mind, I set off but was actually thinking 'How bad can it be?'. The path slowly deteriorated and before long I was pushing most of the way. Then the path would suddenly jump over a rock and I would need to haul the whole thing up. There is no point in recounting every twist and turn, but suffice to say it is certainly as bad as everyone says. It was exhausting and required total concentration, as one slip of the bike and the derraileur would be mashed into the back wheel. I felt my upper body strength beginning to fade after an hour of lifting. Like the rock climber tackling the crux of an otherwise straightforward 12A route, the reason for the grading suddenly became very clear when there was no going back.
After an hour, the ground flattened deceptively and I thought perhaps I was clear of it, but it closed right in again, and the worst was ahead. Including a 15 foot vertical drop off a wooden platform and a (famous) narrow gap between a rock and a tree for which people have often had to remove wheels or handlebars. I somehow jimmied my bike through. Then after that, when I was completely drained, it finally did open up and the loch was suddenly behind me. I had made it through.
Caledonian Ways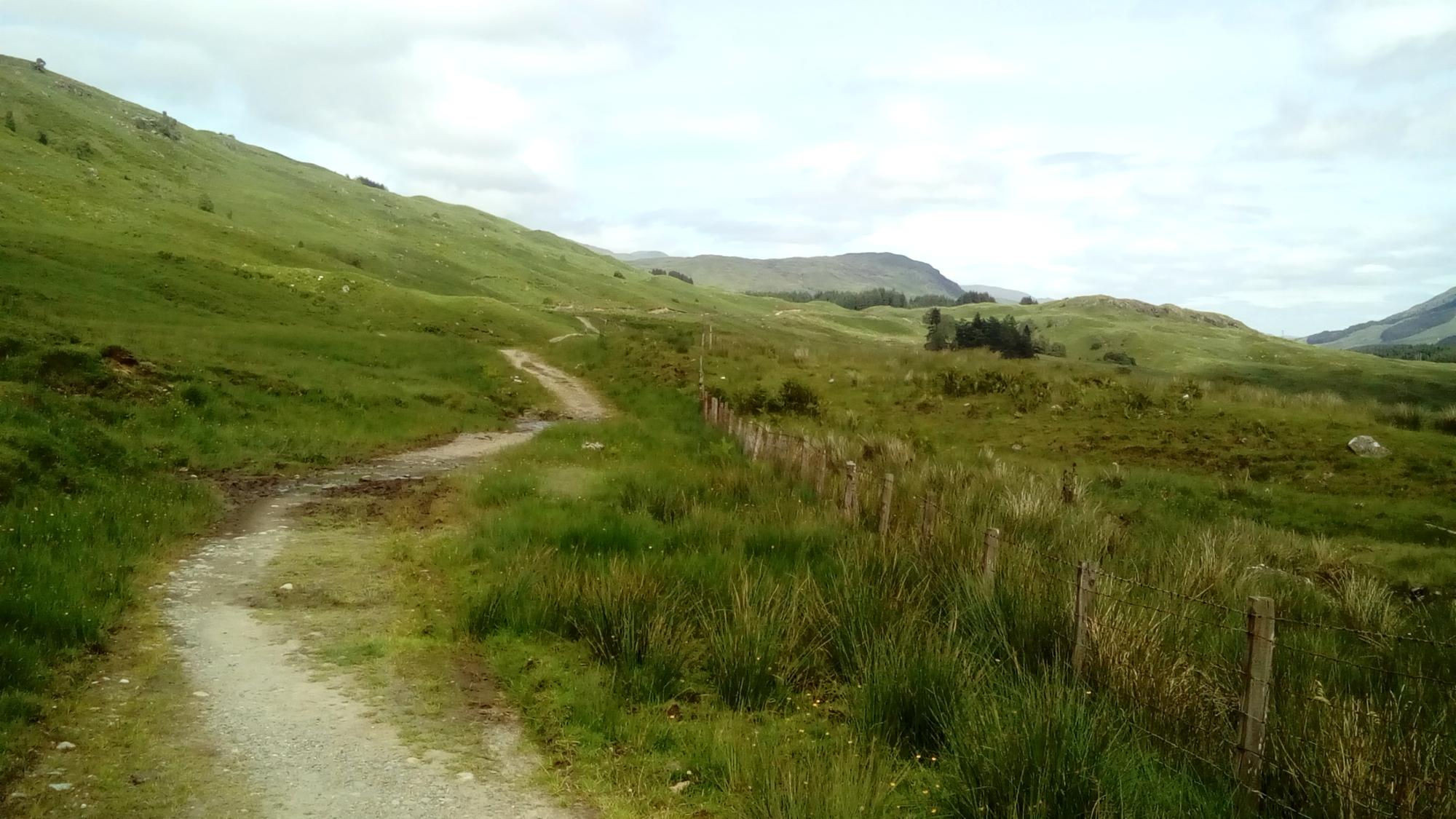 I finally stopped for lunch just after 1pm near Inverarnan. Time to regroup. I got my breath back, ate my sandwiches and wondered how much of my energy supply was now used up. My bike had come through unscathed but I was having the usual niggles with it, and could not use the spinniest gear. I tried a quick fix but it did no good. After sending a few texts home I was on my way again, climbing up through some of the remaining pockets of the once vast Caledonian Forest, surviving only now in a handful of recesses such as Glen Falloch.
It was getting hot now, although the midges that plagued me down by the water were now gone. The path climbed fairly relentlessly, and I was often pushing, until it joined a proper track of sorts and I was on my way, making good ground and targetting Crianlarich as my next pit stop. As I cycled, I passed more and more of the West Highland Way runners doing the annual race. The long-standing ultra race always runs on this weekend and so it was that I steadily passed more and more runners as I worked my way through the field. They had all started at 1am, compared to my 6am start. Those at the back of the field were mostly walking and as I found out, would possibly not have made the Auchtertyre Farm checkpoint by the predefined cut-off time.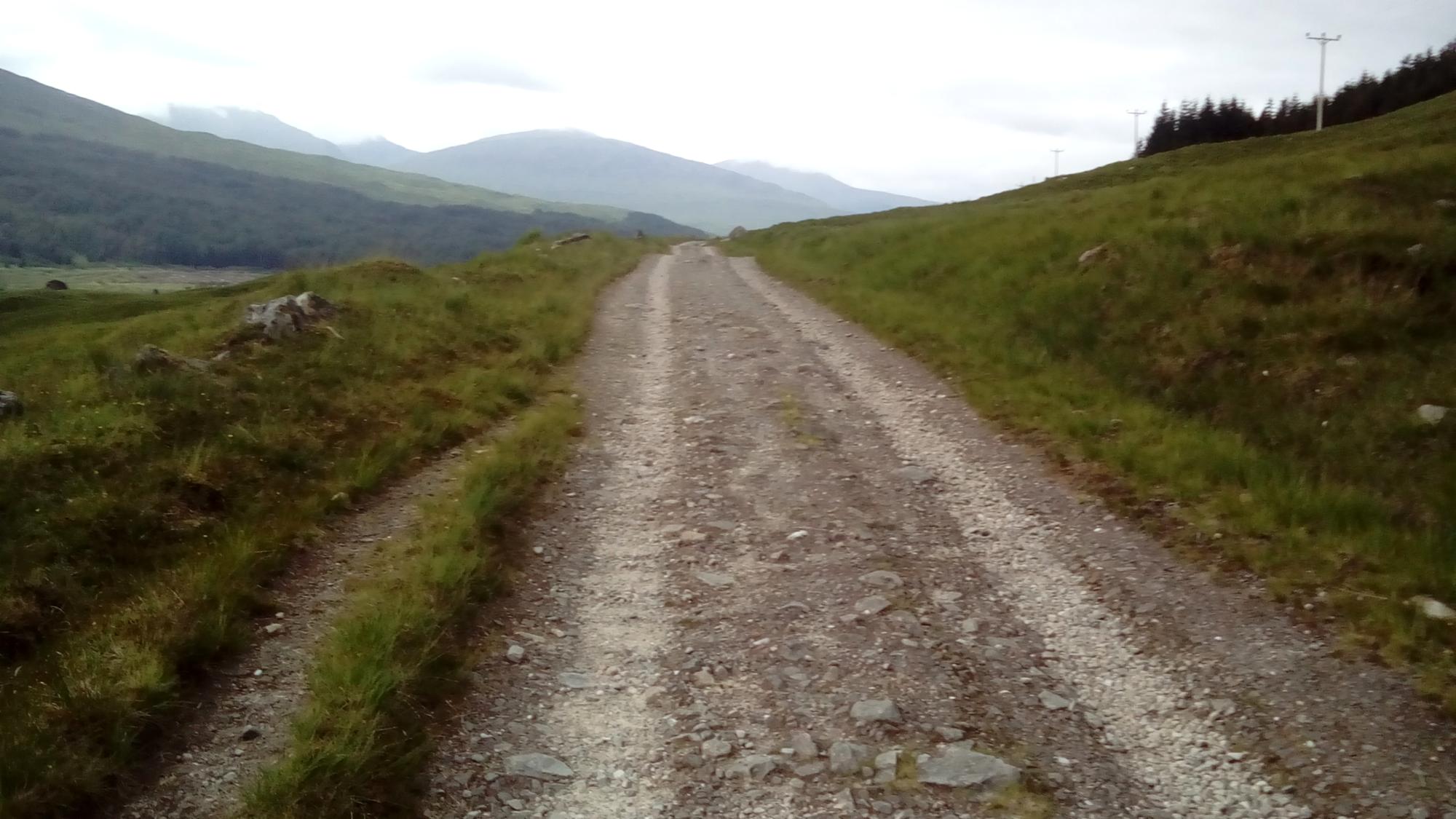 Riding at the same time as the runners meant I was often approaching single, pairs or groups of runnners from behind, and thus the usual farce normally ensued. The thing where you do not want to lose momentum so you ring the bell nice and early. But no response. Possibly they subconsciously heard it, but rejected the possiblity of someone ringing a bell right out here. Then, getting closer now and still not wanting to brake, I would ring the bell more loudly and one of the group would hear it. They will step to the side and warn the others there is a bike, which they will normally ignore. Finally they all step aside (on both sides!) and I can squeeze through with a shouted 'Thank you', but thinking in my head 'How could I have improved that?'. Often, they hear the bell and you can see some surprise as they turn round. The polite bell conjures thoughts of bike with a basket perhaps, then they see a big guy on a wide-barred 29'er MTB barrelling through. I think the only solution is to purchase an air horn of some description, something I must look into.
I arrived at Auchtertyre Farm, not realising I had already passed Crianlarich. At the wigwams, there was a great wee shop and cafe, so I bought a roll and sausage, a pint of milk and more supplies for the trail. After Tyndrum, I knew there was not much else by way of food shops, so it was time to stock up. At this point I also considered buying a midge net. I had no idea how far I would get, and if I did pitch up at some random point in my bivvy, it was clear a net would be absolutely essential. In the end, with some reluctance, I bought one at Tyndrum. I am not a fan of seeing the world through a hazy gauze, but for sleeping outside in Scotland, I guess it was hard to argue against it.
Tyndrum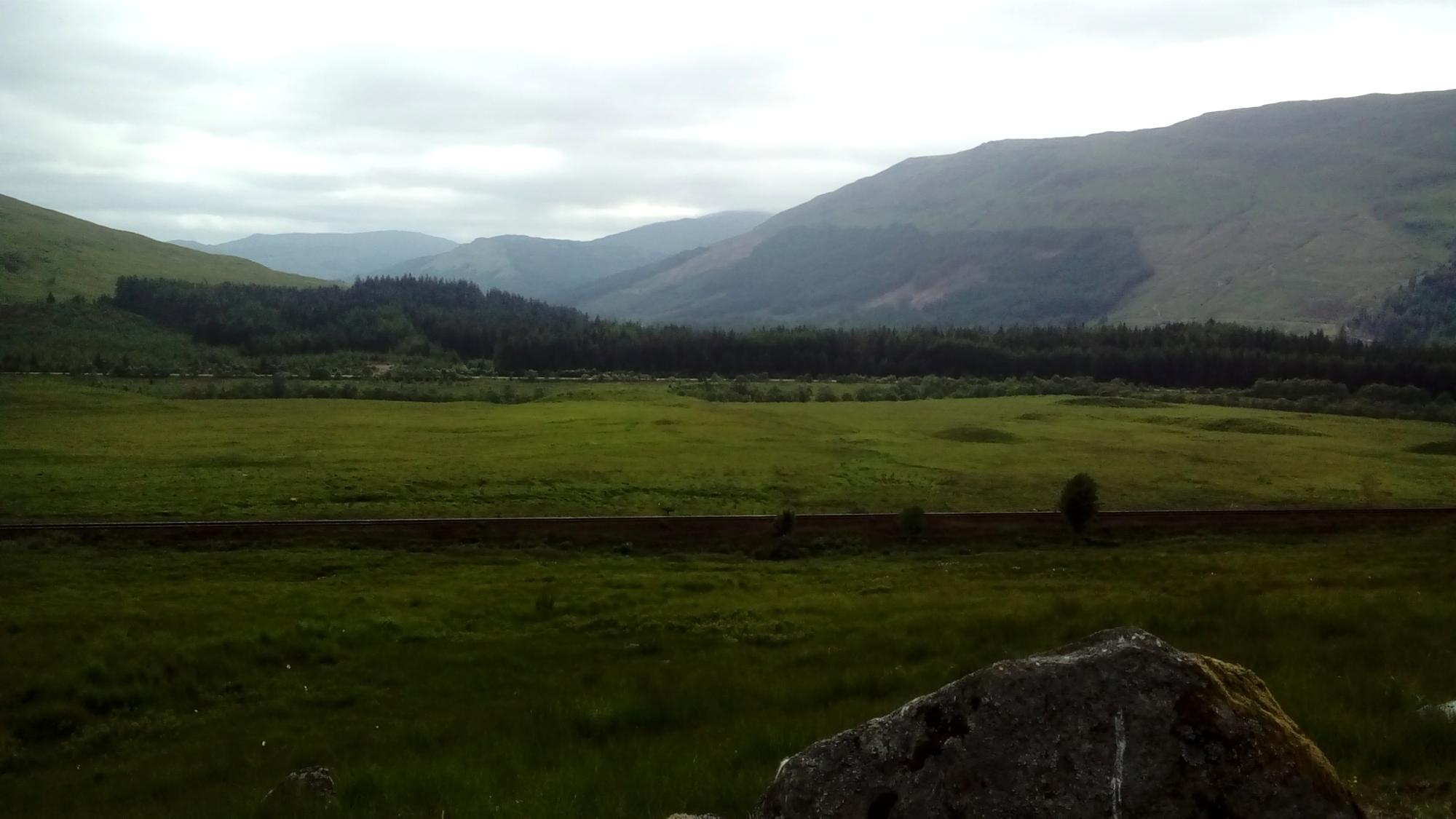 I finally passed Tyndrum, which was jammed with tourists. It felt like a big milestone, almost half way but with some improving trails ahead I was hoping to cover the ground more quickly now. After a final stock up on fruit and food, I was off up the hill. The scenery around here is breathtaking. The parabola curve of Beinn Dorain as it steepens in a concave curve is almost too perfect to be natural. In the distance the sight of Rannoch Moor could be glimpsed and the trail ahead was also clearly visible. Time to put the hammer down, or so I thought until I had my worst fall of entire ride. As I was descending through a boulder strewn path to a small underpass beneath the railway line, the stones just became too big to roll over and my front-wheel suddenly stopped. A moment later my face was in the grass and the skip at the front of my helmet flexed to almost breaking, with my bike on top of me. I was fine, and carried on without an issue but actually my neck had twisted somehow. The andrenalin meant I never felt it until the next morning, fortunately (!).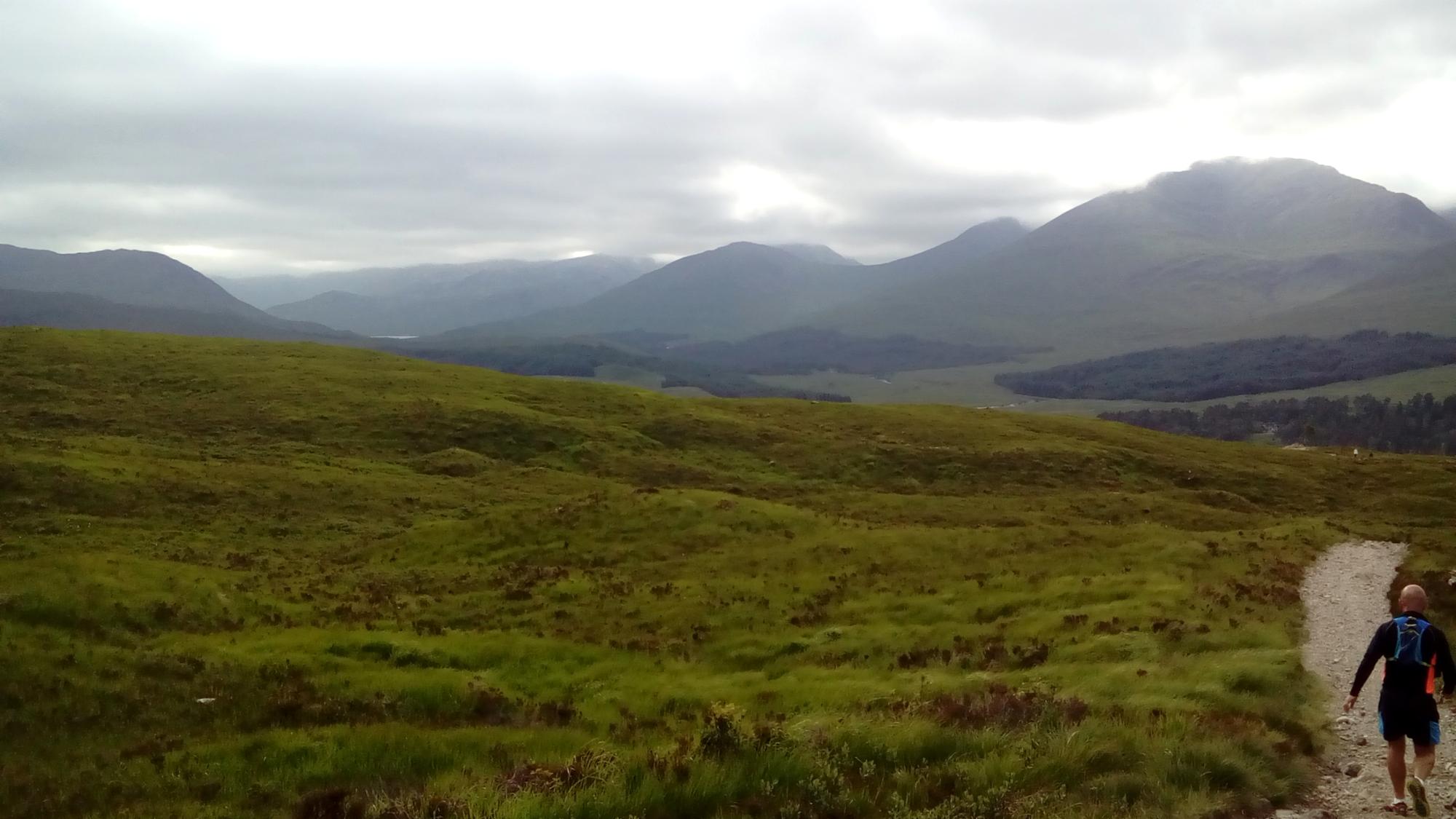 After that it really was time for some downhill fun. I flew down the trail and was at Bridge of Orchy in no time at all. Thankfully the runners mostly heard me and I was able to carry the speed well. There was a large checkpoint for the running race here which I quickly passed through. I guessed there some runners doing the route as relay because some just looked way too fresh. The climb up through the forest was pretty straightforward but mostly too steep for me ride so I was pushing again. I would pass runners only to have them pass me once I was pushing, and we were both thinking 'Who has the best deal here?' Lugging a bike up the hill and easy descents or just on foot. I'd rather be biking, any day of the week. Obviously there is a cut-off point where a bike is a complete hinderance, but not on this trail, dispite the loch side drama.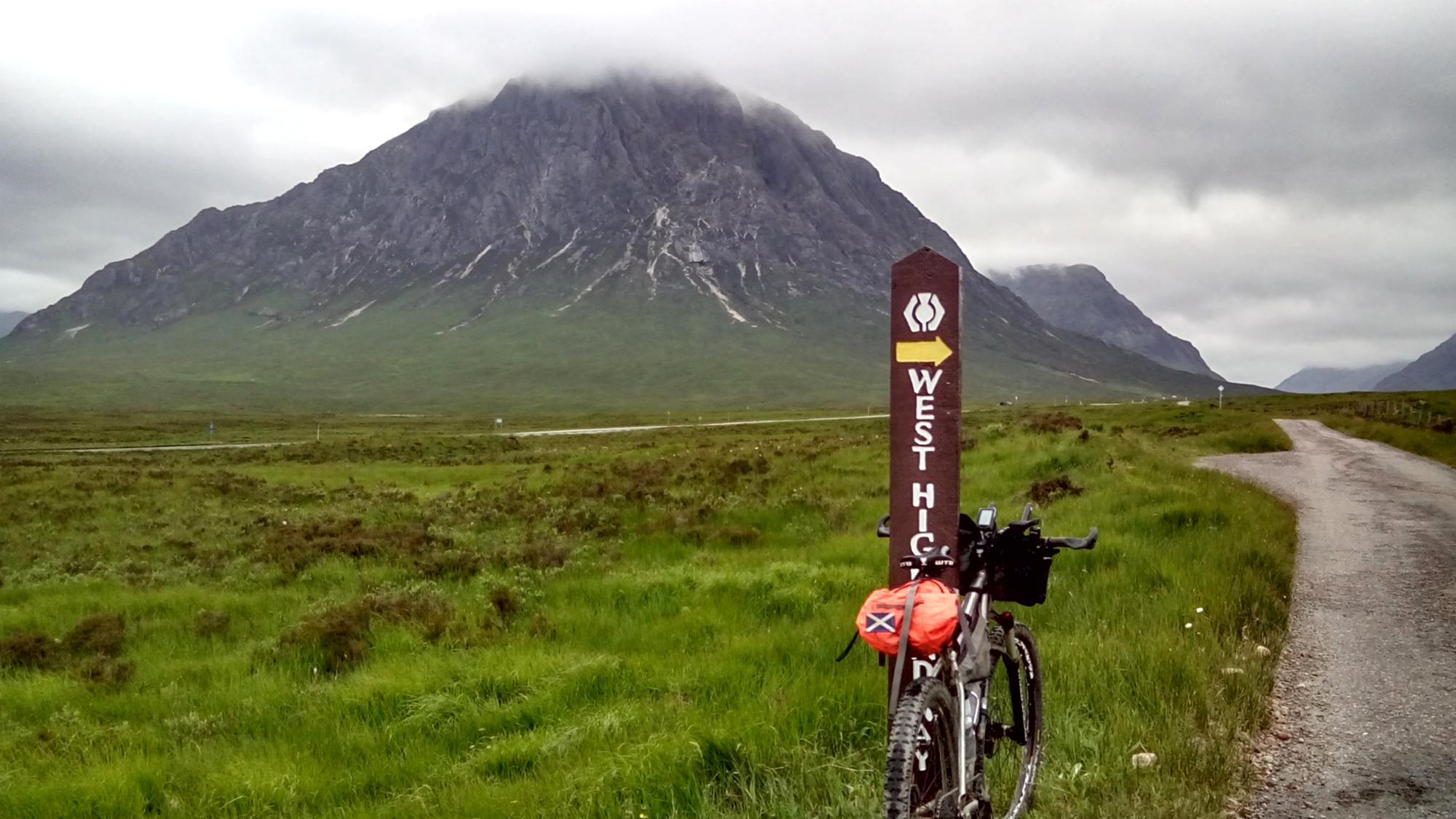 Picking up the old drovers trail through towards Glen Coe the going was excellent and I was fairly rattling along. Rannoch Moor stretched out featurelessly to my right as I skirted round the hillside before the view opened up to the magnificent Buachaille Etive Mhor and the impressive red cliffed Stob Dearg. Gate keeper of the glen, standing like a granite sentinel allowing only the brave to pass. At the Glen Coe Ski Centre I had to stop and put another layer on, there was a cold wind now and the sky had darkened. From the Kings House to the foot of the Devil's Staircase the path was not as good as I had hoped and it was back to pushing. Here I suffered the indignity of an embarrassing fall when a woman kindly held a gate open for me, only for me fail to turn the corner after the gate and do a slow motion topple into the deep heather.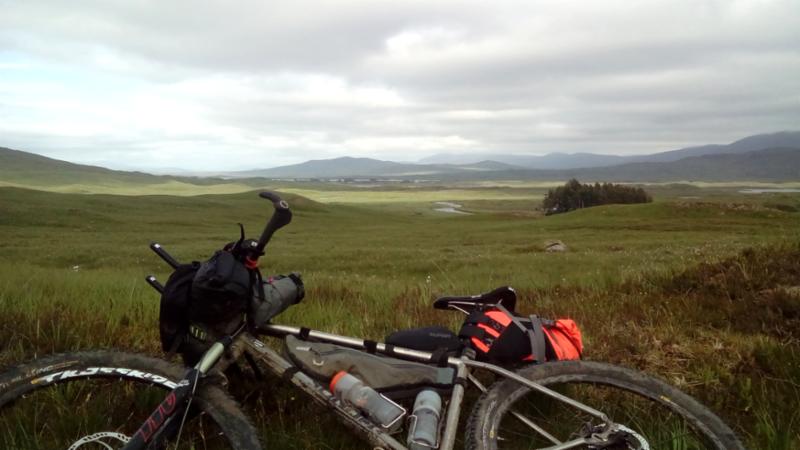 Devil's Staircase
The name of this climb over to Kinlochleven has always seemed massively more sinister than the reality. It is actually a fairly gentle 1000 foot climb and then an even bigger descent on the other side. But as I looked up at it at 6pm that evening, the name did seem fitting. It was bigger than I remembered and going to be a complete bugger with the bike. But as the cars whizzed by there was no question of stopping here, I had to go on, after 12 hours on the trail. So off I went, telling myself this was almost at the high point of the whole route and could look forward to the well earned descent. Runner after runner passed me on the climb, often with a word of encouragement. I was astounded that they were still going after 16 hours of walking/running, so was always surprised to hear them geeing me on, so I often returned the comment. It was cool though, crazy people encouraging other crazy people. What a thing to do be doing on a Saturday evening.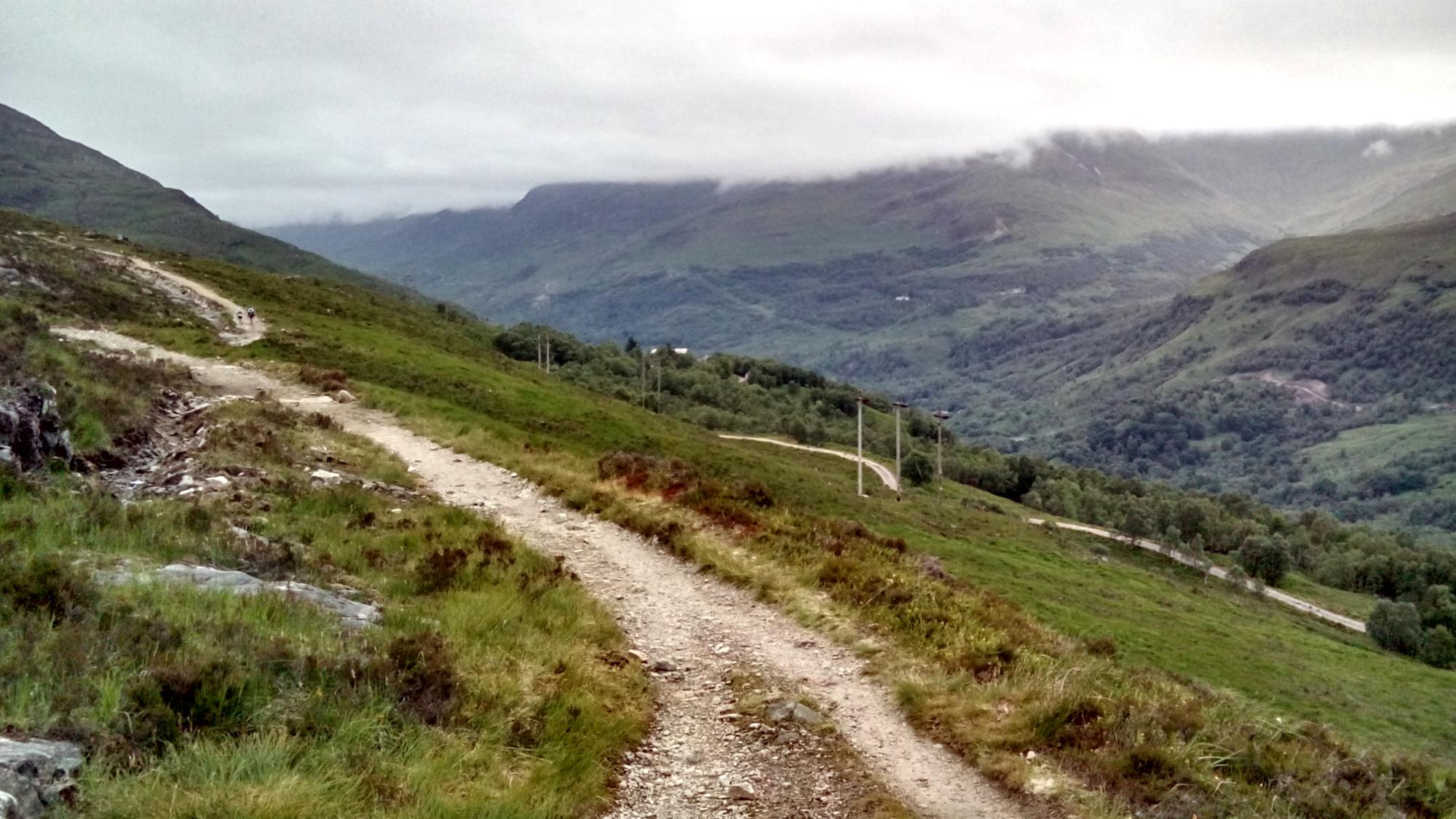 Thankfully the climb to the top had no hidden summits, the first top was the actual top. I saddled up and rode down as fast as I dared. Rather than saying 'Kinochleven, and don't spare the horses!', it was 'Kinlockleven, and don't spare the tyres!'. Running my new bullet proof tubleless tyres, I hit countless rocks at speed but without any concern. I was all out of energy and just needed to get down off this hill. I was well impressed that the tyres were up to the task. I passed three other bikers coming the other way, but did not get a chance to find out how far they were going. By the time I rolled into Kinlochleven, my wrists were agony from the constant grip on the brake levers all the way down.
The Least Worst Option
It was now around 9pm and common sense told me it was time to stop. I had done longer days on the bike before, but never over such difficult ground. My upper body ached in every way possible, but my legs were actually not too bad. I could have found a park and just pulled out the bivvy bag, but this option was less appealling than pushing on. It was still light I'd rather one very big day than the thought of jumping on the bike again in the morning. So onwards, it was. The pull up out of Kinlochleven is another several hundred feet. As I pushed up the hill, a few runners passed me. I had ridden through the whole field and whilst many of the previous runners had actually been walking, a lot of these guys (and girls) were still running. Very impressive. I got the impression that some of them did not appreciate being overtaken, when the trail finally levelled out that is. These guys were even racing me!
Once up the hill the trail was pretty good, winding along the back of the Mamores to the head of the glen. The gloom was gathering now and it was not just the clouds, it was finally getting dark. At the top of the glen, I was searching ahead into the darkness to see if I could see Ben Nevis or something I recognised. But it was not until I swung round the corner that I sighted the flanks of Ben Nevis and knew I was going to make it all the way. In the time it took me to stop and put my bike light on, midges were already biting, best to keep moving. The sight up ahead of the occasional runners headlamp was pretty cool. I climbed/pushed the bike up the final hill to the Mamore Forest and joined a huge logging trail that was my route all the way down into Glen Nevis. I was alone on this whole descent and barely touched the brakes, hitting my top speed of 40mph in the pitch black.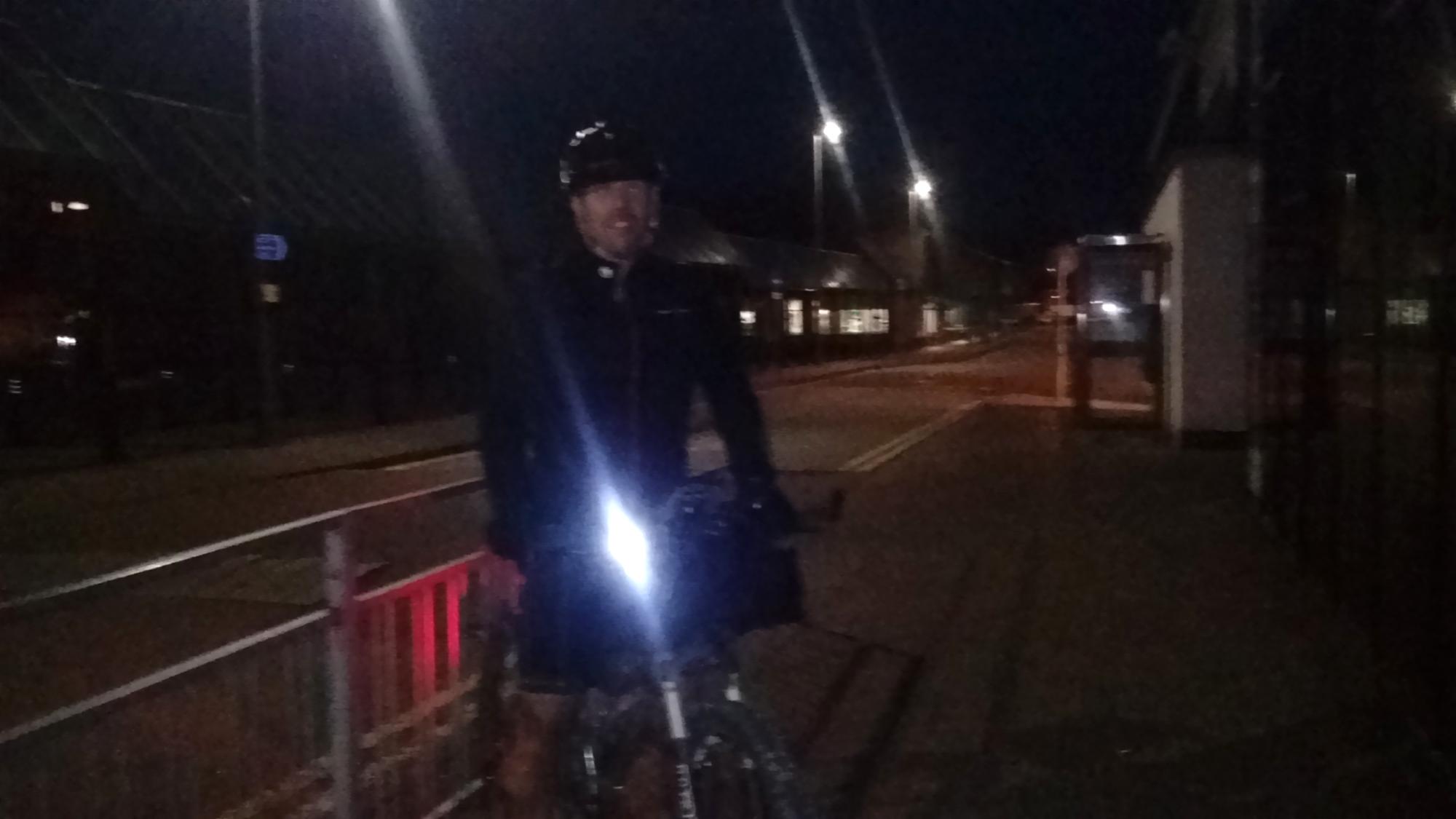 As I rolled off the trail onto the Nevis road, it was an overwhelming relief. I had made it all the way, in one day. Although I had hoped to make it, I never truly believed that I would. An injury or mechanical could easily have caused me to stop or be delayed, but somehow the bike and me held together. I am never sure exactly where the West Highland Way ends, so I rode all the way into Fort William train station and finally stopped my GPS computer. The time said 17 hours and 11 minutes. After asking a random punter to take my photo, I rode back up the glen to the campsite, and finally pulled out my bivvy bag and slept out in the still evening air.
The Full Route