Sampzon to Vallon MTB ride
Journal of an amazing bike ride up to Sampzon and on to Vallon in the Ardeche region of France.
Posted: Wed 03 Aug, 2016, 18:32
Having cycled the Sampzon ascent, in the Ardeche region of France, several times since the start of the holiday, I had more than once looked beyond to a trail that wound over high ground before disappearing down into oak forests. The route up and back from Sampzon was fantastic but I really wanted to get off the tarmac and explore this track. After some family negotiations, I secured a "Grade A: Ride Pass", which is very uncommon. This sort of pass is of unlimited duration, with no commitments afterwards and no requirement for regular callbacks. With my pass in hand, on the second last day of our holiday, I planned to continue on ride into the forest beyond.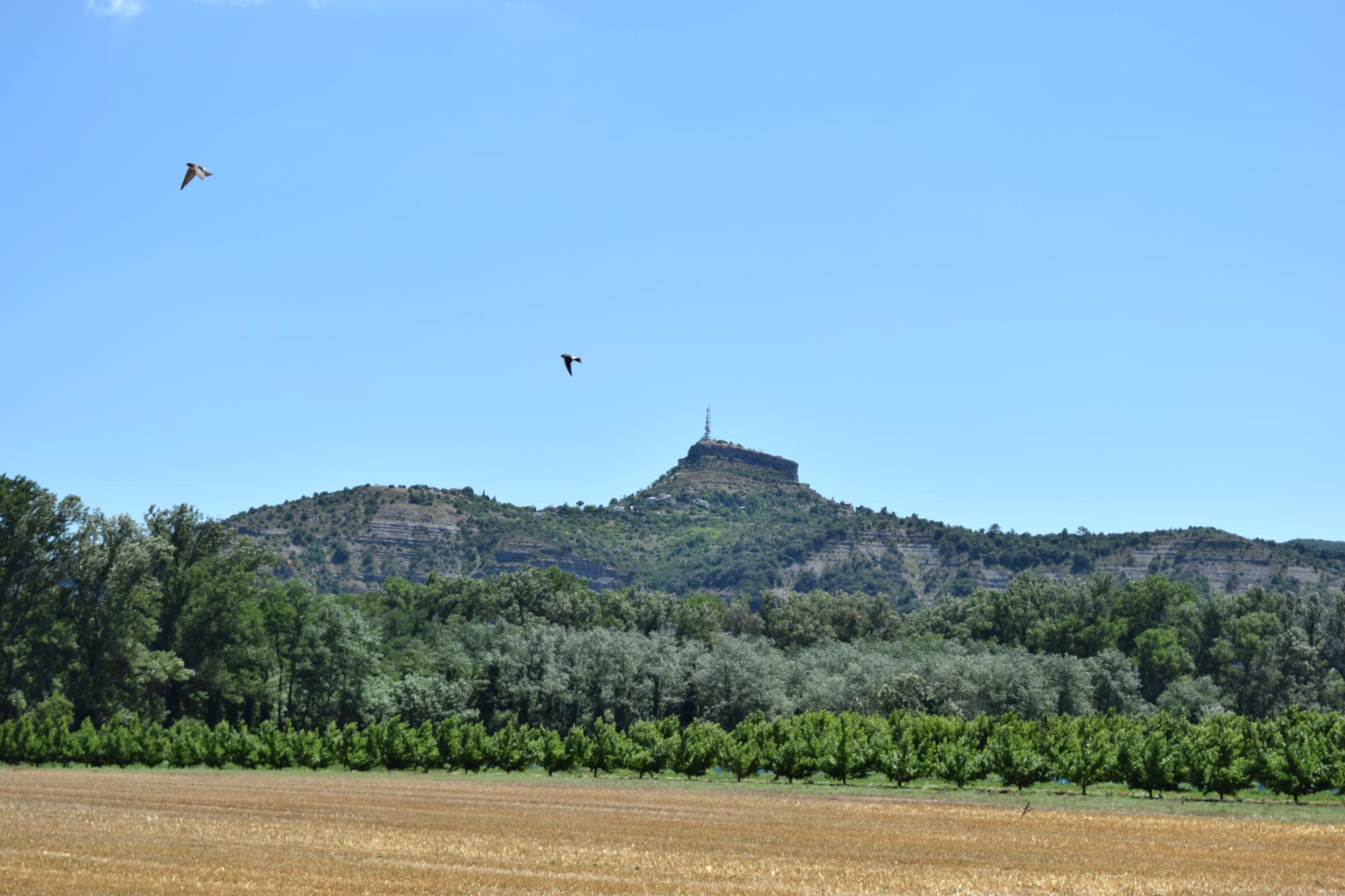 After the obligatory French breakfast of croissants and coffee I made the usual pre-ride checks. Kick the tyres and compress the front forks. All good. So I set off. The 29er wheels are honestly very happy on the wonderful, smooth, winding French roads and disused cycle tracks and roll along very well with very little effort. Road biking is therefore a pleasure on my MTB and something I am slightly embarrassed to say I rather enjoy.
At the foot of the Sampzon climb, I passed two other road cyclists also preparing for the climb. After briefly crunching through the wrong gears for a few moments I found the right one with a steady cadence and not too spinny. Surprisingly, this one gear was the only one I used for the whole climb. On the many switch backs I glanced back down to see the two roadies but they were not gaining. They looked as though they were toiling, which gave me boost. I just stayed in my saddle, never standing up, and ground my way up the hill. At 700ft two other roadies came by me, one passed and slowed immediately whilst the other kept his pace. At the summit another 100ft up, there he was, off his bike and blowing hard. As I pass him, I drop a gear on the levelling ground and nod as I pick up speed again, knowing my goal lies further on.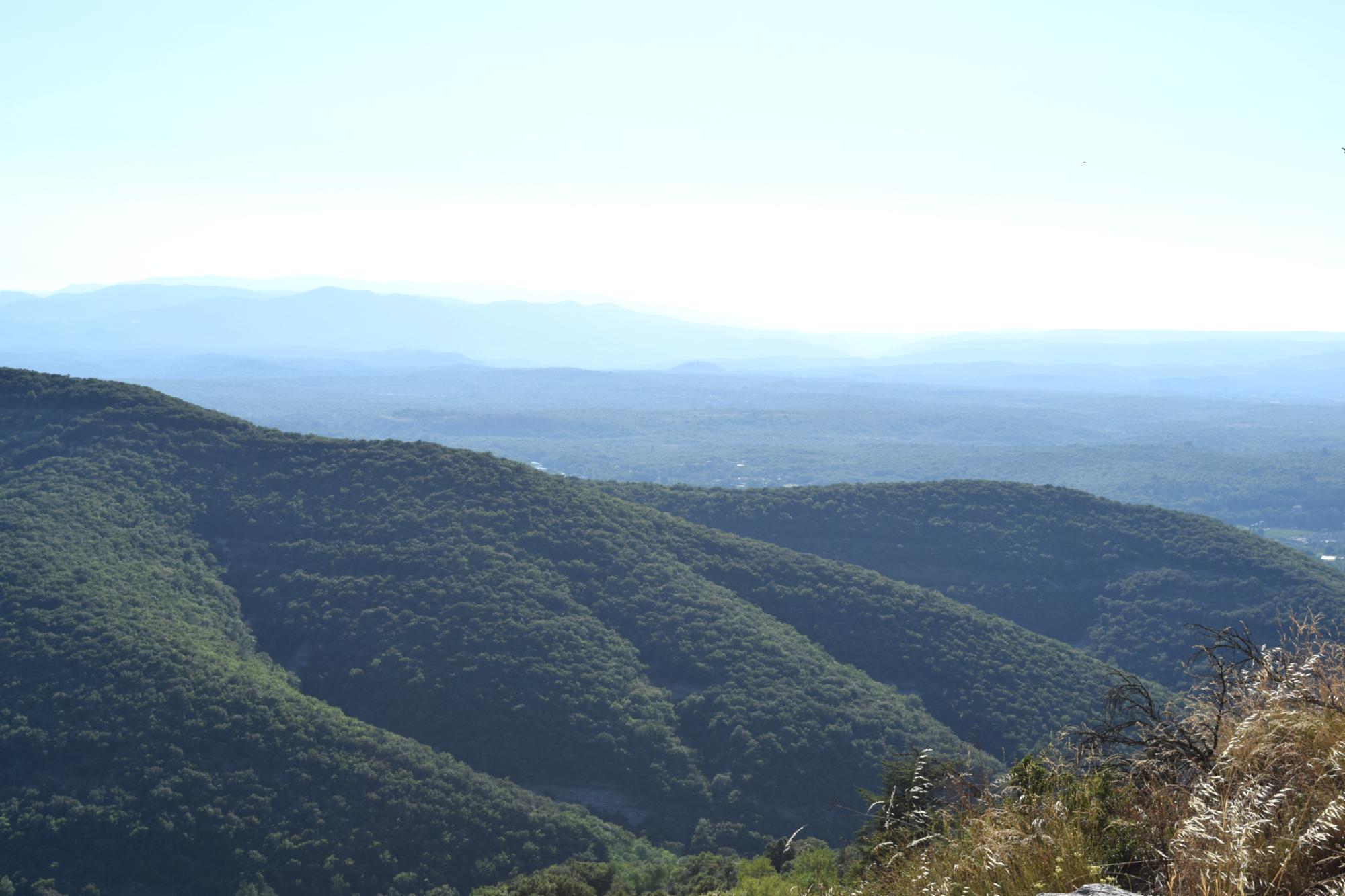 The road hugged the hillside for half a kilometre and then switched back, whilst a separate the track continued with a sign marking it as a dead-end. That was the one I took. Few things recall the freedom of childhood like exploring new territory on a bike. Now it is hill in France, then, it was just the other side of town. To have time, that umlimited childhood resource, and be happy to discover the dead end roads that actually continue on and find short cuts between parts of town you thought were miles apart. Will I go left or right? For a moment, it didn't really matter because I was not *going* anywhere specific, and I was transported back and felt that magic of riding unknown routes.
The tarmac road shifted to gravel. From previous recce missions from a canoe on the Ardeche at the foot of the valley, I was planning to descend through trees and onto a trail glimpsed from the river. When a path appeared that headed this way, I took it. The narrowing path quickly doubled back and eventually rejoined precisely the trail I had just come along. First wrong turn! I had done a complete loop.
So I climbed back up the trail and passed my wrong turn for another few hundred metres. A junction soon appeared with a choice of three routes - Salavas, Grospierre or back towards Sampzon. Salavas was not exactly where I wanted to go but closer than the other two, so off I went down. Another biker passed me coming the other way and I cursed myself for not quickly asking where I could decend.
The trail became a footpath before long, through trees or breaking back into the open as it traversed open rocky slabs. The going was great to begin with and the bike stepped down the rocky shelves without any issues, the front suspension working hard to take the shock out of the continual drops. Before long however two low branches had smacked my helmet and the path closed right in, becoming steeper with continual loose football-sized boulders. On a better downhill bike on smaller wheels, it may have been possible to cross this at a decent speed but on my 29er hardtail all-rounder I reluctantly had to get off and push. This was also for reasons of self-preservation - aware that nobody really had the first clue where I was, and any breakdown - to me or my bike - would have been a pretty big problem.
To my relief, the path returned to the gravelly ruts with exposed rocky shelves again and I only had to get off two other times. As the path left the steep sides of the corrie and wound down a lower shoulder emerged which lead to Les Deves. With nothing more than a few houses, a couple of glimpsed shadowy figures and lots of barking dogs, this was not a place to linger. As I exited the village the tarmac - as if I had planned it - switched to a wide, sweeping gravel track and wove its way down and down. I was hitting 20 mph and sliding skids round corners and thinking it was all worth it. As the trail reached the foot of the gorge I realised someones house must be at the end and before I knew it I was in a back garden (of sorts) and quickly ducking round the side of a house before pulling up at the edge of a vineyard. Looking back the farm house was stunning, with traditionaly shuttered windows, rambling vines creeping up the outside and was obviously unoccupied at that time.
As I struggled to get my bearings, I spotted several houses through trees on the other side of the vineyard. And after quickly crossing between the vines, jumping an electric fence and crossing a dried up river bed - I was back in civilisation and heading for the nearby bridge to Vallon Pont D'Arc. It was one of the those moments that I reached down and 'clapped' my bike on the top tube and whispered a quiet thanks for getting me down.
Tech Coda
I would say I chose my technology very cautiously - and slowly. I know if I had access to better mapping the entire mystery and exploration element of the ride would have eliminated. And so would some of the worry about whether I had chosen to go down another wrong track. But this is part of the fun for me. I have however purchased a GPS tracker with ANT+ HRM monitor and have included the route and stats.
Map of the route: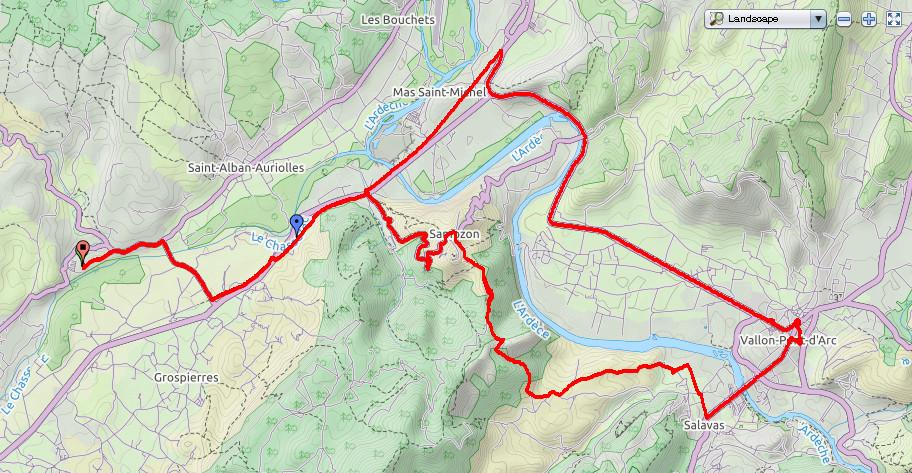 Data from the route - red is HR, blue as altitude and green is speed.
Le bike: