John Muir Way - Cycling across Scotland
Cycling coast to coast for 134 miles across Scotland with my two sons in our first ever long-distance bike ride together on the John Muir Way. The terrain is a mixture of single track, disused railway, coastal walkways, canal tow paths and winding urban routes through villages and our capital Edinburgh. The diversity of terrain, landscape and scenery makes for an amazing ride.
Posted: Sun 22 Apr, 2018, 09:28
Another Crazy Scheme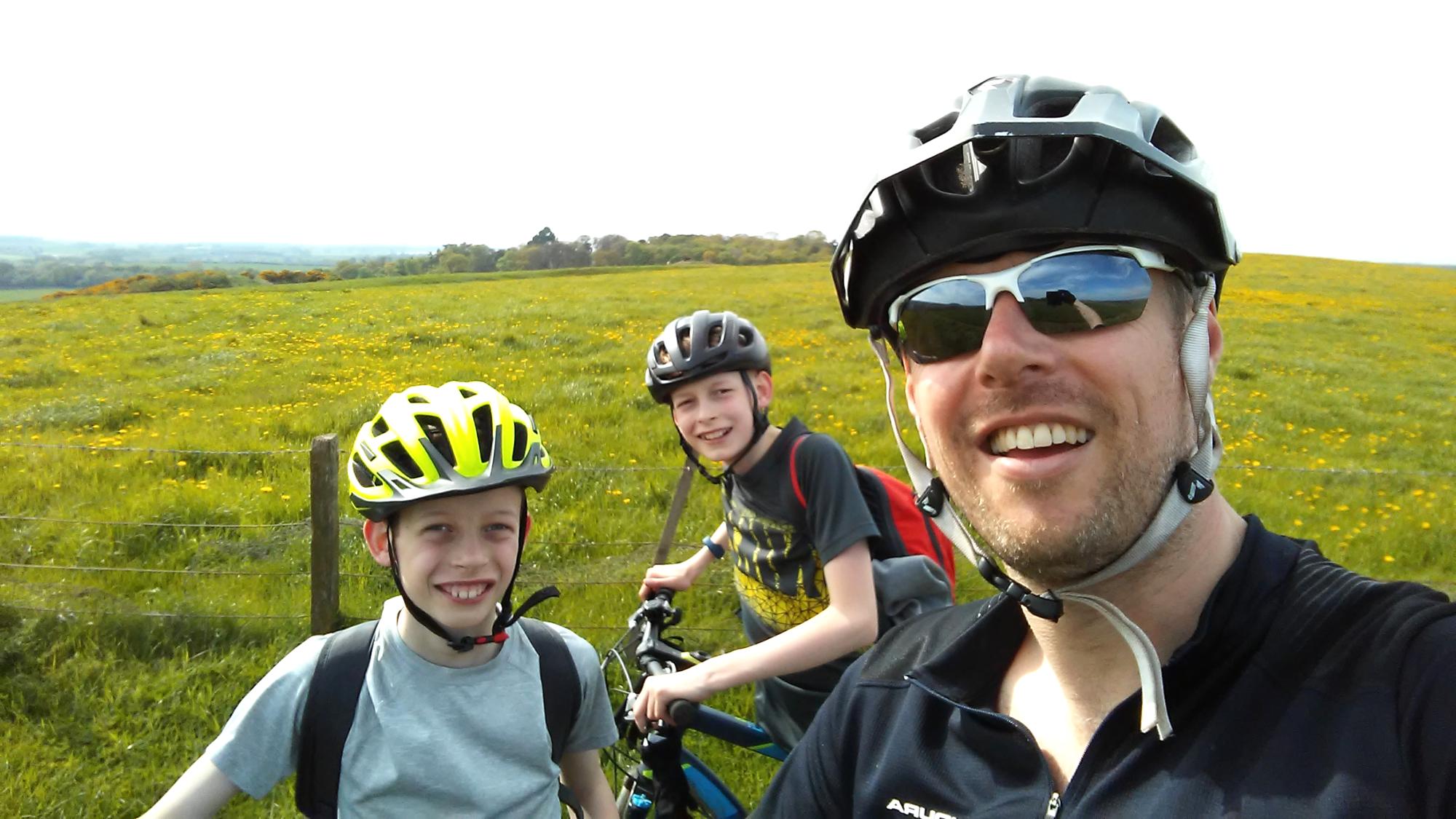 The plan to cycle the John Muir Way was first suggested in the depths of winter, as an off-hand comment that was quickly seized upon as a guaranteed commitment that could not be reversed. To date, most of my cycling has been either solo or as part of group events of one kind or another. The prospect of cycling 134 miles with my two sons, Noah aged 11 and Daniel aged 13, was a whole different ball game. Their longest ride to date had been no more than 10 miles, so dispite their unbridled enthusiasm, there was no doubt that this was off the scale in terms of their experience and awareness. So far, I have typically taken just my eldest on whatever scheme we were undertaking (e.g. climbing Ben Nevis) and then returned later with the youngest to repeat the endeavour - given there is a two year age gap. I have only myself to blame for allowing the plan John Muir plan to develop from the start as a threesome, by the time I realised how far it was and how much kit we would need to carry, it was too late. We were looking forward to it and there was no backtracking to be done.
Whenever anyone asked me about the John Muir Way in the run up to last weekend, I always kept my answeres deliberately vague. "How far is it?" I would be asked, "Oh, it's over 100 miles". In fact it is 134 miles. "Where does it go?", is the next obvious question. "It starts in Helensburgh and finished passed Edinburgh" was my reply, although in truth it finishes +40 miles passed Edinburgh in Dunbar. "And Noah is going as well?", "Yes, Noah is going to start it as well", but it is anyone's guess how far we would get. My doubts about our chances of completing grew greater as the big day approached but there were a few signs that we might just make the distance. The forecast was to be dry the whole time, with the wind behind us and possibly improving as we travelled further east. The other reason to be positive was a recce run we did the weekend before up to the high point at Burncrooks reservoir. All three of us made it to the top and knew that, in theory at least, we were all fit the the climbs.
The Plan
My plan for our epic ride across Scotland was to basically do it in two days, leaving just a tiny 15 mile stage for the third day. Neither of my boys had ever attempted a multi-day bike ride before, so it was not sensible to start with a our day ride for example. Two days was about the best I could hope for and if we kept a good pace, I knew we could over the ground. Also, there is a psychological benefit to knowing that you will finish something today or tomorrow when you are having a low point, not in several days. Aches and sores can quickly accumulate even on a bike ride of only two consecutive days. Two and a bit days was the only way we could do it.
Cycling, or doing anything that requires physical endurance, with children is a very tricky balance. I am no model parent when it comes to these sorts of things, but the getting the right combination of fun, challenge and reward is an ever changing dynamic that is almost impossble to predict, never mind control. And with two boys that dynamic is at work independently for them both at different stages, one is 'up' whilst the other is 'down', so the balance of energy is forever changing. Above all I did not want this experience to be negative. If they tried their best and we were unable to finish then that was totally fine. We would be bailing out before I cracked the whip or put them under pressure. I may not have told them that, but for myself I knew there was was only so much pushing I was prepared to do. But, there was just a slim chance, it would positive and we would all finish this together. Over the whole journey, I never felt we were sure to complete until the that last hours of the final stage, it was touch and go and some many points. It was funny how the boys picked up on this though, and used it is as motivation themselves. Daniel loved to remind me that I had said we would arrive at our target endpoint for the day at 7pm and we had actually got there at 5:30! Dad got it wrong again, happily for both of us.
Kit
Bikepacking has refined the art of travelling light and fast over long distances through back country trails. With only myself travelling, I would have used just my bikepacking kit, however with the need to carry sufficient for all three of us, I had to dig out the pannier bags. I had a rollbag and food pouch on the front, a frame bag for spares in the middle and two old Vaude panniers on my rear cage. I knew they would rattle and shake over all the bumpy sections (and they did) but they were excellent and never popped off once. I carried two sleeping bags, and spare clothes for all three of us. There was more space on the bike but I really wanted us to be light as possible. They each carried a small backpack with their waterproofs and Daniel also carried his own sleeping bag on a small roadbike pannier in a drybag. We were travelling with only the essentials and hoping for good weather.
Day One
Helensburgh to Balloch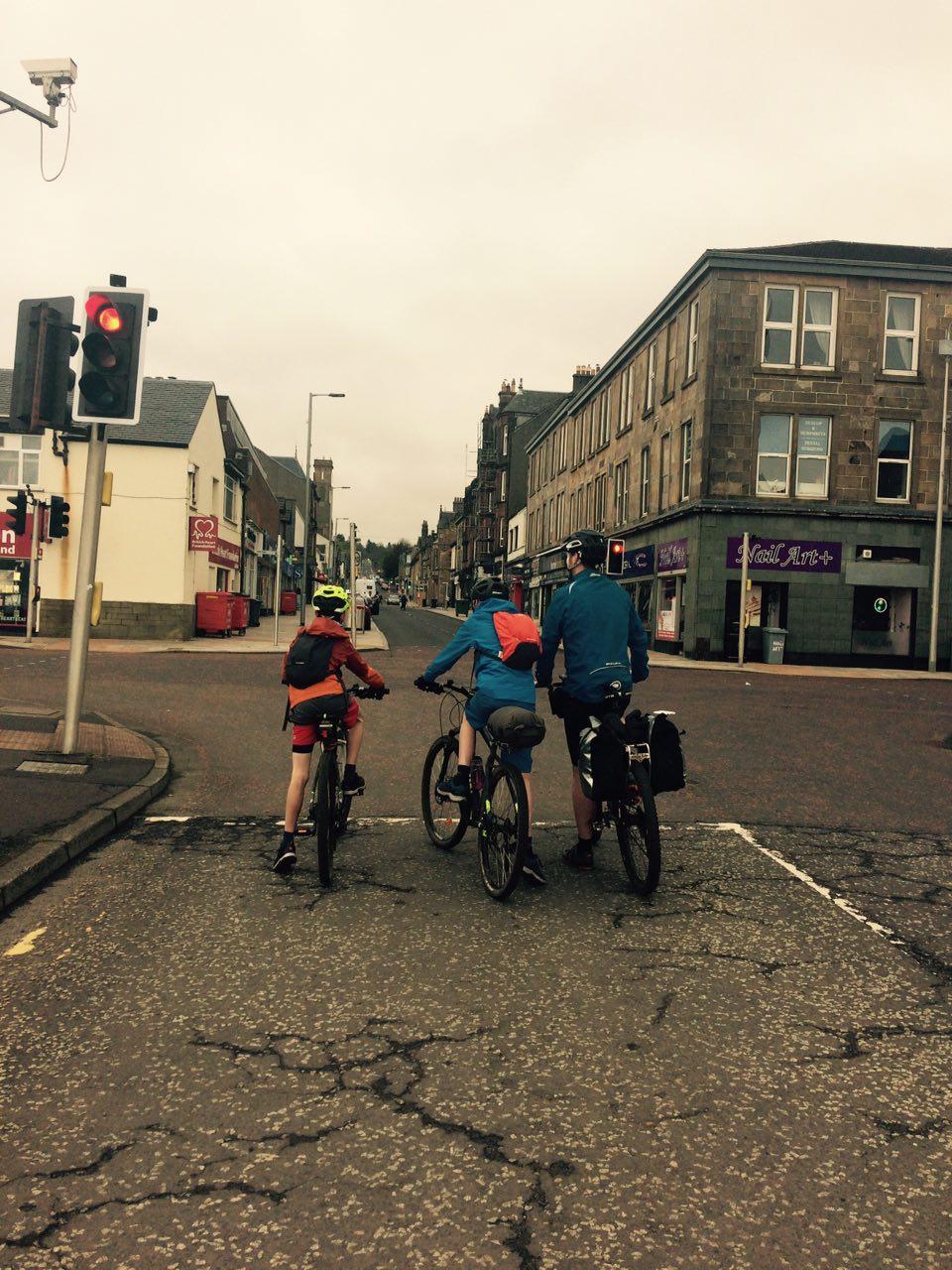 We arrived at Helensburgh just after 8am on Saturday morning. The start of the route was not marked with any obvious sign or anything but the GPS was clear enough, so we rolled out the car park at 8:30 and straight up the hill to the top of Helensburgh, waving goodbye to Jackie. The boys were pretty quiet on the way as we drove from Glasgow, probably wondering how long it was going to take us to cycle back all this way. I told them our route back to was a more direct/short-cut than the winding road, which it was. With a few climbs in between.
It was a relief to cycle off up the hill. Just getting us all to the start was a mini-accomplishment. Daniel had been off ill through the week and neither of us was completely sure that he should even be starting. Noah had found the climb the following weekend pretty taxing and I had offered him the chance to skip this ride on the promise that we would do it again when he was older. But after sleeping on it he decided he couldn't wait two years and wanted to do it now. For myself, I had been riding all winter so was in not bad shape but the bike had needed some last minute repairs. Knowing that chains can wear out I quickly checked it a couple of days and found it was completely stretched beyond the limits, necessitating a new chain and cassette. But better to sort this and head off in the wilds with any worn bike parts replaced.
We climbed the hill, followed a road side path for a while and then dove off into a single track trail winding up through a forest that had been largely felled. The climb steepened and kept on going, but we were still full of our initial enthusiasm and it didn't feel to bad. Eventually we topped out at ~1000 feet, deep in mist now. As we continued on the track fell and we sighted Loch Lomond and knew we were making good progress. The decent to Balloch was pretty straightforward although Daniel hit a rocky section too fast and nearly did a header over his handlebars. Fortunately he caught himself at the last minute and held on. Riding into Balloch was great, our first target and we had managed it in just an hour and half. After some fruitless messing about trying to buy a new SD card for my phone we cycled and up to Balloch Country park, passing other bikers who were out on the trails for an early blast.
Balloch to Strathblane
Little did we know, but ahead lay our most challenging and downright difficult part of the entire trip. In my infinite wisdom I had been keen to cycle the 'actual' John Muir Way, not the sanitised version for cycling that cuts out all the hills. I knew from the weekend before that the ground was perfect rideable, it was just a climb that people on road/hybrid bikes would probably struggle with. Since we were on mountain bikes, it made sense not to skip the mountains. Plus I wanted to do the real-deal, the proper John Muir Way and my GPS route was precisely for this. So after a few miles we reached the junction - either take the easy bike route or take the hills. With some trepidation and some assurance from me that it would be fine, we cycled into the hills.
The climb took us over farmland, with sheep and newborn lambs grazing, towards another forest. I knew from the map that when we cleared the pine forest we would be right at the top near Burncrooks reservoir. As we climbed through the forest we stopped regularly and quickly ate most of our snacks. Unfortunately they were not really suitable for Noah , being a gummy sweets kind of guy more than a biscuit and cereal bar bloke, so he was not really eating enough. Meanwhile Daniel was dropping off a bit and taking longer breaks, which a look of growing uncertainty on his face. He asked for his puffer which helped slightly, but there was no doubt he was struggling. There were some downhills that were all too soon followed by uphills where we had to push because it was just too steep to ride, draining our reserves more and more every time. As we finally left the forest, we rounded a corner and saw the reservoir wall. We had made it! Or so I thought. My celebrations where somewhat premature because the boys were done, particularly Noah just found the interminable rise and fall of the path round the reservoir almost impossible. He kept on asking when lunch was and although we could have stopped there, it was pretty bleak. Cold, remote and featureless it was not where I wanted to stop, when I knew it was downhill very soon. So we pushed on and finally got to the downhill we had cycled up on the previous weekend. Even this brought Noah no relief. I could tell he was right at his limit and knew I had to do something to keep our dream of the John Muir Way alive.
As we neared Edenmill I pulled up next to him and said "We are going to stop here and have our lunch. I know you are feeling terrible and thinking this is just too difficult", to which he nodded and held back his tears. "Have your lunch, get warmed up and then we will all make it to Strathblane. Once there we will buy you loads of sweets and see how you feel. If you don't want to continue then that is no problem at all, we will cycle back home. But decide then. Not now, when you are exhausted, hungry and cold. Wait until then. You have done the hard bit... it is really flat from Strathblance on OK?" Showing a maturity that I find hard to believe he thought a second and said "OK". And so we stopped for lunch, got all our layers on, demolished the food and had a bit of laugh. Spirits where definitely not recovered, but they had stabalised.
We were soon in Mugdock, ground we know very well, and yet climbs that were familiar to me (and to the boys) did not seem so well-known in our reduced state. They seemed more difficult and longer and slower. Before long however we were descending into Strathblane at last and before long spied a Co-op. We stopped, I gave the boys a tenner and said go and buy as many sweets as you want. My desire to do the "proper" route had nearly stopped us right at the start. The remoteness of the route is something that as an adult I enjoy and have no problem riding through wild country with no-one about. For a child however, this is pretty tedious and morale sapping terrain and I could tell they were just glad to be out of it. The promise of flatter ground, other trail users and brighter weather was all helping to win the argument to continue. With a bike loaded with sweets, I then asked Noah what his plan was. After a slightly dramatic pause he said he wanted to continue because he would kick himself if it really was that much easier and also he figured he could stop at Croy if it was just still too tough (that was his own idea!). Daniel was in already. We were going to continue, a disaster had been narrowly averted and spirits were right back up again.
Strathblane to Croy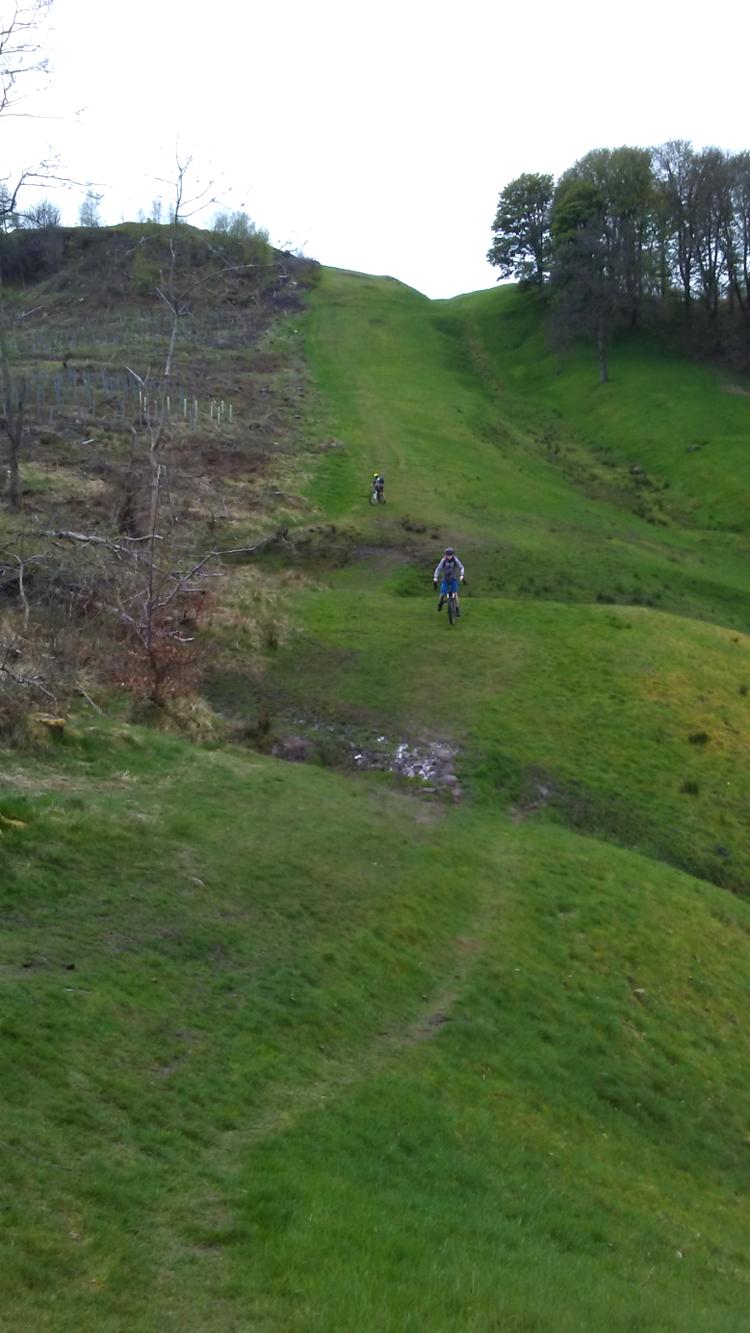 To everyone's great relief, the trail out of Strathblane was exactly as we hoped. It was perfectly flat and the surface was smooth tarmac. Before long we had wound up to a steady 12mph, which meant we would be in Croy in less than an hour and half! The trail was pretty quiet so we just rattled on, chewing up the miles like our own little three carraige train slicing through the country side. With our speed up we were in Kirkintilloch in no time and had a short break before setting off along the canal way. On the flats I was coaching the boys whenever I could about how to find the right gear, not too spinny and not to difficult. By the end of the second day they were often on the big ring and cruising along at a really low cadence, but on this first day, it was a mini-triumph to get them onto their middle rings and use their momentum to keep their speed up on a lower gear. They did really well and listened to me far more than they normally do!
As we neared Croy the route left the canal and climbed along sections of the ancient Antonine Wall, which is dotted with ruined forts that once housed the Romans posted to protect the most northerly reaches of the sprawling Roman Empire. North of here lived only the Barbarians who were welcome to their land, a battle the Romans wisely chose not to fight. I could not help drawing parallels with Game of Thrones and wonder if George R R Martin had been inspired by this real-live Wall to create his own Wall bounding the northern limits of civilisation on Westeros. After climbing to the top of one such fort we decended the steep grassy slope on the other side - short cut grass with virtually no grip. I went first and just about managed to keep the bike under control. Then Noah set off over the brow and quickly accelerated until he was out of control. He hit a section of bumps and was ragdolled about on the saddle, gripping on as his back brake finally began to bite, swinging round until it stopped abruptly perpendicular to the slope and sent him off the bike to land in a heap a few yards away. Daniel witnessed the entire debacle and was laughing loudly from the top of the hill. Shaking his head with a wide smile stuck on his face, Noah clambered back on and continued. Just to make sure I was not missing out, I then also slipped and fell off the bike - it was the softest fall ever - but the boys were immediately shouting "Are you OK Dad?" and once they knew I was exclaimed that they had never seen me fall off your bike before, to which I responded with an assurance that Dad did fall off more often than they might think.
Croy to Falkirk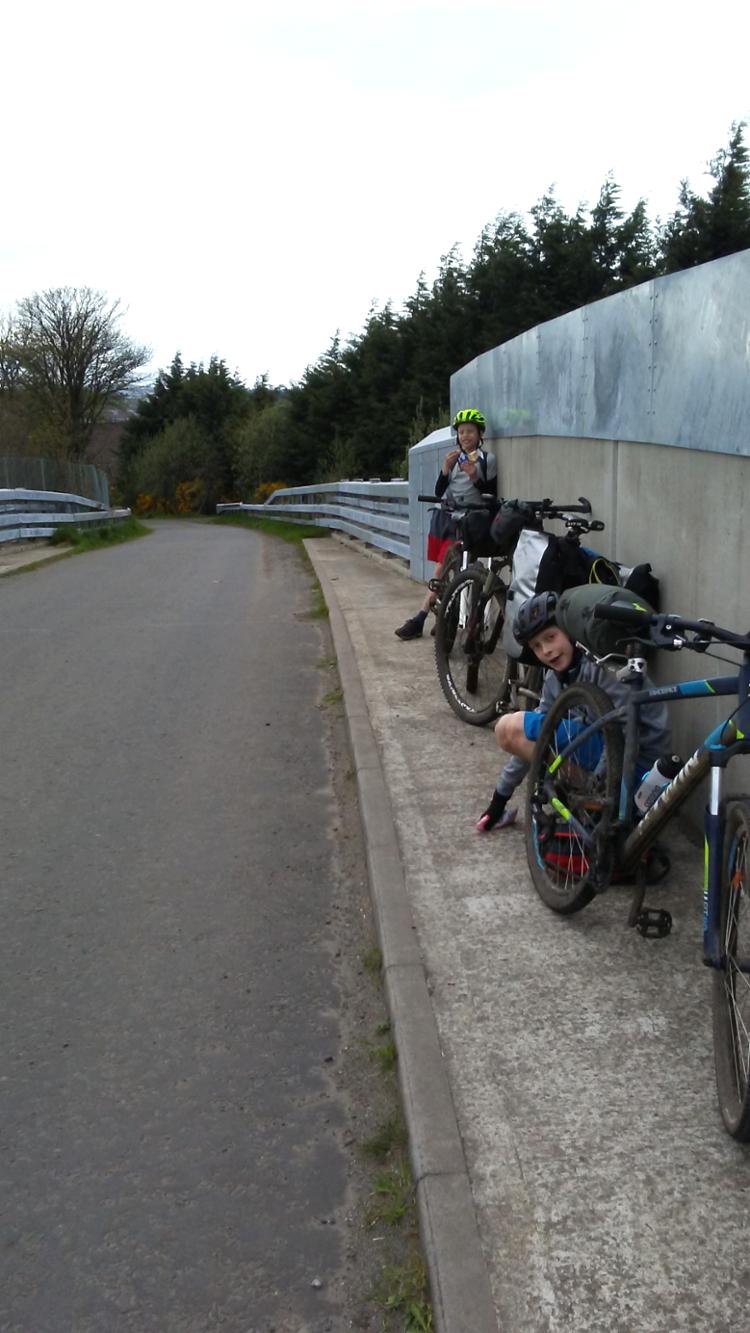 The GPS route to Croy stopped below Croy Hill ,which the next section then steered us over. There was a fair bit of climbing but the knowledge that we were on our last stage of the day boosted us. The views from the top allowed us to gaze back at how far we had come, back all along the foot of the Campsie Fells which were clouded in mist at the most distant point and foward to the Forth and Fife which were now visible. After the climbs along higher ground we finally dropped back down and found ourselves winding through scrapyards and back street garages of Bonnybridge. The sort garages where a car might emerge after some 'work' with a new paintjob and number plate, I imagined. Whilst we were stopped having a break and some food, we heard the screeching rev of a single stroke engine coming towards us. The deafening noise was soon accompanied by a sight of guy standing up on a scrambler motor bike, wearing joggies, a football top and no helmet. He flew by us in a high pitched shriek of noise and off round the corner we would soon be heading down. The boys are quick to notice any breach in lawful behaviour so they had plenty to say about this biker.
We saddled up and set off up the same trail and a few minutes later we heard the rising scream of the bike approaching. Just to be safe we each stopped on the trail side and were amused to see the same guy come flying round the corner at almost top speed. When he clocked us standing clear he then floored it, sending the engine frequency to earsplitting maximum and shot by us, barely in control of the fishtailing machine, sending a spray of stones behind him that fortunately missed us. We laughed a lot about that and then continued on, glad to have made it through Bonnybridge unscathed.
Back on a canal way we trundled through woods until we emerged at the Falkirk Wheel. The carpark was busy the motorcycles, cars and buses and plenty of people were gazing like us at the impressive lock. We watched as the lower lock was loaded with a passenger boat full of tourists and narrow boat alongside. After a few moments the wheel slowly began to move and the lower lock rose effortlessly into the air as the opposing lock from above swung down in a perfect counter-balance of energies. In a silent symphony of gravity, bouyancy and raw power, the locks carefully completed their 180 degree switch and docked eventually at their destination. We were all mesmerised and had to shake ourselves out of it in order to saddle up and finish the final stretch of the day to our accommodation in Falkirk.
The Camping Pods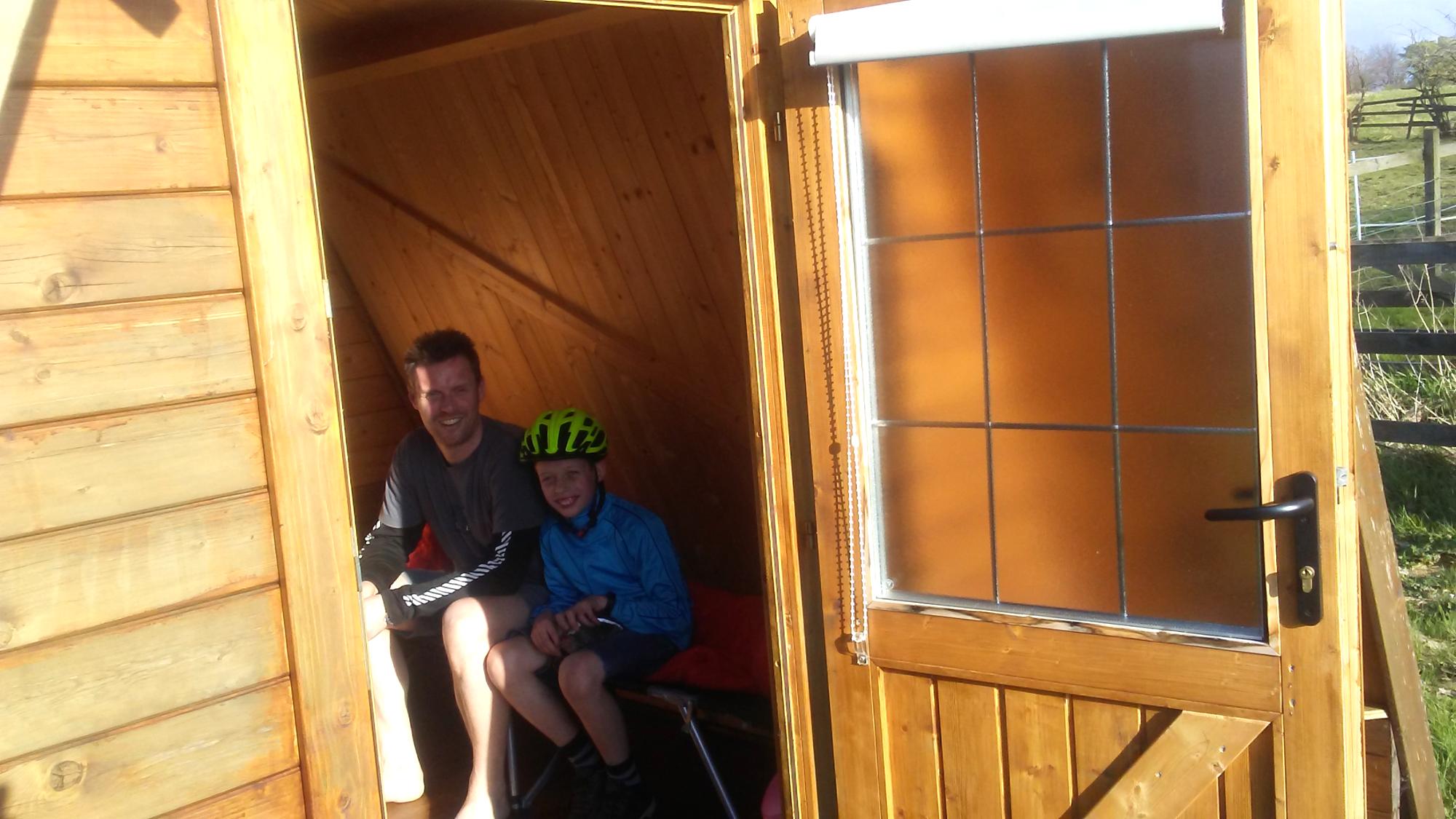 We arrived at the Spoke'n'Boot camping pods at about 5:30, to everyone's great relief. The sun was out by this time and was slowly lowering in the sky, sending ever lengthening shadows across the farmyard of Greenbank Farmhouse. We rang the bell but nobody answered, so I took the boys into the converted byre and sat them down on a comfy seat in front of the stove. I was so proud of them of battling their doubts during a day that had tested us all to our limit. They had faced their limits and prevailed. I hoped they knew what they had achieved. They had found a steely core within that was resilent, capable and skillful and had seen them through a crazy day. Noah was so exhausted he just sat for a good ten minutes and processed everything that had happened since we started in Helensburgh that morning. It was beyond belief that they were both here. Before they got cold I sent the each for a revitalising shower to wash away the trail dirt In their dry clean clothes they were both revived enough to explore the site outside, whilst I investigated options for food.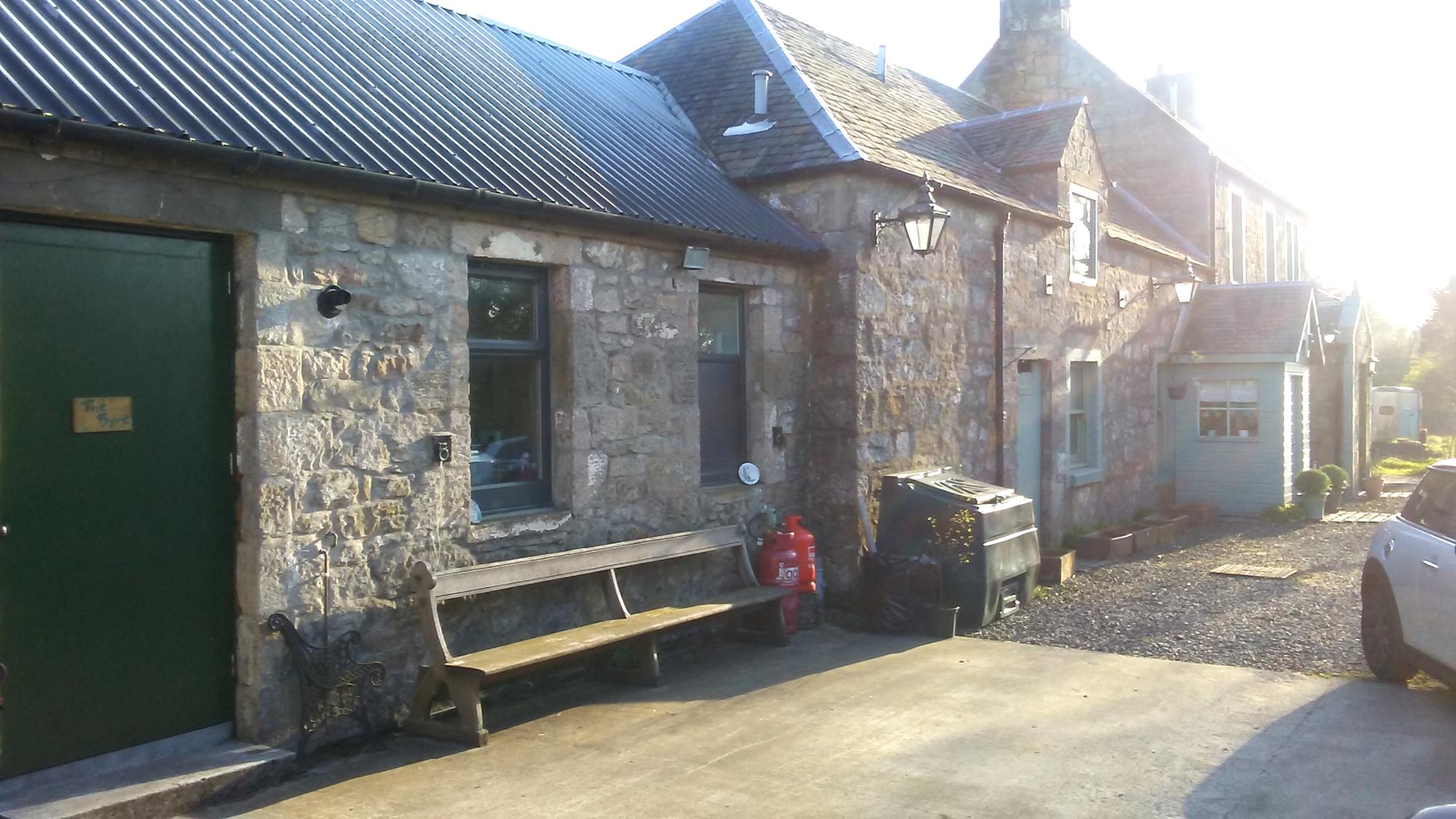 Just then Sandra, the owner, arrived back and apologising profusely for not being here. As I explained to her, we were earlier than expected and had made good use of the communal byre in the meantime, so there was no problem. She showed us our camping pod which the boys quickly unpacked our stuff into. Although there was a good restauraunt nearby we ended up ordering a Chinese delivery which was would let us relax in our amazing surroundings. There were four two-man pods in total, and only one other family staying. We chatted to them, particularly their extremely inquisitive three year old son Daniel who made my two laugh with his endless questions and curiosity.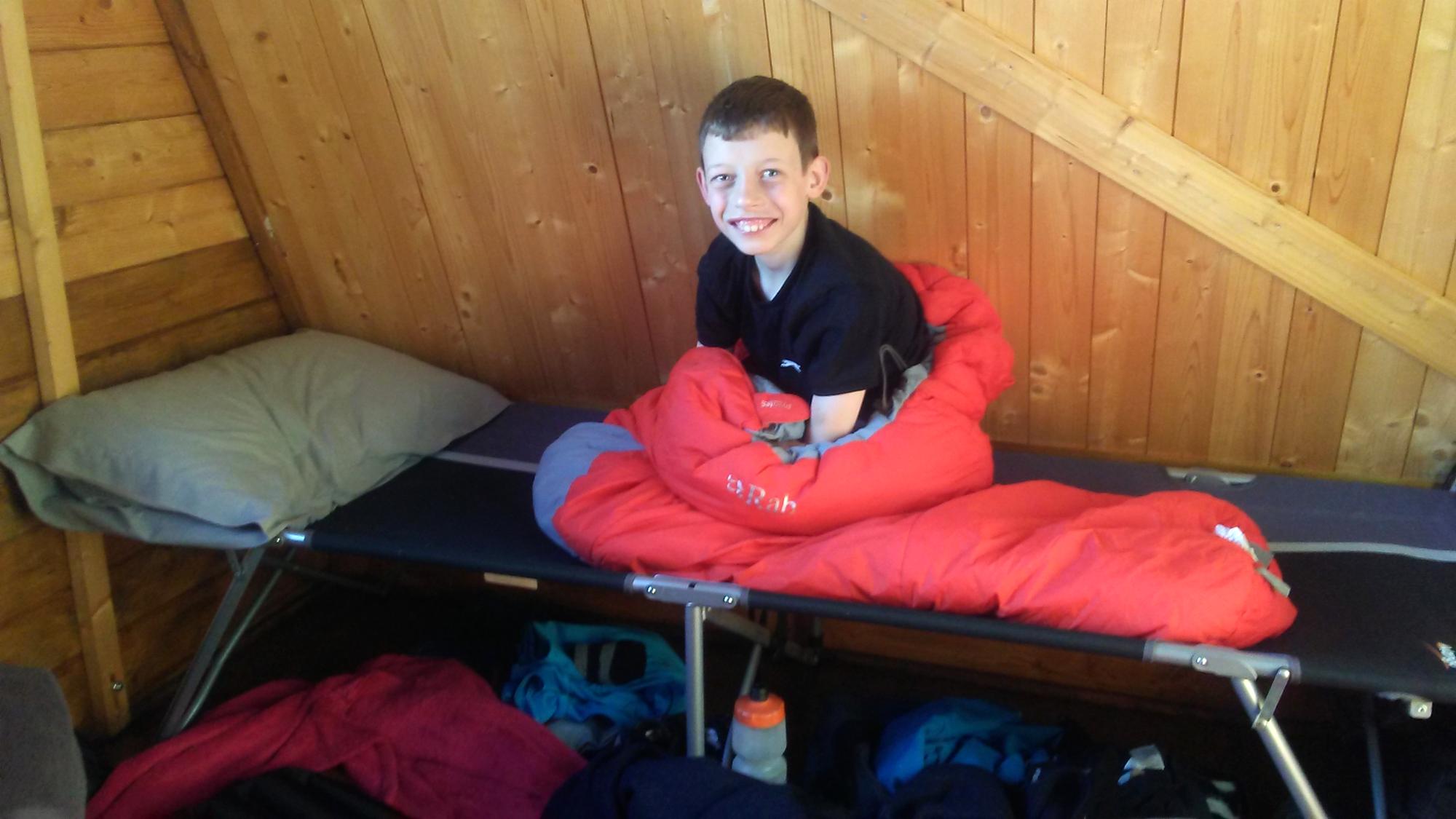 The food came and we all ate well. Afterwards we played cards in front of the stove which was roaring. After a couple of hands we were all too tired and went to bed, even though it was barely 9 o'clock. The boys took a camping bed each and I slept in between on my new air mattress. The black-out blinds let us block out the late evening sun and before long we were asleep.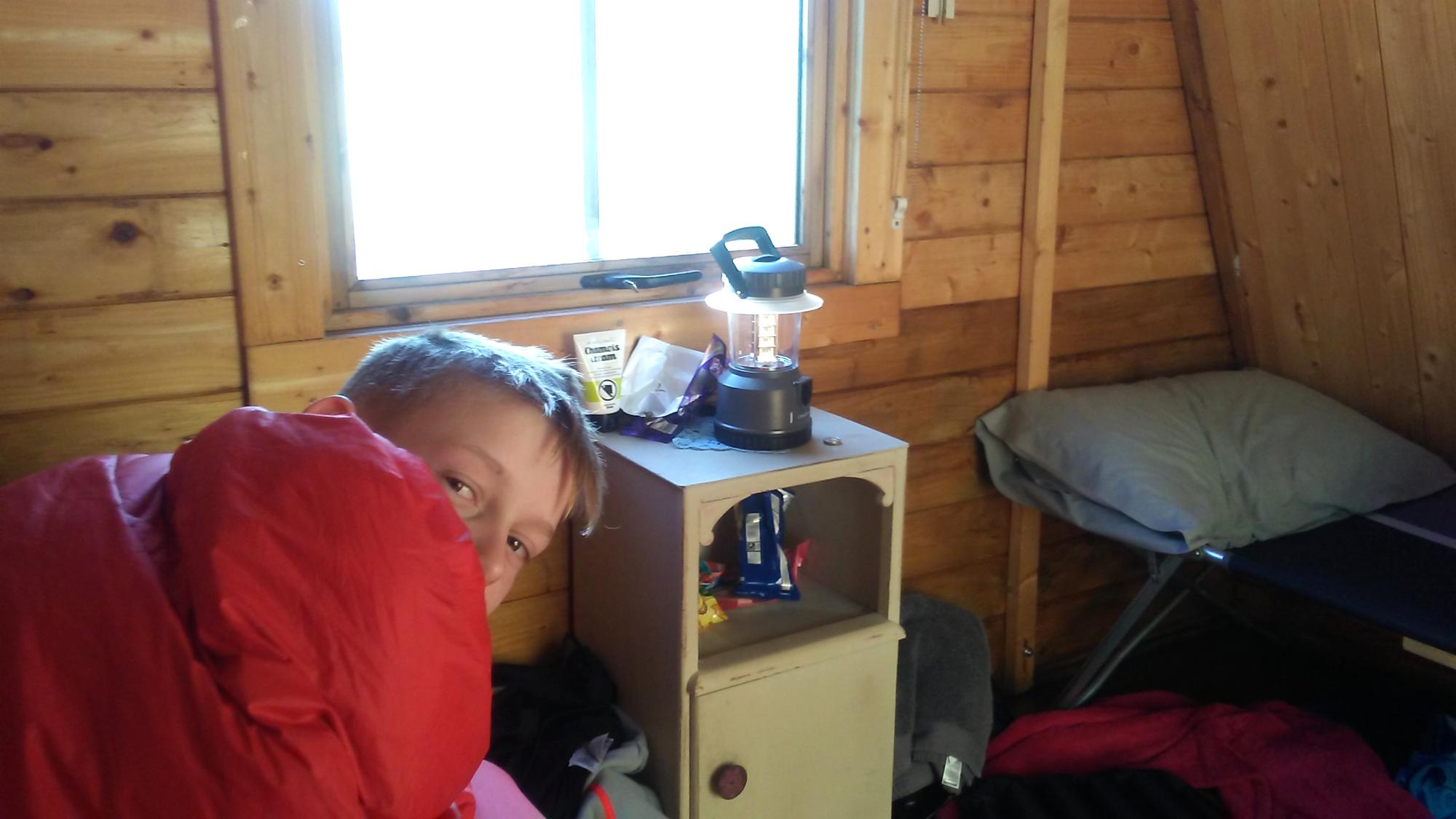 My alarm woke us at 7am. It was a stunning day, blue sky, bright sunshine and no wind. Perfect for a bike ride. There were no serious aches, pains or wounds, so we all got back into our bike gear and packed up. We had an excellent breakfast with wee Daniel and his mother. The communal byre was an amazing facility on the site, and the stove had somehow kept burning all night, it was a great place to spend time and meet other people. By 8:30 we were all set, said our farewells and rode off to rejoin the trail.
Day Two
Falkirk to Linlithgow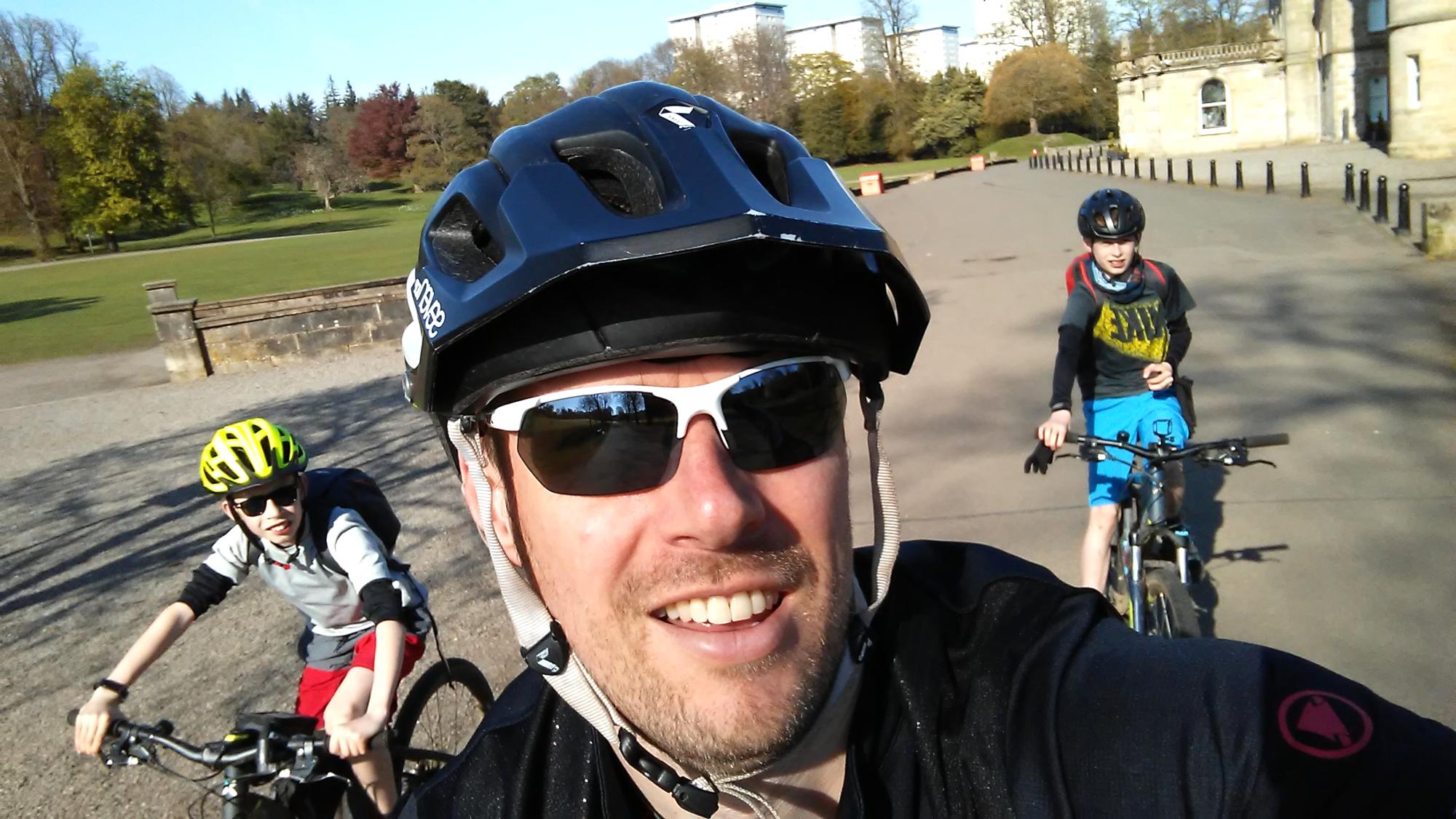 The bikes were running well and we were all feeling great. My expectation for the day was a straightforward first stage, then a climb up and back down through Edinburgh followed by a long drag at the end of the day to North Berwick. I say drag only in the sense of being a slightly longer section than we would want, but hopefully through easy terrain. As we climbed up out of Falkirk we could see the Kelpies not too far ahead of us. The route however wound it's way through a tunnel so narrow we had to walk the bikes through on the river bed whilst we shuffled along the one foot wide ledge. We made it to Linlithgow without any issues. I confess that I was probably pushing the pace as much as possible to get as far as possible whilst we were fresh and the temperature still not too high. If the pace dwindled too much I would should "Go, go, go!!" and we would be off again.
Unfortunately the route did not go by the Kelpies, which made me all the more pleased we had found the mini-Kelpies at the Falkirk Wheel.
Linlithgow to South Queensferry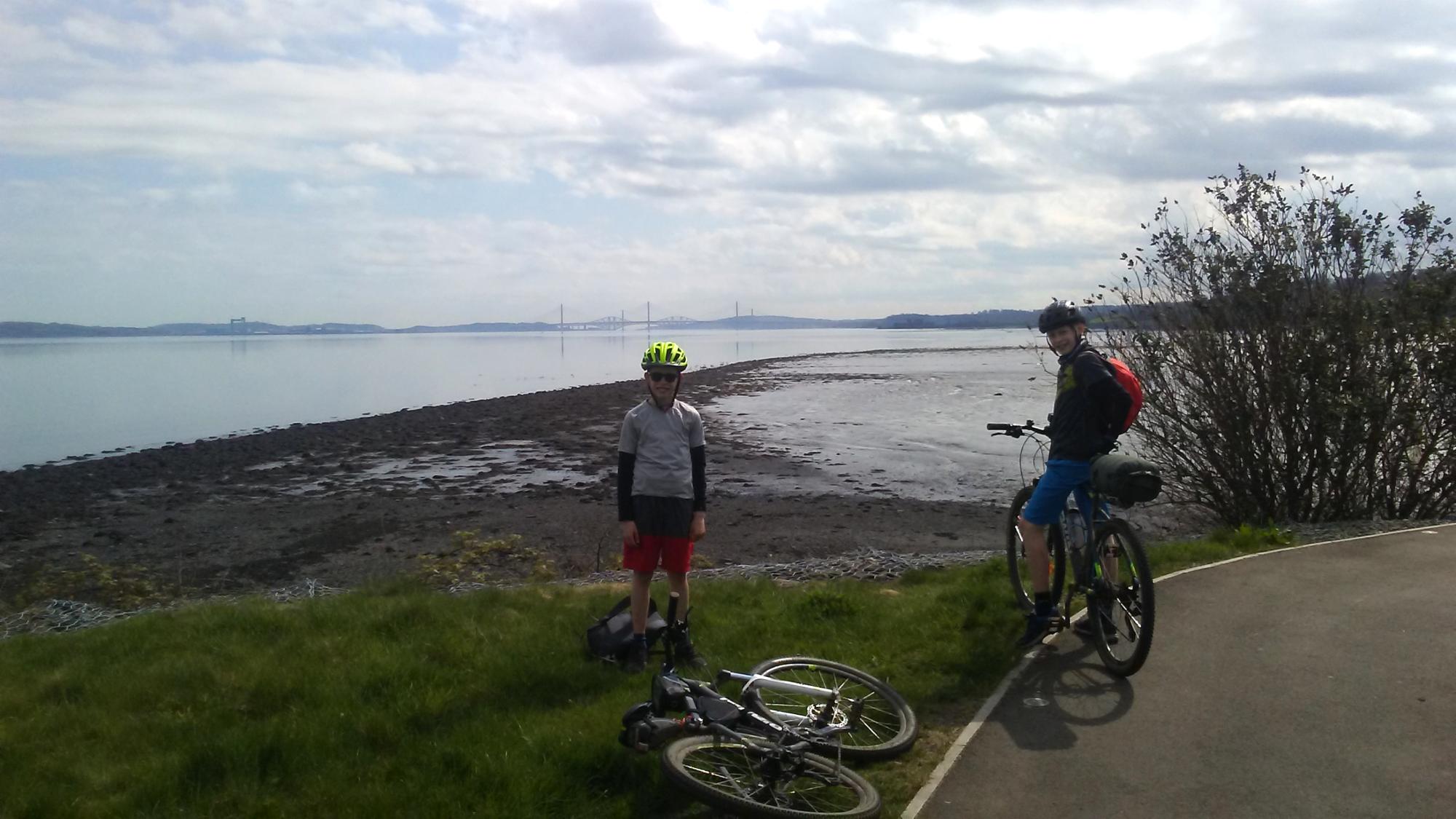 We were now heading directly north out of Linlithgow and straight for the coast of the Firth of Forth. We crossed a couple of big rolling hills until our final descent down to the coast, which was wonderful tree lined dive through a pine forest on an excellent trail. We all bombed down and just grinned at each other after we pulled up at the bottom. We reached the coast by crossing a small railway line and then were treated to an excellent, flat cycle way that would continue for miles ahead.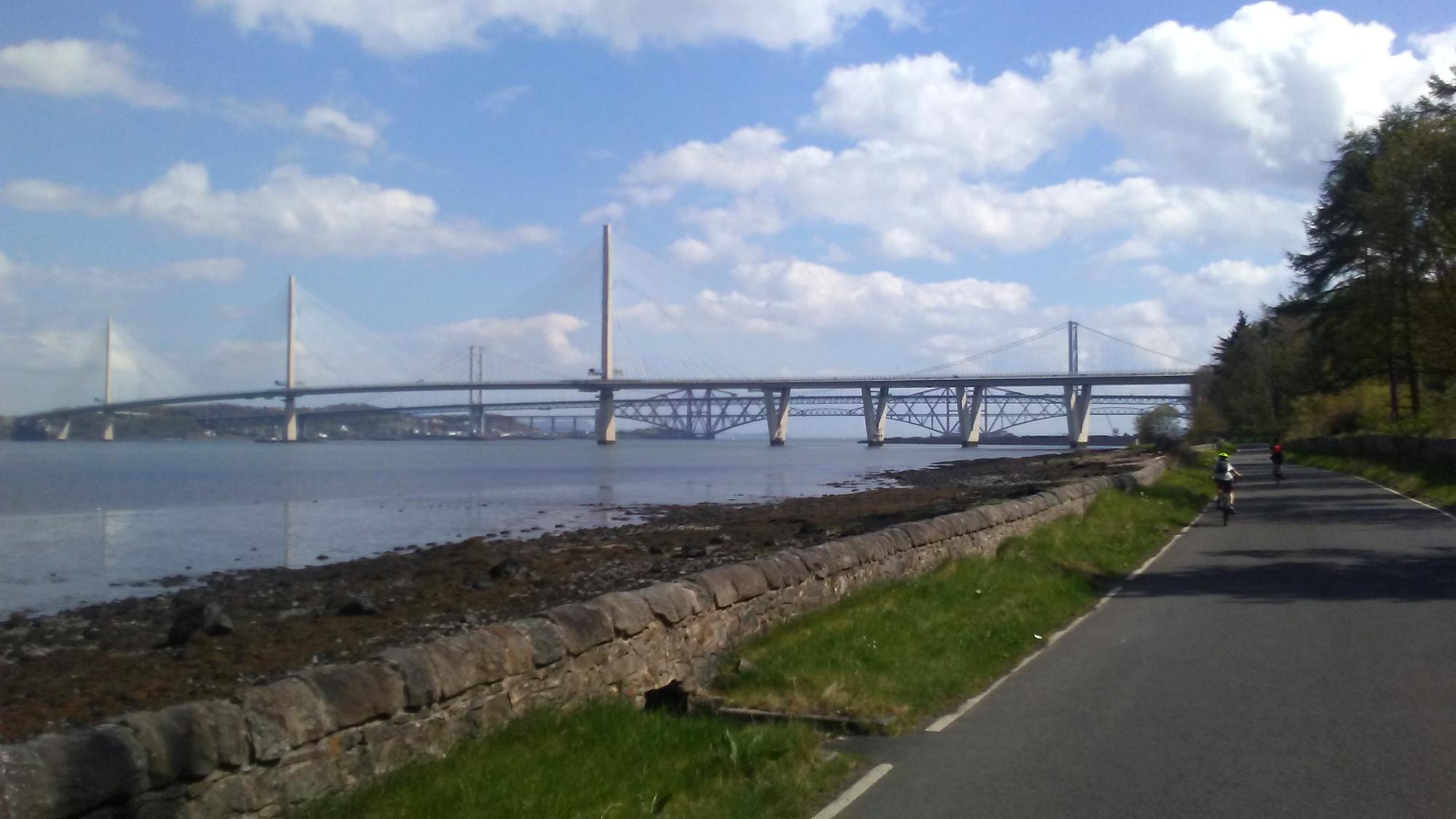 It was a great boost to us all to reach the coast. As I said to the boys, no matter what happens next, they have successfully cycled from coast to coast of Scotland. That alone was worth celebrating. We reached Bo'ness and carried straight on through until three bridges all came into view together. It was an impressive sight and an ideal lunch time target for us, although the boys did not quite believe me that we could be there for lunch. The cycle way wound all the way along staying very the coast at all times. As we passed Blackness Castle there was a huge rammy brewing between some tourists who had somehow wedged their car down a tiny single track and blocked the road at the same time, much to the local's annoyance. We squeezed through and pushed on, passing then through a huge estate with a magnificent house just west of South Queensferry. At last we cycled under the new Queensferry Crossing and marvelled at the construction, then the old road bridge. At that point it really struck me again how great it is to see a country from a bike. In a car it would difficult to take in the whole bridge and it's setting. You are never quite sure when to stop and get out, often only to jump back in the car shortly after. On a bike, you are immersed in the landscape and don't have to stop and get out, you experience these places just by approaching them slowly and passing through. The experience is so much more satisfying.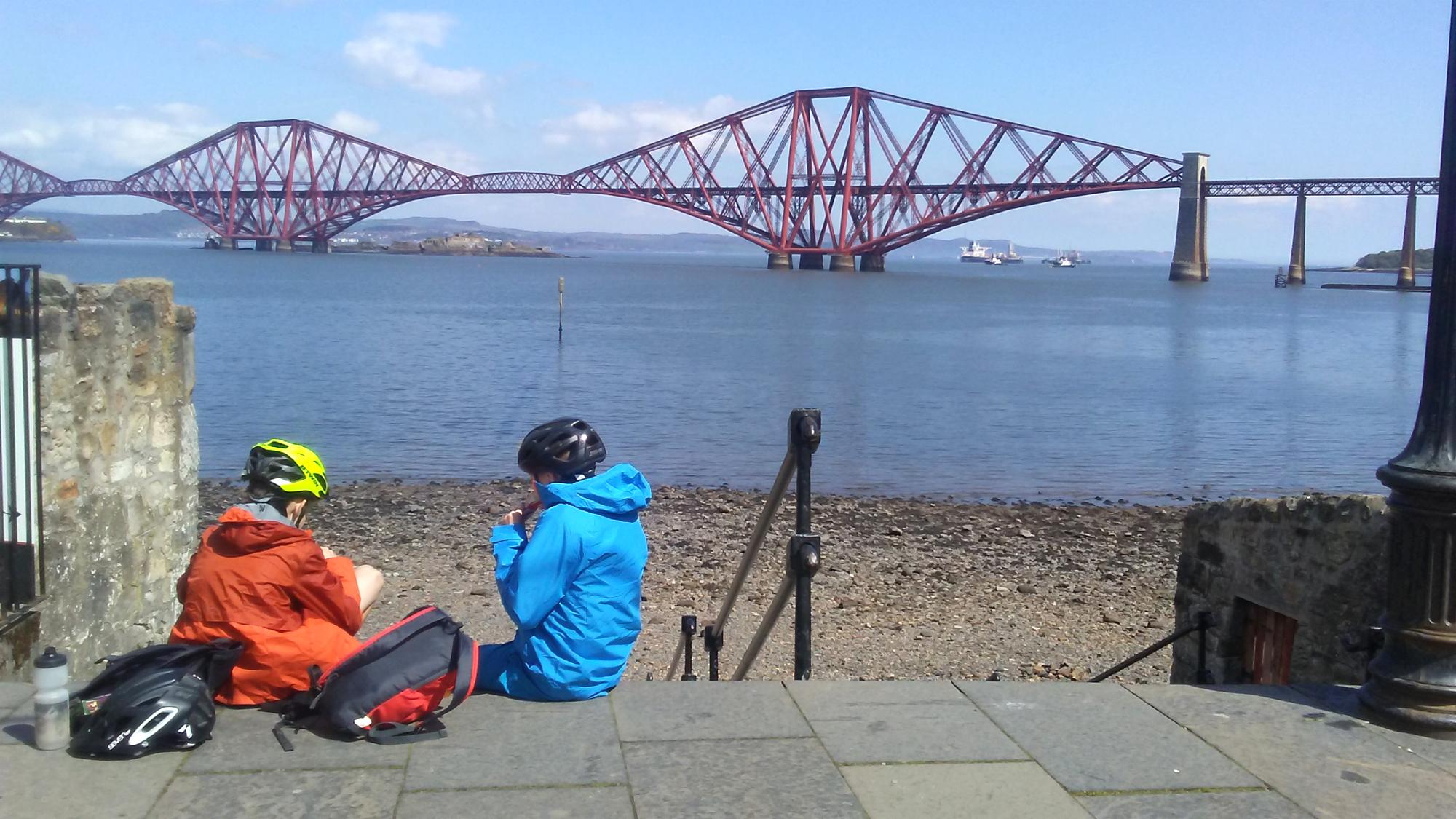 At South Queensferry we stopped for lunch in the glorious sunshine on a raised pier and looked out at the old rail bridge. It was time to call home so passed the phone around in between mouthfuls and let everyone know where we were. It was good to speak to all the family and it us all a boost to hear some other encouraging voices. The town was mobbed, with cars and motorbikes somehow finding their way through tiny cobbled main street. After a quick top-up on the sweets supply we were back in the saddle and off the next stage to Edinburgh.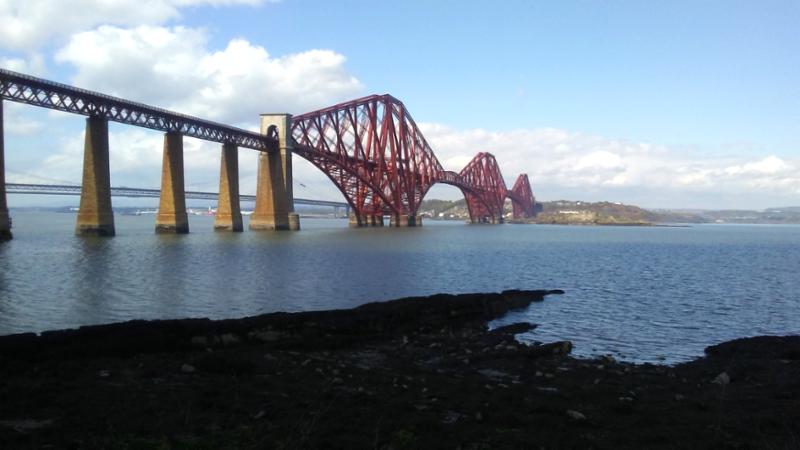 South Queensferry to Edinburgh
This was probably my favourite stage and unlike anything I had ever ridden before. It started off being quite tricky however. Soon after we set off we rounded the next headland, still on the coast, which then revealed the entire Forth coastline to it's very end over forty miles away. In the absolute distance was the unmistakeable profile of Berwick Law that overlooks North Berwick, our final target for that day. It was a shock to me, to see how far away it was (plus the detour in through Edinburgh) and I was worried that boys would see it and recognise it and start to have serious doubts. So I did everything I could to distract them and keep the pushing on whilst it was in view, and fortunately they never saw it and we turned inland after a few miles.
The trail up into Edinburgh began by going through wheat and rapeseed oil fields that were so green under the bright blue sky that we felt it could have been the South of England or France. It was unbelievably beautiful in that warm spring day that honestly there is nowhere I would have rather been. As we entered Edinburgh then we passed some very secluded houses on the outskirts and then began a huge climb up through Corstorphine. I had never been there before and could not believe the houses. Every single one of them was magnificent, all huge and all individual and each with immaculate, enormous gardens. Every time I saw my favourite, I would see another that that was even more impressive. This was a seriously well-heeled neighbourhood of Edinburgh and was a pleasure to cycle through it's wide sweeping avenues. The neighbourhoods did change as we moved on but we were forever climbing, until we finally realised we were being led over the highest point around, Corstorphine Hill.
The final pull up the top was tough, as there was no grip and the temperatures were rising. Fortunately we had some trees for shade as we slowly wound our way up. We cycled as much as possible but inevitably we had to push the bikes at some stages. Finally, after one final push, we emerged at the top and through the trees all of eastern Edinburgh was visible. We all agreed that the climb was totally worth the descent which was wove it's way out of the tree onto sweeping steep pathways through the grass, bordered by yellow flowered whin trees that smelled of coconut as we flew through. There were enough blind corners and sudden drop-offs to keep us interested and we all pulled up at the bottom buzzing with exhiliration.
After some more weaving through the increasingly busy town, passed Murrayfield, we agreed to stop at the next cafe/shop for a drink and a break. It was mid-afternoon and we still had a long way to go, but we needed to regroup and reassess where we were. When rounded a corner and saw the Water of Leith Cafe it was the perfect spot. Inside we all got drinks and enjoyed some time in the shade. I really was confident that the boys could finish this, they had proved they had the ability. The realisation that they could do it made suddenly want to do something to reward them. Just doing the trip was it's own reward for me and they were expecting nothing for it, but they had earned something to let them know how proud I was of them. I told Noah I would buy him a new bigger football goal as his current one was too small now and struggled to think what to give Daniel - the boy who has everything. So he has nn IOU, and he can claim it if/when something comes up. They were both really happy with the unexpected show of generosity from Dad but they totally deserved it.
Edinburgh to Prestonpans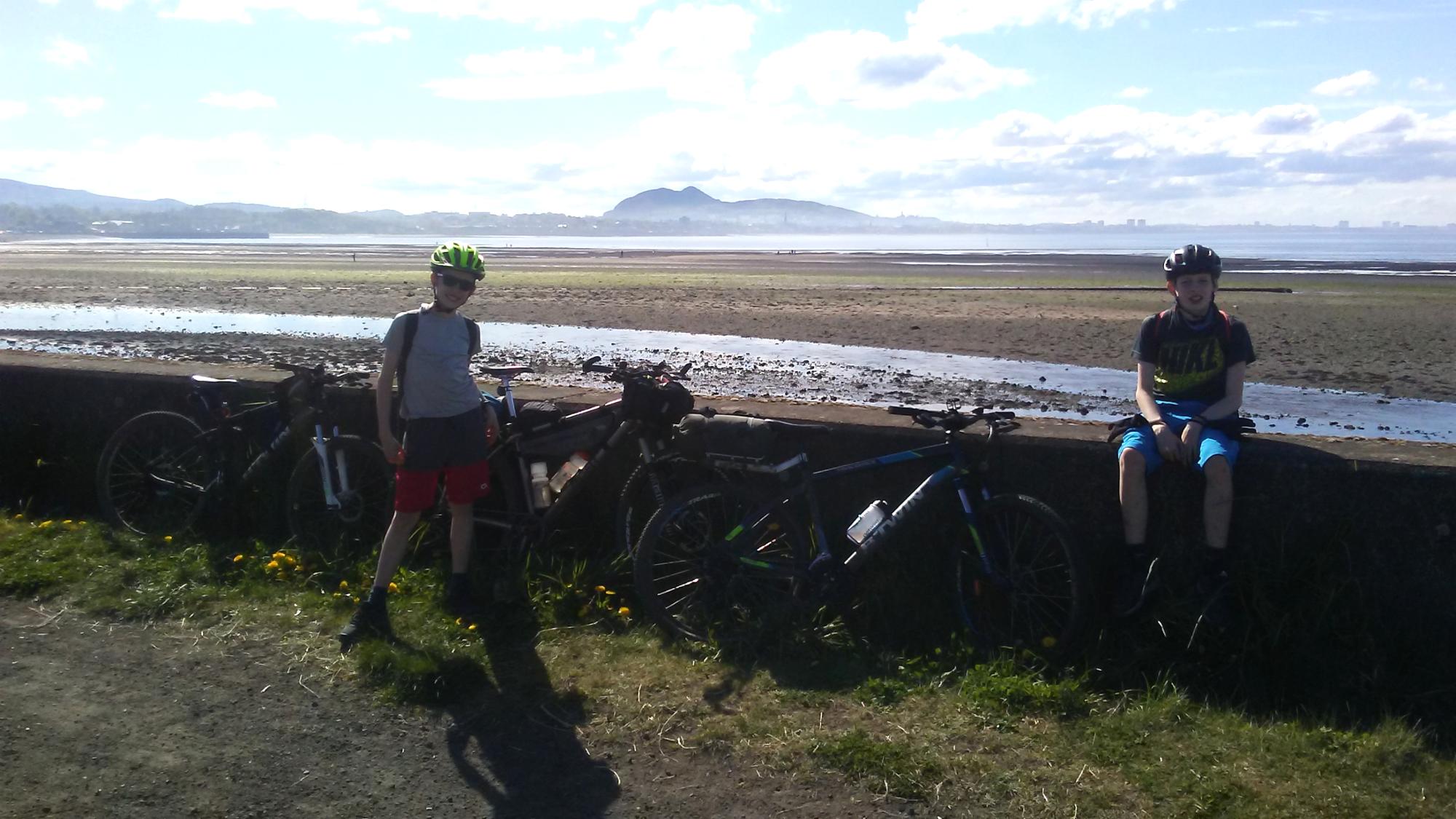 After our stop, we headed on along busy canals or diagnonally through parks crowded with people out enjoying the sunshine. Down and down we went, towards Holyrood and the round the back of Arthur's Seat until we left Edinburgh through it's most easterly neighbourhoods and back on the coast. It was smooth and easy going pretty much all the way to Prestonpans. The temperature took a marked drop by a few degrees as soon as we came back down to sea level. We were on the North Sea after all, and it was a welcome change to have a cool air to ride through.
I was worried we would have some more climbs but the route was all along the water front with rarely an obstacle or hill in our way and we made very good time.
Prestonpans to North Berwick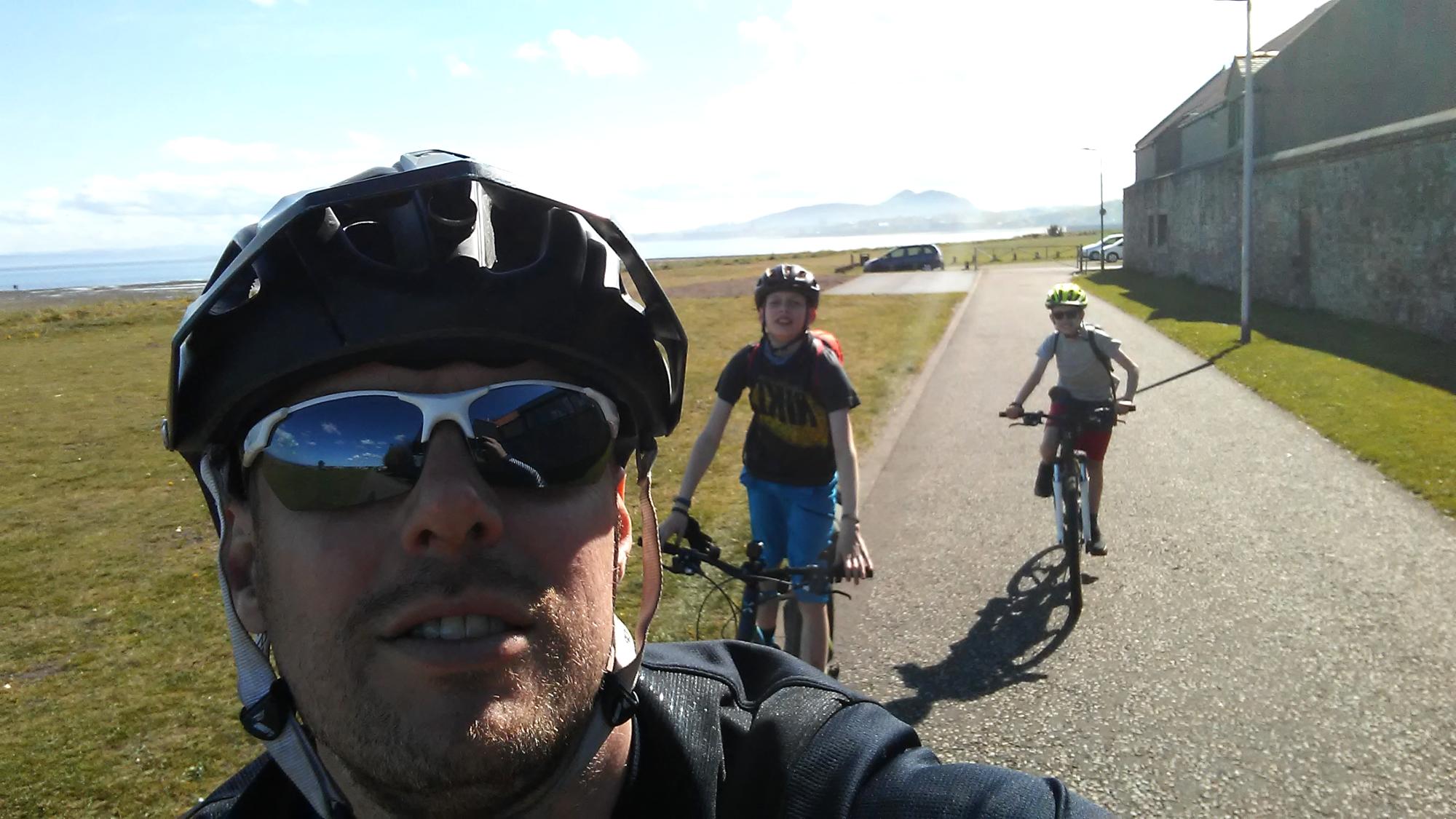 Around this time Daniel said "Oh, that's North Berwick there isn't it?". I had been found out and they had clicked how far we were going. Noah had a hard time believing we would get there in a couple of hours but to his credit he kept his spirits high and rode one. The terrain was often of sandy trails through the dunes which were pretty good fun and the boys enjoyed it. I was hoping for flat, straight paths actually the twisty detours were a great distraction. We cycled passed a mobbed static caravan holiday park at one stage, where four teenage boys were all strolling by. One of them casually tossed his empty Coke can into the dunes, an act that surely impressed his friends. They were soon laughing at him however as the police were driving by at that precise moment and say the whole thing. They duly slowed and shouted the boy to pick it up. With maximum teenage recalcitrance he trudged back to retrieve his can and put in the bin, whilst his friends laughed and walked on.
We passed Muirfield and then climbed a road before cutting through another golf course which was empty dispite the fact it was nearly 6pm and glorious weather. The GPS route guided me down the side of a fairway and before long across a fairway and then into a huge thicket of gorse. Something had gone wrong but we were cycling over a golf course somehow and had to wade through some rough before I eventually found the proper path again and lifted the bikes a wall to rejoin it. That extra effort took it's toll on wee Noah and I cursed myself for wasting our energy at this late, late point in the day.
Finally we reached Gullane and I called ahead to the B&B to confirm we would be there before long. They were quite relieved to get the call as I think they had just about given up on us. We wound our way on and back through some soft dune paths that again tested our will but we found good ground eventually and finally caught sight of the houses in North Berwick. Our B&B was on the same side of town as we entered from and after another phone call we found the house, which had no sign at all to indicate it was a B&B. The lady who ran the B&B then stood between us and her front-door and looked the boys up and down before saying "My goodness me boys, look at the state of your bikes. Was it very muddy today?". We were all on the point of exhaustion and I worried what they might say to her. In they end they both looked down at their bikes then back up at her, and deadpan Daniel said "Nah, they were like that before we started". To which she muffled some hoot of disapproval and then allowed us into her house. She meant absolutely no harm at all and was only being friendly, but at the precise point all I could hear was her being condescending to my boys who had cycled 115 miles and it took all my will to keep smiling.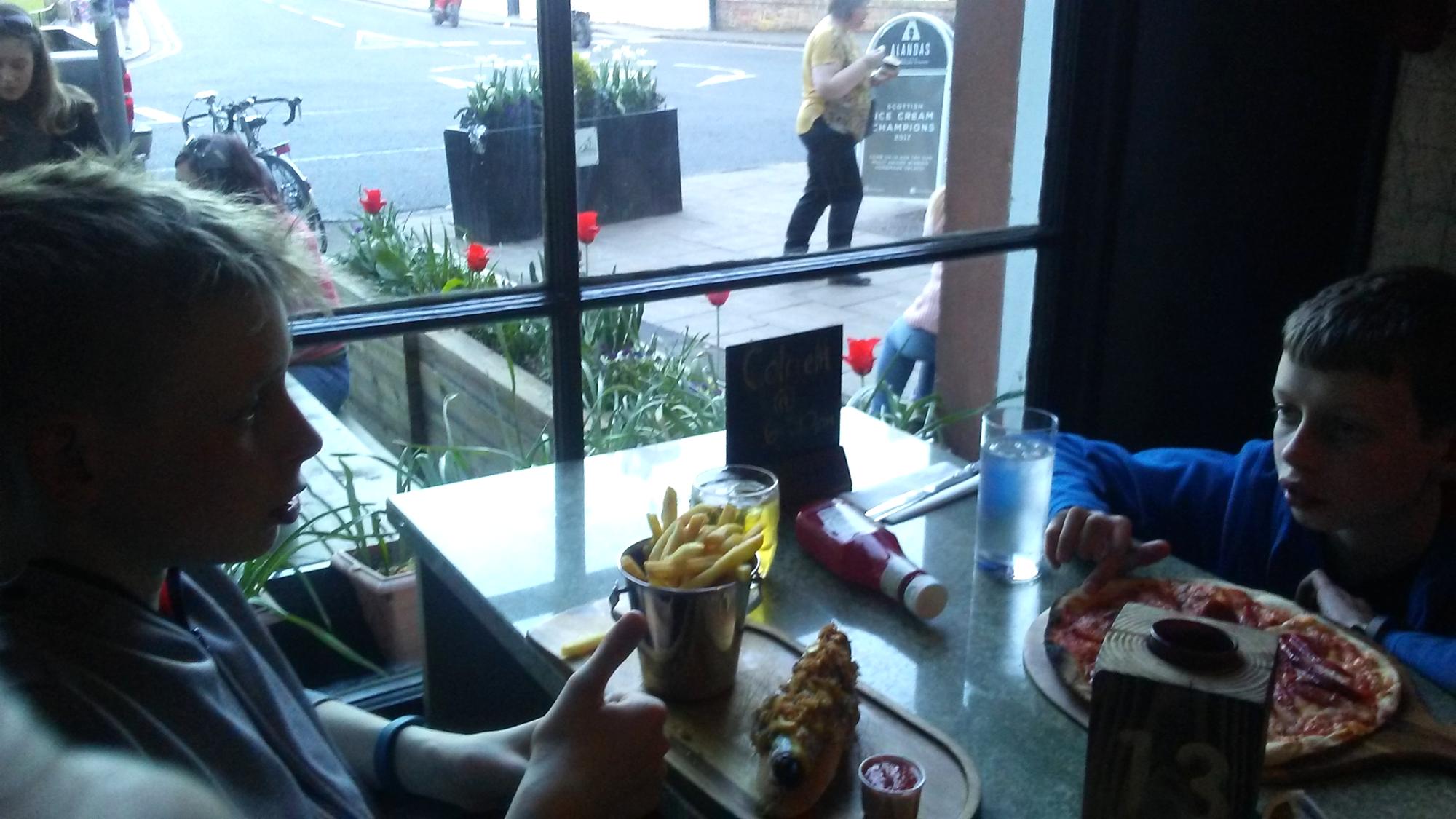 I am glad we did keep things polite however. They were very good hosts and looked after us well. Her husband drove us into North Berwick once we had changed and gave lots of suggestions for food. We got a table at our first choice, the Ship Inn where Noah had pizza, Daniel a 'Greedy Dog' and for myself just a normal hotdog with two pints of Jarl. It never tasted so good. After we had had our fill we were happy to wander back the mile or so to the B&B, even though I only had my cycling shoes on. We were all feeling great, the sun was out and it felt like a damn fine place to be.
North Berwick to Dunbar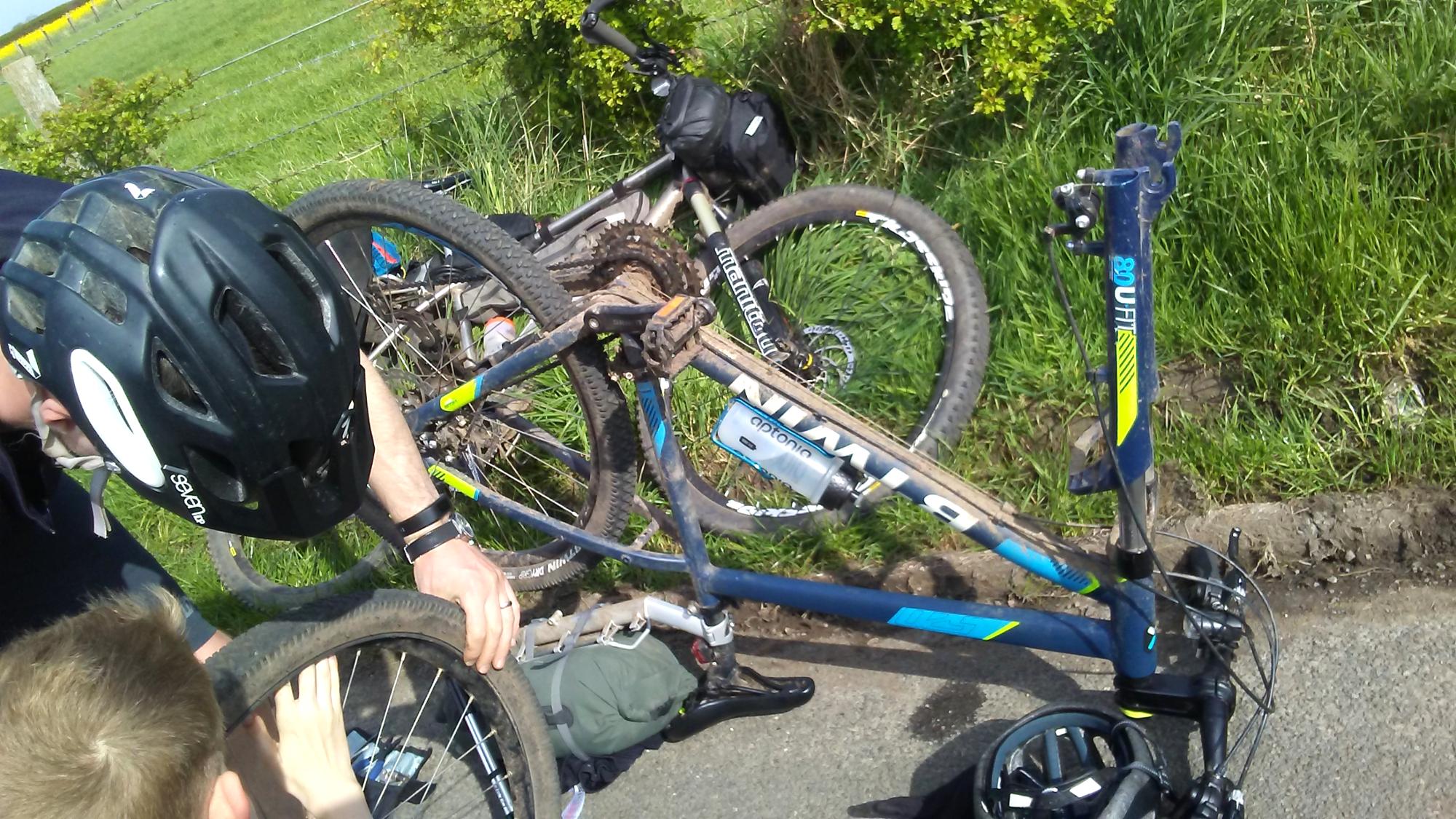 After we had each demolished the breakfast of our choice, cereal or toast or a fry-up we quick got packed up and bid out hosts farewell. The weather still fine and cycled up round the back of Berwick Law for our final stage to Dunbar which I hoped would take us only a couple of hours. Daniel commented that he could finally feel his front suspension i.e. he could feel the springiness, which he was very happy about. Before long though we realised the springness was from a lat front tyre - our first flat, on the final stage. We didn't panic and had the wheel off in no time. After some work we found the puncture, which had been caused by a hawthorn that had driven right through the tyre and into the inner tube. With this patched we were still having problems inflating the tyre. Rather use our one spare inner tube, we refitted he original and used the CO2 drive to quickly inflate it. We suspected we could still hear hissing but Daniel suggested he just ride on and see how it went. And so it was for the next 13 miles that we would stop every 4 miles to reinflate the tyre after it has slowly deflated. Given we only had to reach the end of the stage, it wasn't worth worrying about a proper solution and Daniel was fine with this.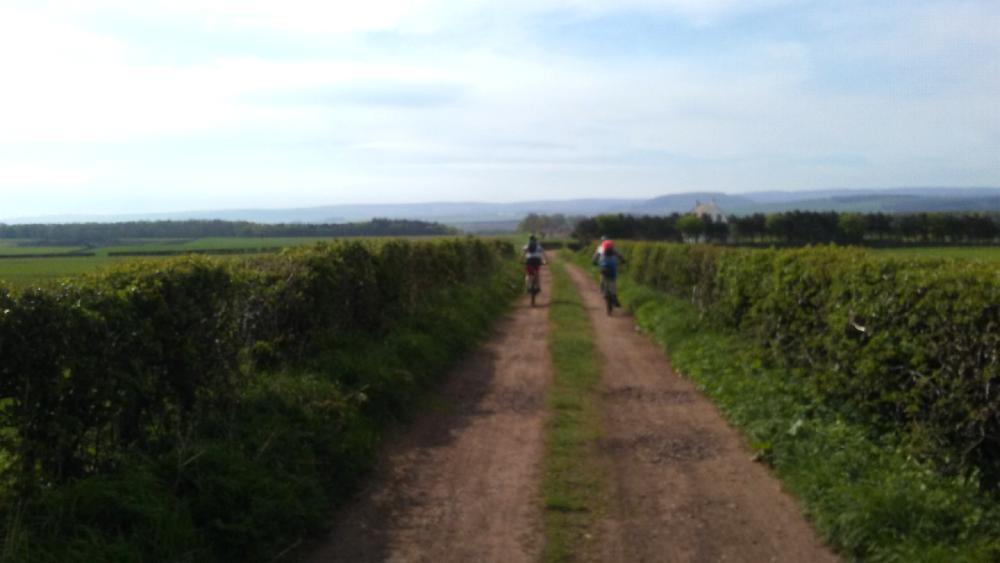 The route took us through gently rolling fields and then along a winding river side for a while. We reached the coast again eventually and rode along some sand dune trails behind some World War 2 anti-tank landing concrete blocks. Along we went until we reached Dunbar golf course which we skirted and had to wait for a guy to play his shot before traversing one fairway. At the top we saw the Sports Center and the GPS said there was only a few hundred yards to go.
Daniel's tyre was almost completely flat as we turned on the main street and rode together up it, triumphantly stopping at the John Muir statue to complete the John Muir Way. It had taken us two and a half days.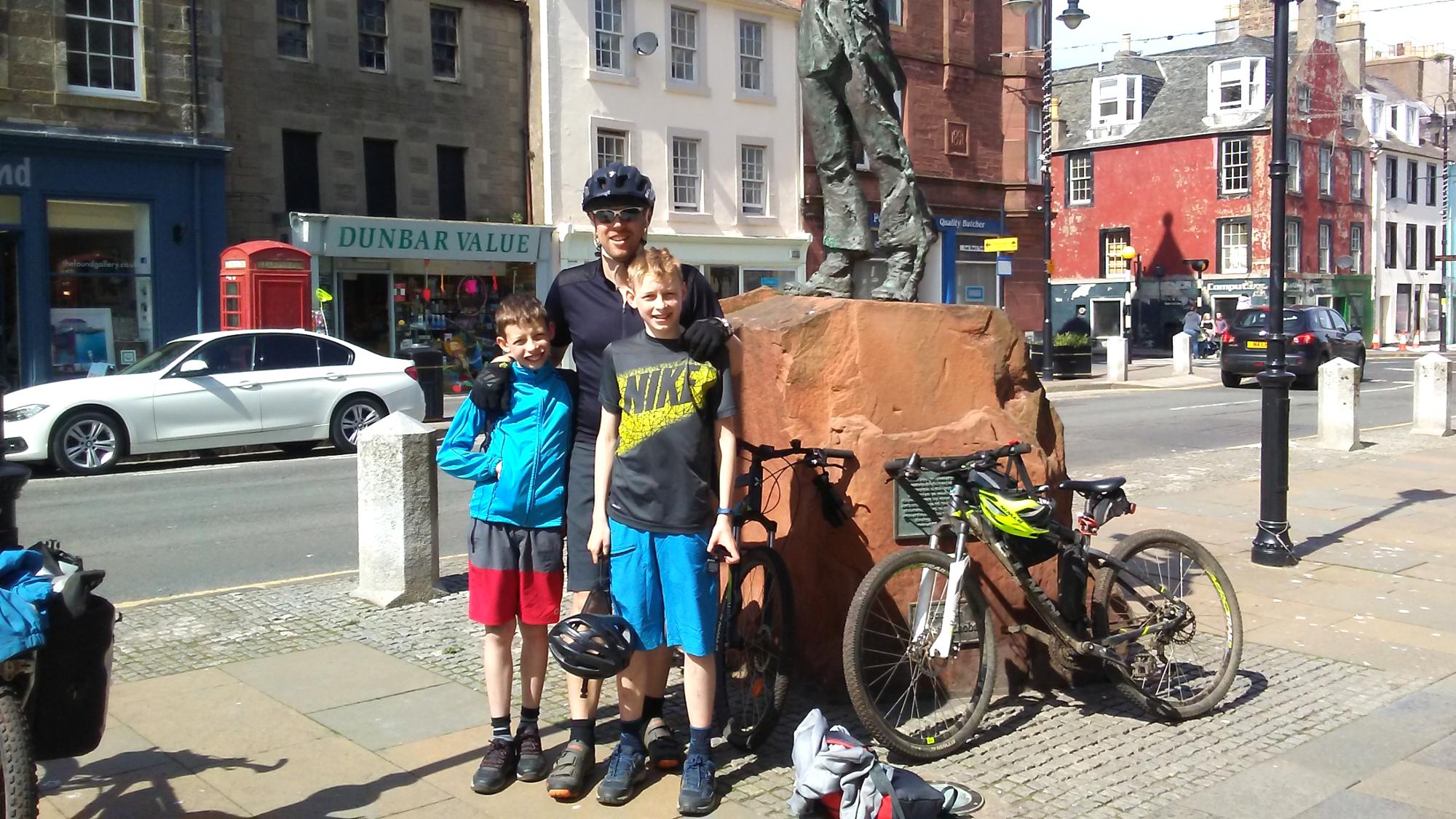 We had all done it. We all started togther and we proudly finished it together. Of all the rides I have done, this was just so rewarding and enjoyable that it matches any of the others. Not in distance, but the sheer fun of riding with my two lads through our beautiful and varied Scottish countryside was incredible. It was such a long-shot, with three people to take care of and three bikes to keep going, that it often seemed like it was just too difficult. But nobody seriously had the measure of my two sons, they have some serious grit and will keep on going. Provided there is a ready supply of gummy sweets!
Time to find a coffee shop and savour the moment.