Highland Trail 550 2023
Cycling the HT550 was one of the greatest bikepacking adventures of my life. The landscape, the weather, the sheer technical difficulty and meeting all the other riders made it a privilege to take part be. Unusually for me, I completed it in on my first attempt, in just over 5 and a half days.
Posted: Tue 24 Oct, 2023, 15:54
On a training loop during the winter months in the Kilpatrick hills behind my home in Glasgow, I would reach the high point on a snowy trail from where I could look north to Loch Lomond. Just beyond this was Tyndrum, where my HT550 adventure would begin. Beginning in the Western Highlands which I knew fairly well, the route would take me far to the north of the Great Glen and into unfamiliar territory. The HT550 with its legendary technical difficulty and remoteness would be a significant challenge. These events take huge commitment in themselves, but coupled with normal middle-aged life which never lets up, finding the time and energy to prepare adds an extra obstacle. As such, each event is now a privilege that I never take for granted.
The final experience revealed Scotland in all its wild and desolate grandeur, through an utterly immersive & slow-motion experience that only endurance bikepacking allows. From huge glens tracking north of the Great Glen, to the quaint coastal idyll around Clachtoll to the unspoilt expanse of Fisherfield, the diversity of landscape was just overwhelming. Together with the opportunity to meet fellow riders, often only briefly yet always with a deep connection, and a spell of fine weather that lasted the whole time, it felt like a once in a lifetime experience and my lasting emotion is just one of gratefulness.
The video of my adventure is also now available.
Prelude
Day 1: Tyndrum to Fort Augustus
Day 2: Fort Augustus to Achness
Day 3: Achness to Suilven
Day 4: Suilven to Fionn Loch
Day 5: Fionn Loch to Glen Affric
Day 6: Glen Affric to Tyndrum

Prelude
One minute I was a work-from-home desk-worker, typing away at a screen for eight hours a day and then I closed the door to my house behind me and set off down the hill towards the city centre on my bike. By the end of the day I would be in Tyndrum and fully transformed into an ultra-endurance bikepacker. The sheer absurdity of the concept fully dawned on me as I people-watched at Queens Street Station waiting for my train. I belonged with everyone here, with the workers and the shoppers, so it felt joyfully audacious to be subverting expectations. The platform was announced and I wheeled the bike up to my carriage and hung it in the allotted bike hook, beside another faster, lighter and more compact bikepacking rig. The owner was Emily, who did not object as I took a seat opposite her on the train north. A fellow HT550 rider, she was as excited as me for what lay ahead.
As we chatted, it transpired that she had trained extensively and even had a chance to recce one of the longer sections. She described a strap she had to allow her to carry the bike up steep sections, which alarmed me slightly. Both the fact that the route could be this extreme and also that she could actually carry her bike. I saw her briefly at the group start and then never again, her infectious enthusiasm and preparation was obviously matched by her performance on the route which she completed in a stunning time. The train drew in at our stop and we piled off with all our kit. My accommodation for the night was the self-imposed austerity of my tent at the local campsite. A night outside would help me acclimatise, give me a last minute kit check and allow me some headspace to mentally prepare for the challenge ahead. After pitching the tent and a few final checks, I climbed in and listened as the bustle of the campsite gradually subsided. The natural tranquillity had the desired effect on my anxious pre-ride state and I slept through.
Day 1 - Tyndrum to Fort Augustus
After packing the bike, I trundled down to the pre-ride breakfast at the legendary Real Food Cafe for a pre-start coffee and a chat with everyone else. The buzz and excitement grew and more and more riders accumulated, everything from hopeful entrants like myself to rock start demi-gods of the scene. Between coffees and morning rolls, we all shared our back-stories and goals and lessons from previous efforts. I briefly met Rob, a returning veteran of many years, who I would meet again much later on. After the obligatory photo, we slowly made our way up to the start. I found a slot probably too near the front and waited for 8:30am. Alan counted us down and we were away. Months of anticipation for this moment, it felt pretty special.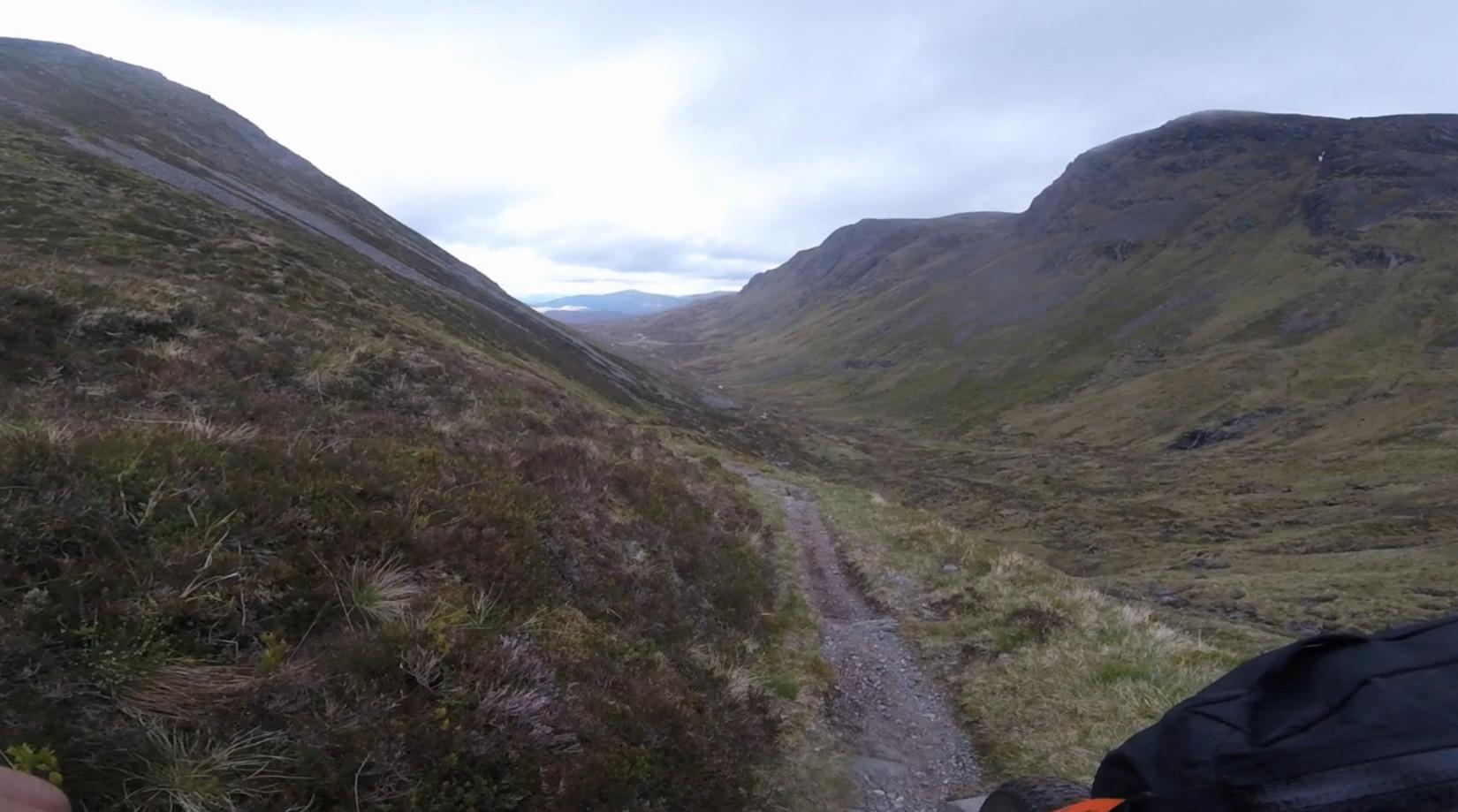 My goal for the day was to preserve my back (which was niggling), keep my heart-rate out of the red-zone and slowly ease myself into the ride. Whilst we were all bunched together I enjoyed chatting to Dave who was a last-minute entrant and Kylie who seemed completely over-packed, and yet would go all the way to the end. We stretched out, riding fast with a strong following wind, finally to Loch Ericht, as I later found out it was named. Stretching away to the north east it was an unassuming gem which glistened deep blue in the emerging sunlight. The route climbed up through the Ben Alder range, on a rideable path up into a high corrie which converges with another before steering round to the north and descending. Once down to the bothy I sat down in the heather and looked back, the Ben Alder range was magnificent, with watery sunlight slanting through scudding clouds and I promised myself a return visit another day.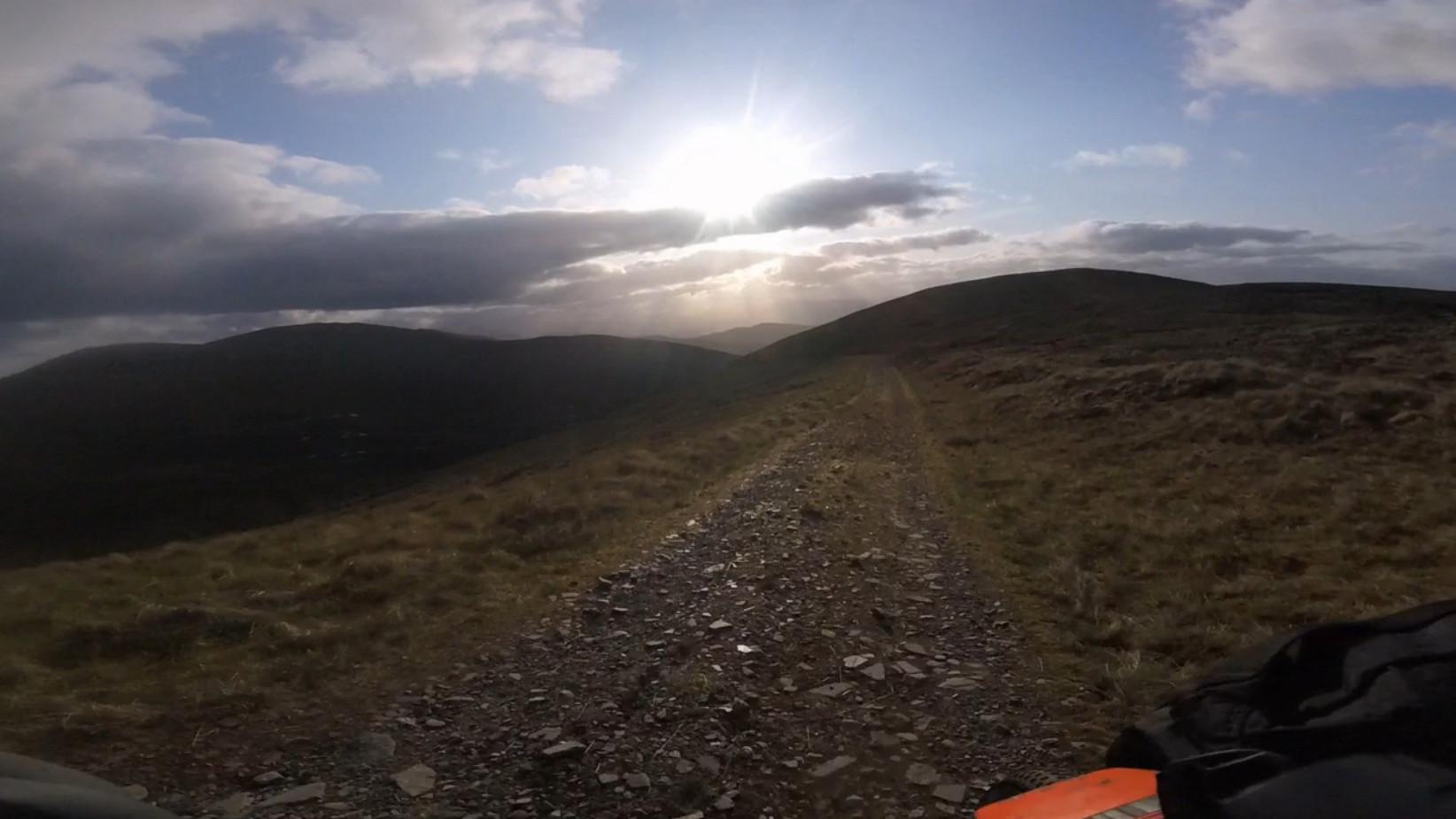 We then traversed some lower-lying ground, drifting onto roads and back into the wind. For a while in the mid-afternoon my motivation drained and my speed dropped accordingly. I passed two spectators, pitched up with a tent, who were offering riders a dram. I declined given I was going slowly enough. Two other riders caught me as we began the climb over the Corrieyairack Pass, which steepens gradually until a sequence of zed bends before easing off at the summit. At the summit the diffuse evening sun silhouetted a rider ahead of me as they rolled over the summit, which I soon reached and then descended rapidly down towards Fort Augustus.
No shops were open in Fort Augustus but there was a small cafe where I ordered dinner and caught up with other riders. The midges were out so I was glad to be inside for this refuel. It was 8pm and I did not think I had much riding left in me, so I ate up as quickly as possible and headed back before I lost all motivation. High up above Invermoriston I veered off the main forest track to an open grassy patch and pitched for the night.
Day 2 - Fort Augustus to Achness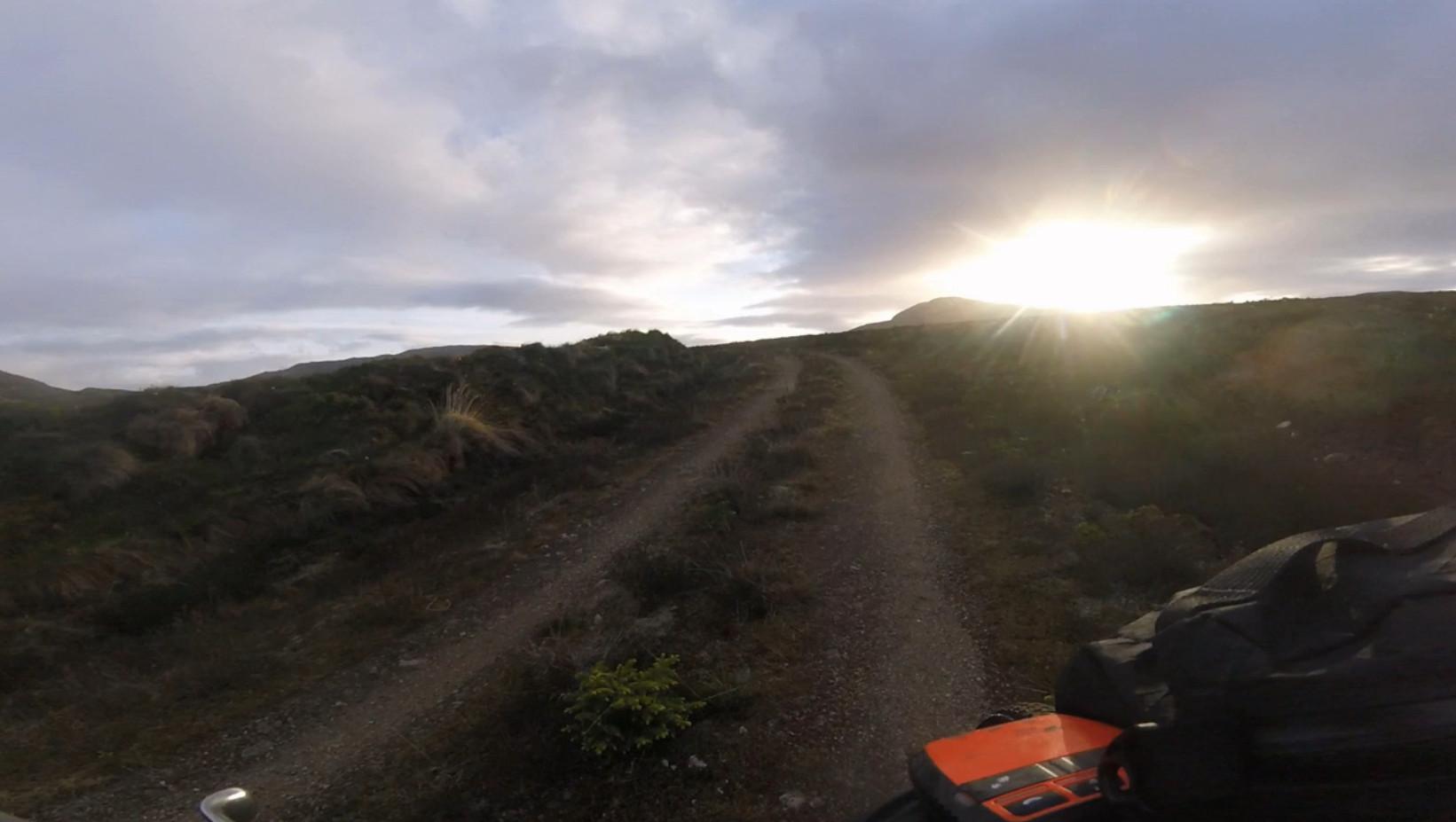 I set the alarm early and got my stove on for breakfast around 4am. This felt like it was going to be a good day. Well into the ride, all new ground, weather holding, north of the Great Glen now and my back was no worse, maybe even slightly better. Before long I was back in the saddle and working up a sweat, skirting the rocky shore of a loch which was the limit of my technical abilities. As I worked my way towards Loch Orrin, a rider came by, it was Isla on her singlespeed. Before long she was gone but we would do tag-team all morning. At Loch Orin a photographer who was doing a piece about the female riders took shots of her as she passed. The goal for now was Contin, which soon arrived, and would be the last big refuel point for 150 miles or so.. The stores were not quite as good as I had hoped, and staffed by a teenager who seemed very bored of all these biker types. Isla rolled in as I sat in the shade outside slowly eating my rolls and whilst she bought supplies I had time to carefully examine her bike. It was a very refined machine, not an off-the-shelf lumbering beast like mine, but an exquisite custom build with only the very finest kit and gear. When she emerged with an armload of food I said this to her and she said she had built it a month earlier. As in, built the frame and everything, herself. That stunned me into an appreciative silence, only later did I realise she was a master bike builder who started the legendary Islabikes.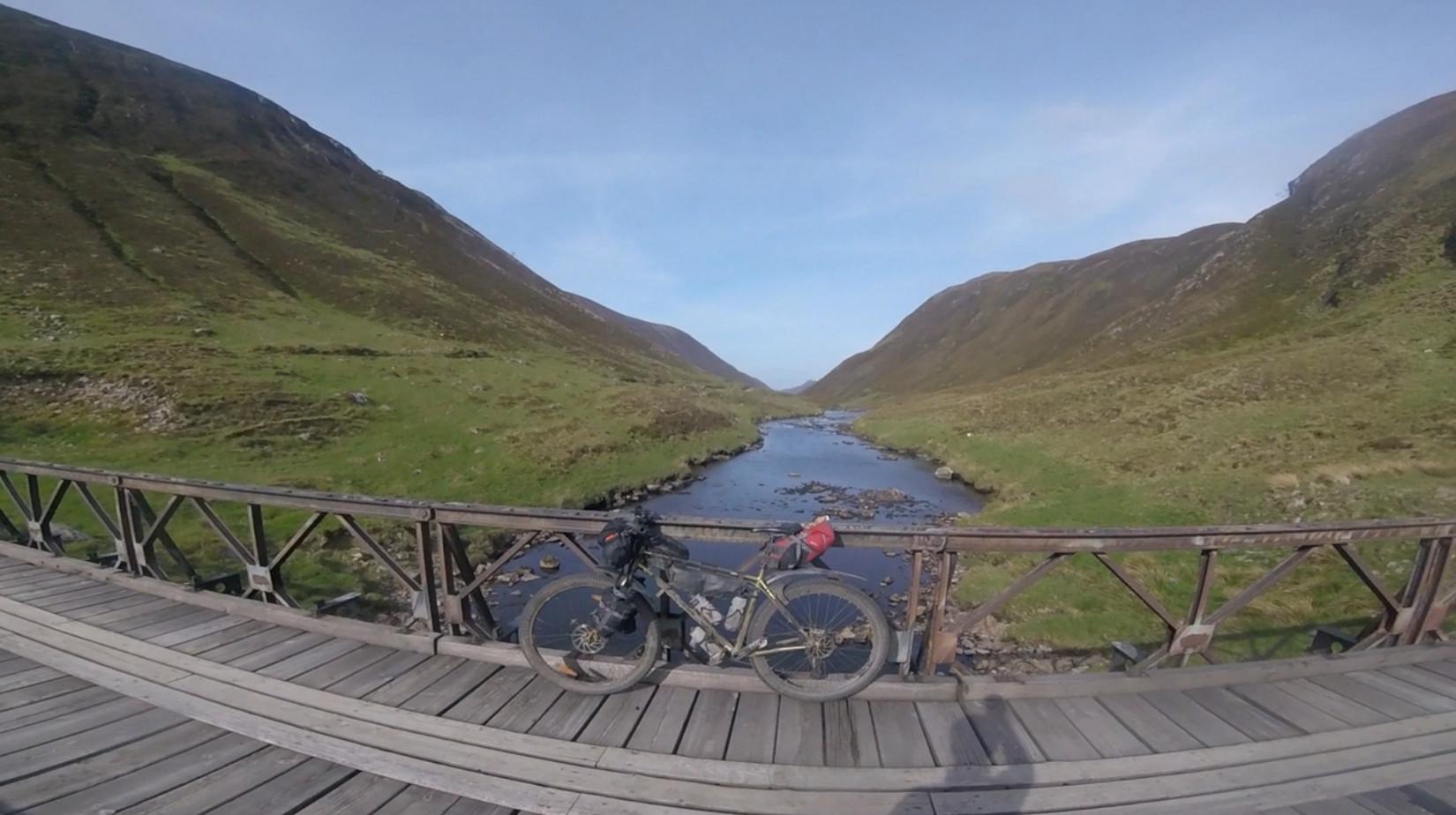 Fueled up on a bike now overflowing with supplies, I left Contin and continued northwards, through every variety of glen. The must sublime was towards the old Deanich hunting lodge on the edge of the Alladale Wilderness Reserve, which seemed so vast and yet I had it to myself, the light late afternoon light had me stopping continuously to soak in the splendour of it all. There was still a long way to go though, via the switch back at Oykel Bridge and then to Achness Hotel, which was fully staffed and serving what food they had left to hungry bikers. I had a brilliant chat with the manager who was bemoaning the low water in the rivers for the fly fishing. I just drank water and juice, as I was not hungry. Other riders drifted in but I pushed out in the darkening light and rode up the River Cassley as far and as fast as I could, before dropping off the path and pitching up just as darkness fell.
Day 3 - Achness to Suilven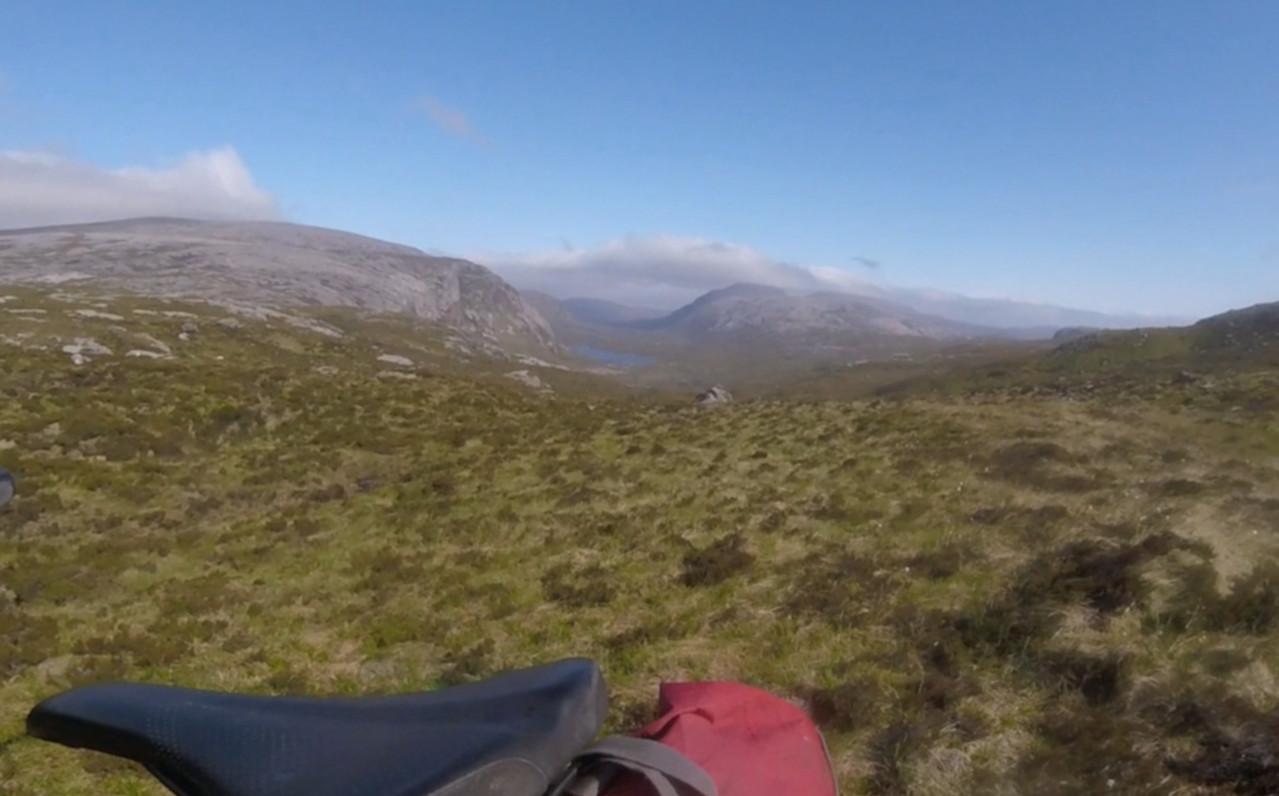 I slept well again despite the extreme confinement of my Rab RidgeRaider tent, its narrowness preventing any sleeping position except lying flat on my front or back. In a pleasing quick time I was up, fed, packed up and pushing back out on the road. Now my back really was better, no niggles at all. I was delighted with how far I had come in two days with 220 miles clocked off. Ahead of me now were the mist covered flanks of Ben More Assynt, and I had the feeling today was going to be a memorable one. Mercifully on road for now, the route dropped back down to and around the top of Loch Shin, with salmon hatcheries floating in this deep cold fresh water. Around every corner was a new, immense corrie or glen, each more breathtaking than the last. Finally we left the road on a good track to the most northerly point on the HT550. In the still early morning glow, I could see Ben Hope majestically alone to the north, with the classic whale-back profile so common to Sutherland mountains. Gradually the route rounded to the west and then south. It was such a huge mental lift to know I was, in the vaguest sense, heading home now.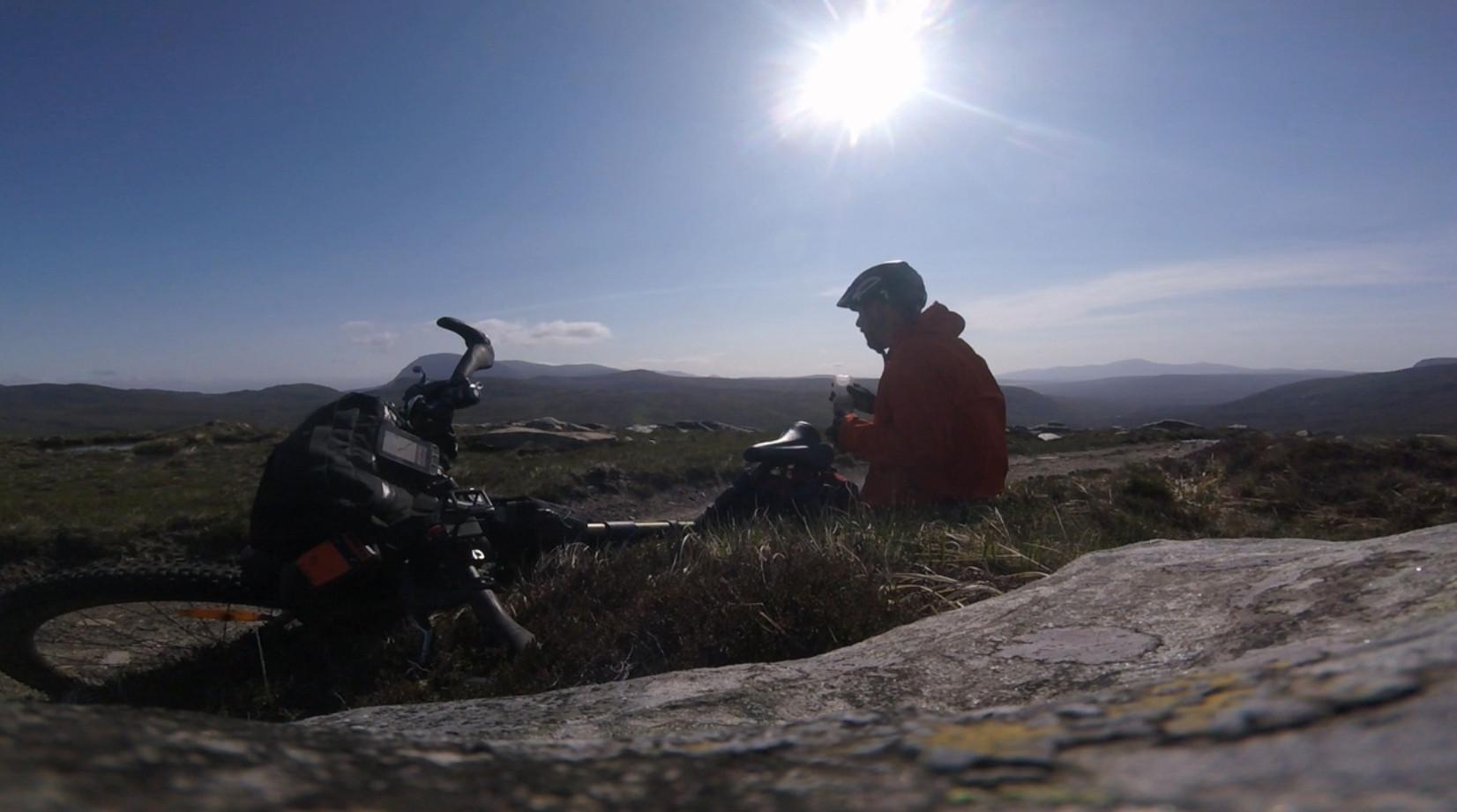 The experience of riding through this section of the Sutherland mountains was so hard and yet so utterly entrancing. On high ground now, the wind was blowing hard bringing a distinct chill, which was offset by the strong sun which was beating down. The trail deteriorated into just a path which would switch from boggy ground to a decent path, requiring continual hops on and off. The most memorable view was just before the huge decent down to An Dubh-loch, to my right was a massive, curved, pale stone slab that looked as though it was in Yosemite. I felt very alone in the wilderness and so privileged to be there. In the bealach down at the level of the loch I took out my tent and sleeping bag to dry them, laying back to soak up the moment. Then for the energy sapping push right the way back up several hundred feet of pure climbing to the high ground again.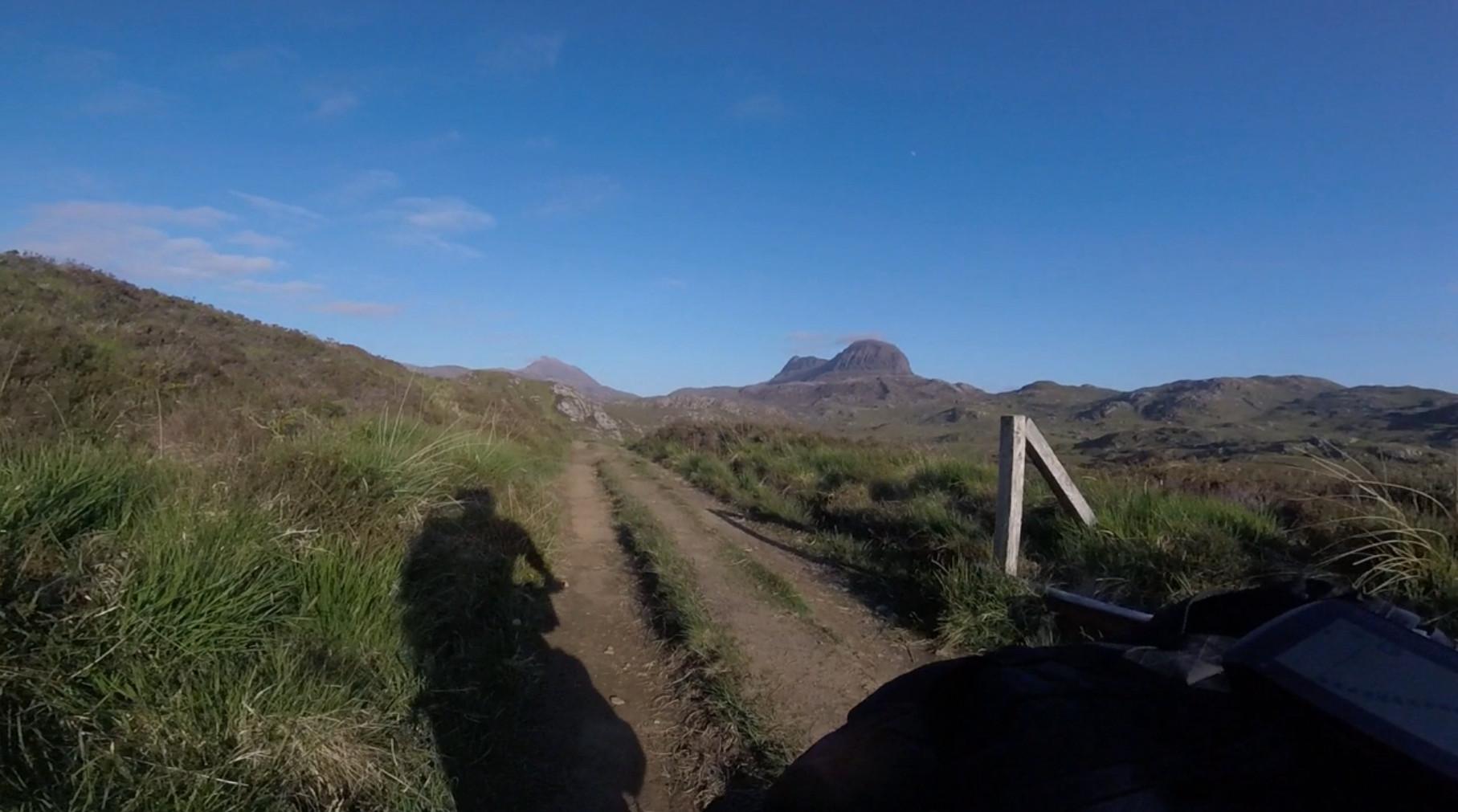 The next part of the day from Achfarry onwards could not have been more different. I enjoyed a slow motion, unrushed pitstop at a Kylesku cafe. I ate well but not too much and then pushed on for the Drumbeg stores. The landscape around here is utterly charming, twisty roads back from the shore, with ferns and shaded wooded areas and many beautiful old houses. The wind had died and it was a lot of up and down until I reached the stores. Here I met Jade for the first time and her friend Cat. Jade was riding a steel bike like mine, and was returning veteran from the previous year, back to do a quicker time. She was more aware of the front-runners and she gave me an update. The stores were excellent and we all ate in the sun outside, interrupted once by a local who went flying by on a huge front-loading tipper and shouted some encouragement up to us. After eating as much delicious food as I could, I packed the rest I pushed on. The road continued around the coast, with endless sandy inlets and beaches. I tried to shower at Clachtoll campsite but was firmly advised that would not be possible. Passing straight through Lochinver I ended the day pushing back along Suilven in the darkening evening that seemed to go on forever, turning Suilven every shade of amber and then bronze until the sun finally set. I pitched up at Lochan Fada, with no desire to continue any further that night. Climbing into the tent the skin on my calves were very sore, I had extremely bad sunburn from the final section where I never changed direction for 10 miles and the sun behind me the whole time.
Day 4 - Suilven to Fionn Loch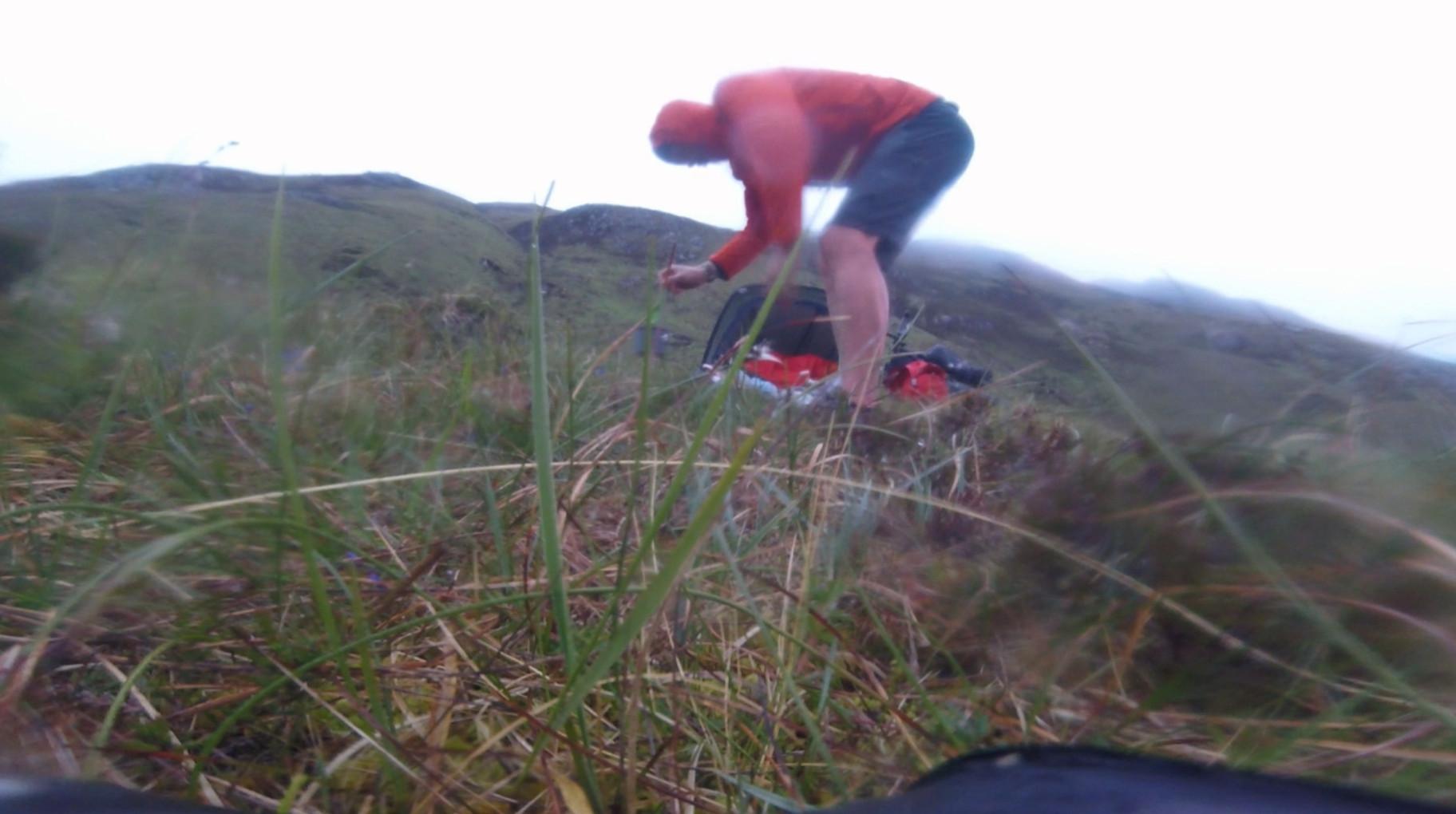 I stood on the wet grass in the morning half light gazing down the full length of the loch, mist down low, eating my last pack of noodles for breakfast. Everything had reduced and simplified now to just the here and now, with no energy for anything else. Hot or cold, wet or dry, hungry or energised, those were my only concerns. I packed up and hustled out of there onto very bad ground indeed, riding a loaded bike on jumbly moving rocks is beyond me. Jade and Cat had pushed on past me in the evening and I caught them due to my early start. Thankfully the ground eased at Cam Loch and then gave way to a very welcome stint on an A-road all the way back down to Oykel Bridge, an intersection with the northern route from a day before.
Now we headed due west over a climbing double-track in brightening weather. Met a guy navigating the fairly rough ground on a touring bike and envied his slow pace. Also passed a threesome who were touring (ie. for fun!) the HT550 over as many weeks as it took them. Clearly all capable but not doing it at race speed, an American couple and a Greek guy, they were a fascinating group and I could have talked to them for longer. The glen began to drop until it flattened completely for the run all the way into Ullapool.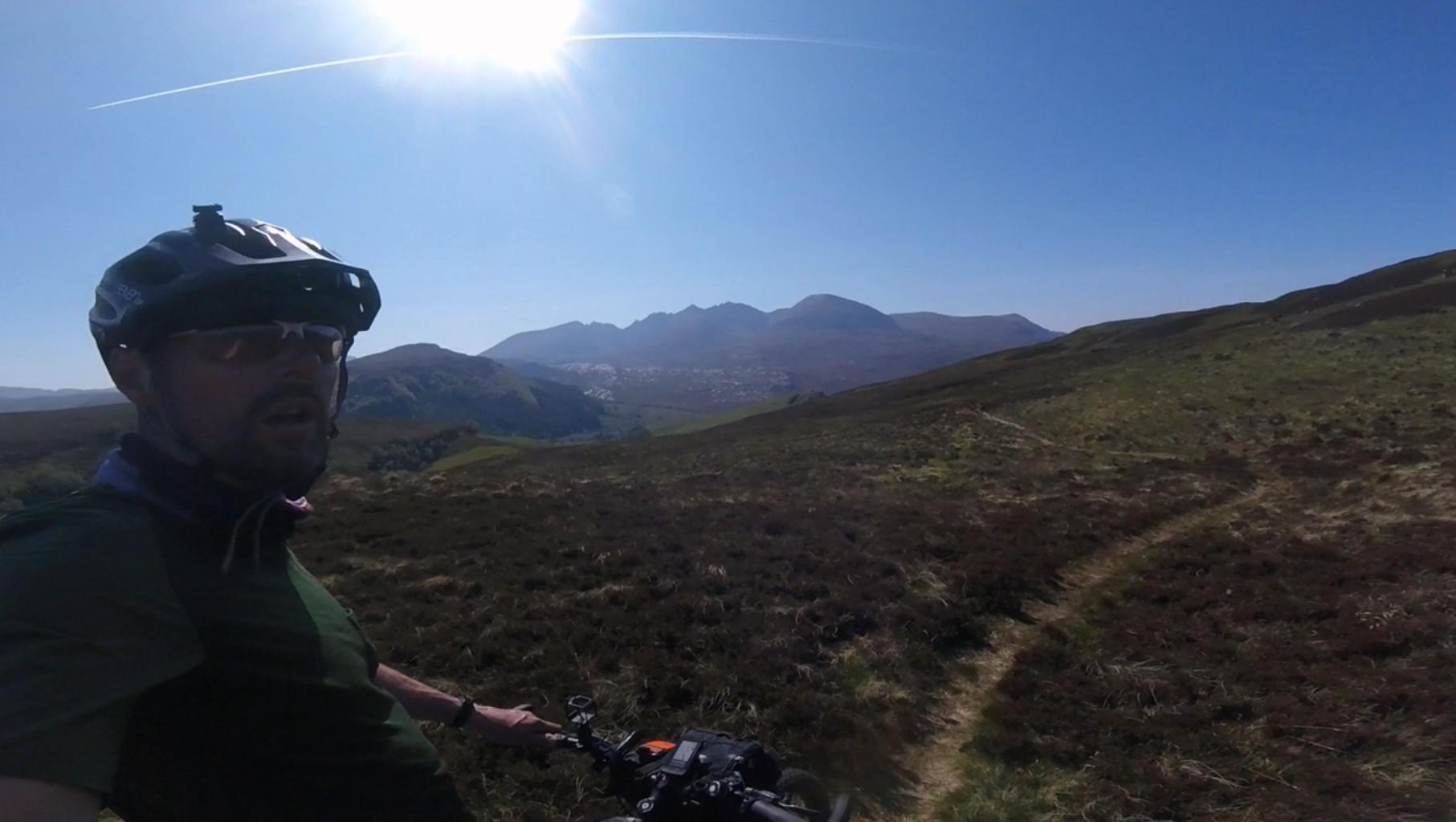 My Ullapool pitstop was my best of any expedition. The fine women of Jojo Cafe served me the most incredible stream of vegetarian food, soup, fresh salads, coffee, cakes, all sat in the shade outside with no rush. I packed more food to take away. Also bought brake cables over the road to replace the one I snapped (currently botched with a gear cable). Then I mozied over to the public toilets only to discover a shower. I rolled my bike right in and then enjoyed a wonderful shower using some shampoo left by the previous user. One final stop at the garage to fill every water bottle. As I powered out of Ullapool with the sun blazing, completely clean, totally refuelled and bound for Fisherfield I had a feeling of utter euphoria. The perfection of the moment was just too much, the positivity overwhelming, I will ever forget that feeling.
Fisherfield surpassed expectations. The climb up the Coffin Path to a high plateau, just a steady push with mountains all around. My heart rate was slow and steady and never in the red, my fitness finally where it should be. Then down to the Dundonnel River and back up, below the silvery rock slabs that flank An Teallach, exposed granite breaching the carpet of heather sparkling in the sun. Then across another plateau and down to the bothies before Loch na Sealga, and for the wade through the shallow river outlet. The late afternoon sun created a blinding white reflection on the loch itself and I was transfixed by the magnificence of the situation. But the best was still to come. The route wound up a glen, pushing up a path to a high lochan, only to push up another crazy steep footpath to a higher plateau which ran fairly level to a dramatic narrow cleft before a rideable and exhilarating drop right back down to sea level. The evening light, the mountain colours, the complete stillness, the cloudless sky and the sun, dropping down and down to a red ball over the sea to the west.
I will never forget the ride that evening, riding through the landscape, at that time of day, in that weather, completely immersed in the surroundings and your present experience. This is why I love bikepacking. I pushed on until it was past dark and then pitched up by a small loch with stags nearby.
Day 5 - Fionn Loch to Glen Affric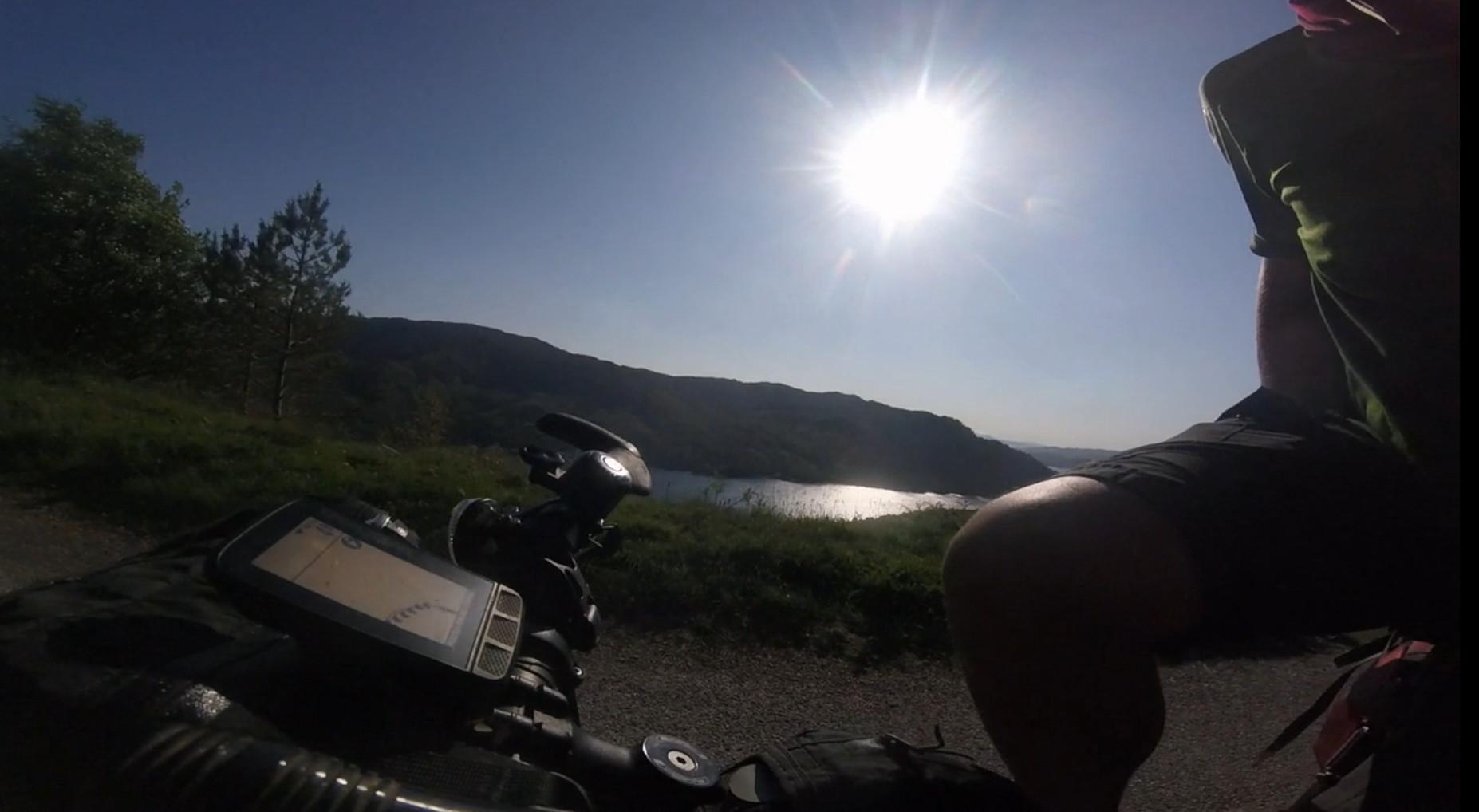 Another early start, gradually rediscover my biking skills on the run down to Poolewe, through ferocious swarms of midges, no stopping here. Loch Maree was familiar to me, but today looked quite grey in the early morning, the mist completely obscuring Slioch at the end. The Tolley Path along the southern shore was a nightmare, just about rideable to attempt but then so easy to come a cropper, I dont imagine anyone enjoyed it. Finally it ended and back on a fast A-road all the way down to the unexpected gem of Kinlochewe Service Station, a family run endeavour that is everything. A social hub (the owner knew everyone who came in), food store, petrol station and fantastic cafe. Rob rolled in shortly after me and we had one of those bikepacking communions over breakfast, discussing everything. A regular veteran to the route, I listened to his stories of previous attempts, the backstory on Alan and other riders. It was great to speak to someone at a similar stage in their life experience, who understood the challenges of juggling everything. I only wished we could have got a few pints.
Well fed, I headed back out ahead of Rob and up into the Torridon mountains, the sun breaking through. As I pushed up to the top of the path Rob passed me before descending an extremely challenging trail, during which he disappeared out of sight on this full suspension rig while I stepped and stumbled my way down. Reaching the bottom, at the wonderfully remote Achnashellach train station, and then it was on to Loch Carron before one final up and down to the next glen and the shores of Loch Long, winding round on the road all the way to Dornie. The iconic Eilean Donan Castle was looking just breathtaking in the bright glare of the afternoon sun, with motorbikes, caravans and cars flying past it on the way to Skye. Food options were very limited and I needed to resupply, but had no choice to just top up on drinks and then tackle the 10% gradient out of town, thankfully quiet in terms of traffic but extremely steep. The road rejoined the main road after five miles and like a mirage - a Jet garage. I wandered in, bought everything I could eat or carry and had a brilliant chat with the lady who worked there. She had witnessed a huge rebound in tourism traffic, although we bemoaned the curse of the midge. I stood outside and ate ice cream and yoghurt or what felt like an age but no riders passed me.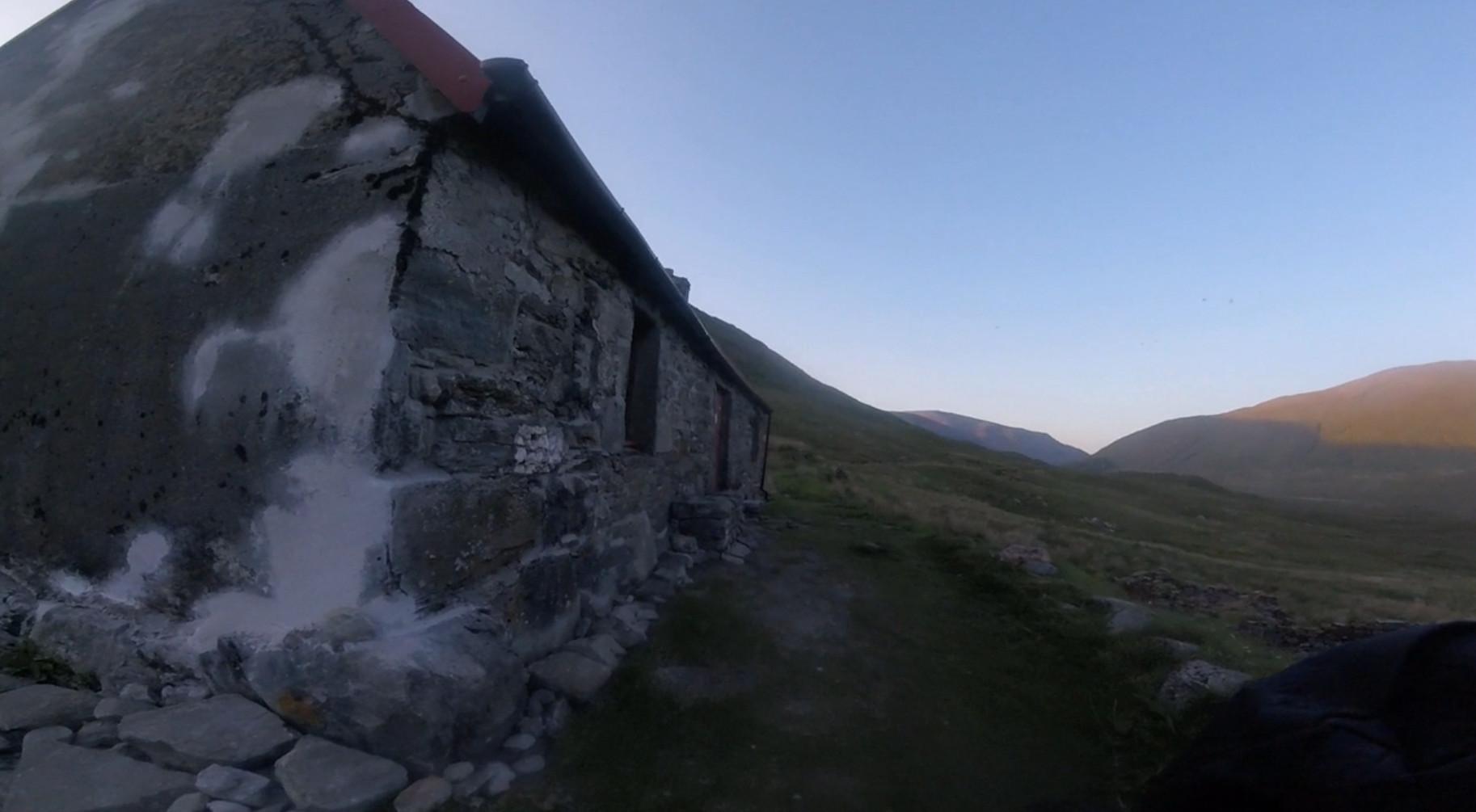 In the late afternoon sunlight I cycled down Loch Duich until turning off at Morvich and rode up the flat bottomed glen which was the start of The Affric Kintail Way. The sides of the glen steepened and the path began to climb until I was pushing. Up ahead I spied Rob doing the same. The path then came to a high waterfall which fell into a deep steep-sided gorge, up which the path corkscrewed. The noise of the water echoed around and I shouted up to Rob but we had to resort to hand signals. The path was very sketchy for walking, never mind pushing a heavy bike up and I proceeded with care until it topped out onto flattening ground. Riding through the tranquillity of the wide glen in the evening was magical. Eventually the Camban bothy appeared and I was so tempted to stay as the light was going, but instead I popped in to see what a bothy was actually like. Rob had done the same to let them know I was a thoroughly decent bloke and they should make room for me, which they did. The main room was dark and quiet, with tiny windows in hefty stone walls, wide bed platforms down one side and the seductive smokiness of a small stove glowing in the hearth. After more than a moments hesitation I politely declined the offer and pushed on.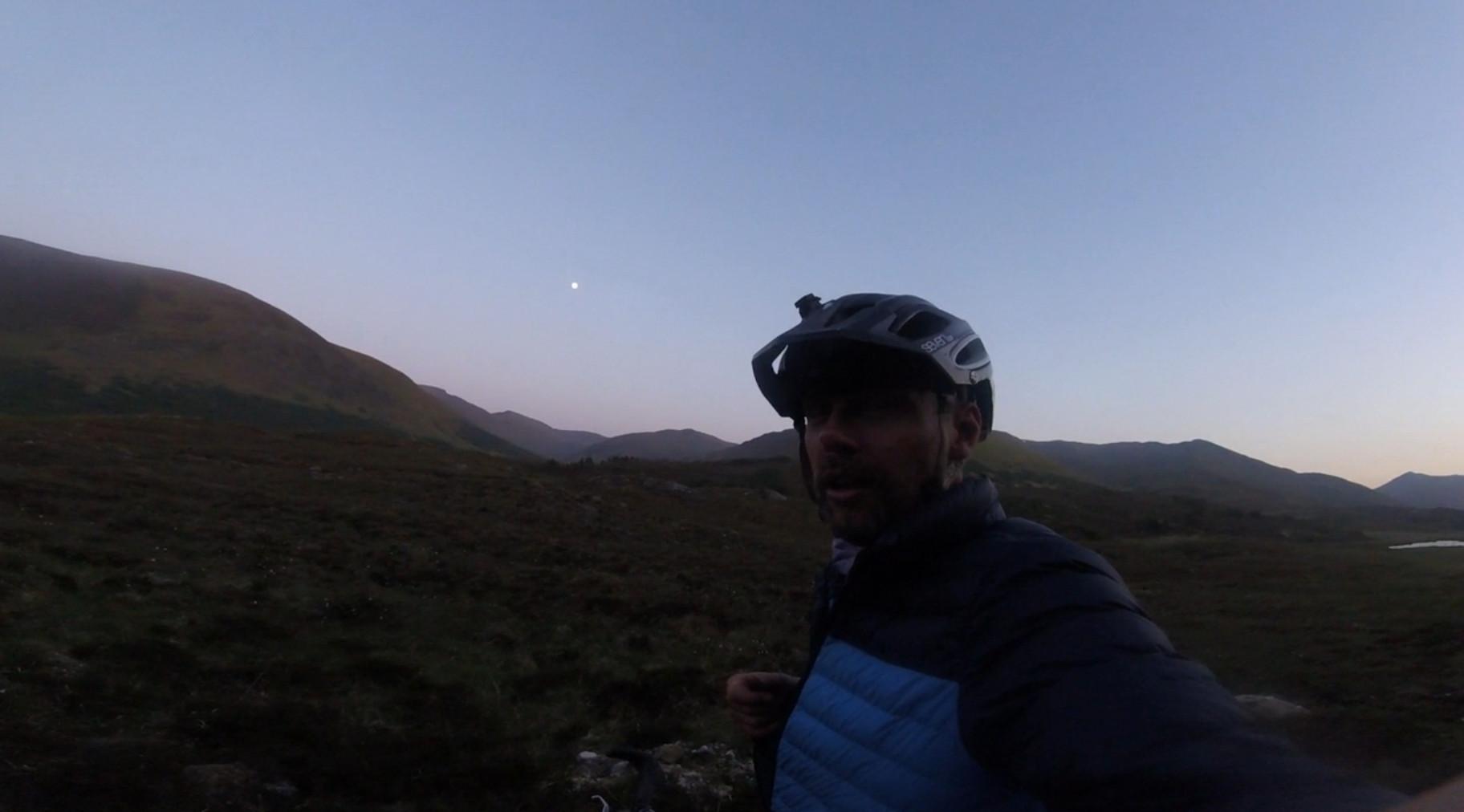 I finally passed Rob who had pitched his extremely comfortably looking tent as another rider dashed past me to reach the Youth Hostel ahead of me. He was delighted to find he had got the last bed and I carried on. After two miles I had a slightly worrying encounter with a young French woman who was heading for the same hostel on her mountain bike with virtually no kit, in the darkening evening, obviously struggling and over-tired. I told her she was almost there but worried for her a bit, she was definitely having an adventure that she would never forget. After all that I reached a cottage where an old guy greeted me in the dark and explained he ran retreats for guests. I then turned the wrong way up a glen (despite my GPS computer) and will be forever grateful that I stopped then for the night. The slight breeze died then and midges appeared from nowhere. I was in the tent in quick time and set my alarm for four hours later.
Day 6 - Glen Affric to Tyndrum
There was slight brightness to the sky as my alarm sounded. I had left the outer zip open and just had the fly net closed. Outside the mesh just centimetres from my face were a mass of midges, attracted from all around by the singular concentration of carbon dioxide from my expiration. I readied myself and then dashed out, making ridiculous continuous circuits of the campsite to keep moving and get everything packed away. No chance for food, I strapped on the final bits to the bike just as the tormenting bites were becoming unignorable.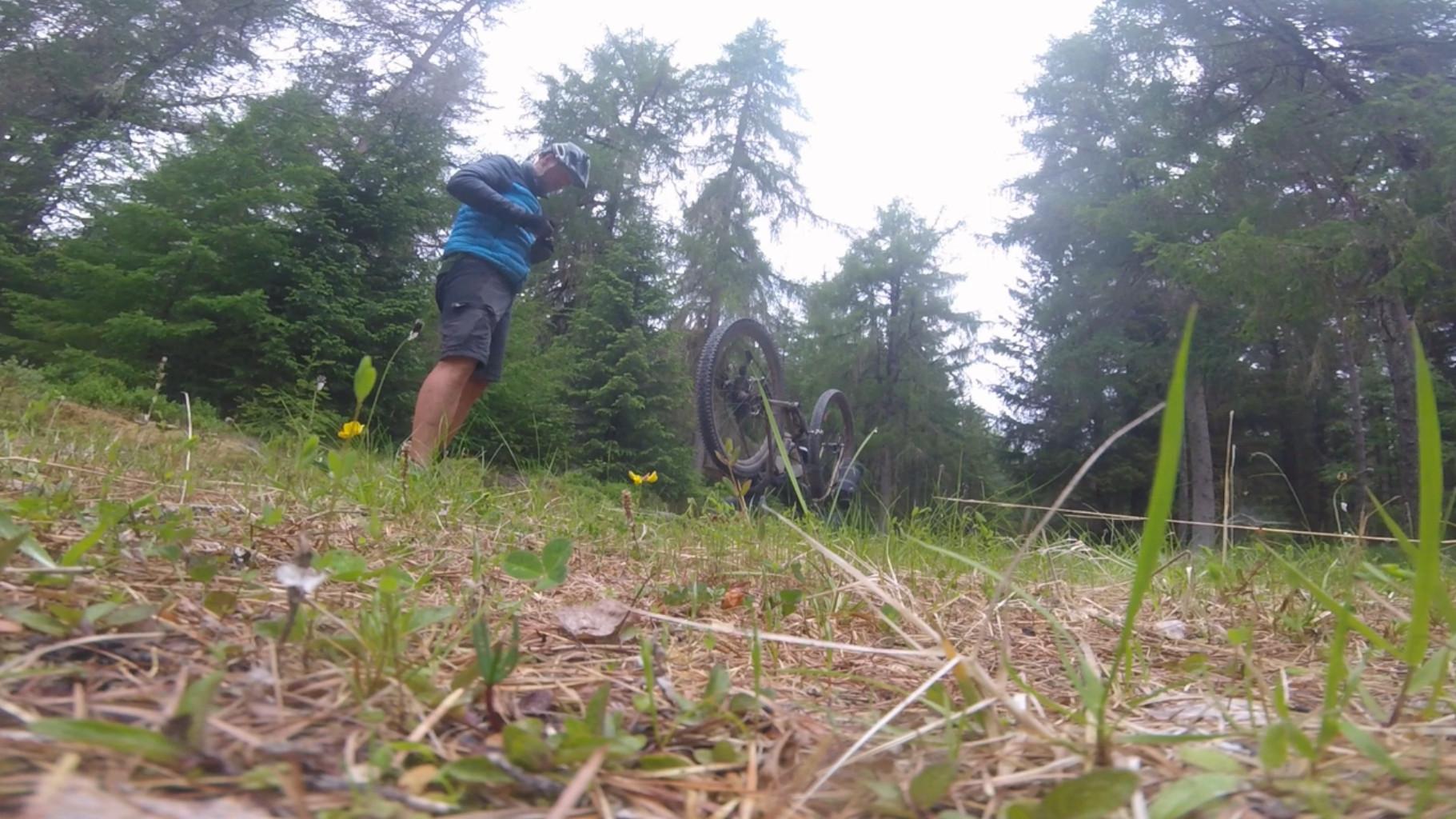 I was relieved to be moving and made good speed along the now wide double-track that skirted Loch Affric. The area is famous for the rewilding efforts and the diversity of trees and habitats were a joy to see. Any temptation to stop however were quickly allayed by the continuing onslaught of midges, which abounded in the warm still air. The landscape became slowly more cultivated and dotted with farmhouses before reaching Tomich, which signified a milestone turn back to the south and more directly for home. On the first proper road since Kintail, I stopped completely then and ate couscous for breakfast. I was moving again before long and felt an odd rubbing from the back wheel. I stopped and realised two of the dropout bolts had worked free on one side and were totally missing, causing the whole wheel to skew to one side. A potentially ride-ending mechanical, but I bodged a fix by taking one of the two remaining on the other side to secure the loose side. Alarmed how nearly my ride had ended, I rode very carefully. Soon Jade appeared ahead, having passed me at some unknown point. We rode for a bit, and I was fascinated to understand how central biking was to her life, because she was so capable, mentally fit and honestly thriving on the hardship. She basically said it was the core of her life, socially, recreationally and she was cycling all the time.
Fort Augustus was a quick stop and then a strong tailwind all the way down the wonderfully named Loch Lochy, which was catching the sun in a blinding glare. Ben Nevis appeared and slowly became clearer and closer as Fort William approached, snow on the highest ground. First to the bike shop for extra dropout screws but unbelievably they did not stock. So the hardware store sufficed for two bolts completely unsuited to a bike, but they did the job. Then wonderful food from a local bakery, consumed slowly and quietly in the shade at the busy square, tourists everywhere. I called ahead to make a final bid to arrange for my wife and boys to meet me at the end, but it was still anyones guess if it would work out.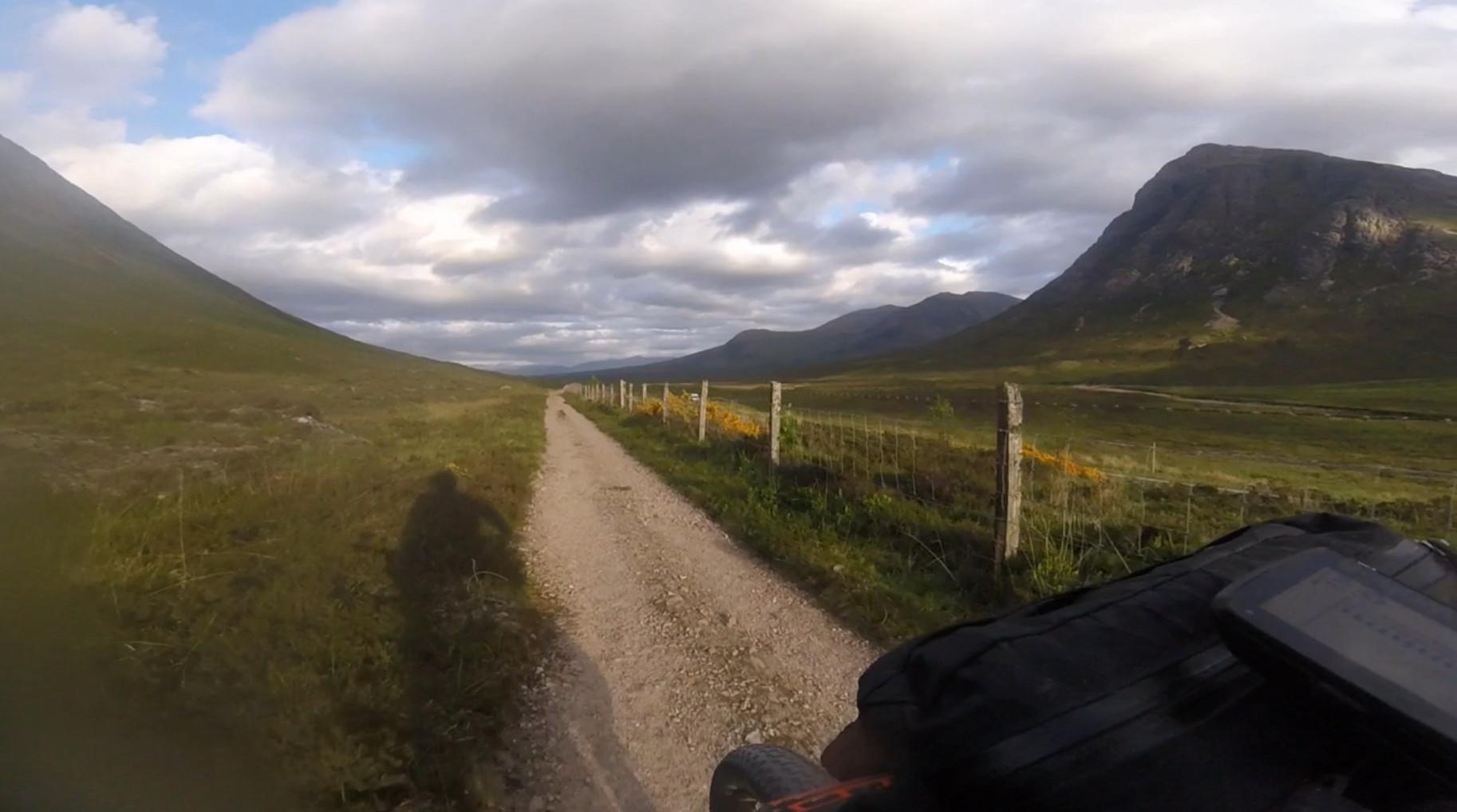 I rode up Glen Nevis on the West Highland Way, against the flow of people in the baking late afternoon heat, the gradient and terrain making me continually wonder if I should get off and push but I rode on. In fact I rode rapid style, fueled by my pitstop all the way to Kinlochleven where I had a final fish supper. Then up the insane push up and up to the Devils Staircase. My descending was improving, with the realisation that the best bike line was not the same as the walking line, making so much more of the route rideable. I didnt stop at Kingshouse or look back, I just rode on out onto Rannoch moor, finally reaching the high point and then a long descent on a track to Inveroran with my freehub screaming for an age as I freewheeled all the way.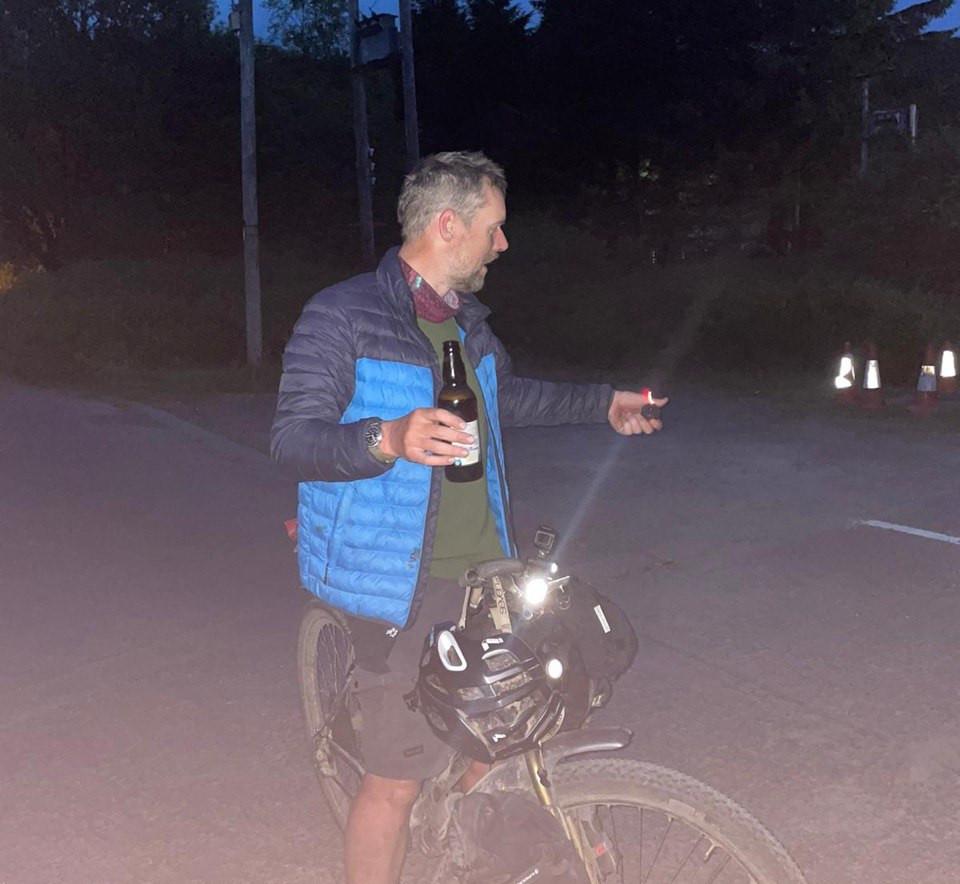 Evening was turning to night, but I could not stop. My vision became impaired, a large white ball appearing whenever a blinked, fence posts and stiles appearing like people in my overtired state. Finally I climbed back up towards the final pass to Tyndrum. This climb was different to all the countless others, this one had someone waiting for me. This one had my life on the other side, which I was now so eager to rejoin. With my front-light on for the first time, I finally rolled down the very same hill it had all started on, passed the actual start point and down to the carpark. I heard Noah shout I can see him and soon Daniel and Jackie appeared to meet me in a moment I had been dreaming of for days but never quite believed would happen. We hugged and they congratulated me and Jackie gave me a beer. My exhausted delirium mixed with elation and gratitude to them to create a sublime completeness within me just then.
When it could not get any better, some of very first finishers (Angus, Carl) appeared from the pub, and we joined them for a few pints, along with Alan himself who came in a couple of hours ahead of me. Both of my sons soaked in the good vibes from these incredible riders, their generosity of spirit, their humbleness and recognised in them the inspiring people they were. From the cold, dark, lonely trail to the liveliness, camaraderie and joyfulness in that pub was a better finish than I ever hoped for.