Hebridean Adventure
An unexpectedly gruelling bikepacking adventure going North to South on the Hebridean Way. 225 miles in total. In two and half days. In bad weather. Carrying all my kit to wild camp. Against the prevailing winds. And against the clock to catch the ferry home.
Posted: Wed 24 Aug, 2016, 09:03
Sailing West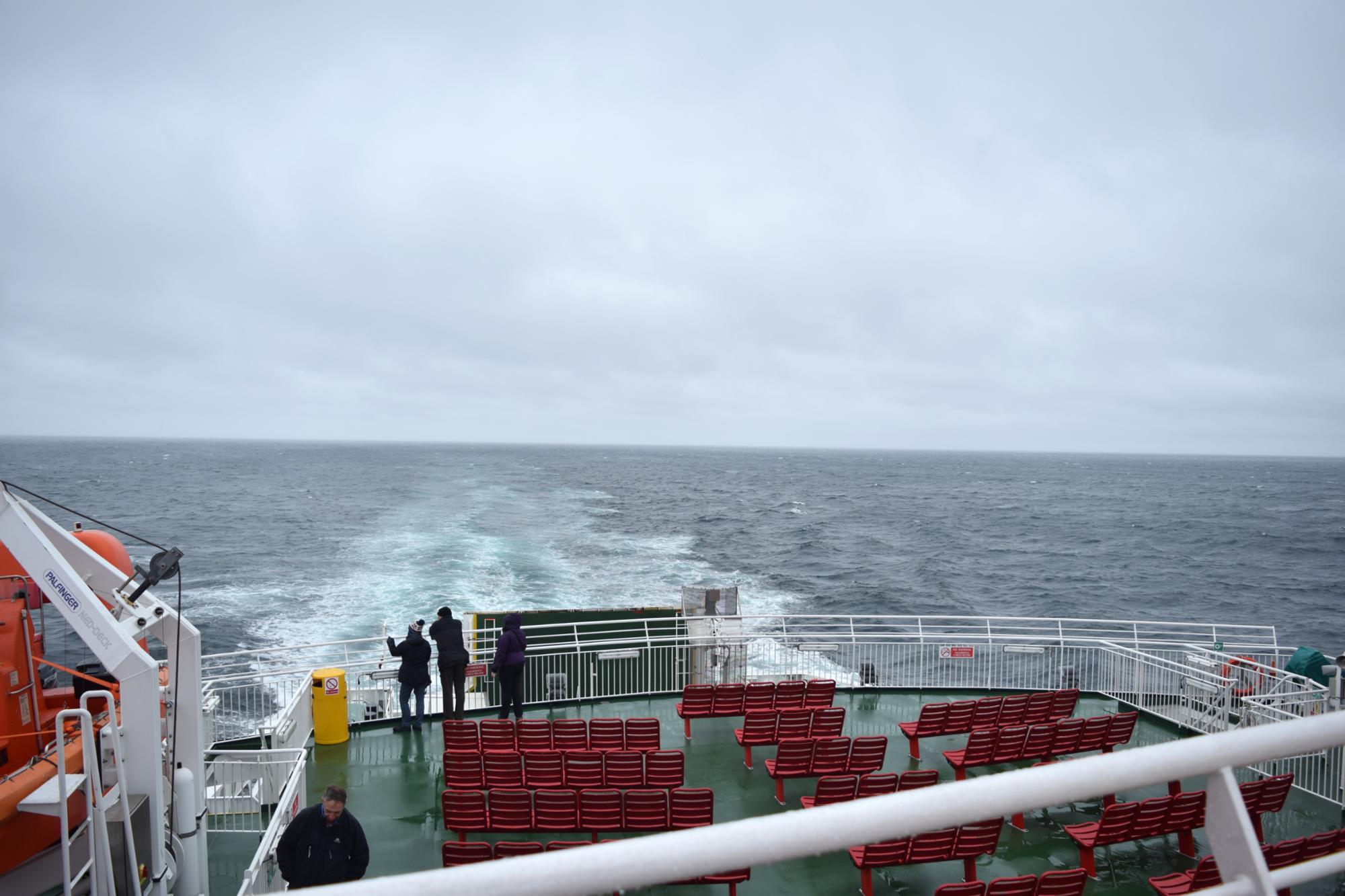 After four days of camping at Gairloch, through a wild storm with 90 mph winds that snapped on pole on our tent (and blew others down), it was time to start the Hebridean Way. As I wrote in a previous blog I was going to ride the fairly new Sustrans 780 route, from north to south over just a few days. My schedule was fairly challenging and rigid, with specific ferry sailings to catch. And so it was that I was frantically discarding items in the boot of the car that I realised I just had no room for (a bowl, a thermarest, a book) and stuffed a couple of items in a polythene bag that I knew I needed but just could not fit in. Would solve that later. I then bid farewell to my family and boarded the 10:30 ferry to Stornoway on an August Wednesday morning, with a whole lot of unknowns ahead of me.
Lewis
The ferry over was a combination of excitement and a bit of dread. I had been planning this trip for months and it often felt like it was not going to happen. But to finally be on the ferry was amazing and whilst most people were sleeping I was pacing around and just counting down until we arrived. My plan (optimistically) was to go to the Stornoway tourist office and see if they had information about the Hebridean Way - and also enquire about an off-road route around the coast from Stornoway to Port of Ness. I keen to explore some of the remoter parts of the island.
We arrived in Stornoway, passed a huge white cruise ship looming through the smir. It was a lively place, busy with a mixture of locals and tourist. Resisting the tempation to explore I headed straight for the tourist information office. The result of my enquiries were both negative, unfortunately. No information on the Hebridean Way. And the off-road "trail" was bearly a bog-path, so not good for mountain bikes. It was early afternoon and time to get going.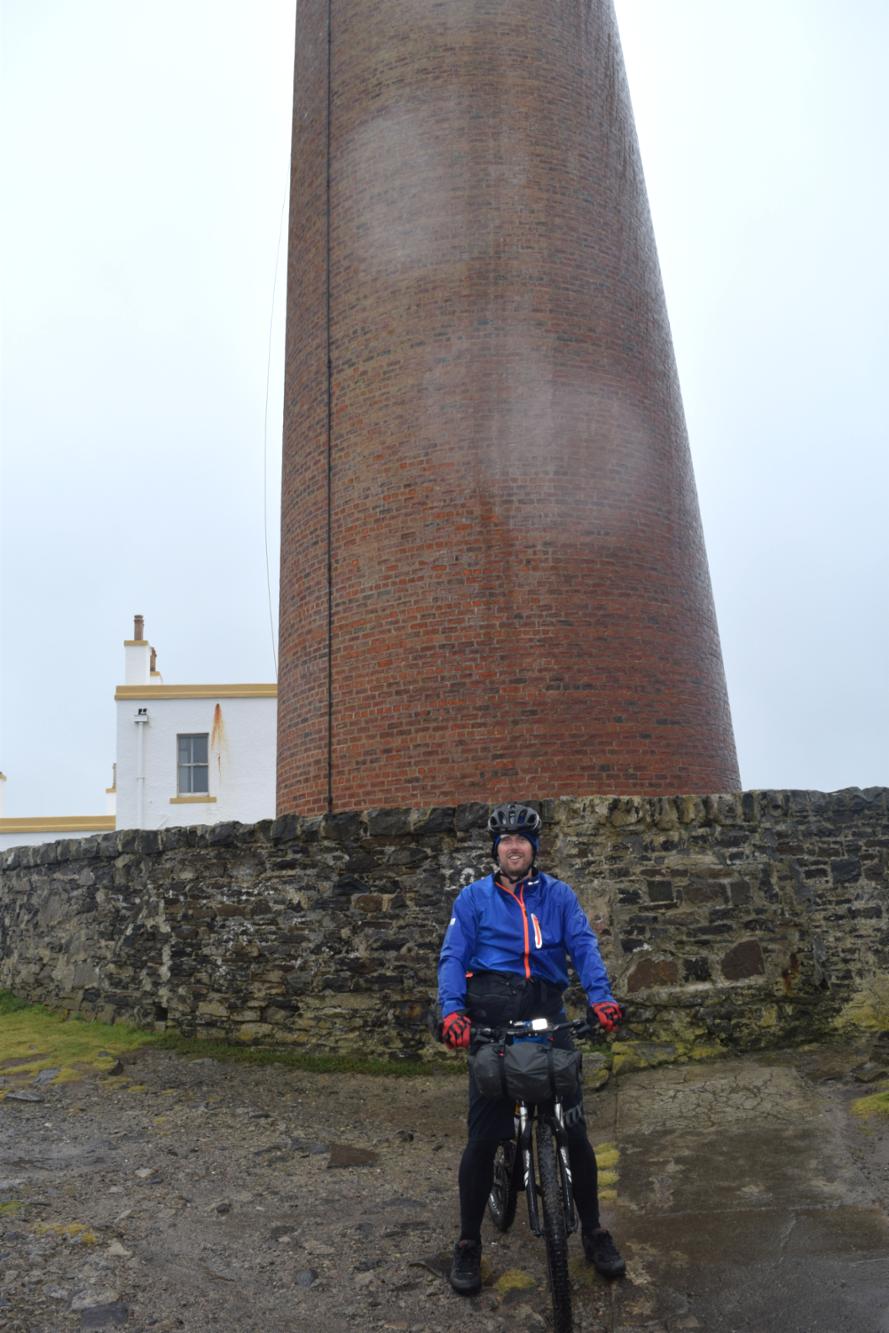 There was a fair bit of heavy traffic on the road west to Barabhas but this soon quietened down after the post-ferry rush. The landscape is really as I was expecting, low visibility, moorland, boggy and virtually nothing for miles around. No trees either. I was mostly pleased to be underway and relieved that my packed bike seemed to be holding together. I realised then that I was going to need to plan my water supply. The water in the rivers was very stained and brown from the peat bogs. Although probably fine to drink, I was basically had to drink it, because I was out of water after a few hours and there were no shops in sight.
After reaching Port of Ness I was still felt quite good and the rain had eased off so I decided to take a coastal path route the final few miles to Port of Ness. This route took me by a surprised crofter ploughing his field and then along an undulating route set back from the shore. I met another lady down there who was looking at a ruined pre-historic stone circle that was clearly visible on the ground. I almost turned back when I saw the drop and climb required to get across a river but thought what the hell and just ploughed on. By the shore there were the more impressively well-kept cemetries. The people of Lewis obviously pride themselves on giving their loved ones the best spots, in the most well tended land, to rest when they pass on.
I had to cross some sand dunes towards the end and was fairly worried about that. I never ever go in sand because nothing is worse for the running gear on a bike. But there was no choice and thankfully the rain quickly washed off everything I could see. The roads were then fairly confusing and I had to dig out my map a few times as I wanted to get to Butt of Lewis soon. I made my way there and was pleased to reach the lighthouse - goal 1 completed! The husband of the lady I had met earlier took my photo there and said he preferred his mode of transport (a Volvo) to mine, which I had to agree with.
It was really windy on the west coast and two things were worrying me. First I did not want to camp in the full force of an Atlantic "breeze" but did not know where else was good to camp. It was a long way in the wrong direction to a beach on the North coast. The second thing was the time. It was 4:45pm and I really wanted to get some milk (my one luxury?) for tea and breakfast. And I needed to get it all sorted quickly as I was soaked to the skin and quickly got very cold whenever I stopped. So I popped into Cafe Sonas (the only cafe) at Ness and the owner kindly offered to sell me milk but said a shop was open on the road until 6pm. I figured the shop would be best so headed back down and eventually found it.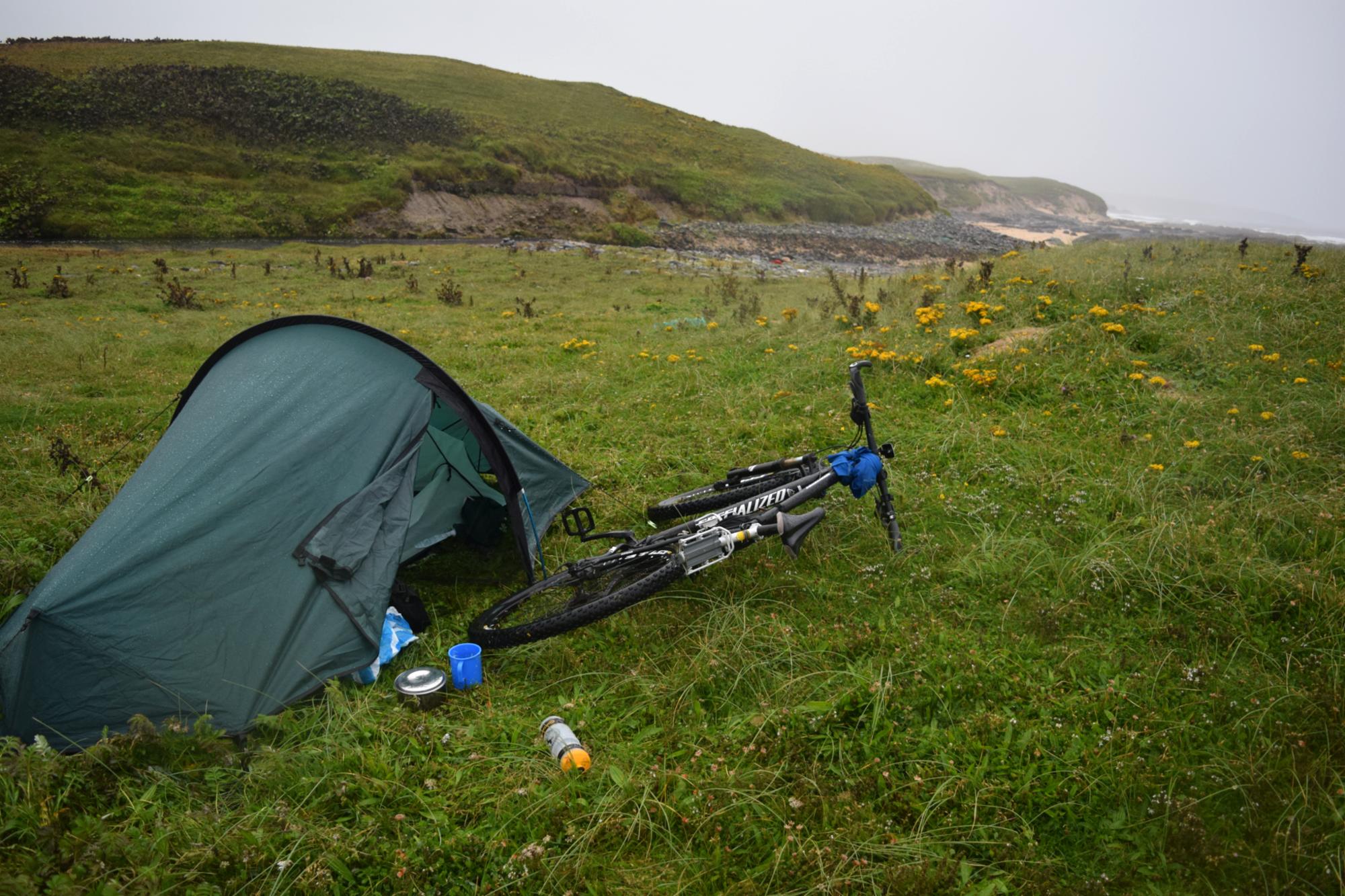 The shop was run by a lady who was serving an elderly gent. It was only the second time in my life that I have heard Gaelic being spoken in everyday life. It is still pretty special. They had a quick chat and the man went away with his bottle of Whyte and Mackay. I got my milk and went back out into the rain. I climbed on my bike and was about to take my chances inland when I looked back to the shore I had cycled across. I decided to go down there, I had seen the ground and I thought I could find a sheltered spot. Althought I was right by the shore and could hear the waves pounding, the small dune just in front of my tent cut out the worst of the wind. I was really shivering as I pitched the tent and was concerned that I had misjudged the weather and my kit.
I filled my water bottle from the very brown stream (why had I not bought some in the shop?!) and got into the tent. Just being protected from the wind was helping. I wanted to get the stove on but was not sure if I trusted it within the tiny tent porch. The stove I have is an MSR one, and it is absolutely lethal when lighting it but amazing once lit. During lighting it is necessary to engulf the entire stove with huge yellow flames to pre-warm it before letting the fuel in properly, when it flares again, before settling down to a steady blue flame that heats up anything very, very quickly. I decided to open the tent up just in case and tried to get it lit. The fuel bottle lid would not open until I levered it with my pen-knife. The flame did the usual burst of yellow and was almost out of control until it finally settled down. Shivering, cold to the core and hungry, I carefully pulled it all back into the tent and zipped up. Then I finally started to warm up and after a few minutes steam was rising off my underlayers.
I then made my food, ate too much and then changed into my one set of dry clothes. When I was in my sleeping back I was warm. Between the waves crashing, the tent snapping in the wind and rain pounding, which was back on again, it was not quiet but I was warm and dry.
The next morning I was awake at 6am. I made my top breakfast, packed up my stuff and got "saddled up" for the day. The river I had filled my bottle from was swollen overnight and I only just made it back through on my bike. My waterproof socks unfortunately go soaked on the inside then and would remain soaked for the rest of the ride. It was great to get back up on the road and be heading south ahead of schedule. The number of construction vans that passed me between 7 and 8am was pretty impressive for such a small town of Ness, obviously that was big employer. The number of churches was also hard to believe, sometimes every few hundred yards. Another reminder that I was somewhere quite different.
As I cycled I realised I had completed a new "first" - my first night of wild camping had been a success. It felt pretty cool to have all I needed on my bike and know I could camp anywhere I needed. I wanted to push on and see how far I got by mid-morning. Apart from one stop for water, where the guy selling basically dropped his eyes when I said how far I was planning to go, I did not stop until Calanais Standing Stones. On the way I passed some road bikers, the one at the front gave me a big grin and those at the back were obviously questioning their sanity to be riding in this mist, rain and wind. I did not think they were going far. I also passed a decontamination tent, coastguard and police cars at Carloway beach and figured it was drill, but found out later a drilling rig had come loose in the storm and run aground.
The cafe at Calanais was excellent. I beat the queue and ordered some food and tea. As I was waiting I realised I needed to charge my GPS tracker so attached the USB and plugged it in. The USB adapter was obviously wet because there was an unhealthy sparking noise and it would not charge. I surrepticiously removed the plug and remembered I was lugging my solar battery charger which was pre-charged with many electrons. I plugged it and the tracker began charging. This battery totally saved the day and provided all my power until the end of the trip.
After eating I quickly checked out the wonderful Standing Stones, built 4000 years ago (hard to believe) and then left for the nearby post office to pick up water and chocolate. Again, whilst chatting to the guy at the counter, he quickly started telling me about ultra-marathon runners who came in having "taken on too much" and I took this as a polite way of saying he thought I was bonkers. At this stage I was realising how much I had taken on but I was not backing off. The reverse actually, I was starting to contemplate going all the way to Leverburgh (An t-Ob) and catching the last ferry. I would leave myself too much to do the next day otherwise, and the weather was awful so any dreams of a pleasant overnight at Luskentyre beach had gone. When I suggested this he too looked away and mumbled something about it being a bit more sheltered down there. Not a good sign.
Harris
So off I went and after some climbing had my first and only section of following wind, it was bliss and I flew along, all the way to the A859. So this is what it would be like if I had done it the other day? Now I knew. The route wound east through the interior of South Lewis and then headed back south, heading for the North Harris mountains. The highest peak is 800 metres, so these are proper mountains, way higher than anything else on the Hebrides.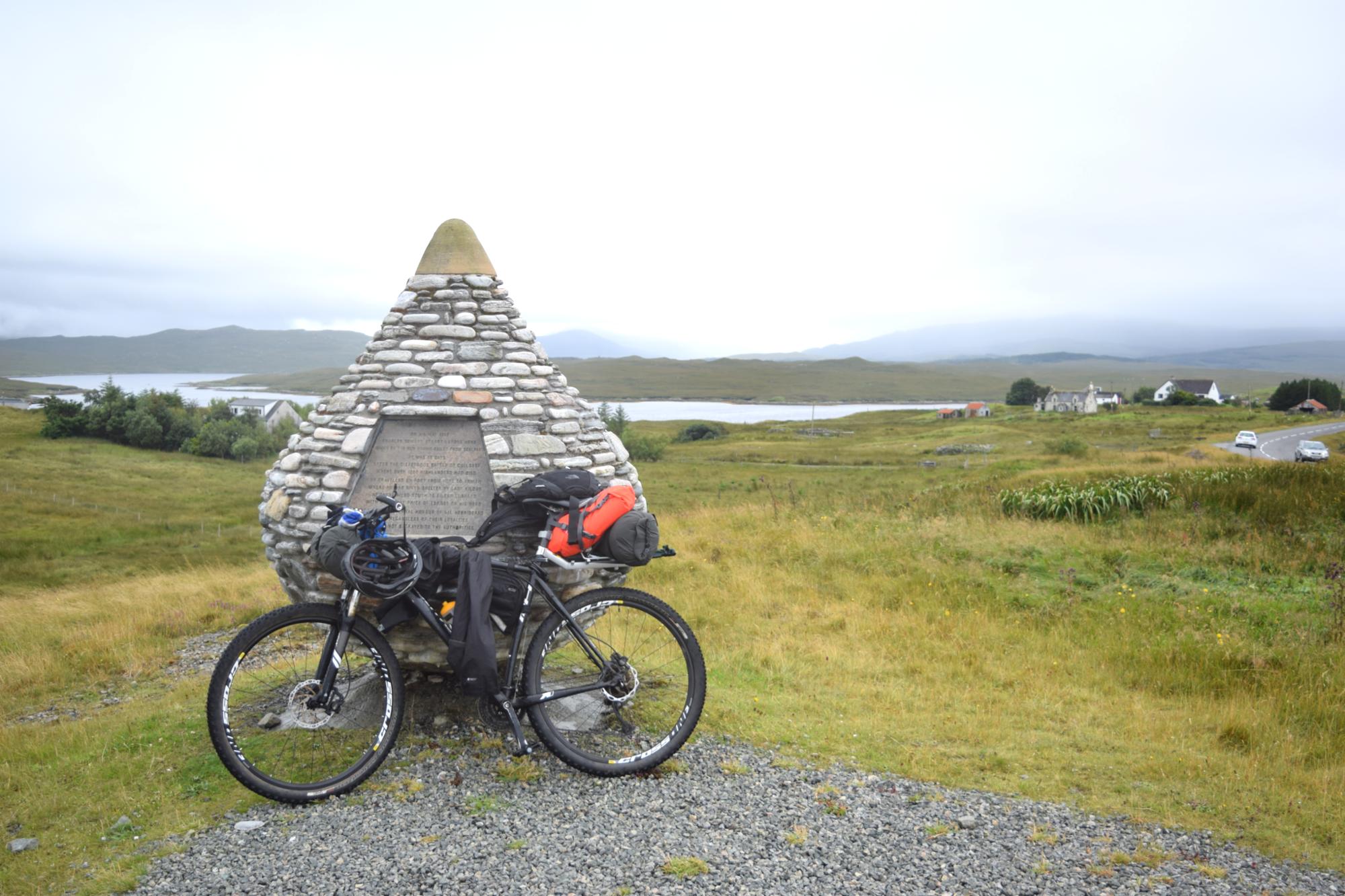 After pushing on I stopped at memorial to Bonnie Prince Charlie, to commemorate the fact that he passed through here on his flight from Culloden in 1746 with the authorities in hot pursuit. Lady Kildun "gave him shelter" dispite there being a huge bounty on his head. I chomped down some food and then set off again, with the Harris mountain just appearing in the distance. When the climb started, it was almost a relief. Having climbed Sampzon on holiday several times, I knew I could manage the climb. The road initially was one long zip zag that steeply climbed the first hill and then revealed the same again on the hill behind. At the summit the wind and rain really picked up. I had to put all my layers on and keep my head down to make headway. After traversing some high ground I was then just starting the descent, looking forward to getting up some speed. Visibility was very poor and my glasses (new for the trip) really came into their own. Just as I was picking up speed (at last!), I noticed on the crash barrier a recently mangled road bike, half on each side of the barrier. I was just beginning to think I should slow down when the cross-wind slammed into me, briefly sending me towards precisely the spot where the roadie's trip had come to an end. I leaned back into it, stayed on two wheels and gradually slowed down. I then had to contend with the full force of the headwind or gusting sidewinds, spray from the road in my fast-as-safely-possible descent back down to Tarbert. I pulled up at a garage at Aird Asaig to regroup and figure out exactly where I was. 3 miles to Tarbet. So I would just carry on and have a proper break there. Just as I pulled myself back on the bike a nearby driver shouted over "You're brave!" as he got back into his car. I guessed he had come by me on the high pass. Brave was one word for it.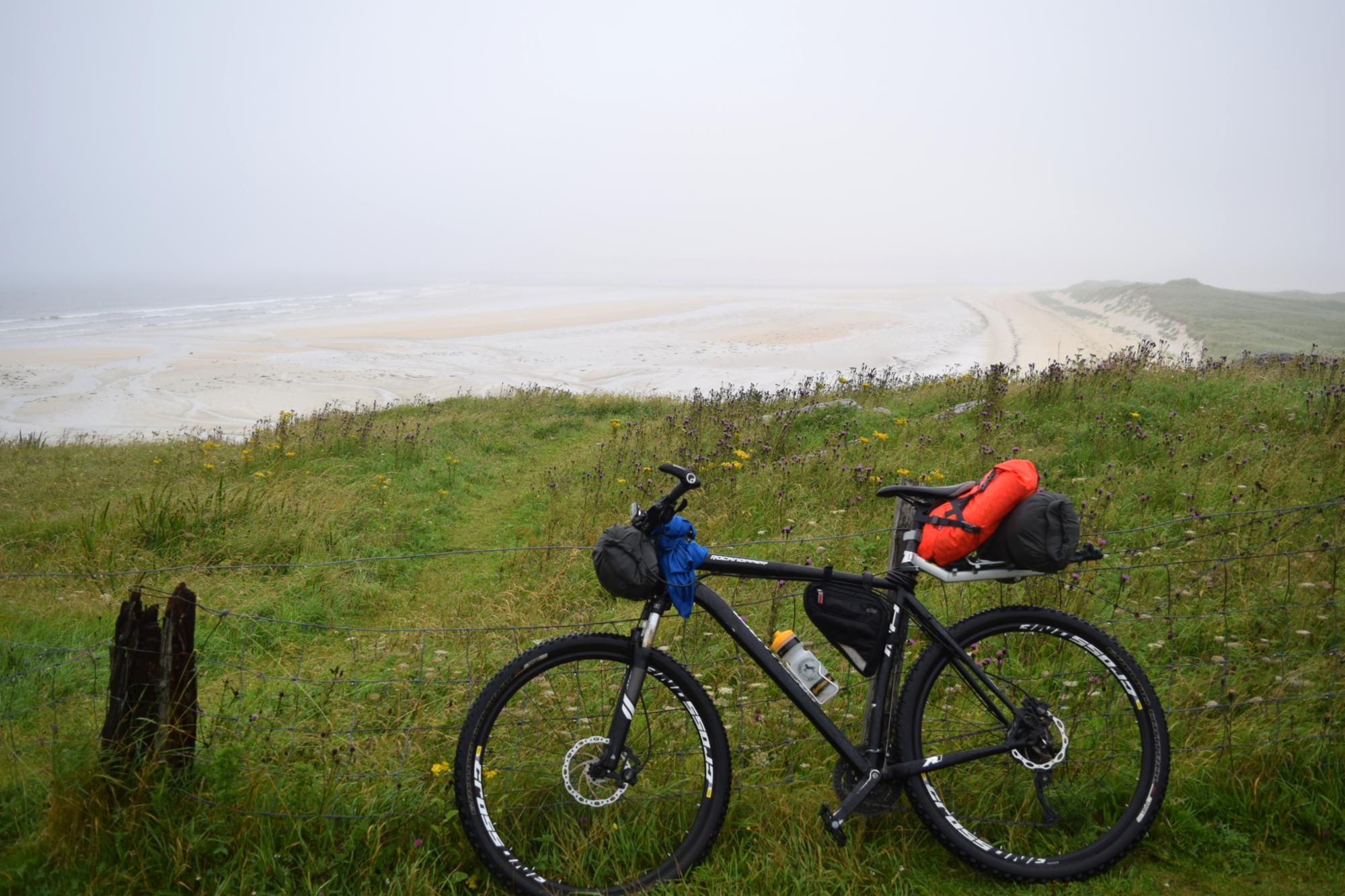 I stopped for hot chocolate and cake at Tarbert. I got my food all wrong that day, and this stop did not help. Filling up on such rich food was tempting at the time, but it was not really necessary. It wasn't what I ate more than how much. Due to being dripping wet, I left a huge puddle in the corner of the coffee shop, and left a tip by way of apology. My GPS was charged but I was immediately cold again as I stepped outside. Time to warm up and thankfully Tarbert has an immediate 10% gradient climb up out of the town (!). In my head, I thought I might just make the Leverburgh ferry if I left Tarbert by 15:30 I might just make the 18:30 sailing to Berneray. It was 15:48. It was 20+ miles with climbs and headwind much of the way and I was averaging 10mph so I hope I was roughly on time. After gaining height again out of Tarbert it was right back into the wind and rain and the high ground between there and Luskentyre was bit of a blur. I knew that if I had passed me in a warm car, no money in the world would have made me want to swap places with the crazy guy on the bike. This was another moment on the trip when I thought I had misjudged things. Had I had any problem, mechanical or whatever, at that point it would have been a very tricky situation. I was constantly scouting for camping pitches (even up there!) just in case. The main danger then was the cold and exposure. Once completely wet on a bike you have to keep moving and cannot stop, or you will be shivering in seconds. It it was very sobering, I had no real choice but to keeping going. Thankfully everything held together and after a while I I was winding down to the famous Luskentyre beach and knew the most difficult bit of the ride was behind me. I quickly stopped to take a photo of my bike at Luskentyre and wished again the weather had been better as this beach is renowned as one of the best in Scotland. I knew I was not seeing it at it's best.
Arriving in Leverburgh was a big moment. I think I let out a quick cry of relief and accomplishment as I closed in on the ferry terminal. I could see the ferry ploughing back over the Sound of Harris, I was going to make it. I climbed off my bike near the front of the queue of cars and a woman started chatting to me. She had passed me on the high pass over the mountains and had wondered if I was going for the ferry because "I was really moving on". Her father came over, a local, and when he heard I had cycled down from Ness that day he said I was a nutter and then shook my hand, which seemed like a pretty generous reaction. As was the pattern, just waiting the ferry was getting me very cold again. I was the first one (benefits of being in a bike) and straight into the cabin area but it was not particularly warm. I made do with getting my outer layers off and drying whilst I had 4 cups of tea. Whilst I tried not to think about being cold, I was planning what to do at Berneray. The guy next to me obviously saw my "condition" and asked what my plans were on the other side, and suggested there was a hostel nearby. The hostel sounded very appealing. Camping was not a something I felt I had to do but in my head it was part of the adventure and why I was lugging my tent around. I knew I could get warm once in the tent and hostel was 3 miles the wrong way at the end of Traigh Baile sands.
Berneray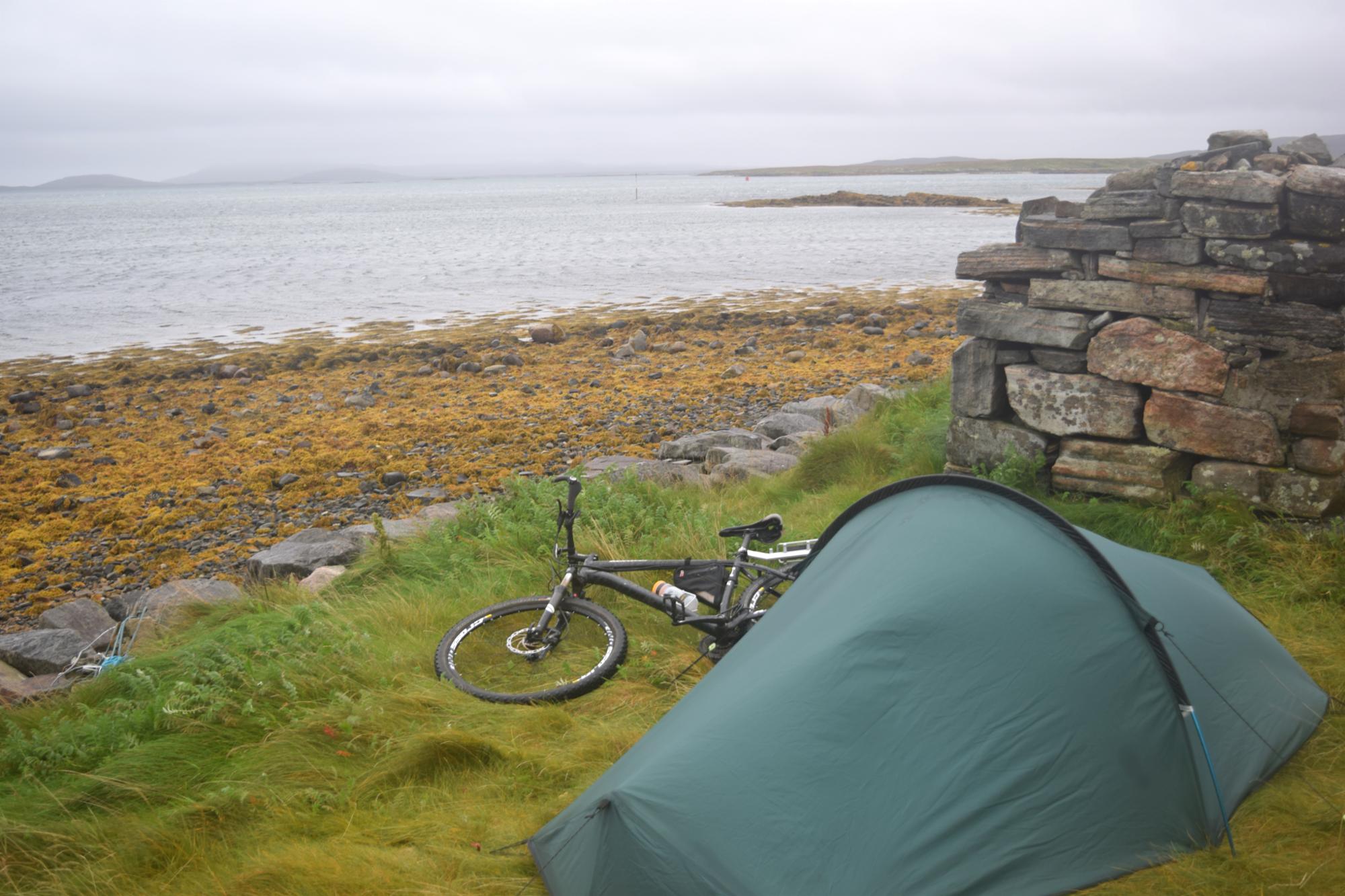 As I cycled off the ferry and back into the teeth of the wind, I turned towards the hostel but was scouting for a decent pitch at the same time. When I passed a ruined house between the shore and road, I jumped off and stood in behind it. Shelter! I had my tent pitched there in 10 mins and stove on a few minutes after. I was 20 miles plus a one hour ferry ride further on than I expected to be and it was just after 8pm. Not too bad. It was going to make tomorrow a whole lot easier and therefore more likely to succeed. I then ate way too much pasta and proceeded to have the worst night's sleep of the whole adventure. Lesson learned there, although I think my metabolism was in mild shock compared to my normally dietary intake versus energy usage cycle. The next morning I woke at around 6:30 and still not hungry at all so decided to skip breakfast and use the stove to dry out some of wet riding cloths. This was partially successfully but there was no avoiding the unpleasant task of climbing back into wet clothes. The weather was windy (from the south west, as usual) but dry so I was not complaining. I had everything packed up and ready to go and was on the road by soon after 7:30.
North Uist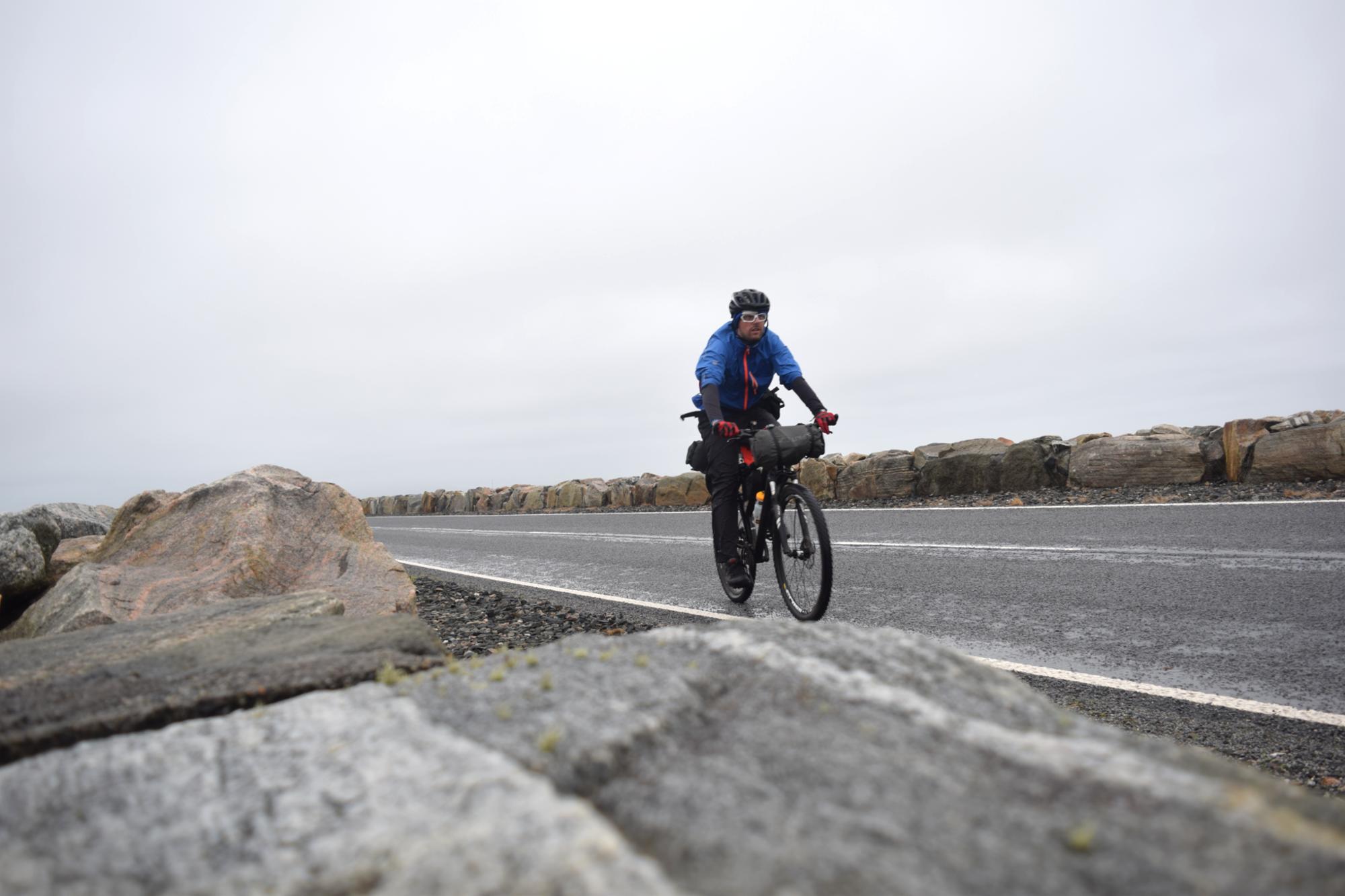 I headed straight off Berneray and onto North Uist via the causeway, where I managed to get a timer photo shot of myself cycling over after a couple of attempts. This first stretch of cycling was very, very slow. I just could not get into it for a few reasons. Firstly I was heading right into a strong wind and there was not much up and down so few sheltered spots. The next reason was I was too busy looking about, in peoples gardens, at the cattle in the fields or at some building work that was going on. This something I was quite pleased about, after the manic race the day before, it was nice to take in my surroundings. The final reason was I had a number of saddle sores that were complaining loudly and making riding pretty painful (!).
As I finally reached far west coast of North Uist the road turned south and the weather, for the one and only time during the trip, was approaching what one would call sunny. On the highest ground near Hosta was clutch of radars, aerials and those huge golf balls that shield the satellite dish inside. On the map it showed up as an RAF communications station. A listening post, intriguing, and one of many MOD bases, facilities and missile ranges on the Uists and Benbecula.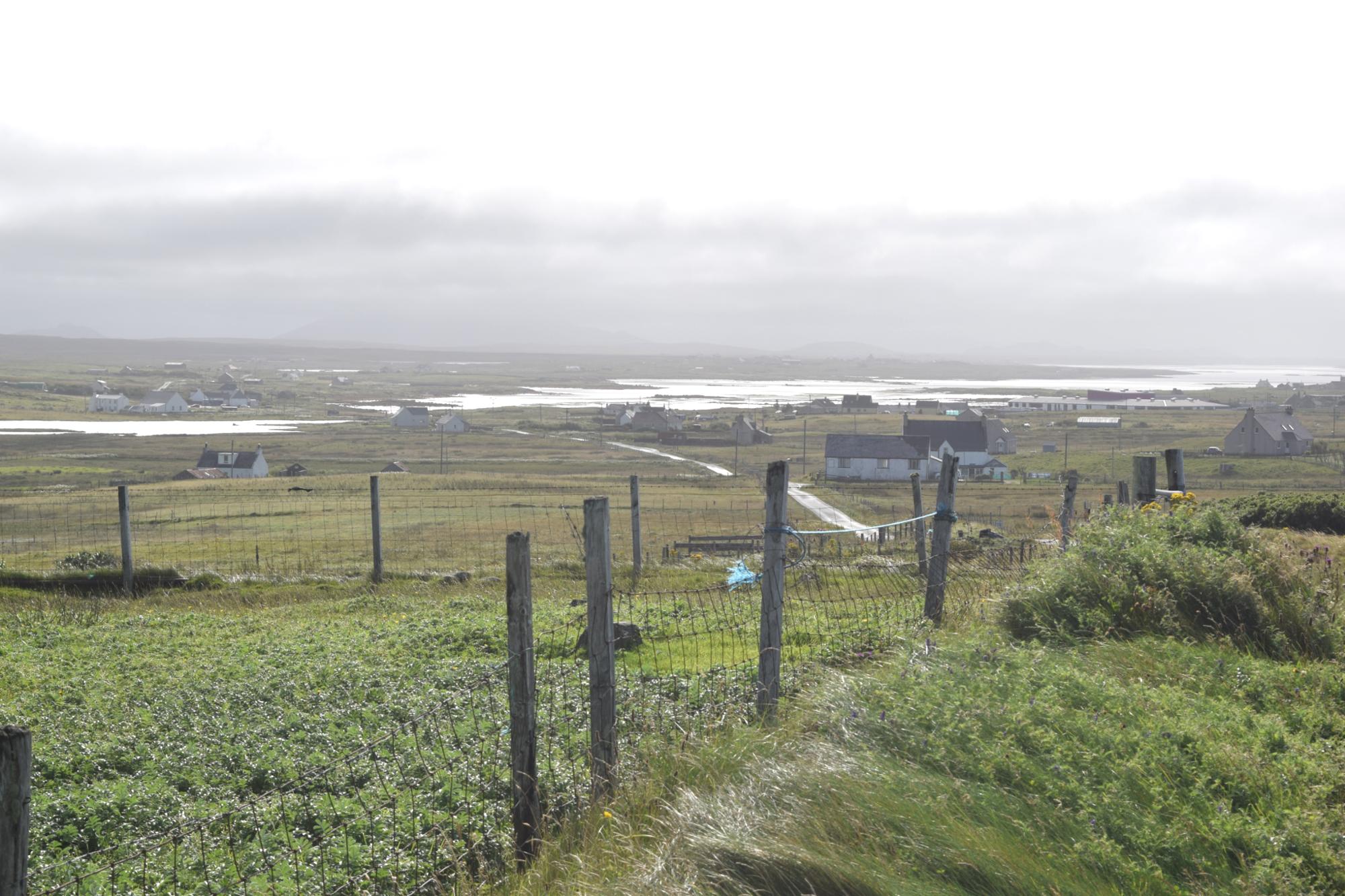 Having spent my last night and morning without milk due being in such a rush, I determined not to make the same mistake that night. So when a Co-op appeared up ahead I hopped off and bought some rice, milk, Vaseline (for obvious reasons) and some cereal bars. I would have to lug the milk all day but I did not know if I would pass another shop, so it was a price I was prepared to pay. When I asked if there was coffee shop up ahead I got a vague answer about having to detour, so just carried on and hoped I would find one. I was not direct into the wind, the sun was trying to come through, visibility was great and the roads were empty so it was a really enjoyable stretch. By about 10:50 I had reached a multi-purpose community centre, gallery and cafe at Kirkibost and was ready for a stop, to recharge both me and my GPS. I met a family of four roadies from Edinburgh, I guessed, who were pretty interested to hear where I had come from and how far I was going. They were travelling light and hopping between B&B's. It was great to speak to someone and not be tired, cold or in a rush. When the cafe opened (at 11:00, no earlier!) I was able to buy some tea and just one bit of cake. I was going to be very carefuly with my food and just take onboard small amounts at more regular intervals.
I was aiming to get the 18:30 last ferry from Eriskay and at my current slow pace I calculated that I was not going to make it. Time to pick up the speed. When I got back on my bike I promised myself I would not put my foot down until after Benbecula, I needed to get on the other side of half way.

Benbecula
So I got back on and was soon heading over a causeway to little islets, via Grimsay and eventually onto Benbecula. The road takes a huge detour inland away from the airport, which I knew I would need to pass, before finally doubling back and steering a course for the runway wind sock. The airport was much bigger than I expected, with an RAF base tacked on the side. The town itself on Benbecula was fairly substantial with several streets of houses, more than anything I had seen since Stornoway. I admit I did put my foot down, but just to get water and take quick photo.
South Uist
After that it was back on the bike and pushing on to North Uist which was again reached via causeway. Whilst I was riding along and my mind was wandering I often stuck by the beautiful simplicity of cycling. There is no more elegant, practical and beauitiful machine than a bicycle and when you ride one for day after day that appreciation only grows. Over time it came to seem like a perfect physical balance of energies, my daily of food translated into miles per day. My energy was going on nothing else but cycling, continually seeking an equilibrium of speed and effort, pain and progress, on the ever changing road and weather conditions. At times, I felt at though I could have cycled forever.
The good weather came to an end on South Uist, although it was only raining gently with not too much wind. The 780 route was on the main road for much of this stretch and it was pretty busy at times. When signs indicated a detour to a coastal route my heart sank as I knew this was not the most direct route. However, once off the busier road and onto single track it was actually much more enjoyable. I normally enjoyed these wee detours.
As I passed the half way point for the day my first mechanical happened. From nowhere, with no warning or obvious cause, I started to hear a clicking noise that seemed to resonate through the frame whenever I pedalled round. The noise stopped when I freewheeled so I knew it was something to do with the running gear. After some more careful listening I started to be very concerned. The only time I had heard that sort of noise before was when the bearings in my bottom bracket disintegrated on a previous bike. They split one by one in a chain reaction, where the bits from one created more grit to break up the remaining whole bearings. I stopped and looked at my bike. I looked at where my (not insignificant) weight was perched, the extra weight from my rack, sleeping back and tent, plus the bag I wore round my waist, and I imagined the pressure on the bearings within pedal crank axle, and I winced to imagine the strain it was all under. I decided to move as much weight as I could to the front, which would make steering trickier but make the bike more balanced. When I climbed back on I thought it had gone but then it was back before long. I figured out that the noise was much less if I stayed in a very low gear, so for the next 15 miles I basically "single speeded". I actually picked up a good speed and kept my momentum going even on the uphills. To have come so far, have made so much effort and then abort, due to an impossible to repair mechanical issue would have seemed very, very unjust. And yet I knew there was no fair or unfair when it comes to mechanics, it was something that could just happen anytime.
And so after another long stretch of cycling on fixed gear, I was rounded the south west corner of South Uist and I could see the huge causeway to Eriskay.
Eriskay
As I cycled over to Eriskay I knew, saving any bike issues, I was going to make the ferry. It was properly raining again, windy and back to the "normal" conditions. Eriskay had one final sting in the tail for that day, a devilishly steep climb over to the ferry on the far side. I did not realise how tired I was until I started it and I was going so slow that I honestly thought I might have to and push. But finally the road began to level and dropped down to reveal the ferry slip. I passed a father and son pushing their bikes up the other side, laden with gear, and wondered how far they would get. There was a ferry on the slip and I realised it was the one before mine and I could get an earlier ferry. But it had gone by the time I arrived and I had to talk myself round from making a huge success into a failure. This was good, I had made it! Not a time to beat myself up for missing an earlier ferry. I asked a guy to take my photo and then sheltered from the rain in the waiting room.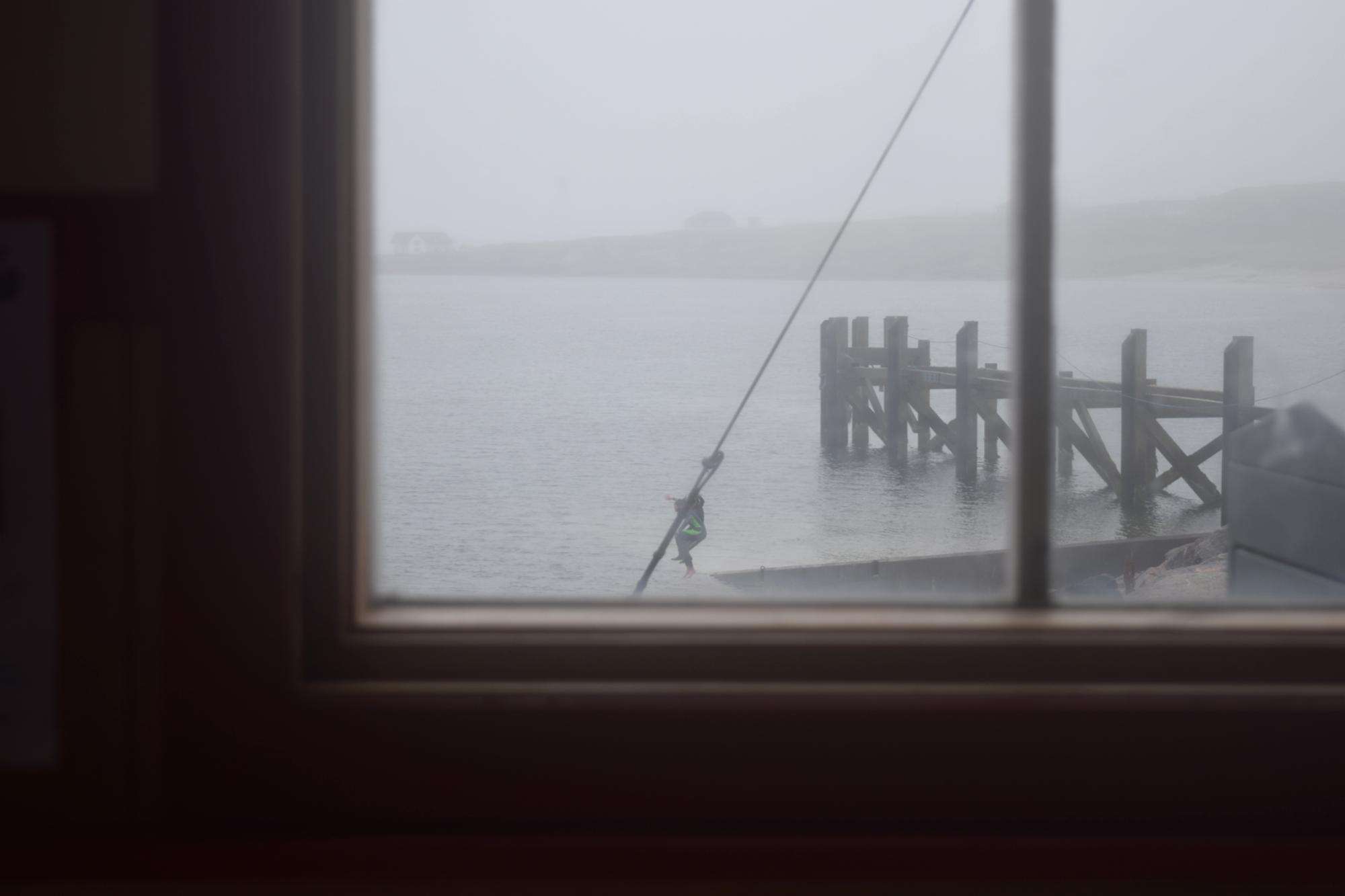 Once again, I was completely drenched, feet squelching and craving some heat. There was no heating in the waiting room and not even a hand drier in the toilet so I took off all my outer layers. I took off my shoes and socks and filled them both with scrunched up newspapers to soak up the worst of the water. Fortunately there was nobody else in the waiting room, as my kit was strewn everywhere. As on the Berneray ferry, I just reached a state of steady coldness, not warm but not shivering and it helped to distract myself by reading all the adverts, notices and schedules up on the wall. Randomly, there were two girls, perhaps both around 15, who were in wetsuits and spent 40 minutes jumping in from the ferry slip and again and again and again. They were having an absolute blast and watching them kept me occupied for a while. After over an hour, the ferry came into view as it returned for the last time that day. It was the smallest ferry so far and I really prayed there was some warmth in the cabin area. When it pulled in I jumped out once the arriving cars had unloaded and waited for the guys to beckon us on. But no, they were having a break and so rather than wait in the rain I went back in the waiting room for another 10 minutes. Eventually they signalled us on and I boarded with some other cars. I made a beeline for the cabin and saw an aged convector heater on the wall. I turned it on and to my delight it worked. I spent the entire one hour crossing under a shower of warm air and basically rotated myself round to dry myself out. Nobody seemed to mind my decidedly odd behaviour, thankfully.
Barra
As I was basking in the warmth, I studied the map and calculated my next step. I was going to arrive on Barra at 19:30, in bad weather, and needed to find somewhere to camp. Also however, I needed to get as far over the island as possible to give myself time to get to Vatersay in the morning, to complete the Hebridean Way, and back to Castelbay for the ferry at 08:00. It was getting dark. I swithered between pitching up at the first place I saw, and crazily, thinking I might push on to Vatersay and finish the whole thing tonight. When the ferry landed and I cycled off I was quickly frozen again. It was 10 miles to Castlebay and looking gloomier by the minute. The route soon started to climb and I knew I was going to have to go over the middle of an island, again. The climb was sheltered from the wind but on the high ground it was wild. The wind was whisking waves across a small reservoir and making frothy trails on the surface. As I passed occasional cosy looking houses I once again questioned my sanity but cycled on, really not know how far I was going. The road soon decended to a sandy beach, which was sheltered and I knew I could camp there, but I carried on.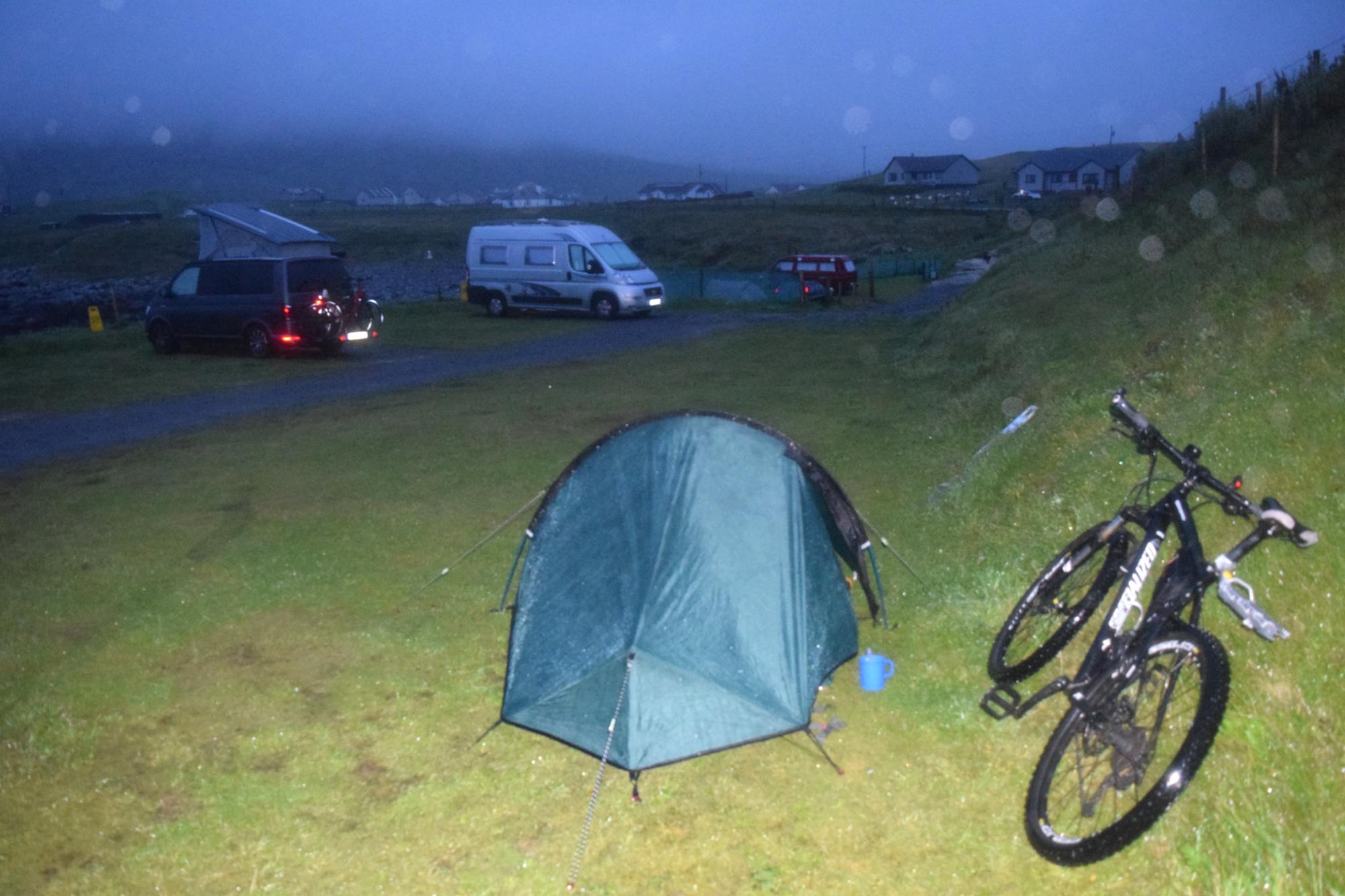 As I reached Borve a campsite came into view, literally perched on a steep hillside above cliffs and small rocky beach. My mind was in complete quandary. Like the entire trip, there were critical times when I had needed to balance over-confidence, andrenaline and hubris against safety, caution and common sense and until that point, the hubris had won every time. But as I pulled into the campsite and decided to spend the night, the caution won over. I immediately knew I had made the correct decision. After all the cycling, calculating, projecting and continengencies it was good to stop. I pitched my tent and zipped up immediately for the night. I made a small dinner, pilau rice and sardines (a worlds first?), sent a few text messages, set my alarm for 5am and quickly fell asleep. I had the best sleep yet, having not over-eaten and also secure in the knowledge that I was probably going to make it. However having wild camped for two nights, the ground at the campsite seemed very hard indeed!
My alarm woke me at 5am and I knew I had to be away by 05:45. I lit the lethal MSR stove in the dark, judging the fuel by the sound only. I have never, and hopefully never will again, had to do that but I was pretty pleased with myself. A cup of porridge later, changed into wet clothes and I was ready to go again. I was on the road by 5:50 and reckoned some of those in the campervans probably never even knew I was there.
It was only 2 miles to Castlebay and when it came into view I could see the ferry - yes!! It felt very wierd and rather risky to turn off towards Vatersay rather then continue to my ferry home. I had one final ride to do to finish the Hebridean way, and I need to be back at Castlebay by 07:30. Once again however, the road cut the corner on a headland and there was vicious climb over to the Vatersay causeway. I was in the top gear and spinning away hoping there were not too many of these. I flew down the other side and onto the final causeway.
Vatersay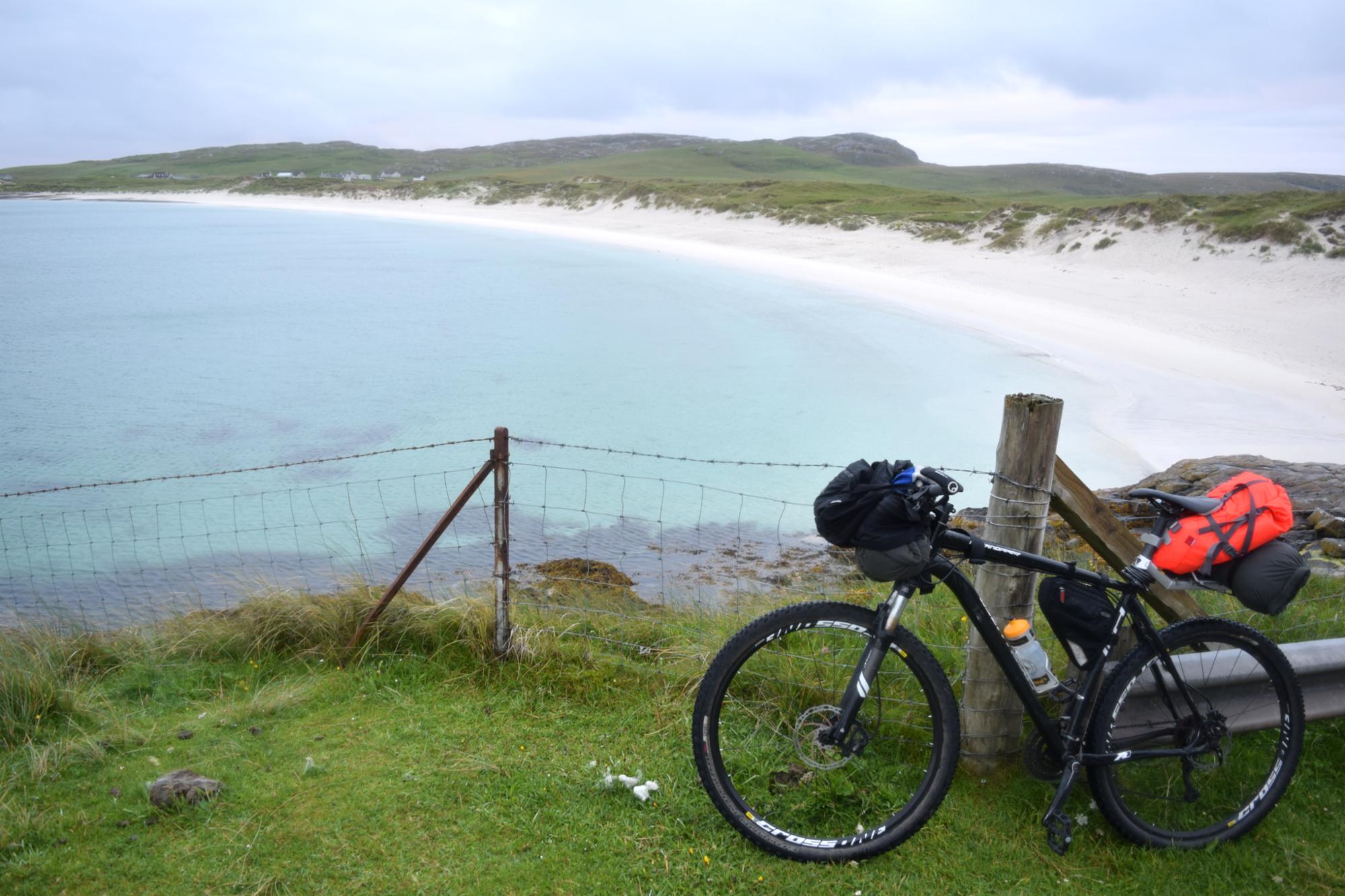 The road rose over a small hill and the swooped round with a following wind towards the town and beaches on the far side, all the while getting further away from the ferry. The road wound around the island and then revealed one of the most beautiful beaches I had seen on the whole journey, right at the end. I kept my speed up and rode right to the end of the road in the town. This was it, I had finished the Hebridean Way. I could not quite believe it, a feeling that was compounded by the lack of sign or plaque to indicate the end (or beginning). I took a quick selfie photo with the timer, turned the bike around and made tracks for the ferry. It was 06:30 and I was in good time.
I retraced my route, spooking a herd of sheep and geese along the way, who had wandered onto the road just before the causeway. After the reverse climb back over the hill, I reached the junction on Barra, turned for Castlebay and cycled triumphantly into town, wondering if I had ever crammed a 12 mile bike ride in before 7am in the morning. Why couldn't all mornings be like this?! I reached the ferry terminal, bought my ticket and then waited to board, just glad to see that everything was on time. I was the first and only cyclist onto the ferry. After securing my bike and grabbing a few essentials I headed straight for the cafe and ordered a full breakfast.
Sailing Home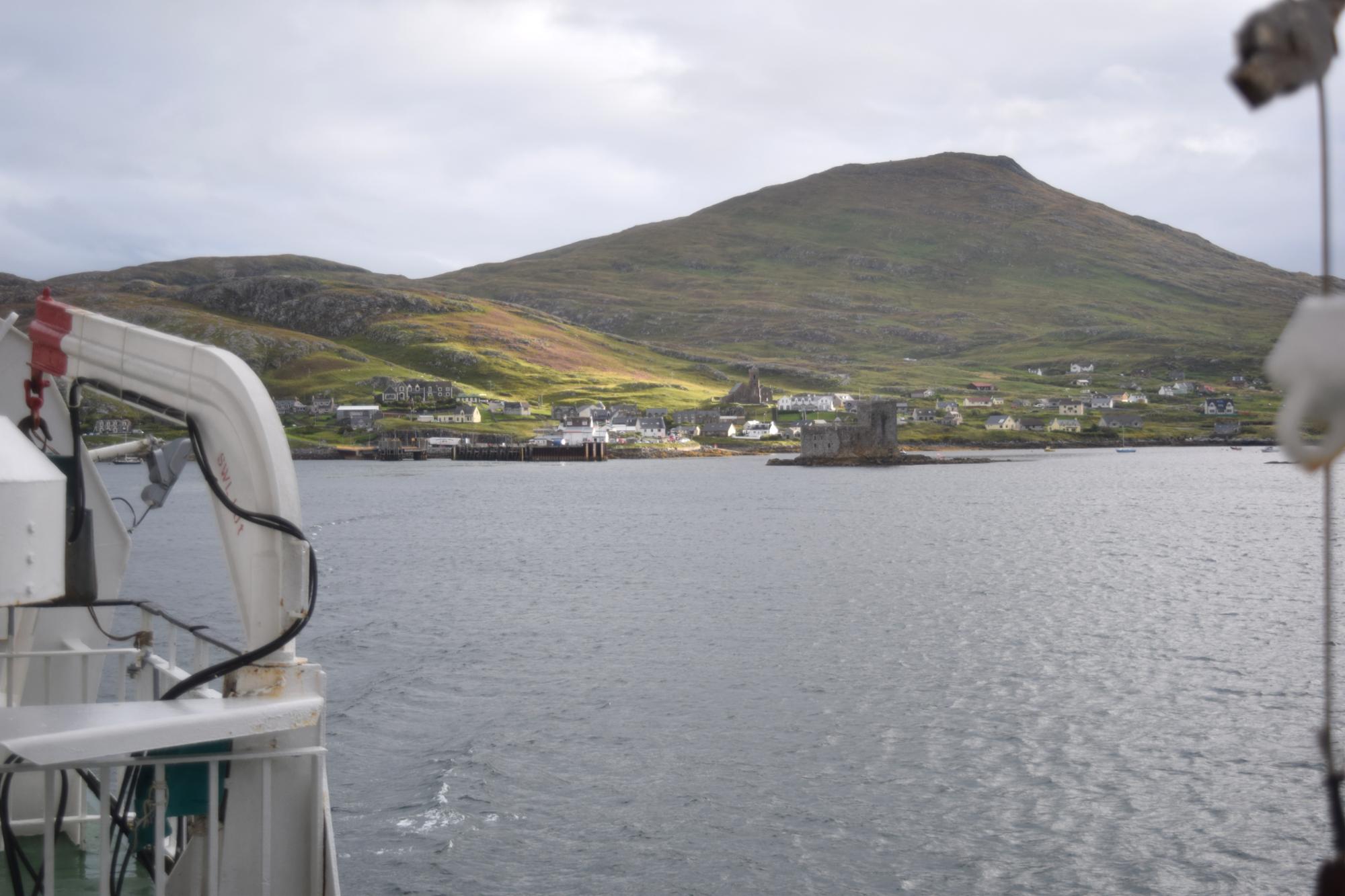 The ferry home was the first time I had fully relaxed since the start. The Hebridean Way had been much, much harder than I had expected but it had also been more of an adventure I had hoped for. Having a fairly limited period to complete the journey, high daily mileages and ferries to be caught at specific times, made the whole journey seem like a race. I enjoyed this immensely, the urgency was a challenge that ensured I rode as fast as I could, for as long as I could, with as little weight as possible.
Before travelling to the Outer Hebrides, I admit I had a fairly clich�d view of the islands. I was expecting crofts, tweed, world-class beaches, highland cows and beautiful vistas. Having visited, it is all of that, but I also now see them in a new light. I imagine the curve of the islands as an ancient shield protecting Scotland, smashed by a Viking battleaxe in an ancient war, now surviving as a loosely held chain of fractured holdfasts on the edge. That people have lived there for thousands of years is a testament to the resilience and tenacity of the islanders. All our modern comforts cannot hide the fact that these are wild islands with unpredictable weather that reveal very different characters depending on the wind and waves.
As with any outdoors adventure, we go to explore two things. Firstly, we go to explore a land that is new and unknown to us, to experience it, to survive it and learn from it. Bikepacking is a truly wonderful and realistic way to experience this, there is nothing between you and the landscape you are exploring, for day after day. The second thing we go to explore is ourselves. Now I know what is out there, and what is in me. I have accomplished and experienced something greater than I had planned, and feel very lucky to have done so.
Ride Stages and Map
The ride ended up breaking down into ten stages. The stages reflect where I needed to either have for a break, catch a ferry, top-up the charge on my GPS tracker or camp for the night. Stage 1 covers the ride from the ferry landing at Stornoway to the start point at the Butt of Lewis and then just a mile or two on the actual route. Likewise Stage 10 was half completing the route and half chasing back to catch the ferry at 8am. I have included them as part of my ride totals, but stages 2-9 are pure Hebridean Way.
On the map below you can see all the stages plotted from my actual GPS data from start to finish, starting with Stage 1 in light green and ending at Stage 10 in dark green.
The full breakdown:
Day
Stage
Start
End
Distance (miles)
Time
Asc/Desc (m)
Ferry from Ullapool to Stornoway, Lewis
1
1
Stornoway, Lewis
Eoropie Beach via Butt of Lewis
35.6
3h 49m
+378/-384
Wild camped on sand dunes at Eoropie Beach
2
2
Eoropie Beach, North Lewis
Calanais, Lewis
33.8
3h 42m
+309/-310
2
3
Calanais, Lewis
Aribruach, North Harris
22.1
2h 18m
+229/-211
2
4
Aribruach, North Harris
Tarbert, Harris
15.8
1h 39m
+297/-328
2
5
Tarbet, Harris
Leverburgh, South Harris
21.2
2h 07m
+266/-290
Day 2 Totals
92.9 miles
9h 46m
1101m ascent
Ferry from Leverburgh to Berneray
Wild camped by shore near Berneray Harbour
3
6
Berneray
Kirkibost, North Uist
26.0
3h 25m
+94/-103
3
7
Kirkibost, North Uist
Bornais, South Uist via Benbecula
34.6
3h 28m
+20/-31
3
8
Bornais, South Uist
Eriskay
16.7
1h 38m
+95/-87
Ferry from Eriskay to Barra
3
9
Eriskay
Borve, Barra
6.7
0h 46m
+42/-42
Day 3 Totals
84 miles
9h 17m
251m ascent
Camped at Borve Barra campsite
4
10
Borve, Barra
Castlebay Barra, via Vatersay
12.7
1h 18m
+139/-121
Ferry from Barra to Oban
Totals
225.2 miles
24h 10m
1869m ascent