All Electric Kia E-Niro Review
Having driven our new all electric Kia E-Niro First Edition on our annual May long weekend camping trip as well as for the daily commute, I wanted to share my real-life review of this impressive car. As our family car, it needed to work for the usual weekly routine of commuting and dropoffs, but would it work on a weekend away to Tiree with no electric chargers on the island?
Posted: Sat 06 Jul, 2019, 14:30
Thanks Kia! For a mid-range all electric family car.
After two happy years with an all electric Renault Zoe, the lease ended. Although we tried to renew it, the monthly payments almost tripled so it was with some reluctance that we returned the car. Although we had many niggling problems with it (ECU blew up, tyre pressure warning lights and no electric technicians at the garage) our overall experience was actually excellent. We particular liked it because it was silent, automatic and we never, ever had to do the most loathed transaction of our modern era - filling up the car at a petrol station.
We needed a replacement second car though, so had to lease another small petrol car. When the Tesla Model 3 was announced in 2016, I thought maybe this could be our longer term replacement family car. Not just the second car for football training dropoffs, but our main family car. I added my name to the waiting list in April 2017 and .... waited. The story is now well known, but estimated delivery dates kept on pushing back and we all kept on waiting. As the two year anniversary of my time on the wait list approached, I was keeping my eye out for an alternative. Surely another major car manufacturer would be meeting the demand for a mid-priced, family-sized electric car with long range? Sadly, in April all the high-end manufacturers were offering electric cars to only those with deep pockets - Audi E-Tron, Jaguar I-Pace and the Tesla Model S and X.
Then we the Hyundai Kona all electric came out, with a long wait list and no chance to try before you buy. That excluded it. They Hyundia Ionic was another option but I could not get excited about the look and had been put off by my experience at the Hyundia showroom.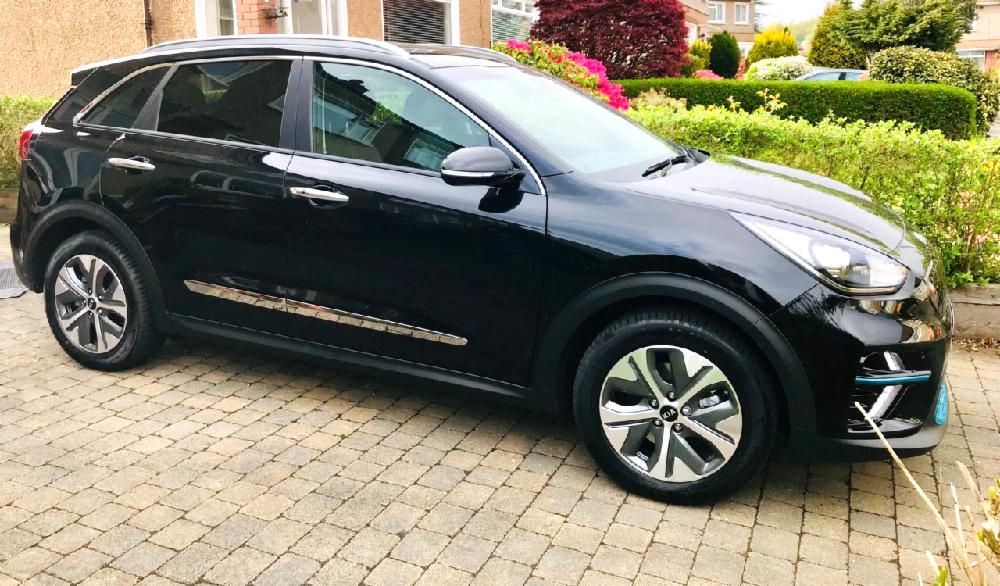 Around this time I read a review about the Electric Kia E-Niro. On paper, it was everything I was looking for. All electric. 200+ mile range. Cross-over styling. High-end finish and options. Plenty of room for two teenagers and a dog in the back. I visited the Kia showroom and saw round the petrol version and signed up for the electric that night. It would arrive in September or earlier they would call me when the test drive one arrived in the showroom. At this stage, the Kia was hedge for the Model 3, but over time I slowly swung more towards the Niro.
In reality, I would probably have bought whichever came in first, but I was praying for the Niro. Where would I get a Tesla serviced? What about the seven year warranty on a Kia? Who has the track record of building excellent cars over years? And what about the small matter of price? In favour of the Model 3 was Tesla's expertise in electic, but Kia had the Soul electric and their parent/partner company had the Kona and Ionic electric - so they had some experience.
At the end of April the showroom called to say the test drive car had arrived. I hurried down on my own one evening after work, hoping I would like it. All I can tell you is that I heard virtually nothing the helpful salesman said, I was sold on the car the second I started driving it. Similar to when I test drove the Zoe, all I could do was smile at the silence and zippy way it accelerated. The Niro was identical but much more refined, solid and powerful on the pull-away.
I signed on the line, cancelled and the Model 3. All Tesla did was send back the deposit. No phone call. Their customer service is not a slick as their marketing, if this anything to go by. The car turned up at the end of April and I quickly sold our main diesel family car. We took a taxi to the showroom on a Saturday and drove out with the E-Niro.
Save the planet and have fun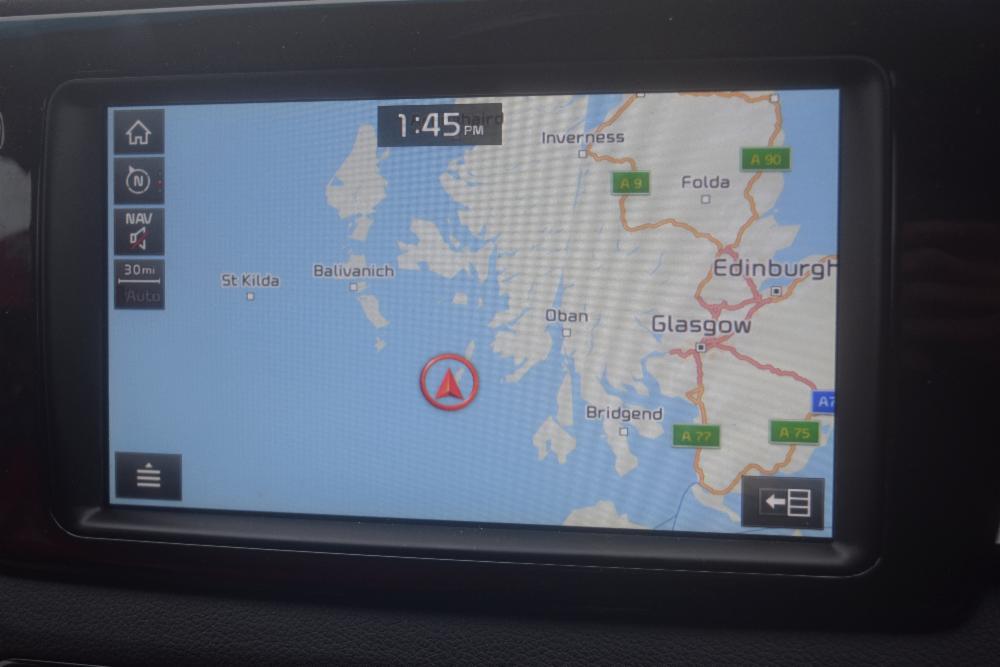 As our main family car, there was no choice but to take the E-Niro on our camping trip at the end of May. Gulp! What if we ran out of charge? I say 'no choice', but it was a very deliberate decision to move to an electric for our main car. CO2 emissions, diesel particulate emissions, global warming, climate change - the reasons to go electric are numerous and we need to make a change to address these issues. At the right price and with the right range, that choice in fact becomes a no-brainer decision. For me, that is what the E-Niro represents, that critical game changer that makes an electric car desirable as well as environmentally sensible.
Everyone wants to save the planet, but nobody wants to curtail their freedoms. For the vast majority of people buying an E-Niro will not curtail your driving freedom. People take it for granted that they can drive as fas as they like at the drop of a hat, but with an electric it might take you a bit longer and let you enjoy the journey. Given how frequently we make these kind of trips, it seems like a small compromise for a huge gain. As well as making the planet happier, driving an electric will make you happier to drive longer and further than ever before. Driving is normally a chore for me, something I have never really enjoyed, but I enjoyed every minute behind the wheel of the E-Niro. Released from the tyranny on fuel costs and consequential environment damage, you are free to drive and drive and drive without costing your pocket or the planet. In Scotland at least 100% of domestic power is from renewables, so if you charge overnight when their is low demand you are almost guaranteed to be using cheap and renewable energy.
However, I don't want to labour the guilt-driven environmental reaons to go electric, although these are worthy reasons alone. The Kia E-Niro is just such a joy to drive, to spend time in for long and short drives, for that reason I would have bought it anyway. As well as not being another noisy, dirty, smelly conventional car, it is as solid, well built, feature heavy and easy to drive car. It has, for the first time in my life, made me enjoy driving. I will now drive to work rather than take the train sometimes, which I have never done before. They are the (more or less) equivalent on CO2, so why not?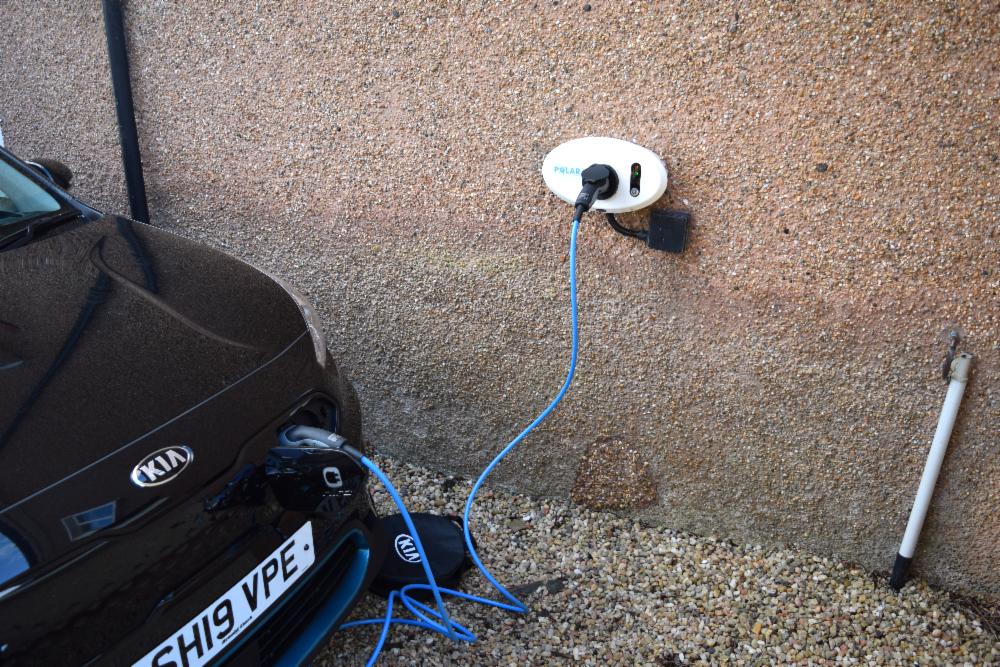 Anyway, back to the camping. We had a lot to pack, as you can see. The boot of the Niro is not a cavernous as our old family car, but it is higher up which is excellent. The cross-over styling combines the best of saloon and SUV car styling. This slightly raised position is apparent of course when driving and also for those in the back seat. Both my sons cannot believe how much higher up they are.
By folding down own half of the back seat, it all fitted in with room to spare. It was just myself and my two boys camping, so we had plenty of room. We set off after work on the Thursday with a full charge of 272 miles range. Driving the E-Niro is an incredible experience, there are just so many cool features. The pull-away is just effortless for you and the car. No revving, no gear change, no finding the bite point, no sound - just go. Without any gears, the power goes straight to the wheels immediately and this is accompanied by only the slightly rising pitch of the electric motor.
The E-Niro first edition includes other features which are not unique to electric cars but are definitely worth knowing about: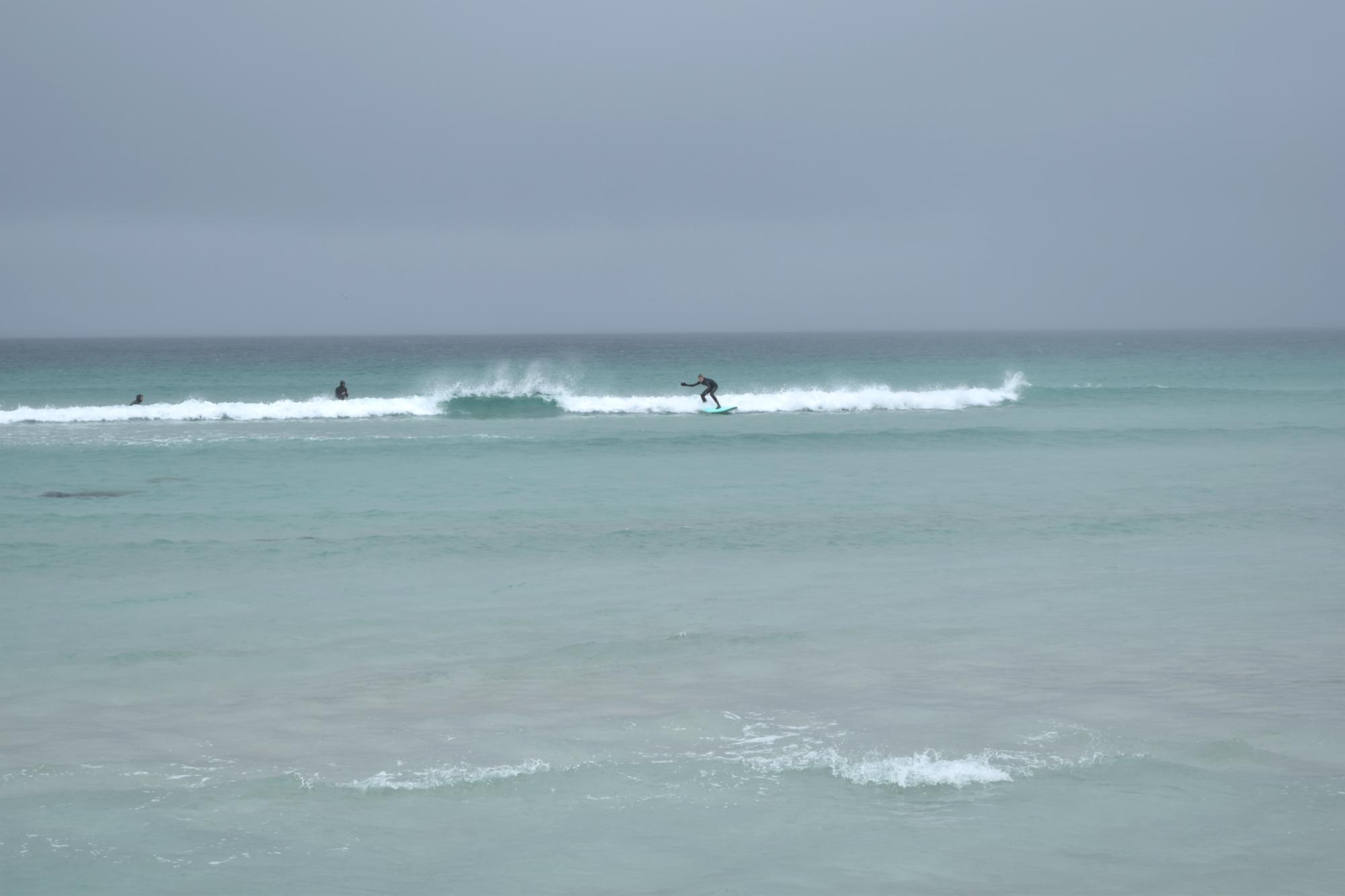 Heated seats and steering wheel
Full Satnav
Auto-hold on braking
Lane-Assist, actively keeping you in lane
Look-ahead radar to auto-brake if you forget to
Electric everything
No spare tyre, just emergency sealant to get you to a garage
All leather interior
Dashboard navigation if you turn off the central console
Drive Modes and Regenerative Braking
There are several features which are strictly electric only so let me just cover them too. First the is the Driving Mode. As standard the car is in Eco Mode which as moderate regenerative braking. Regenerative breaking will recoup some of the energy lost by braking, to be applied whenever the car accelerates again. The car will take care of all of this, but the net effect is more efficient energy usage == longer range. There is another awesome side effect though. If the regen braking is increased to maximum, single pedal driving is possible where you are either holding speed and accelerating or if you release the accelerator pedal, the car will immediately brake so you never have to touch the brake pedal.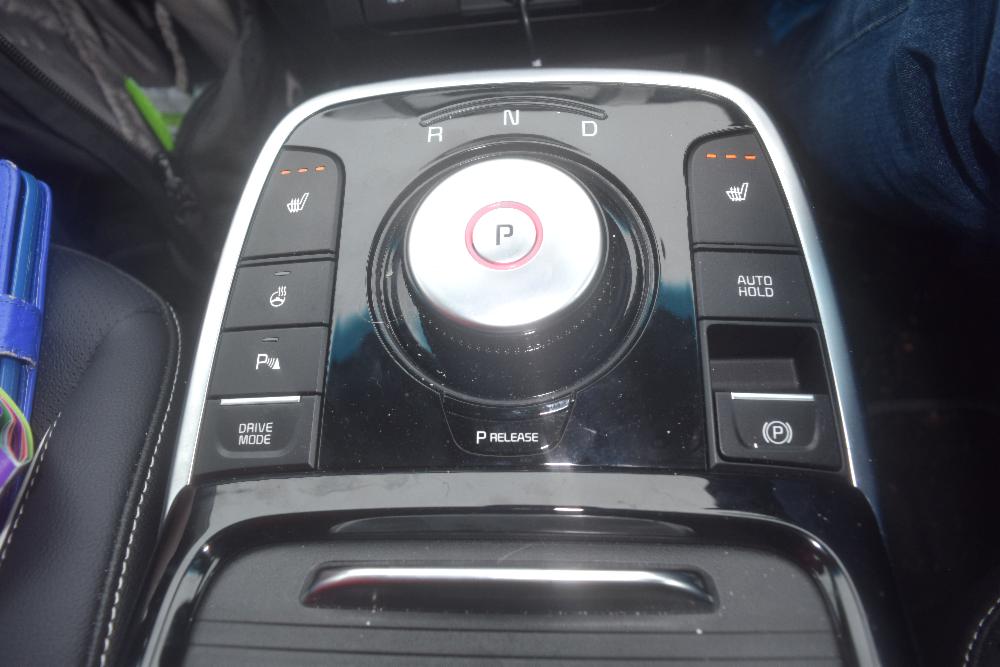 In a city this mode is ideal because the car will be continually stopping and starting. And as an energy conscious driver you may assume this is the best mode for all driving but you would be wrong. Out of the city, on roads with clear line of site ahead, it is more efficient to turn off the regen breaking altogether. In situations where you may wish to coast, to simply carry your speed and neither brake or accelerate. With regen braking off, this is totally possible and on my drive to Tiree I used this a lot. The E-Niro has flappy paddles on the steering wheel for controlling this with ease and convenience.
But what about overtaking or when you need to accelerate fast? Fortunately the E-Niro has a magical mode called Sport. In Sport mode, the car transforms into a playful gazelle and will accelerate so fast you will feel the blood draining from your legs at the same time as the smile widens across your face. The power is delivered entirely through the front-wheels and yet there is no traction issues. It is pure and unadulterated fun, and I recommend an electric car for this reason alone. Our old Zoe was the same, but the E-Niro takes it to a whole new level.
Charging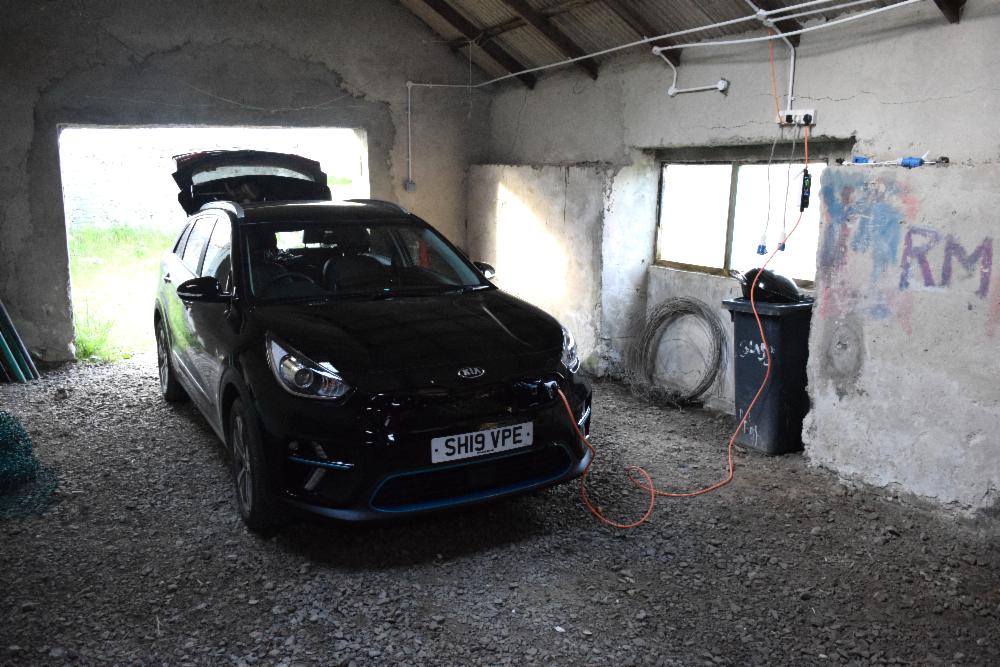 We have a home charger plug point that was installed with the Zoe. This allows us to charge an electric car via uprated cabling at 440V AC via the Type-2 charging cable included with the car. The socket on the car also support a DC rapid charger which will charge the car to 80% of capacity within 40 minutes. I have yet to try this but when I do my next long distance motorway journey, it's good to know that the car will be ready to go after I have stopped for lunch.
On Tiree however there were no electric charge points, posing a worry question about how we would get home once we have spent four days driving around the island. Included with the car is charging cable that can be plugged into a standard household 240V plug point. This is a very slow way of charging but if you are on a touring holiday where you stop each night for 10 hours, why not use this time to charge the car.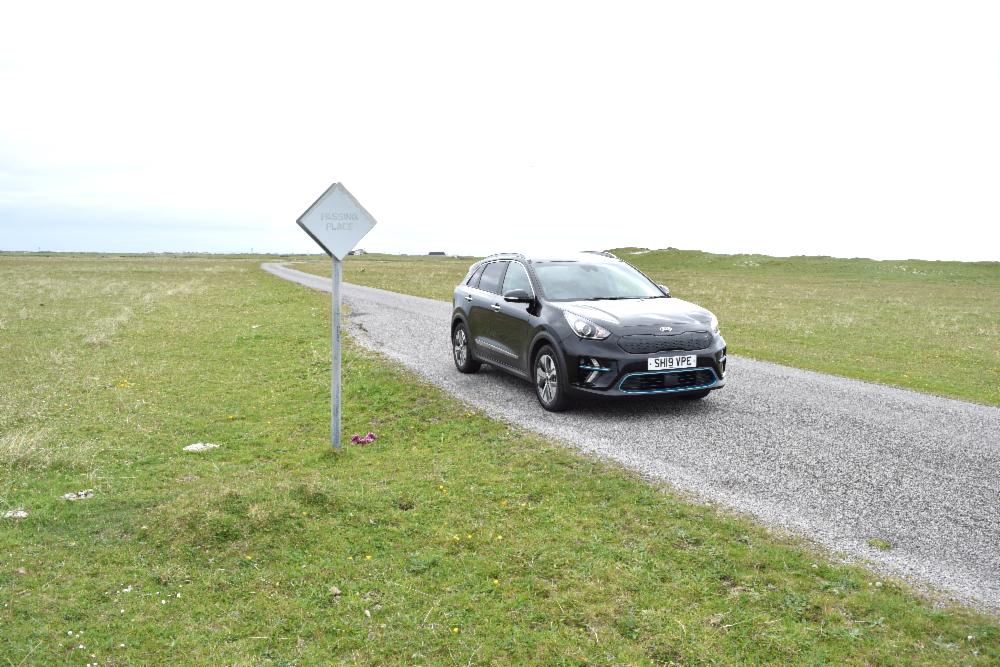 Our campsite had an out-building which the owner allowed us to use the charge the E-Niro. After plugging in and overriding the default timer-charging function, the three green lights on the dash board lit up and it slowly started to charge. With this, we were able to always charge more each day than we used and left the island with a full range of 270+ miles on the clock. For anyone who has had a short-range electric, I can only say that the whole range anxiety that was forever present is completely gone with this car. For week to week usage it is only necessary to charge once a week. And if touring, this car give you two fast-charge options and slow-charge backup meaning you can go anywhere for as long as you want.
As standard, charging can be delayed to coincide with your cheaper overnight tariffs. We set ours to charge from 10pm to 6am only to ensure we use power when there is low demand - ensuring it green energy and cheap energy. There is the added benefit of configuring the car to be warm and frost-free by say 8am in the morning, which in the Scottish winters will be fantastic.
High on the dashboard is a three-light array and it is not immediately clear what it is used for. This array of three green lights are used as a quick-glance visual indicator of your car's charging status. If all the lights are off, then nothing is happening, but as they progressively light-up, you can quickly look at the car from the outside to see how charged it is. If charging is scheduled, then the middle light blinks to indicate that the car is primed to charge but waiting for the start time.
Styling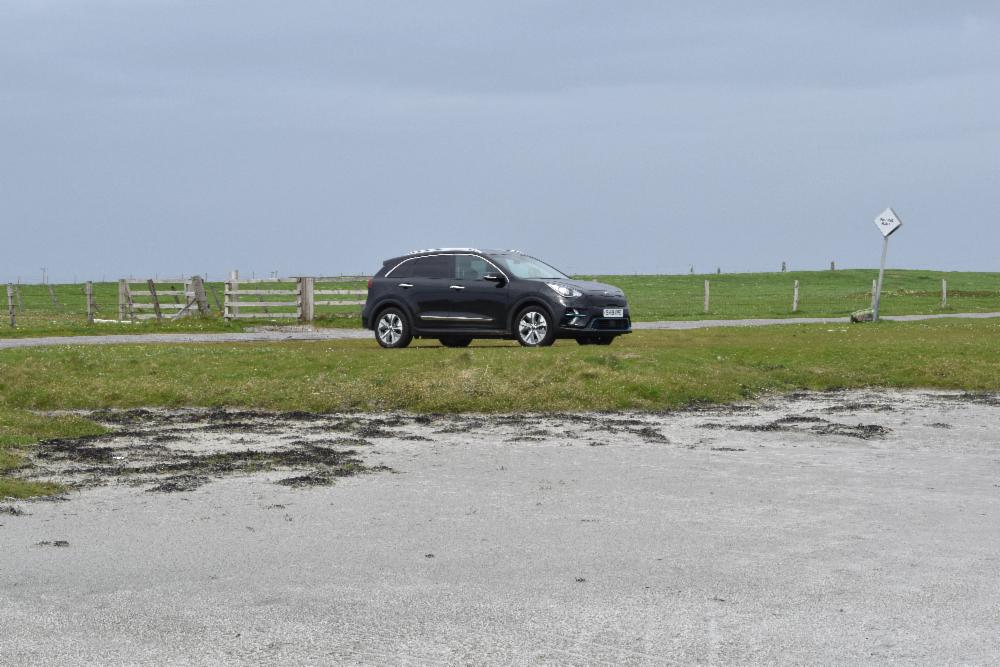 Compared to the Model 3, there is just no denying that the E-Niro is not quite a stylish. But I prefer it due to the higher driving position, higher boot loading and more options for back-seat/boot usage with the fold down space. The fact that the E-Niro looks like a a conventional car is a major selling point. Most people are freaked out just by going to electric, never mind moving to a car that auto-drives and has no dashboard i.e. the Model 3. The E-Niro takes a huge step forward, whilst also being comfortingly similar to a normal car.
The interior is better than any car I have ever had. Solid, refined and easy to use. The central console is great but is made better by the many short-cut physical buttons that make it quick and easy to get straight to key options. Also, the radio station can be changed from the steering wheel.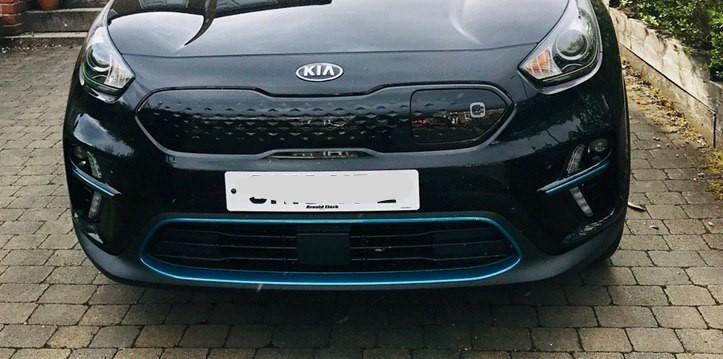 The dashboard shows your range as the most important metric, alongside speed. Having this in the usual position and available even if the satnav screen is off is so useful (and major advantage over the Model 3 which has not dashboard). I sometimes like driving with the central screen off - to keep things simple and also save some power.
By far my favourite styling feature is the front grill. The traditional mesh grill is replaced by a blanked off plate with a small door behind which is the charging plug. To declare so proudly and obviously that this is an electric car, rather than hiding it on the side as filler cap is genius. It makes me laugh actually, that an otherwise seriously styled car has the slightly eccentric charge point cover. And for the record, there is still a wcooling radiator lower down, presumably for cooling the lithium polymer battery coolant under heavy usage.
Summary
This car is incredible on so many different levels. Financially, it is hard to beat. The First Edition is a high specification model so it obviously a bit more expensive. But at 36,000 GBP it is what most people would consider a mid-priced family car, and significantly less expensive than the Model 3 which starts at 43,000 GBP for their lowest specification model. The UK government grant brings it down to 32,500 GBP, which with the Kia 7 year guarantee (or 100K miles), is a very fair price.
The range is amazing. For most people, this car has enough range to be second car easily and for the brave, it can be a main family car. Long journeys take a little bit more planning and may take a little bit longer, but this accounts for only 2% of the miles most people will normally drive, so it is hardly a big sacrifice.
Electric is the future and honestly, internal combustion engines should never have happened for family cars. If you took a new driver today and put them in an Kia E-Niro for a week and then gave them a Audi A4 2.0L Diesel (same price) the next week, I would surprised if anyone preferred the Diesel. The E-Niro is more refined, quieter, faster 0-60mph and your personal transportation and enjoyment is not at the expense of future generations. An unbiased person unaffected by the years of automobile marketing would wonder about our petrol/diesel obsession now that there is a hugely attractive alternative. Nobody loses with an E-Niro.
In the same way that simple engineering elegance of a jet engine superceded the internal combustion engine for air travel, the simplicity and elegance of a long-range electric car makes an internal combustion car redundant. The sheer complexity of an internal combustion engine compared to an electric is mindboggling - valves, timing belts, fuel line, alternators, carburettor, filters, pistons and much more - it is preposterous that they are still being sold in such high numbers given we now have an affordable, long-range, desirable alternative in the Kia E-Niro.

@donaldbmcintosh

donaldbmcintosh@yahoo.co.uk