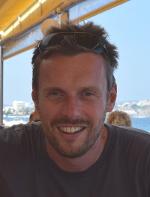 I was born in Scotland (no surpise with a name like mine) and after travelling about for a few years, am happily settled back in my home land. Living in Scotland is simple, affordable and offers a pretty [enviable way of life](https://www.youtube.com/watch?v=wqgkZDbe4Xk) , in my opinion. We have easy access to some of the most beautiful and wildest spots on Europe, so if you can handle the changeable weather, there are few places that can beat it.

Very few people run their own website, so it is worth explaining why I have one. There are three simple reasons. First and most importantly, I really like building and adding to my website. The advent of the internet has allowed us all to have an online co-existance, so why not enjoy it? Secondly, I am strongly against the content sharing silos that are so prevalent today. A personal website is therefore a necessity to remain online. Lastly, I run a website as an outlet for me and a way of sharing.

I studied Mechanical Engineering at university, but have worked in IT continuously since the day I graduated. These days I mostly programme in Java, Groovy and occasionally C++. I have used Linux (and many other *NIX flavours) almost throughout and still enjoy figuring out a regular expression. When time allows, which is not often now, I write open source software if I feel there is nothing out there already that fits the bill. I have a strong personal interest in the web, how people use it and ensuring it remains free and open to all.

Mountain biking is a major hobby for me and I make sure I get out as often as possible. It doesn't matter if it is wet and muddy or cold and clear, the experience of climbing through forest trails or flying down through rutted single track is always fun. Recently I have started to dabble in bike packing, taking on longer, mostly off-road, routes on multi-day trips. It is amazing how much ground you can cover and how much wild country you can explore, when cycling for a full day.

@donaldbmcintosh

donaldbmcintosh@yahoo.co.uk